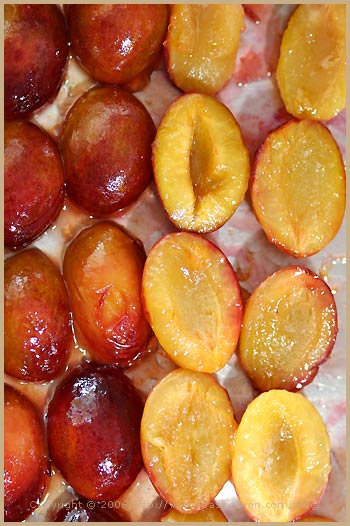 Cooked Sugar Plums
La nature fait bien les choses.
Nature does things well.
In early fall, we could always feel sorry that summer is gone behind, and that sunny times are going to be missed. Yet, I love this time of year. In fact, the abundance and renewal of all sorts of fresh food makes the season transition very pleasurable. Time to change food habits and revisit dishes we have not cooked for a while. Farmers' markets are full of fruit such as apples, pears, and plums of all sorts, which remain favorites. I love l'automne for what it offers. In New England, you just need to take a walk in the forests to see why Nature does things so well. I do not think I have seen brighter colors than in New England forests in the fall. Beauty in its pure form. I always find that the most delightful feeling while driving along countryside roads is to be able to catch a glimpse of trees so much full of fruit that the weight imposed on each branch makes you feel each might break within the minute. Every single time I see quetschiers full of brightly purple colored quetsches, I know that this time, I am at home, across the Atlantic. It happens every fall if this is a good year.
Quetsches are a fruit typical of France's North-Eastern region where I am from. This type of plums is particularly grown in Alsace and Lorraine. Is it the weather? The type of soil? I am not sure. A quetsche is a lovely delicate fall fruit, with an oblong shape and a beautiful dark purple color on the outside and a yellow sweet, juicy and acidy flesh in the inside. Easily found everywhere early September and in October, it is a fruit that every single member of my family seemed to preserve. Of course, you could just not do it differently as orchards in the region are full of questschiers (questche trees). Some years, we had so many quetsches that even with the best possible intentions, it was simply impossible to preserve all of them. Instead, my dad used to make alcohol with it: eau de vie. We would keep a large container in our garage in which the fruit was left to macerate until it is ready to be distillated. Not everyone is allowed to make this type of strong alcohol but my dad was because he received the right to do so as it had been passed to him by my grand-mother when she died. Almost 100% alcohol, this eau de vie is commonly drunk as un digestif, of the type you have in small shots after a meal, to help with digestion. You can only imagine the smell in the garage! Enough to make you feel tipsy.
Living in the US, I have always missed this fall fruit. For a while, I researched and tried to find quetsches here, but to no avail. Until one day, when I discovered sugar plums at a local vegetable and fruit supplier. Not quite the same as a quetsche, sugar plums are however the closest fruit I have found. They are slightly bigger, with a more reddish color than a quetsche . In taste however, they are comparable. Enough to make me happy and decide to use them for a favorite dessert of mine.

Le clafoutis – Clafoutis
Clafoutis is a classic French dessert. I have already talked about it, do you remember? The truth is that I could not let days go by and not present my classic recipe to you. This dessert is so easy to make that it would be a real shame to never think about making it.
In fact, I can add the following: Clafoutis is a real culture in my family, all the more emphasized by the arrival of P., my lovely Irish and American hubbie. When P. discovered clafoutis, I was far from imagining the impact that this innocent, yet so traditional, French dessert would have on him. Really! It was as if I had given him fresh new blood. Whenever I tell him that I am making clafoutis, I know I am going to make his day.
Moi : Tiens, j'ai fait un clafoutis.
P. : Cool!
Me: Listen, I made a clafoutis.
P. : Cool!
We all know the more traditional version of clafoutis made with cherries. Some cooks prefer to keep the cherry stones in the clafoutis, to add flavor to the dessert, although this makes the task of eating the clafoutis much harder. Unless you just like to spit them out, which is a lot of fun all things considered, as it brings the raw side of us out! Le côté sauvage ! But, as much as I love cherries as a fruit, my favorite type of clafoutis is not going to use them since I prefer to eat cherries crues (raw) et pas cuites (and not cooked). So instead of the traditional clafoutis version, I make my own, with quetsches. I just couldn't think of a better way to use this fruit juiciness, light sweetness and acidity.
In a clafoutis, you typically use eggs, milk (and cream if using), sugar and flour (or cornstarch). But what makes this clafoutis recipe different from other recipes I tried is the fact that the fruit is cooked separately prior to being baked with the egg/milk batter. And to me, this makes all the difference in the outcome of the dessert. So when I fall short of ideas for a quick, easy dessert, clafoutis is high on the list. It could become your easy dessert fix too once you try it. So when will you try?
Note: After researching on this particular fruit, I found out that the equivalent to a quetsche in English was a damson.
PS: I have been travelling for the last week and will be soon back, looking forward to visiting your blogs again!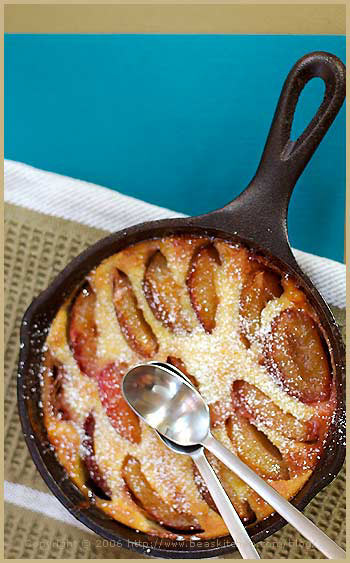 Plum Clafoutis
You need:
2 eggs + 1 egg yolk
7 oz milk
2 oz cornstarch
1/2 cup sugar
About 1 lb + 2 oz plums
3.5 oz heavy cream
2 Tbsp butter + 2 Tbsp sugar to cook the plums
Steps:
Preheat your oven at 410 F.
Wash your plums and slice them open. Remove the stones.
Heat 2 Tbsp butter in a pan. Add the plums and 2 Tbsp sugar and cook for 5 mns. Set aside.
Butter small molds (or a large one) and sprinkle them with sugar.
In a bowl, mix together the cold milk with the cornstarch.
In another bowl, beat the eggs with the egg yolk. Add the sugar and mix well. Add the cream and mix.
Mix the milk/cornstarch preparation with the egg one.
Place the cooked plums in your molds, face up.
Pour the preparation over and cook in the oven for about 30 min, until golden.
Remove from the oven. Sprinkle with sugar and eat lukewarm preferably.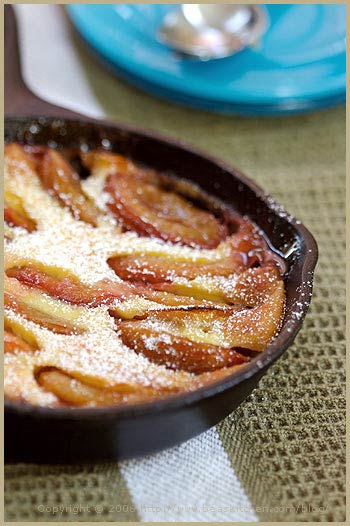 Le coin français
Clafoutis aux quetsches
Ingrédients :
2 oeufs + 1 jaune d'oeuf
200 ml lait
50 g maïzena
100 g sucre
500 à 600 g de quetsches
100 ml crème liquide
2 càs de beurre + 2 càs de sucre pour cuire les quetsches
Étapes :
Préchauffez votre four à 210 C.
Lavez vos quetsches and coupez-les en deux. Retirez les noyaux.
Faites fondre 2 cás de beurre dans une poêle. Ajoutez les quetsches avec 2 càs de sucre, et cuisez-les pendant 5 mns sur feu moyen à doux. Réservez-les de côté.
Beurrez de petits moules (ou un grand) et saupoudrez-les de sucre.
Dans un bol, mélangez le lait froid avec la maïzena.
Dans un autre bol, mixez les oeufs et le jaune d'oeuf. Ajoutez le sucre et mélangez bien. Ajoutez la crème et mélangez à nouveau.
Mélangez les deux préparations.
Placez les fruits dans les moules, partie bombée vers le bas.
Versez la crème et cuisez au four pendant environ 30 mns, jusqu'à ce que le clafoutis soit doré.
Retirez du four et saupoudrez de sucre. Dégustez tiède, de préférence.