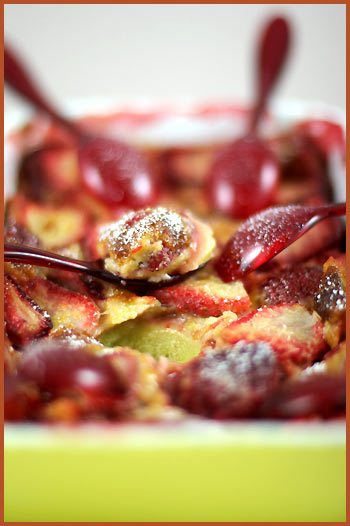 Clafoutis aux fraises — Strawberry Clafoutis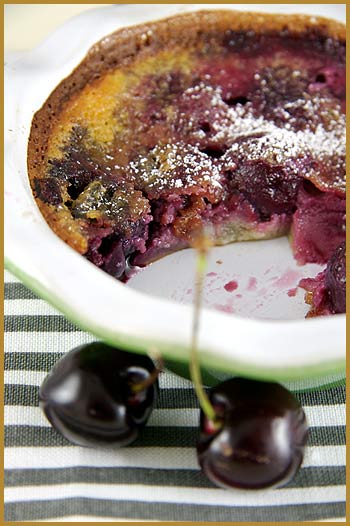 Clafoutis aux cerises — Cherry Clafoutis
Yes, like many of us, I like to receive packages. Who doesn't, really? Every time I see a package by the frontdoor, left by our smoking-stinking cigar mailman — even when he is gone, I can still inhale the smell of cold cigars on the mail, I swear –, I nevertheless love him all the same for having brought a goodie to us. Not his fault as it is his job, but I actually like his job for that matter. The best times are actually when I have no idea what is in the package, or where it is coming from. And sometimes, it is simply because I have forgotten. Short-memory issue is already happening, but I blame it on the I-have-too-many-things-to-do factor rather than losing young cells. I always have immense pleasure to savagely rip open the packages, not taking the time as this action usually happens rapidly. A few weeks ago came a package of the kind I like, as I had no idea where it was coming from. Delight! Oh, what can it be? Inside the brown wrapping was a book. Comment ? As far as I remembered, I had not ordered any book! Encore mieux ! (even better!) A cookbook! Un livre de cuisine.
Cath of A Blithe Palate asked me to participate in Cookbook Spotlight, an inaugural event organized by Sara, Ali and herself, in which 25 food-loving bloggers would read and comment on a particular cookbook. For this first event, we were all asked to make a recipe from Kitchen Sense, Mitchell Davis' newest cookbook.
Mitchell Davis, the author, is not a novice cook by all means. Let's put the facts here. Amongst other things, he is vice president and director of communications for the James Beard Foundation, an adjunct professor and PhD candidate at New York University's food studies program and author of already two other cookbooks, The Mensch Chef and Cook Something. He also co-wrote Fois Gras: A Passion and wrote articles for GQ Magazine and Food & Wine. Not bad! What else to make us envious or admirative? He trained as a chef in France and Italy. As shown by this list, there is a lot of time spent in the kitchen to his credit, and so it comes to no surprise — to me anyway — that I was curious to learn more about him and his new cookbook.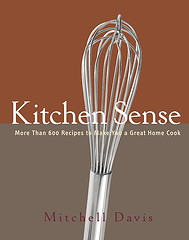 Kitchen Sense: More Than 600 Recipes to Make You a Great Home Cook
When I first received the book however, I had some reserve. My buying pattern for cookbooks is fairly typical of me. Besides owning a few good reference, thick cookbooks, most of my purchases go towards cookbooks that are visually attractive. I just cannot help it. Pretty pictures attract me, or make me want to cook even more. Well, to my disappointment, Kitchen Sense included no pictures, zéro, rien, nada. Not even drawings. In other words, I can acknowledge that by instinct, I would not have bought that particular cookbook, unless referred to me by a source I trust well.
But Kitchen Sense suprised me. I actually like the way the book has been written. Each recipe is introduced by a little history here or there, and cover a range of different types of cuisines that really make you travel from one country to another. In it, you will find recipes inspired from French, Asian, Italian, Middle-Eastern and American cuisines, to name a few. Quite a good summary of the spectrum of food that I know well, I will never be able to digest in full! The cookbooks, I shall add, seems to focus more on basic techniques rather than offer innovative cuisine. In short, it can be an excellent book for everyday, simple recipes that bring a change to the lack of imagination that we all face in the kitchen, at times. Come on, we all do, don't we?
To test my theory about the book, I decided to cook two dishes, quite different from each other.
The first one was a dish that I know very well as it is a traditional French dessert, that I think I must have made at least some hundreds of times — at my parents' and my brother's places, it is even the dogs' favorite treat, what they can smell miles away and beg for ferociously.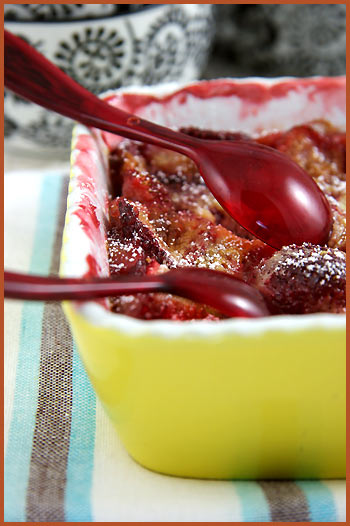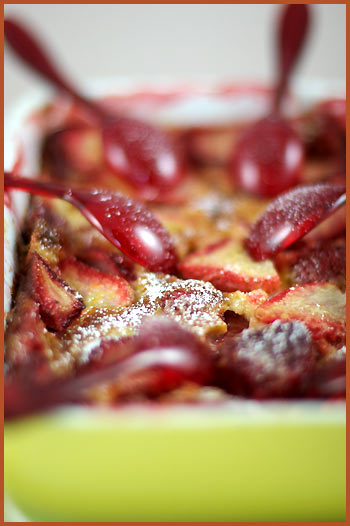 Clafoutis aux fraises — Strawberry Clafoutis
Clafoutis
I do not think that I need to introduce clafoutis. The most expected one is made with cherries, which is appropriate when, as is these days, it is the prime season for colourful, red cherries: Rainier, Bigarreau, Belle de Choisy, Belle de Chatenay, Impératrice Eugénie. And as you will find out soon, instead of one, I decided to made two clafoutis: one with cherries, one with strawberries. Just to make sure….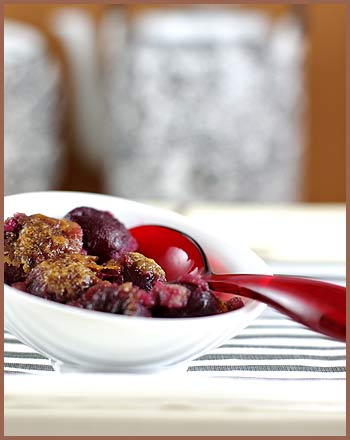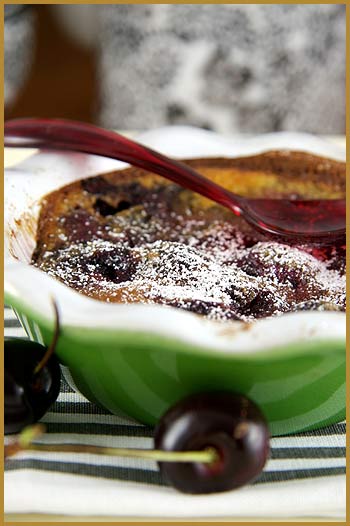 Clafoutis aux cerises — Cherry Clafoutis
All in all, I must say that the outcome was pretty nice in taste. Moist, flavorful, with this little voice telling me "a little more, please" after the first serving. In other words, the recipe worked. However, I found the proportions slightly off. I had to use more cherries than suggested, and I was left with too much batter. Hence my idea to make a second clafoutis, this time with strawberries. The batter was a mixture of eggs, sugar, brandy, vanilla extract, lemon zest, flour and heavy cream. Mitchell's recipe used less flour than some recipes I had tried before. I liked that part. Cream was used versus milk, which obviously gave the clafoutis a nice richer taste, une certaine onctuosité that really worked well. I also liked the addition of the lemon zest.
First test passed.
For my second dish, I chose a recipe that I had not made before, and carefully followed the instructions, almost to the letter. I prepared an Asian Beef And Watercress Salad.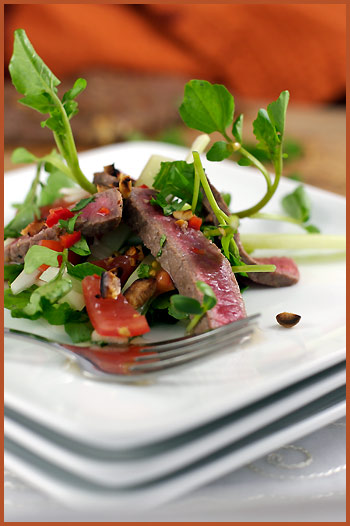 Salade de boeuf et de cresson à l'asiatique — Asian Beef and Watercress Salad
Successful. Both P. and I really enjoyed the dish. Maybe I should also add that both he and I are quite fond of this type of salads, where you can find steak marinated in soy sauce, peanut oil and ginger, nice greens with a zesty dressing as it required a lot of lime juice and fish sauce.Watercress was the perfect touch to add a little bit of piquant (spiciness) to the salad. But again, I just found that the quantities — for 4 servings in the recipe — were too generous than what I would normally serve or need. J'ai peut-être un plus petit estomac ? (Maybe I have a smaller stomach?). But I still made the dish twice, and decided to try a few changes the second time, namely with the addition of more vegetables, such as freshly steamed French beans, marinated fennel and tomatoes. It worked great.
So What Did I Think?
Kitchen Sense is definitely a nice cookbook to have, for anyone somewhat newer to cooking, or someone looking to acquire a good cooking basis. The recipes are fairly simple and cover many different styles of cuisines and tastes. Would I have bought the book? I do not think so, but my argument is quite subjective. Knowing me well, without pictures, it would been a harder sale on me. Je suis comme cela ! (I am like this!)
Thanks Cath, Sara and Ali. This was a lot of fun. From the dishes I made, I can tell that I am going to continue to try other featured dishes. This book is a nice surprise and Mr Mitchell Davis surely knows his basis quite well!