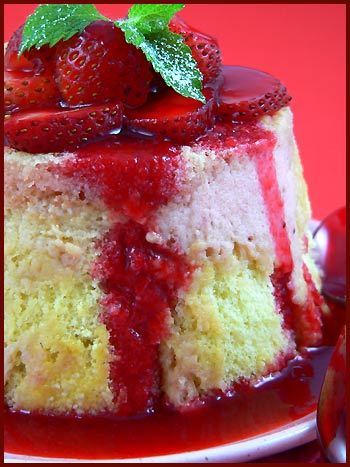 What is Your Name? Charlotte? But Who Are You?
Before I was born into this world, my parents were already faced with a dilemna with me. Here it was, the baby was to be a girl, and they did not know what name to give to me. No surprise as most parents are faced with this issue! After much debate, they narrowed down the endless list of firstnames to two possibilities. But they still hesitated. I was going to be called either Béatrice or Anne. And for some reason, I ended up with Béatrice. Did I like my name? I actually had no choice, but for the longest time, I just hated Béatrice as my firstname. So much so that no one in my home village in France knows me under that name. As a matter of fact, instead, I wish I had been called Charlotte!
Charlotte is a firstname that I have always loved. I found it fresh, happy and melodious. If asked what it is that I like about it, I would reply "c'est sa mélodie" (it is its melody). But here are also some facts. I guess Charlotte is a firstname way more popular than Béatrice! In 2003, 2287 French baby girls were named Charlotte, against only 27 Béatrice. Charlotte is also the 28th most popular female firstname in France, while Béatrice holds the 765th position. My firstname is pretty old-fashioned! Well that is not the point. What I should actually admit is that Charlotte is the name of one of my favorite French actresses, Charlotte Gainsbourg, and that it is the name given to a dessert that I am obsessed with. Really obsessed with.
Charlotte Or How to Use Homemade Ladyfingers
Deliciousness, airy, cream, chantilly, fruit, berries, fresh, summer, light, picnic, grandes vacances are all our words that come to my mind when I think about a charlotte. I still remember my brother and I begging my mum to make a charlotte every weekend during les grandes vacances (summer vacation), when friends would come over for dinner. We could just never have enough of it. Around the time when it was the prime season for red berries such as strawberries or raspberries, it was just the perfect excuse to use the excess of those fruits rouges (red fruit).
"Mais qu'est-ce que je vais faire avec toutes ces fraises ? ", my mum would often ask. (What am I going to do with all these strawberries?)
"Une chaaarloootteuuuu, s'il te plaît maman !", was our answer. "Ca va vite, hein, dis! C'est facile !"
"Yes, it is an easy dessert !", she would admit.
My mum used to make hers in a special Tupperware charlotte mold, with which unmolding the charlotte was really made easy. While in France in late May this year, my sister-in-law and I had decided to cook lunch for Mother's Day. While Geneviève was in charge of making amuse-bouches along with the main course, I prepared the appetizer and the dessert. And, oh yes, let me tell you how it felt when, by accident, after poking around in my mum's kitchen cabinets, I found her white tupperware mold hidden behind a pile of unused stuff! I had found an old hidden treasure! When I showed the mold to her, she even added:"Tiens, il existe encore celui-là ?" (This one sill exists?) I had my dessert, just in front of me. We had heaps of juicy strawberries in the garden, there was cream in the fridge and a box of biscuits à la cuillère in the pantry. I was excited. I had not made or eaten a charlotte in ages!
I am not sure why I am so obsessed with this dessert. Maybe it has to do with its slightly slanted shape, from looking elegant to decadent, perfect to imperfect, rustic to classy. A charlotte is, to me, all those things together. It is reminiscent of times spent as a young girl during les grandes vacances, when all I needed to worry about was nothing! My friends and I used to spend our afternoons running in fields to steal ripe fruit from trees, cycle around in the village, and relunctantly help our mums to clean peas or French beans. On trainait au village ! (we used to hang out in the village!) It was the time when we were allowed to stay up because the sun would set so late. During that time of year, we used to eat a lot of charlottes with red fruits.
If you want to know, a charlotte derives from an old English dessert made of buttered slices of white bread with a filling of apples and fruit marmalade, cooked and served with a crème anglaise. From this dessert, Antonin Carême invented the charlotte à la russe, an entremets frappé eaten cold, which requires no cooking time. It typically would be made of a vanilla cream base (or a chocolate or coffee mousse, whipped cream or an appareil à bombe) poured into a dish lined with alcohol-flavored ladyfingers, before being placed in the fridge for a few hours. The truth is that, although looking like a complex dessert, a charlotte is in many ways easy to make and forgiving. You do not need to have excellent pastry skills. In fact, I love that no cooking time is required to make it (unless you make your own ladyfingers). The kind of "Mince, mon gâteau n'a pas monté !" (Crap, my cake did not rise!) never happens!
The recipe I decided to make was pretty much what I recalled my mum's charlotte used to look like. She wouldn't, however, use gelatin as I did, in which case the cream would just be somewhat more runny. Same deliciousness though!
On Mother's day, not usually being much of a dessert person, my mum happily surprised me when I came to the table, my hands holding the charlotte aux fraises et son coulis made the night before. We all ate a slice each, before she asked the first: "j'en reprendrais bien une petite tranche!" (I would not mind a second serving!) It was her fête after all! Mum, you made my day!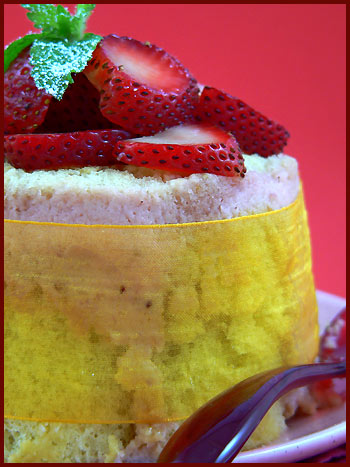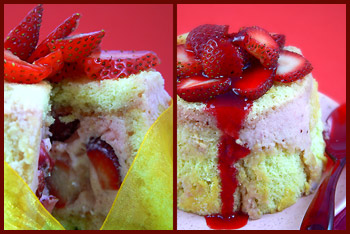 Charlotte aux fraises – Strawberry Charlotte
Note: In the recipe featured here, I made small charlottes, with molds measuring 4 " diameter, 2.5″ high. If you want a big one, the cream base stays the same in quantities, but you might simply need less ladyfingers.
Use two batches of the biscuits a la cuillère here, or buy some.
Strawberry Charlotte
(for 4 small charlottes, or a big one)
You need:
For the Strawberry Cream
About 48 small ladyfingers ( 2.5″ long), less if you make a big charlotte
10.5 oz fresh strawberries + a few more
Dash of lemon juice
5 oz sugar
4 gelatin sheets
1 + 1/4 cup heavy cream
For the Syrup
1/4 cup minus 1 Tbsp fine sugar
5 Tbsp water
2 oz strawberries
A dash of lemon juice
(optional 2 Tbsp raspberry liqueur)
For the Raspberry Coulis
10.5 oz raspberries
4 Tbsp fine sugar
A dash of lemon juice
Steps:
Start by preparing the syrup. Mix the strawberries in a food processor and strain them to remove the seeds.
Boil the sugar and water for 1 mn.
Let cool down and add the strawberries purée with the lemon juice (and liqueur if using). Mix well and let cool down.
To make the strawberry cream, start by soaking the gelatin sheets in cold water.
Purée the strawberries in a food processo, and strain them to remove the seeds.
Mix the strawberry purée with the sugar.
Pour half of the strawberry purée in a pot and heat it.
Squeeze the excess water from the gelatin sheets and add them to the heated strawberry purée to dissolve them. Mix well.
Add the rest of the strawberry purée and mix.
Add a dash of lemon juice.
Using a mixer, whip the cold cream into firm whipped cream (chantilly).
Add 1/3 of the whipped cream to the strawberry purée, making sure to describe large movements, so as to keep the preparation light.
Add to the rest and mix carefully.
To make the coulis, purée the raspberries and strain to remove the seeds.
Heat the purée in a small pot, then add the sugar with the lemon juice.
Remove from the heat and let cool down.
To finish your dessert, take a charlotte mold.
Dip the ladyfingers quickly in the syrup.
Place the first ladyfingers at the bottom (cut them if too big).
Line the mold with the other ladyfingers dipped in the syrup, round face out.
Pour half of the cream in the mold, and add freshly cut strawberries.
Pour the rest of the cream and finish with ladyfingers.
Cover with a plastic film, and put a plate on the charlotte, to serve as a weight.
Place in the fridge overnight, or a minimum of 4 hours, so that the gelatin is set.
To unmold the charlotte, run the blade of a sharp knife around the edge of the mold, and flip it over on a plate.
Serve with the raspberry coulis and more strawberries.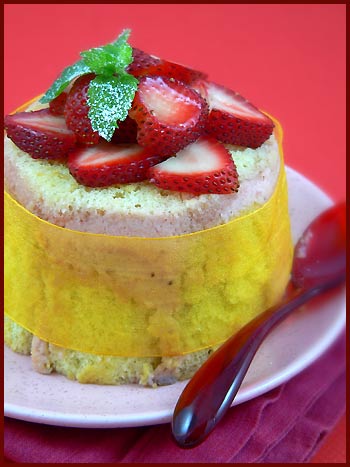 Le coin français
Remarque : dans cette recette, j'ai fait des petites charlottes, avec des moules mesurant 10cm de diamètre et 6,25 cm de haut. Pour une charlotte plus grande, il vous suffit d'utiliser moins de biscuits à la cuillère. Les proportions pour la crème restent les mêmes.
Utilisez deux fournées de biscuits a la cuillère ici, ou bien achetez-en.
Charlotte aux fraises

(Pour 4 petites charlottes, ou une grande)
Ingrédients :
Pour la crème aux fraises
Environ 48 petits biscuits à la cuillère (6 cm de long), moins si vous réalisez une grande charlotte
300 g de fraises + quelques fraises de plus
Jus de citron
150 g de sucre fin
4 feuilles de gélatine (8 g)
30 cl crème liquide froide
Pour le sirop
40 g sucre fin
5 càs d'eau
50 g fraises
Jus de citron
(2 càs de liqueur de framboise, facultatif)

Pour le coulis de framboises
300 g framboises
4 càs de sucre fin
Jus de citron
Étapes :
Commencez par préparer le sirop pour les biscuits à la cuillère.
Mixez les fraises en purée.
Passez-les au tamis pour en retirer les pépins.
Faites bouillir l'eau avec le sucre pendant 1 mn.
Laissez refroidir avant d'ajouter la purée de fraises (et la liqueur si vous l'utilisez), avec le jus de citron.
Mélangez et réservez.
Pour préparer la crème, faites tremper les feuilles de gélatine dans de l'eau froide.
Mixez les fraises en purée, et passez-les au tamis pour en retirer les pépins.
Mélangez la purée de fraises avec le sucre.
Faites chauffer la moitié de cette préparation dans une casserole.
Essorez les feuilles de gélatine et ajoutez-les à la purée de fraises chaude.
Mélangez bien pour dissoudre la gélatine, puis ajoutez le reste de purée de fraises, avec le jus de citron.
Montez la crème froide en chantilly.
Ajoutez 1/3 de cette préparation à la purée de fraises, en prenant soin de mélanger délicatement.
Ajoutez le reste de la chantilly. La préparation doit rester aérée.
Pour préparer le coulis, mixez en purée les framboises et passez-les au tamis afin d'en retirer les pépins.
Dans une casserole, faites chauffer la purée de framboises, puis ajoutez le sucre pour le dissoudre.
Ajoutez le jus de citron et réservez. Laissez refroidir.
Pour monter la charlotte, commencez par rapidement tremper les biscuits à la cuillère dans le sirop refroidi.
Prenez un moule à charlotte et tapissez-en le fond avec des biscuits à la cuillère (coupez-les s'ils sont trop grands).
Tapissez les bords du moule avec le reste des biscuits.
Versez la moitié de la crème à la fraises, puis ajoutez des fraises fraîches coupées.
Continuez avec le reste de crème, et terminez avec des biscuits.
Couvrez avec un film plastique, et posez une assiette dessus.
Mettez au frigidaire toute la nuit, ou au minimum 4 heures, afin que la gélatine prenne.
Pour démouler la charlotte, passez la lame d'un couteau bien aiguisé le long des bords, et renversez-la délicatement sur une assiette.
Servez la charlotte accompagnée du coulis de framboises et de fraises fraîches.