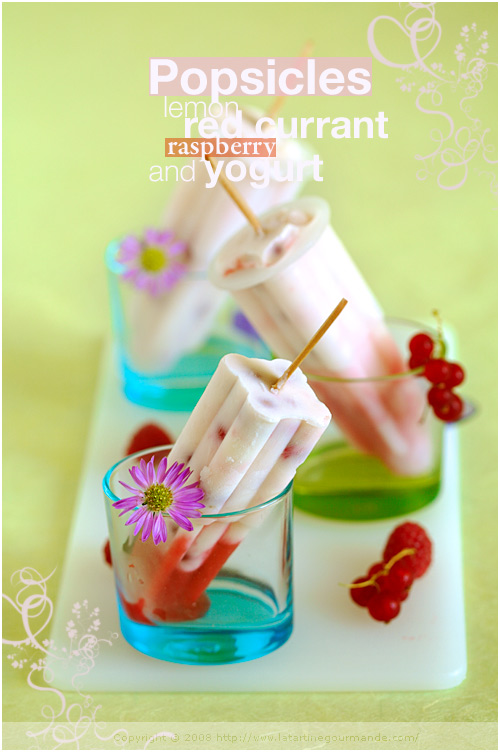 Lemon Yogurt and Berry Popsicles
It was hot and humid once again when we woke up on Sunday morning. Where is all this rain coming from: frankly, I have no clue. The hurricanes down South? But I like the fact that it keeps our grass and parks green, and our river beds full.
Thank God it was Sunday too because both P. and I felt somewhat lazy. There was not going to be much activity in the house today.
Besides cooking, resting, and eating.
"Where are you already going?" P. said when he saw me put my shoes on while he was finishing a bowl of cereals.
"To buy baby artichokes."
"Ugh?"
He did not know it yet but I had been planning a few dishes for our day. Lunch would be easy: there would be a salade niçoise à ma façon, with the lovely bunch of haricots verts fins (string-like French beans) I bought the day before, organic fingerling potatoes, eggs, cherry tomatoes, anchovies and tuna marinated in olive oil.
And for dinner, I was planning to cook a squid and artichoke risotto.
The thing is that I really wanted to show you this risotto recipe. Because in fact, it was quite scrumptious. But I did not have the time, or the energy, to take pictures so late in the evening. Besides, P. and I ate the whole thing. Of course, I am already thinking about making another one soon since I still have leftovers of my vegetable broth — I confess, I've had a thing with risotto lately since we ate another one on Saturday night, made with bay scallops, spinach and saffron. Perhaps I will be good and take pictures then, and even write down my recipe.
But for now, let me talk to you about popsicles instead.
You don't mind, do you?
Quick to make, refreshing, no fuss — I still don't know how I managed to take pictures! I initially did not think I would even bother to write a recipe because there was no recipe to start with. I had Greek yogurt handy, some raspberry coulis from another dessert I made the day before, red currants, lemon and sugar. I let my imagination wander and simply tossed the ingredients together, preparing them to taste. The recipe below is only guidelines.
The popsicles came quite handy to finish our simple lunch.
Perfect for a lazy Sunday full of quiet times, cooking and eating delicious food.
It really was actually!
For another similar idea, last year, I made those
popsicles
, do you remember?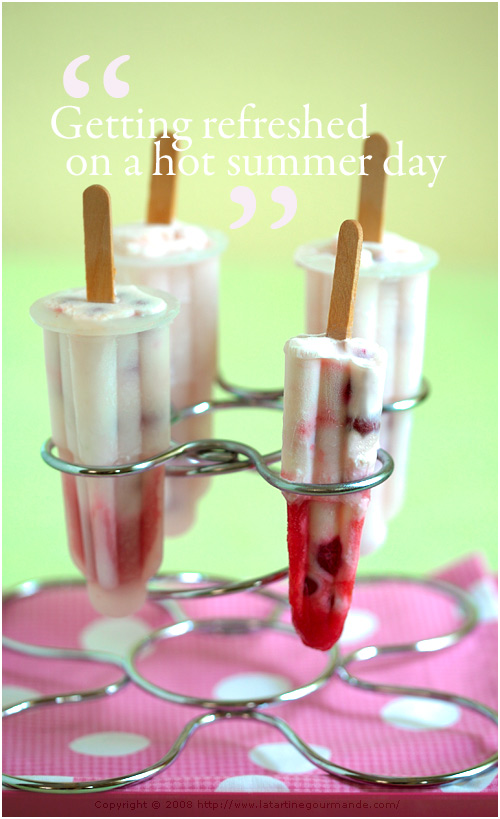 Easy Lemon, Berry and Yogurt Popsicles
For 6 popsicles
You need:

Juice of 1/2 lemon
1/4 cup blond cane sugar
1 + 1/3 cups Greek yogurt
Red currants
Steps:
Fill the plastic containers 1/4 full with raspberry coulis — keep some for the yogurt.
In a large bowl, mix the yogurt with the lemon juice and sugar.
Add the fresh red currants and the rest of coulis. Mix gently.
At this stage, you can use an ice-cream machine to churn the yogurt cold, or place this preparation directly in the plastic containers.
Place in the freezer for a few hours. Make sure to insert a wood stick in each popsicle before it is set. To remove from the container, simply run them under hot water for 10 seconds. Enjoy!
Le coin français
Sucettes glacées faciles au yaourt citronné et aux fruits rouges
(Pour 6 sucettes glacées)
Ingrédients :

Jus d'1 demi-citron
50 g de sucre de canne blond
Environ 350 à 400 g de yaourt à la grecque
Groseilles rouges
Etapes :
Remplissez vos moules 1/4 plein avec le coulis de framboises — mettez du coulis de côté pour le yaourt.
Dans une jatte, mélangez le yaourt, le jus de citron, le sucre.
Ajoutez les groseilles rouges et le reste de coulis. Mélangez légèrement.
A ce stade, utilisez une sorbetière pour faire prendre la préparation au yaourt, ou versez directement dans les moules.
Placez au congélateur pendant quelques heures — enfoncez un bâtonnet dans chaque sucette avant que le yaourt ne soit trop pris. Pour démouler, passez les moules sous un filet d'eau chaude pendant 10 secondes. Régalez-vous !