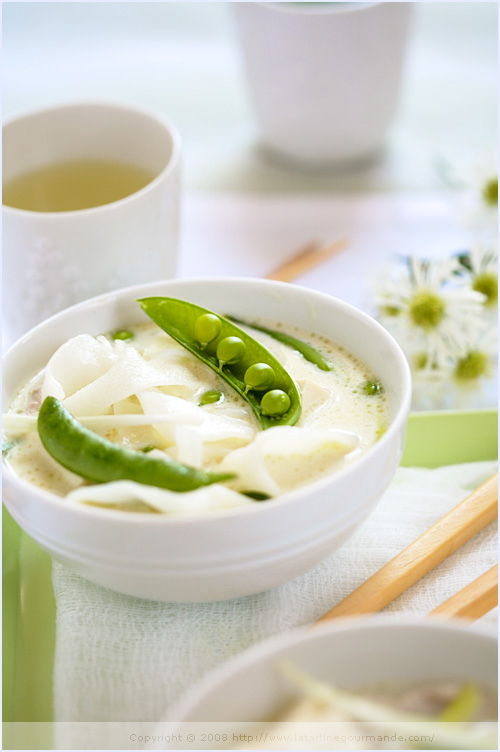 Noodle Soup with Sugar Snap Peas, Pork and Tofu
The smell of small Italian eggplants simmering with ripe vine tomatoes, garlic and onions, gave a wonderful summery feeling to the entire house.The back door was open and let a nice breathe in. It was still cool at that time of the day; I knew that the heat would hit later on, something I was not looking forward to.
I thought of my mum as I dreamily stirred the vegetables, back and forth: she taught me about the provençal dish I was preparing for my next contribution to the Boston Globe's Seasons column.
I looked at the clock. I actually stared at it then. Was it already 10:20 am? How could I have not noticed the time? I only had two minutes to get ready before hopping in the car and drive to my acupuncture appointment across town. Hopefully, I would still be on time, traffic allowing. I switched off the stove, closed the back door and turned off the fan. I would tidy the mess when I returned.
I did not yet know that I was going to bump into my friend L. either.
"Oh I just left you a voicemail," she told me when she saw me come out of the room where I had had my treatment. "What are you doing now?"
"I am going home. But why don't you come at home when you are done, and have lunch with me?"
It was quite lovely and spontaneous to imagine that we were going to have a girl's lunch.
I made a quick stop at the store to pick a few things for my afternoon photo shoot, and then I started to plan lunch. Easy, we would eat pasta with the pistachio pesto I had prepared in the morning, the eggplant dish I was planning to finish, and an arugula salad.
"Oh that's funny," L. said when she walked to the stove and saw the eggplant dish . "It very much looks like something we eat in Russia too."
How interesting indeed to see that some dishes are prepared in many different countries, with tiny variations, but often bearing a different name.
We sat down and enjoyed the food, while chatting away. The heat outside made us feel lazy.
"It's yummy." L. said when she was done with her serving. "But what about your noodle soup? When are you going to post it?"
"What noodle soup?"
"The rice noodle soup with coconut milk you showed me the other day."
Oh yes, I remembered then. She was inquiring about the soup I had prepared a few weeks before, with fresh large rice noodles I had been so happy to find.
"I promise, I will post it soon."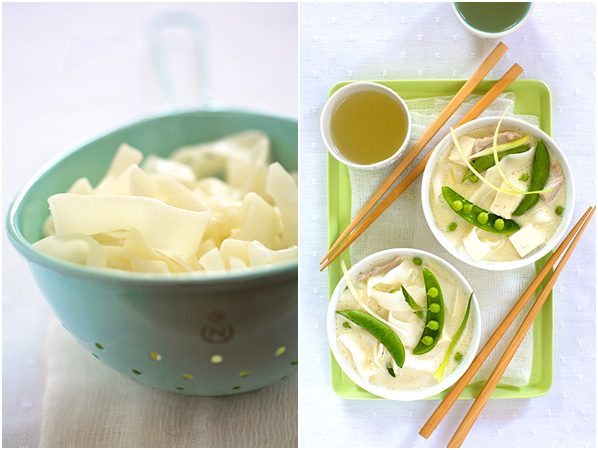 Fresh Large Rice Noodles — Déjeuner à deux
Have you eaten Drunken Noodles before? I am personally a big fan of the fried noodle Thai dish. So much so that, well determined to prepare the dish at home, I once again set myself to go on a food quest to my nearby Asian store — I feel blessed to have it — but this time to buy large rice noodles used in the recipe. There, I've learned that you buy this type of noodles fresh and not dry, like the thinner ones used for Pad Thai. I even asked K., my Vietnamese friend, for a recipe on how to make them. So perhaps one day if I feel ambitious and courageous, I will start on that project.
It is really P. who is the one who made drunken noodles for us the first time. He insisted and I was more than happy to let him do it. His first attempt made a delightful meal for us. The second time, I made the dish: we ate it with friends on the back patio on a hot Friday night. We are both still trying to perfect the recipe — anyone with a recipe you love, send it along! — and while this happens, I've kept returning to the Asian store to buy many more bags of rice noodles. In fact, I've pretty much become addicted to them.
I am a real amatrice of Asian food. One day, I know I will visit Vietnam, Japan, Cambodia, Malaysia, Laos and Thailand, to discover its many mysteries, meet its people and wander its markets in search of inspiration for all the senses. I am keen to discover new scents and flavors, and to understand how to cook the food better. One day, I know it will happen. But in the meantime, while not an expert of Asian food by any means, I am just curious to try and experiment their cuisine in my own kitchen — oh yes, spring rolls are high on the list too!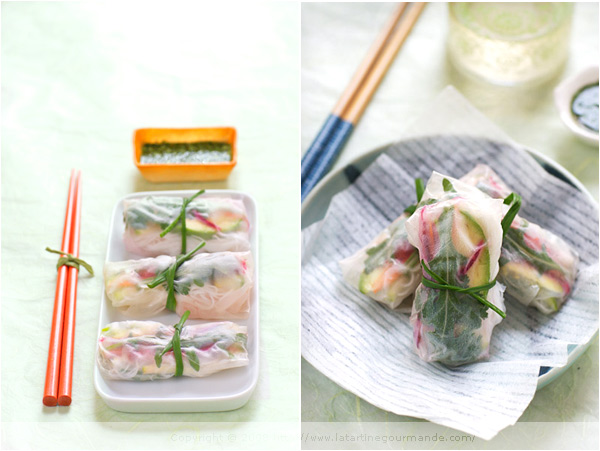 Spring Rolls
One dish that I particularly love to make is Rice Noodle Soup. Simple, tasty, refreshing and easy to accommodate with what you like: I never tire of this type of soup.
Since I've been left with many rice noodle leftovers from my frequent visits to the Asian store, I've recently made many batches of this delicious soup: ideal for lunch, enjoyed alone or with a friend, always eaten with chopsticks, and a side salad.
If you make the soup like I did, use thinly sliced pork, soft tofu, sugar snap peas and Thai basil. However, for easy substitutions, and just as delicious, I would suggest to replace the meat with shrimps, add a few bunches of baby bok choy and bean sprouts too, and even some fresh corn kernels — why not? In all cases, this soup is a winner for its simplicity to toss together, and the wonderful aromas it leaves dans la bouche (in your mouth).
And to make a completely lovely lunch, think about using the beautiful summer fruit we have plenty of these days, like fresh apricots and red currants, and make a seasonal open tart, like I did — I used a crust made with almond butter and olive oil, really lovely. Not Asian, alors pas du tout, but eh, I am French or what?
I am really thankful that my friend L. reminded me of the soup. I think I really had to share its complete goodness with you.
I also know what to prepare next time she comes over for lunch.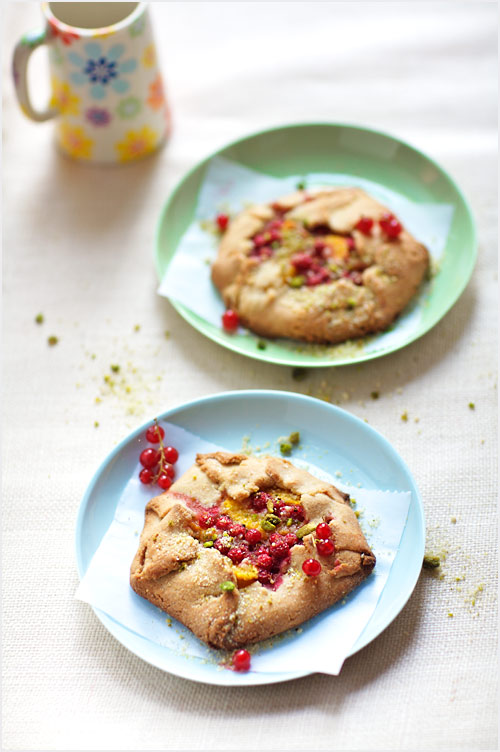 Apricot and Red Currant Open Tart, Almond and Olive Oil Crust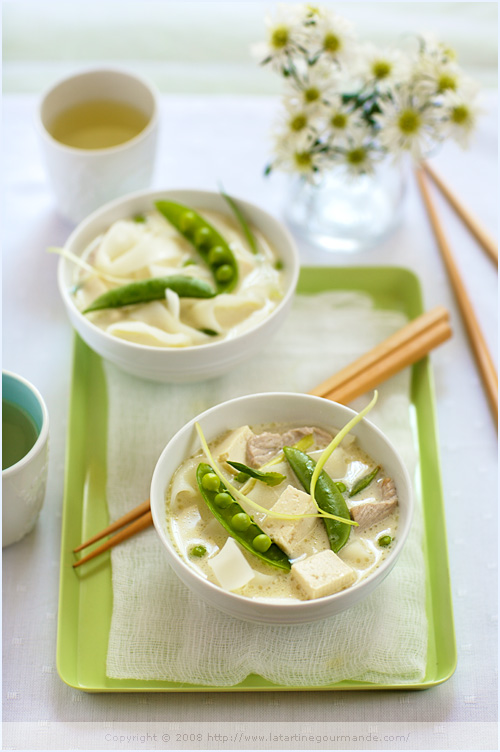 Rice Noodle Soup, with Pork, Snap Sugar Peas and Tofu
(For 2 people, fairly large servings)
You need:
10.5 oz large fresh rice noodles
5.5 oz pork, sliced thinly
1 lemongrass stick, sliced
2 garlic cloves, peeled and grated finely
3.5 oz soft tofu, diced
2 cups chicken stock
1 + 3/4 cups coconut milk
Juice of 1/2 lime
1 Tbsp fish sauce
Thai basil, loosely cut
1 spring onion, sliced
1.5 cups snap sugar peas
Steps:
In a large pot, combine the chicken stock, coconut milk and add the lemongrass and garlic. Bring to a gentle boil and simmer for about 5 minutes.
Add the lime juice and fish sauce, and continue to simmer for 1 to 2 minutes — at this point, you can decide to filter the soup if you prefer to remove the lemongrass slices.
Add the noodles and pork and cook until the meat is fork tender — only a few minutes.
Finish with adding the sugar snap peas. Cook for 2 minutes — I like to keep the vegetables crunchy, so you might want to adjust the cooking time accordingly to your taste.
Add the tofu and spring onion. Season to taste, if necessary, and serve in large bowls. Top with Thai basil and eat with chop sticks, of course!
Le coin français
Soupe aux nouilles de riz, porc, pois gourmands et tofu
(Pour 2 personnes, d'assez grandes portions)
Ingrédients:
300 g de nouilles de riz larges
150 g de porc, émincé
1 bâton de citronnelle, coupé en rondelles
2 gousses d'ail, pelées et râpées finement
100 g de tofu, coupé en gros cubes
500 ml de bouillon de poule
400 ml de lait de coco non sucré
Jus d'1/2 citron vert
1 càs de sauce nuoc mam
Basilic Thaï, ciselé
1 oignon tige, émincé
125 g de pois gourmands
Étapes :
Dans une cocotte, mélangez le bouillon de poule avec le lait de coco. Ajoutez la citronnelle et l'ail. Amenez à ébullition et faites mijotez pendant 5 minutes.
Ajoutez ensuite le jus de citron vert et la sauce nuoc mam, et poursuivez la cuisson pendant 1 à 2 minutes — aàce stade, vous pouvez filtrer la soupe pour retirer la citronnelle si elle vous gêne.
Ajoutez les nouilles de riz et la viande et faites cuire pendant quelques minutes, jusqu'à ce que la viande soit tendre.
Ajoutez enfin les pois gourmands. Cuisez pendant 2 à 3 minutes — j'aime garder les légumes croquants, donc ajustez la cuisson comme vous préfèrez.
Ajoutez le tofu et l'oignon tige. Rectifiez l'assaisonnement si nécessaire, et versez la soupe dans de grands bols. Garnissez avec du basilic thaï et mangez avec des baguettes, bien sûr !