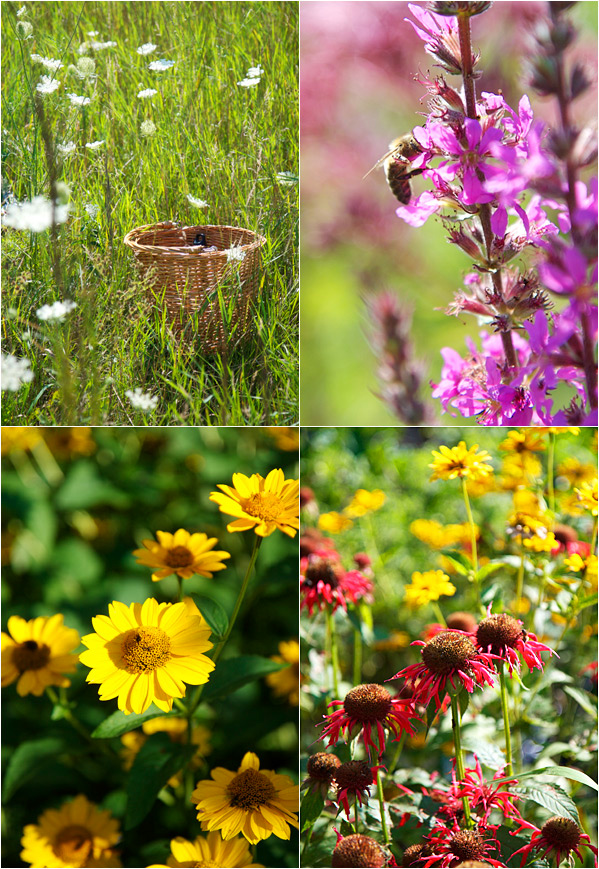 The Bike Ride
The road leading to the nearby bird reserve can be busy during rush hour, but that does not stop me on my bike. P. insists that I wear a helmet, but I am still being a bad sports about it. The afternoon feels windy and warm when I leave the house, and I am looking forward to biking on the rugged lanes of this favorite place of mine. Every time I come here, I feel I am in the middle of the country side, and that is plenty to allow me to refill with good energy. The community gardens part of the area are in full bloom at this time of year, and when I catch a glimpse of large tomatoes turning red in one of the first gardens, I refrain myself from not stealing a few. They are so temptingly good! Nobody would notice, would they?
I like to bike in this part of my neighborhood. I rarely see anyone when I go, beside a few gardeners during the summer. In winter, the entire place is quiet and cool, and in the summer, the place fills up with the many noises that make summer so noticeable. Have you noticed how loud crickets and birds can be? They seem so unaware of how much noise volume they produce. Still, I do not mind since it reminds me of a lot of good times. Even if summer is not necessarily my favorite season, I'll be honest: there are also really nice sides to it that I really enjoy. Cycling in the warm wind and eating filled-with-sun local fruit and vegetables from the market is one.
Observing the beauty of nature, the bees at work in the open fields full of multicolored flowers, is another one.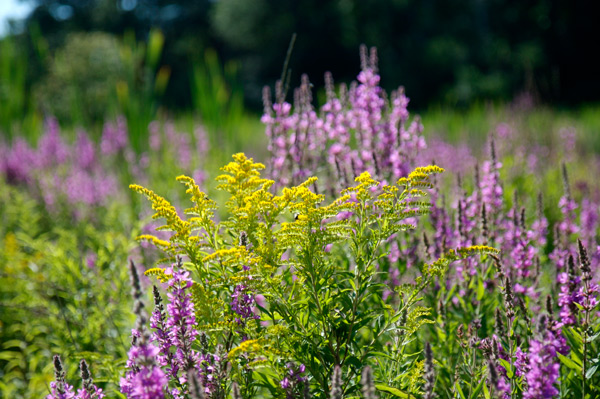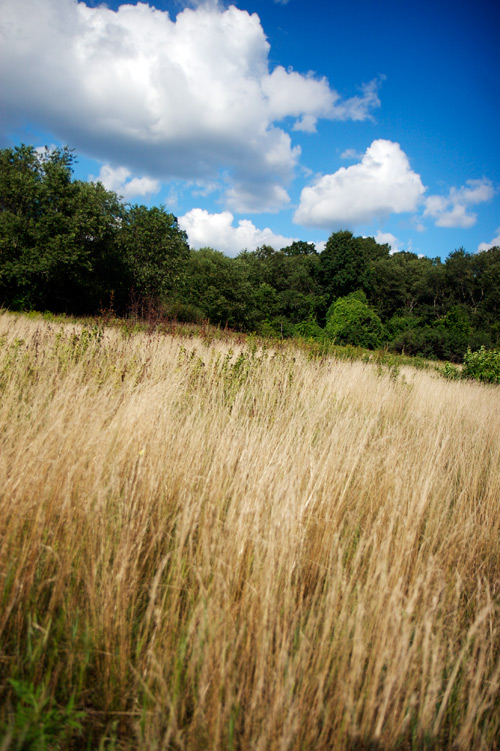 A few stops along the way are a must, to enjoy every detail of the life going on there. There is much to see and observe indeed. It feels hotter now that I've cycled up and down the path, and I am battling with the mosquitoes that are pretty greedy and alive too. In a funny selfish way, I feel sorry P. is not with me since I know he would attract them more than I do. We keep joking that they prefer Irish to French blood.
There are no fruit to pick here, unfortunately, but I've packed a few delicious apricots, roasted almonds and a drink to keep me company if I feel hungry. P. used to tease me about the many snacks I always pack when I leave to the beach or for a walk, but I always tell him : On ne sait jamais ! (You never know!) In fact, he's learned to need them as much as I do.
When it is time for me to head back, the sun is still quite high and I sense that being in the shade will be a nice welcoming change for me. In fact, I am convinced of it, especially with the prospect of the lovely treat waiting for me upon my return: a chocolate, nuts and banana bread baked earlier in the day.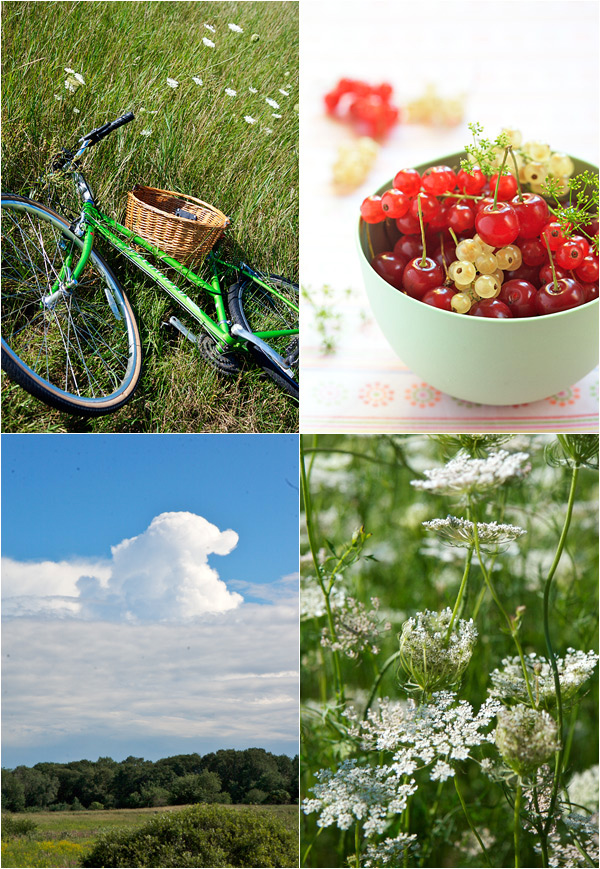 Nature in Summer
I don't think I knew what a banana bread was before moving to the United States. First, I was surprised people called it bread since I would rather have called it cake. But be it. I've quickly learned that there is a real banana bread culture, with many various recipes that abound. I am actually secretly convinced that every single American home cook has a favorite recipe. Non ? So it will be no surprise for you to hear that, over the years, I've become as infatuated with this cake as any American, and for good reasons. A banana bread is moist and delightfully nutritious: the perfect food to provide many good times.
In my recipe, I use rice and quinoa flours, along with tapioca starch. There is not butter, but olive oil (or canola) and almond butter which add a lovely touch to the baked goods. And because I am such a sucker for dark chocolate, I could not resist but add coarsely chopped pieces of my favorite dark chocolate, along with dry roasted nuts, pumpkins and walnuts.
This cake is delicious on the day it is baked, but also keeps well for a few days when well wrapped, and placed in the fridge. If the bread is a few days old, I like to heat it for a few minutes in a non-stick frying pan, so that it comes back to room temperature — yes, I am not a fan of fridge-cold foods. Then, I also love to pack it whenever I go out for a long walk or cycle, or when I am lucky to be hiking somewhere inspirational.
Well, what can I say? I just hope you will like it as much as I do. I am already planning to make another one for our upcoming weekend getaway.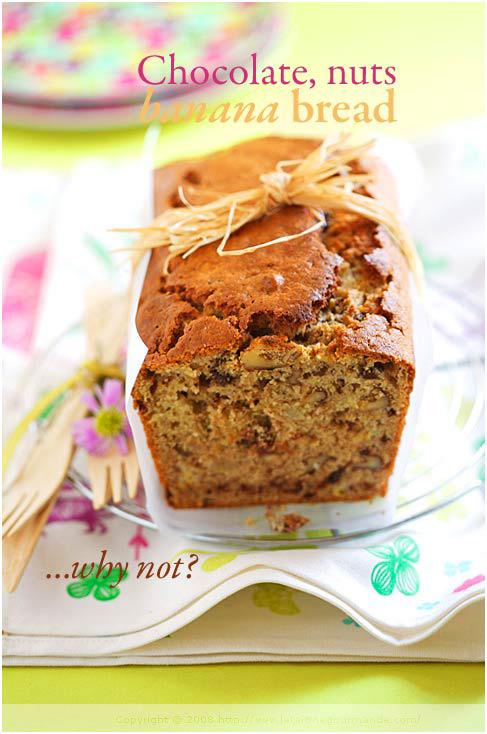 Nuts, Chocolate and Banana Bread
Banana Bread with Nuts and Chocolate
You need:
3/4 cup quinoa flour
1/2 cup white rice flour
1/2 cup tapioca starch
2 eggs
2 bananas, ripe and mashed
2/3 cup blond cane sugar
2 Tbsp almond butter
1/3 cup olive oil (or canola oil)
1/2 tsp sea salt
3/4 cup walnuts, toasted
3 Tbsp pumpkin seeds, toasted
1/2 cup dark chocolate 64 % cocoa, chopped coarsely
1/2 tsp baking soda
1/2 tsp baking powder
1 tsp pure vanilla extract
Steps:
Preheat your oven at 350 F.
Butter (or use an olive or canola oil spray) and flour an 8 1/2-by-4 1/2-inch loaf pan.
In a bowl, combine the flours, salt, baking powder and baking soda; set aside.
In another bowl (or using your stand mixer equipped with the paddle), beat the sugar with the eggs.
Add the oil and almond butter, then add the vanilla extract.
Add the bananas until the texture is homogeneous.
Then fold in the flour mixture.
Finish with the chocolate and nuts.
Pour this batter in the loaf and bake for 50 to 60 minutes, or until the blade of a knife inserted in the middle comes out dry. Let cool a few minutes before unmolding.
Le coin français
Gâteau aux noix, chocolat et bananes
Ingrédients :
100 g de farine de quinoa
80 g de farine de riz blanc
80 g de fécule de tapioca
2 oeufs
2 bananes, mûres et écrasées
150 g de sucre de canne blond
2 càs de beurre d'amande
80 ml d'huile d'olive (ou de colza)
1/2 càc de sel
80 g de noix, grillées à sec
3 càs de graines de citrouille, grillées à sec
50 g de chocolat noir à 64 % de cacao haché grossièrement
1/2 càc de bicarbonate de soude
1/2 càc de poudre à lever
1 càc d'extrait de vanille pur
Étapes :
Préchauffez votre four à 180 C.
Beurrez (ou huilez) et farinez un moule à cake mesurant 22 par 11 cm.
Dans une jatte, combinez les farines, le sel, la poudre à lever, la bicarbonate de soude; metytez de côté.
Dans une autre jatte (ou un mixeur à pied équippé de la spatule), travaillez le sucre et les oeufgs en pommade.
Ajoutez l'huile et le beurre d'amandes , puis l'extrait de vanille.
Ajoutez les bananes et mixez à peine, pour que tout soit homogène.
Ajoutez le mélange de farines.
Finissez par le chocolat et les noix.
Versez cette pâte dans le moule et cuisez pendant environ 50 à 60 minutes, ou jusqu'à ce que la lame d'un couteau insérée au milieu du gâteau en ressorte sèche. Laissez refroidir pendant quelques minutes avant de démouler.