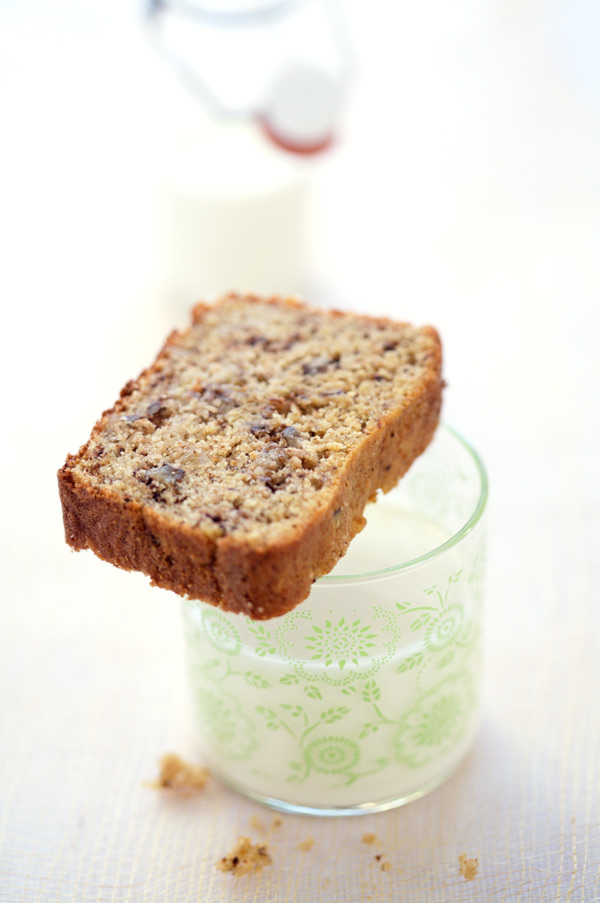 Quinoa banana bread
I came with the intention to tell you about beautiful purple eggplants and how delicious they turned into dinner but instead, here I am, again, with the story of a cake.
It came as the priority — my eggplants will have to wait a little.
After spending ten days with us, my mother traveled back to France yesterday night, which left me with a sudden urge to bake at 10 pm. It was hard to see her go. "I should be used to it by now," I thought. But it's not becoming easier and I'll never get used to it, in fact.
While I was nursing Lulu on the bed upstairs, I was thinking about P. driving my mother to the airport, and the two of them waiting in terminal B by the American Airlines gate with the sign Paris Charles de Gaulle.
I know well that I am going to miss our daily lunches and walks together — between her, Lulu and I. Every time it happens, that traveling-back-home and saying-goodbye-we-will-see-each-other-soon, you know, there is the same pinch to the heart, the same tightness in the stomach — and the same urge to bake.
And then, with my hands busy beating eggs and sugar, I kept thinking about how much my mother would have enjoyed making that special cake with me. It's something that I didn't learn from her, that cake. It's something that belongs to the culture that I slipped into. Here. It's about the recipe and culture of a cake that I am happy to share with her, something that she can bring back home. To France.
By 11:30 pm, as P. and I walked upstairs to slip into bed, the cake sat at one corner of the kitchen counter top, leaving a waft of sugar everywhere in the house. Making us dream about something soft and sweet. Delicious.
When I was little, my mother taught me what I needed to know about how to start to bake. Today, I like to think that I can also teach her something new and different about baking.
It's something about the relationship between a mother and her daughter in the kitchen.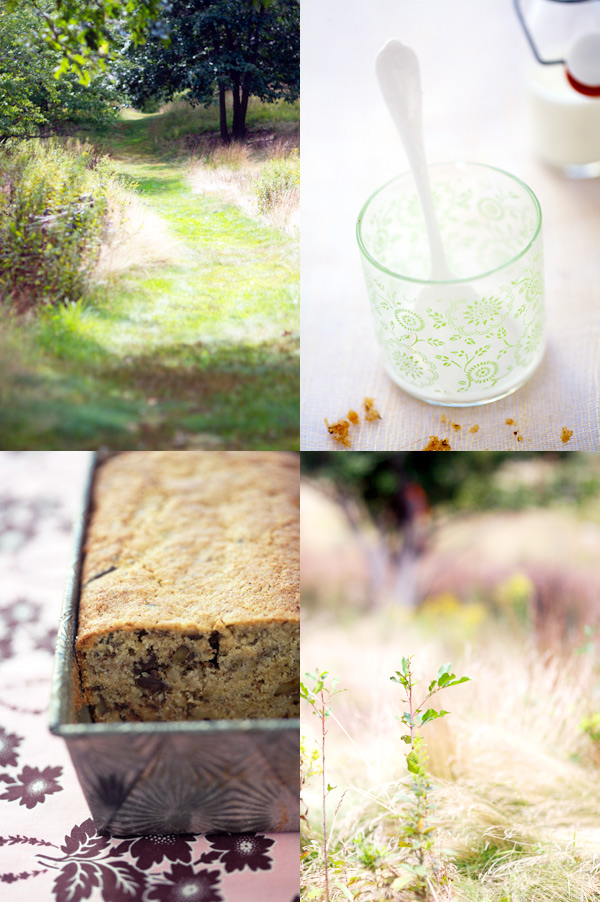 Bon et le gâteau alors !
This cake is deliciously dense. Add as much chocolate and nuts as you like — more than required cannot hurt. It's a cake that isn't too sweet, because I like cakes this way; it's cake that keeps well for a few days, if you need to, but it rarely reaches the point when you need it to keep. It's made quickly; it's eaten just as fast.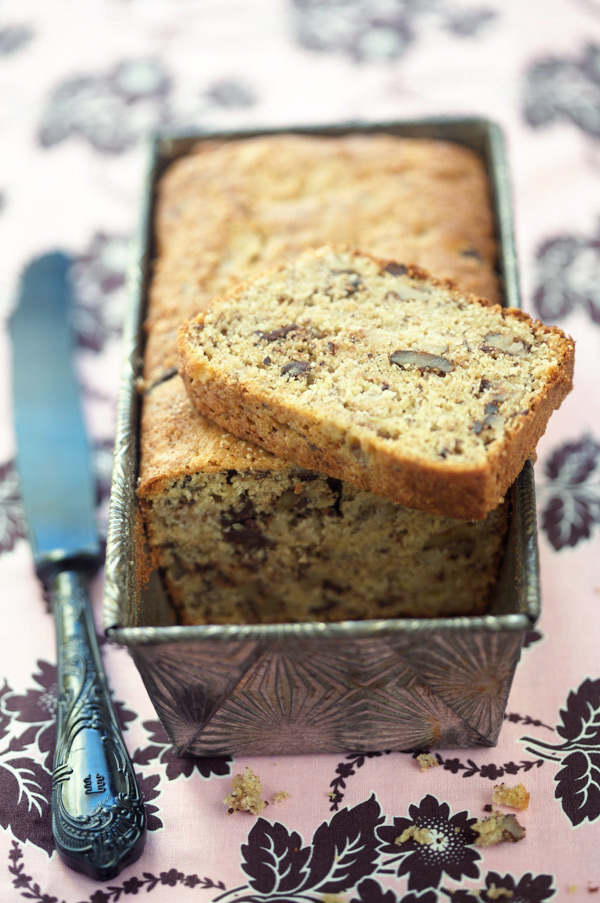 Quinoa, banana and apple bread
You need:
2 eggs
1/2 cup blond cane sugar
1/2 cup white rice flour (100 g)
1/3 cup quinoa flakes (30 g)
2/3 cup quinoa flour (80 g)
2 oz coarsely chopped dark chocolate (70 % cocoa)
1 teaspoon baking powder
1/2 teaspoon baking soda
1/2 teaspoon ground cinnamon
1/2 cup chopped walnuts
7 tablespoons butter melted and slightly cooled
1 Macoun apple, peeled, cored and grated (or any apple good for baking)
2 ripe bananas, mashed with a fork
Steps:
Preheat the oven at 350 F and butter a loaf pan or muffin molds. Coat them with flour and tap the excess out; set aside.
In a bowl, combine the flours with the quinoa flakes, baking soda, baking powder and ground cinnamon; set aside.
In the bowl of your stand mixer, beat the eggs with the sugar until light. Add the butter and mix.
Using a wooden spoon or rubber spatula, stir in the apple and bananas.
Fold in the flours and chocolate and nuts and mix until just combined.
Pour the batter into the molds you choose and bake the cake for 30 to 35 minutes (for a large loaf) or 20 to 25 minutes (for small muffins).
Le coin francais
Gâteau au quinoa et aux bananes
Ingrédients :
2 oeufs
100 g de sucre de canne blond
100 g de farine de riz blanche
30 g de flocons de quinoa
80 g de farine de quinoa
60 g de choocolat noir à 70 % haché grossièrement
1 càc de poudre à lever
1/2 càc de bicarbonate de soude
1/2 càc de cannelle en poudre
1/2 tasse de noix hachées grossièrement
80g de beurre fondu
1 pomme de type Macoun, pelée et râpée (ou une variété équivalente pour cuire)
2 bananes bien mûres, écrasées à la fourchette
Etapes :
Préchauffez le four à 180 C et beurrez un moule rectangulaire ou des moules à muffin. Farinez-les et enlevez l'excédent; mettez de côté.
Dans une jatte, mélangez les farines avec les flocons de quinoa, la bicarbonate de soude, la poudre à lever et la cannelle; mettez de côté.
Dans le bole de votre mixeur à pied, battez les oeufs avec le sucre jusqu'à blanchiment. Ajoutez le beurre et mélangez.
En utilisant une cuiller en bois ou une maryse, ajoutez les bananes et la pomme.
Incorporez délicatement les farines, le chocolat et les noix.
Versez la pâte dans le(s) moule(s) et enfournez pour 30 à 35 minutes (pour un grand gâteau) ou 20 à 25 minutes (pour des muffins).