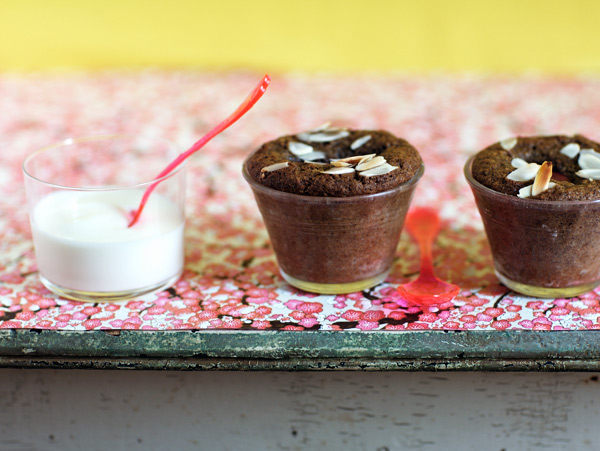 Plum and walnut cakes
I decided to walk to the farmer's market with Lulu. It was going to take us a solid hour, which I was really looking forward to since it was one of these perfect sunny days of late summer, early fall. Lulu was chatty, making all sorts of ma ma ma da da sounds in my ear, and I was singing silly French songs that I was just making up as the words came out of my mouth.
" ♪ ♪ C'est ♪ ♪ jeudi ♪ et Luluuuuuu ♪ et mamannnnn ♪ ♪ vont au marché ♪ ♪ tra la la la". Really silly! But it made her laugh so joyfully that I didn't care — we formed a happy pair and that's all that mattered on that sunny day.
I told her about the farmer's market. And to start, about the beautiful eggs that we were going to buy.
"Tu verras, ce sont les plus beaux oeufs du monde!" I sang to her. (You'll see, they are the most beautiful eggs in the world). I really meant it! The first time I saw them, I fell in love with their color — soft shades of blue, beige and green — and the deep orange yolk they reveal once they are cracked open. The taste is incomparable!
"What kind of chickens lay these eggs?" I had felt curious to ask the young pretty woman selling them. "They're called Araucanas, " she had responded. Her smile stretching her mouth wide open revealed perfectly aligned white teeth that contrasted with her tanned face and long dark curly hair. She's got the healthy look of someone who spends a lot of time outside, I had thought watching her pack my eggs carefully. I liked it. It had me dream again of the life in the countryside.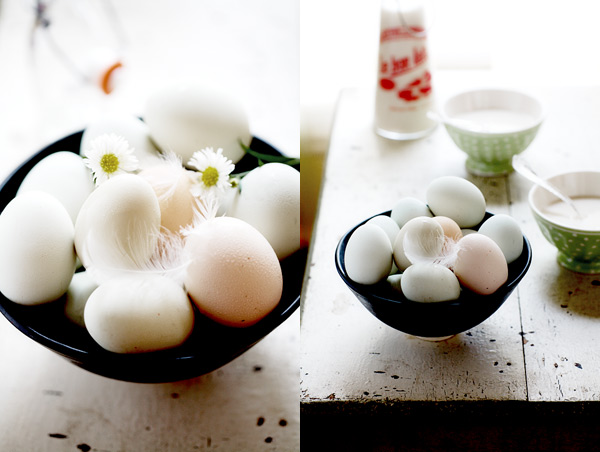 Then I told Lulu about the tasty crab apples, the corn and eggplants, the Heirloom tomatoes and French beans, yellow zucchini and carrots that we would buy too.
When we arrived on the square, the place was already buzzing with activity even if the market had just opened. I imagined how pretty it would be to look at the place from above, and see this patchwork of bright colors and people busy like ants. We strolled around to look at the vegetables and fruit, comparing them from one stand to the next.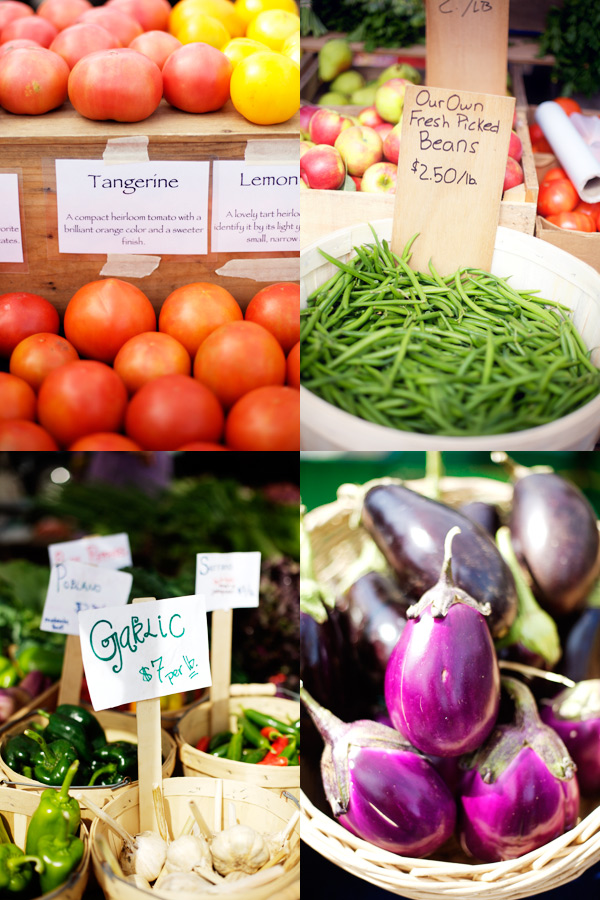 We bought eggs and apples, different varieties of zucchini, raspberries and peaches, and I packed up a few beautiful purple eggplants, tomatoes, fingerling potatoes, French beans and carrots as well. The gorgeous produce inspired me so much that thoughts of menu ideas filled my head, making me seriously forget that I would have to carry everything home — and would just as donkeys do. It's funny how, whenever I go to the market, I always end up coming back with much more than I plan to buy. Do you too?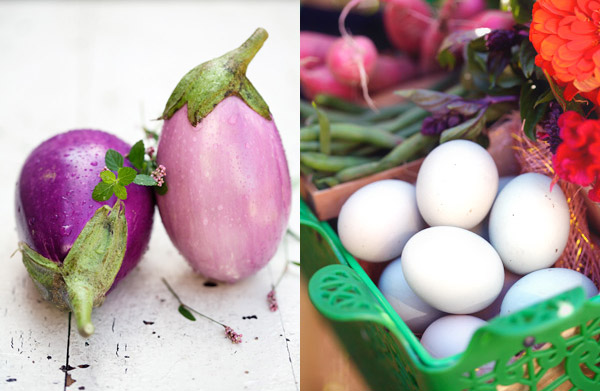 "C'est tout!" (that's all!) I told Lulu. "Y'a plus de place!" (there's no more room!)
But that's when I saw them. Those lovely plums neatly arranged on a display in the middle of the market.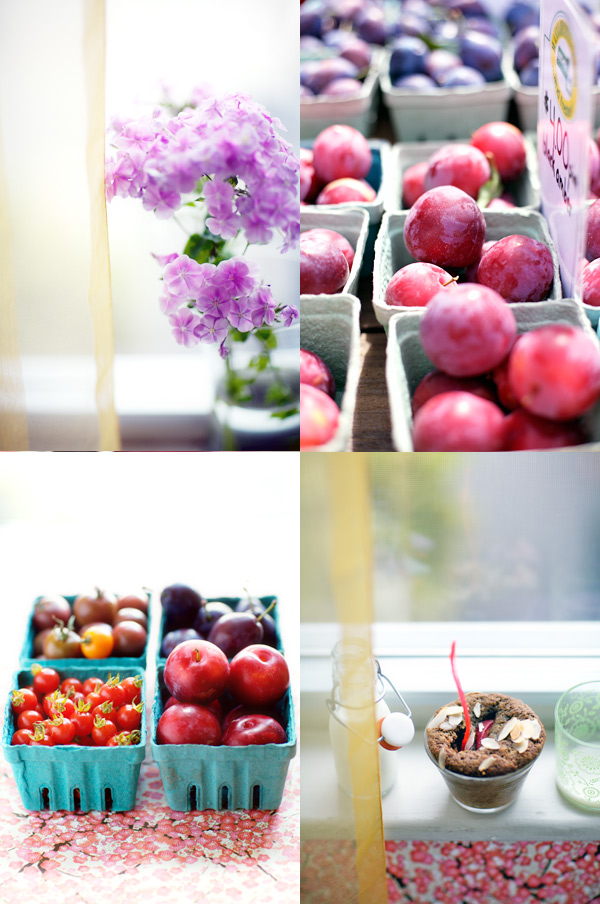 You see, those plums were just calling my name with their attractive subtle shades of pink and fushia. They were too cute to walk by and go unnoticed. So, of course, quite predictably, I stopped. I leaned towards Lulu and drawing my face close to hers, I whispered as if I were telling her an important secret: Regarde ces jolies prunes! (Look at those pretty plums!) Ce soir, je te préparerai de la compote de pommes et de prunes avec de la cannelle et de la vanille." (Tonight, I'll prepare stewed apples and plums with vanilla and cinnamon).
She smiled. But of course, it's most likely the buzz of the market that she found funny.
But as promised, when we were back home, I stewed the plums for her. I really wanted Lulu to be the first one to taste our plums.
The fruit wasn't too sweet, perhaps still in need of maturation under more sun, but at the speed by which Lulu ate it, she obviously didn't seem to find it too tart. In fact, she kept opening her mouth like a bird, asking for more.
"C'est si bon que cela?" (Is it that good?) I asked her, laughing while giving her the last spoonful left.
It was really nice to watch.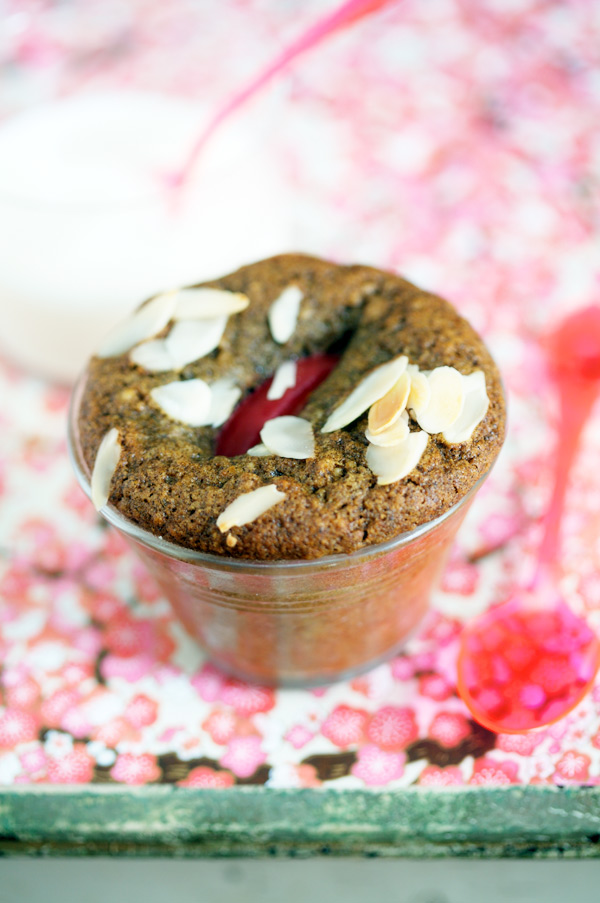 And then, it's really what made the story of these plum cakes. And how making natural foods for Lulu inspired me to bake.
I felt like baking simple plum cakes that I would be able to eat when they are still warm from the oven. Still to this day, my mother keeps telling moi-at-forty-years-of-age that doing such a thing is silly and a bad idea and that it will hurt my stomach. But I don't believe it. Or I don't want to hear it. And I am sure that Lulu won't want to hear that from me either when she is older.
Anyway, these cakes.
I used buckwheat flour (because it's one of my new favorite flours to bake with) and quinoa flour, roasted ground walnuts, stewed plums, a couple of my favorite eggs and a few other things.
And do you know what? Eating the cake out of the oven was exactly the right thing to do.
Actually, I ate two, dreaming about what Lulu and I would find at the market the following week.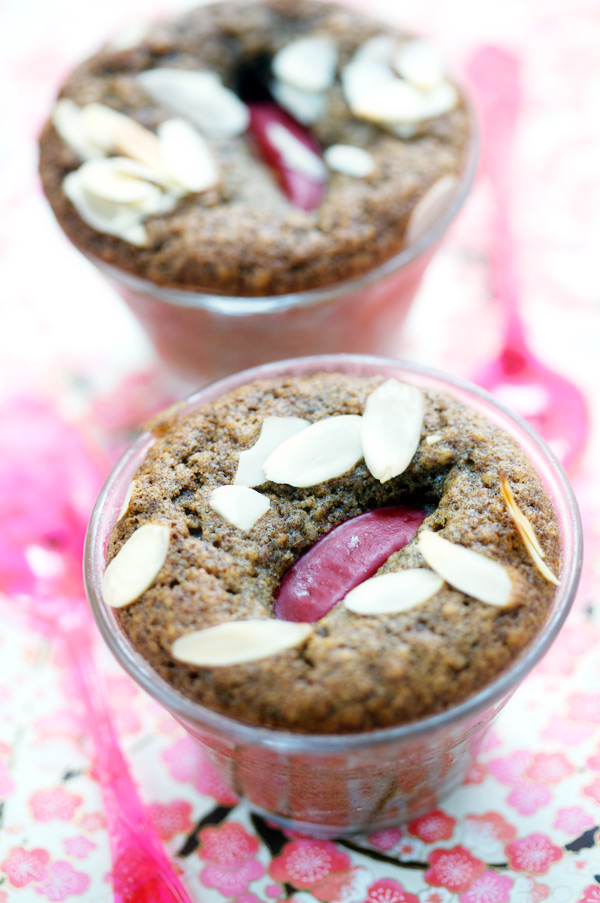 Plum and walnut cakes
(For 8 1/2 cup cakes)
You need:
4 to 5 plums
2 eggs
6.5 tablespoons butter, melted and slightly cooled
1/2 cup blond cane sugar
1/3 cup buckwheat flour
1/2 cup quinoa flour
2/3 cup walnuts kernels
1/2 vanilla bean, split open and seeds scraped out
1/2 cinnamon stick
1 teaspoon baking soda
1 teaspoon baking powder
Sliced blanched almonds, to top the cakes
Steps:
Slice the plums and remove the pits. Keep 1/4 of one plum on the side. Steam the rest of the plums with the vanilla and cinnamon until the fruit is tender and you're able to remove the skins. Discard the vanilla bean and cinnamon stick, and remove the skins from the plums. Purée the flesh; keep aside.
Grind the walnuts finely. Using a non-stick frying pan, dry roast the walnuts until fragrant (watch carefully to avoid that they burn). Let cool.
Preheat the oven at 350 F. Butter 8 1/2 cup molds (or whatever molds you want to use) and coat them with flour. Remove the excess; set aside.
In the bowl of a stand mixer, beat the eggs with the sugar until the batter is light.
In another bowl, combine the quinoa and buckwheat flours with the walnuts. Add the baking powder and baking soda; set aside.
Add the butter to the egg batter and the stewed plums and combine. Then add the flours and mix until just homogeneous. Divide the batter between the molds and top with a few slices of plums and sliced almonds. Bake the cakes for about 25 to 30 minutes (or until the blade of a sharp knife inserted inside the middle comes out dry. Eat as you please. But I think the cakes are best eaten on the day.