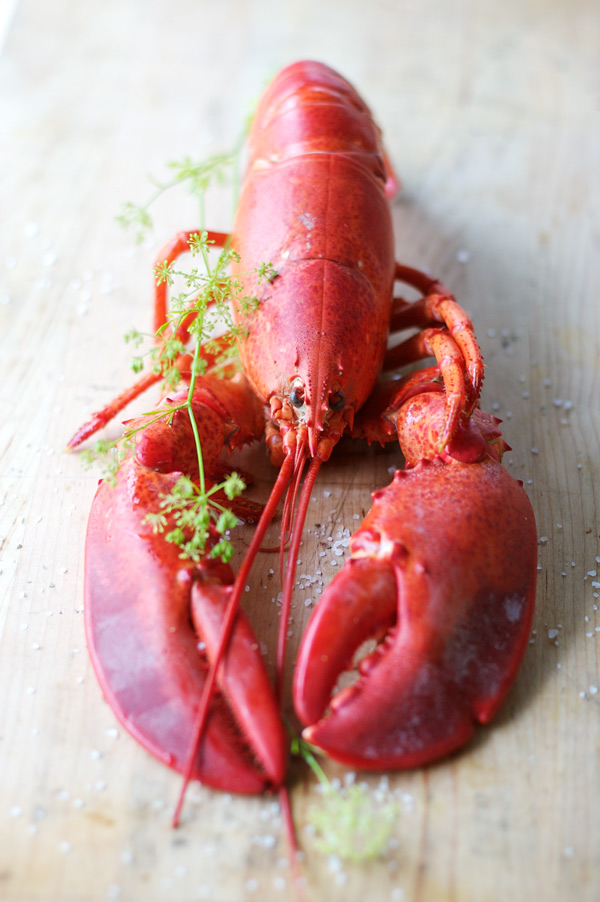 "Let's have a lobster weekend," my friend R. said. "I'll talk to my lobster guy."
"Your lobster guy?"
"Yes. You'll see. You'll love to meet him."
Quite frankly, I was excited. First, we really love to hang out with our friends R. and E. Secondly, they live in a beautiful house on the South Shore, with an amazing view on the ocean, a huge (me happy!) pool and jacuzzi. Then, my friend R loves to cook — and does it very well — and he grows a vegetable garden. He also speaks French, and that's always something relaxing for my end-of-week tired brain.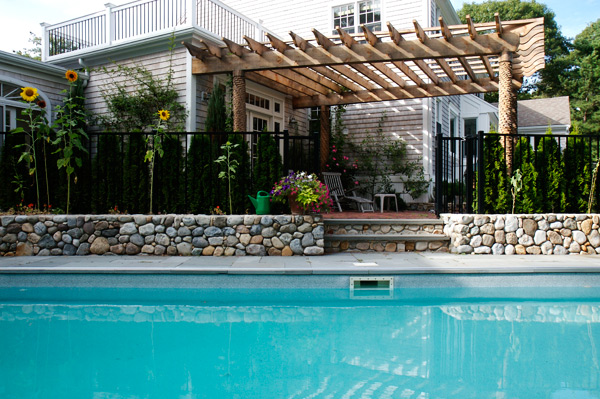 "I'll make dessert!"
"Parfait! he exclaimed joyfully."And what do you think about a lobster salad with tarragon?"
What did I think about it? I loved the idea!
That's how our conversation ended and how P., Lulu and I had a great plan to look forward to for the weekend.
I packed on Friday night, filling our bags with delicious foods I wanted to bring, and on Saturday morning, we drove down south.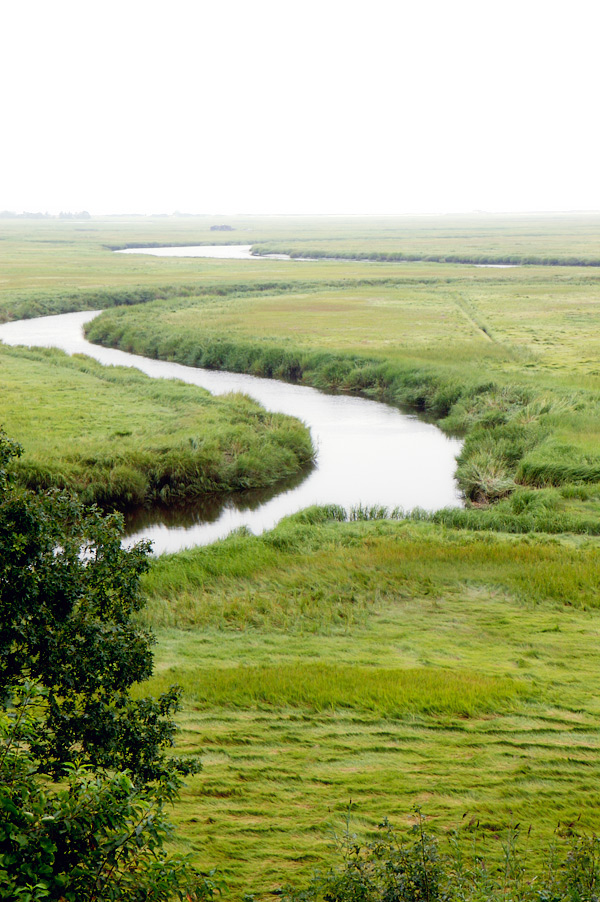 "J'ai déjà commencé," (I've started already) R. said when we walked into the kitchen. He seemed jolly, busy working along behind the stove. I caught sight of three pink lobsters on the counter and felt relieved. I've never liked the part that involves plunging the lobsters into a pot, and I was glad that he had done it for me. "I still have four more," he added with a wide smile lighting his tanned face. Clearly, we were going to dine on a lobster feast.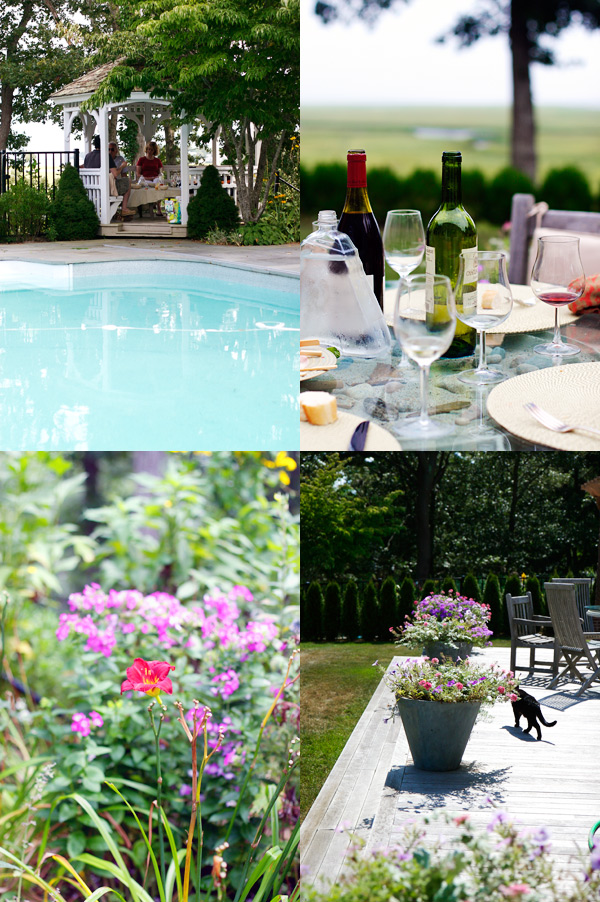 We sat in the small wooden shelter nested by the pool, eager to chat and catch up — we hadn't seen each other in weeks. We were treated with a lunch of homegrown juicy tomatoes and cucumber that we ate with Italian prosciutto and Tallegio cheese. And as expected, R. and I started to talk about our dinner plan.
"Demain, on ira voir Tommy Alioto," he said. He was talking about his lobster guy, Tommy, who owns and runs the Cohasset Lobster Pound on picturesque Cohasset Harbor. "You'll see, he is quite a character! He's got a smile!"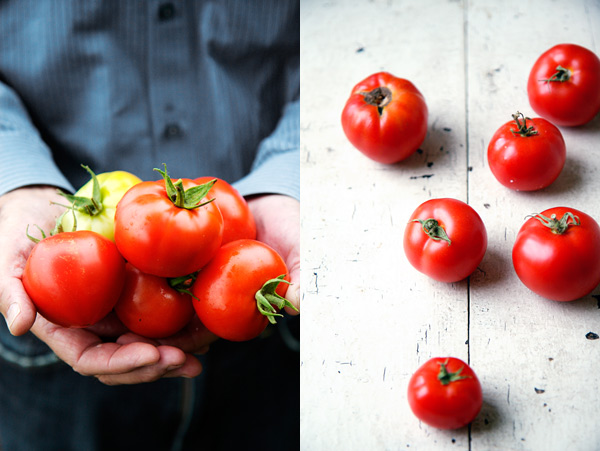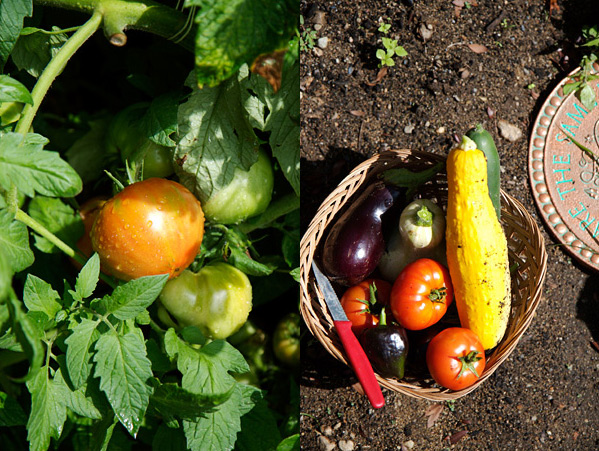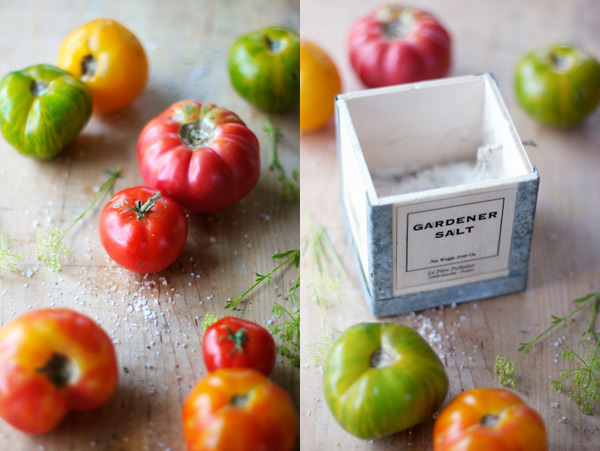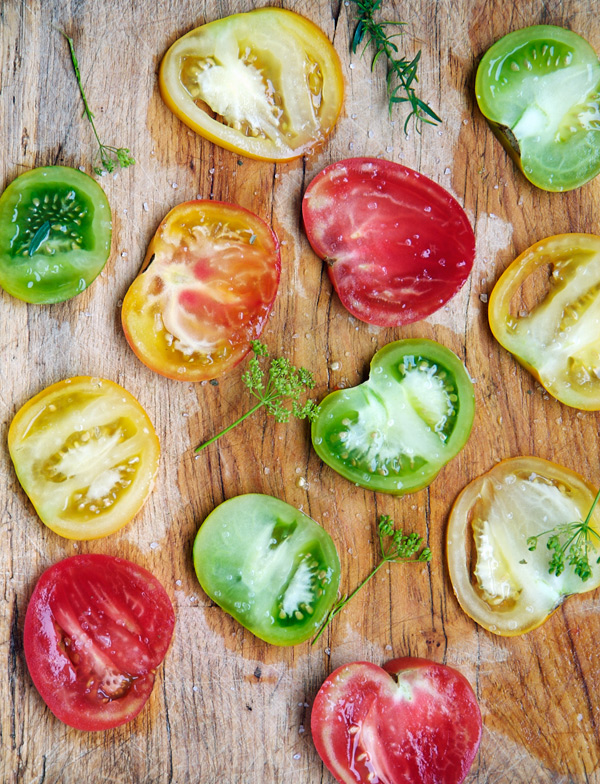 We made a salad with local Heirloom tomatoes and the next day, I picked vegetables — squash, eggplant, pepper and fresh herbs — that filled a basket to bring home. We debated what best lobster salad recipe to follow for our meal and settled on one inspired by Jasper White.
R. cooked four small 1 1/4 pound lobsters and removed the meat for the lobster salad along with the meat from the 5 pound lobster we used to serve the salad. He made the tarragon mayonnaise and I assembled the lobster salad and baked raspberries almond mascarpone flans.
We chatted and ate our food and drank a Chassagne-Montrachet Premier Cru "Les Chaumées" 2002 — a perfect accompaniment to lobster. We enjoyed a fabulous dinner.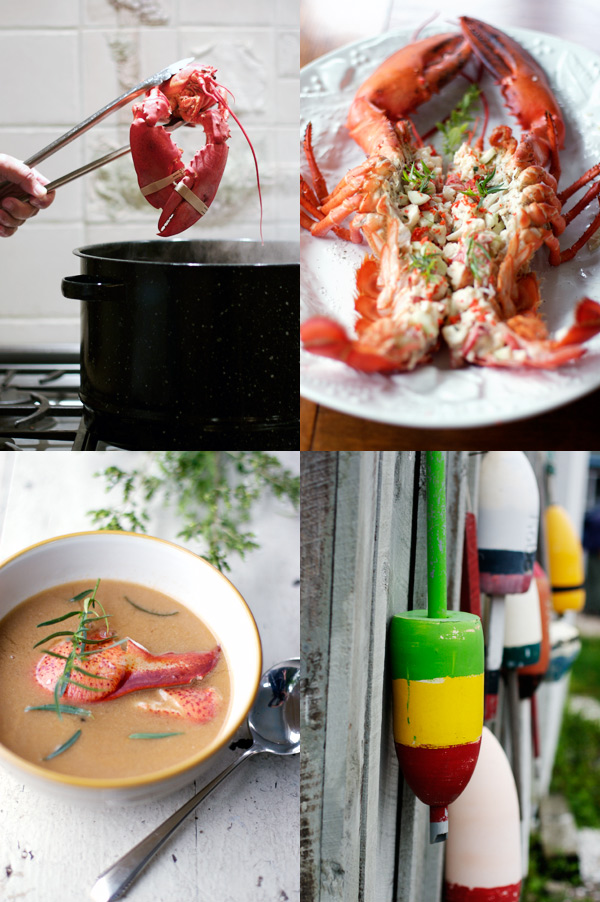 And the next morning, as planned, we went to see Tommy.
Tommy had quite a smile indeed! He gave us a generous welcome, we shook hands and he took us downstairs to see the lobsters.
"Here's the beast!" he said after pulling a gigantic lobster from the tank which he held proudly in front of him. The lobster weighed twenty pounds and seemed enormous. "Wow, that's a big one for sure!"
I could not help but think that that one was just as heavy as Lulu!
I learned that Tommy buys his lobsters from about thirty Cohasset lobster boats and arranges their sale. Up to 7000 pounds of lobster are stored live in his large seawater tank and many are shipped daily to Milan in Italy.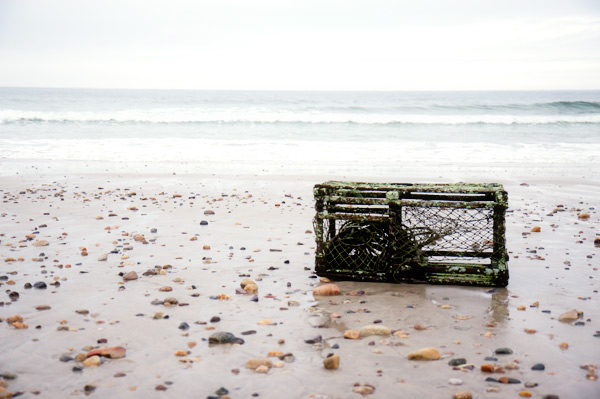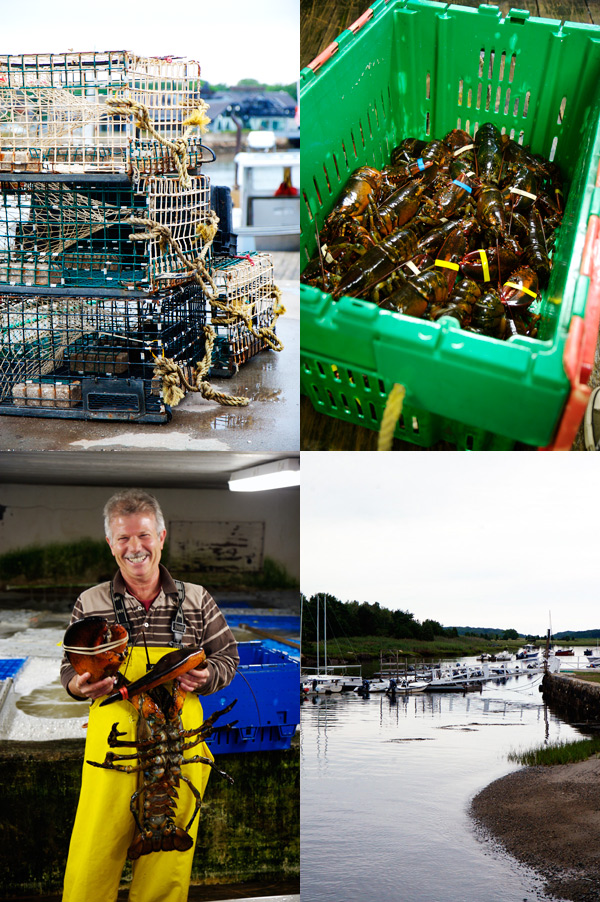 "What about a lobster bisque?" R. asked after we had finished our dinner. It was hard to believe we were already thinking about the next meal but it's never a surprise, really. Quite a habit instead. "Let's make one for lunch tomorrow," he added.
So this is how he started to make lobster broth late at night while tidying the kitchen. He took a large stock pot out in which he dumped the lobsters carcasses from our feast. He covered with water and brought the food to a boil. Then, he added some white wine leftover and added an onion, a leek, a few tomatoes and carrots. He added a few celery branches and 1 tablespoon of tomato paste — you can also add saffron. He brought the broth to a boil, seasoned with salt and pepper and then reduce the heat to let it simmer for 1 hour and a half. We left the broth sit overnight so that the flavors develop even more, and the next morning, R. strained and reduced the broth on high heat. To serve the lobster bisque, we added a few pieces of lobster meat we had kept and thickened the bisque by adding 1 to 2 tablespoons of cornstarch. We finished with fresh tarragon, a generous dollop of heavy cream and a dash of sherry to round the taste. It was simply astonishingly delicious. Trust me, you'll have to try it!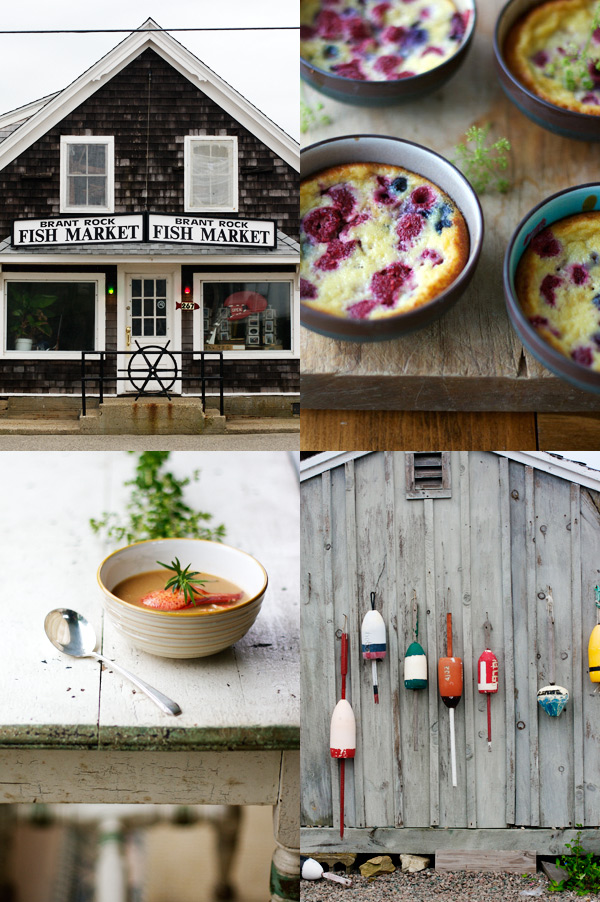 "Do you want to take some broth home?" R. asked.
It was hard for me to hide my excitement. Of course I wanted broth! I was so happy that I could have kissed him for even suggesting it. Well, I think I gave him an honest kiss on each cheek as French people like to do!
And so the next day, when we were back at home, I made my own lobster bisque for dinner. It was so good that both P. and I ate as slowly as we could, making sure not to leave a single drop in our bowls.
"Nothing goes to waste," I remembered R. had added when preparing the broth.
I couldn't agree more, especially when food tastes that good.
Lobster salad with tarragon
For the tarragon mayonnaise:
1 egg yolk
Pinch of salt
1 tablespoon French mustard
2 teaspoons chopped tarragon
Juice of 1 lemon
1 cup canola oil
Pepper
1 tablespoon cold water
Steps:

In a bowl, combine the mustard, egg yolk and a pinch of salt, and whisk until combined.
Drizzle the oil, but never stop whisking. When you have added half of the oil, add the lemon juice and continue then with the oil, until you reach the consistency you like.
At the end, add the tarragon and water. Store in the fridge until ready to use. You do not need all the mayonnaise for the salad.
For the lobster salad:
1 lb fully cooked lobster meat or 5 pounds live lobster**
1/2 red pepper, white parts and seeds removed, and sliced finely
1 Lebanese cucumber, peeled and seeded, and diced
Tarragon mayonnaise
Salt and pepper
2 scallions, diced
Steps:
Boil the lobsters until cooked and remove the meat from the carcass and claws, tails and knuckles. Dice the meat and transfer to a bowl.
Add the cucumber, pepper and mayonnaise. Use as much mayonnaise as you like in a salad.
Season with salt and pepper if necessary. Serve fresh.
**
Note: to boil 1 pound live lobster will take about 8 minutes; 1 1/2 pounds 11 to 12 minutes; 2 pounds about 15 minutes. Choose a large pot, big enough to hold the lobster and be able to stir. Do not fill the pot more than 3/4 full with water. Add 1/4 cup of salt for each gallon. Bring the water to a rolling boil before adding the lobster to the water. Count how many minutes from the time you plunge the lobster into the water.