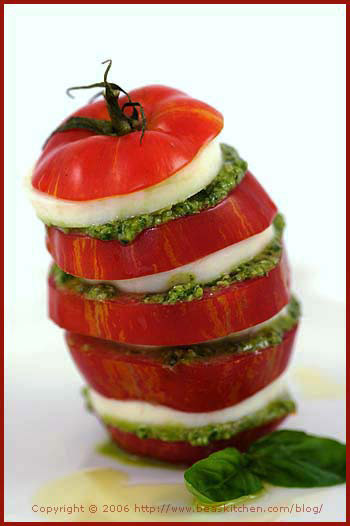 Millefeuille de tomate-mozzarella-pesto au basilic — Tomato, Mozzarella, Basil Pesto Millefeuille
The concept of Chez moi (At Home) is always ambiguous, isn't it?
P. moved to the US from Ireland when he was eleven. To this day, his mum always tells us this story, after they had just moved to the US. One day, she took him and his sister for an ice-cream treat, in the suburbs of Chicago where they lived. Upon returning, she told P.: "Let's go home", to which he responded "Where? Ireland?"
Où est mon chez moi ?
Where is my home?
Not sure — it might take a lifetime to know the answer — but I however know that yesterday night, I felt I was back home, in Boston, after an enjoyable ten-day trip. It will take me a little while to settle back in the routine, so while this happens, I suggest that like me, you hurry up to make dishes like the one above, while your basil is yet not frozen. I came back to find mine a little shrivelled. I give it one week or two to survive. Maybe I should take the pot in and make a lot of pesto?
In any case, I cannot wait to let you know about my trip stories and meetings. Plein de belles et bonnes choses ! (Lots of pretty and good things!) And of course, read about your new food stories.
En attendant…
In the meantime….

Millefeuille de tomate-mozzarella-pesto
To make this millefeuille, make a fresh nice basil pesto with 1/2 cup fruity olive oil, 2 oz pine nuts, 3 garlic cloves, 2 oz freshly grated parmesan and a nice large bunch of fresh basil. Place the peeled garlic (without the germ) with the basil leaves, parmesan and pine nuts in a food processor. Mix well. Season with sea salt and pepper, then slowly pour the olive oil, while constantly stirring.
Use very fresh tomatoes (I use Heirloom) and a quality mozzarella. Then, make nice slices in the tomatoes ane mozzarella and simply layer them: a slice of tomato, pesto brushed on top, a slice of mozzarella and repeat for as many layers as the millefeuilles will stay up! (I did about 4 layers).
Pour a dash of olive oil and fleur de sel. Decorate with more basil leaves. Simple and delicious !
Le coin français
Pour réaliser ce millefeuille, faites un bon pesto de basilic frais avec 10 cl d'huile d'olive fruitée, 60 g de pignons de pin, 3 gousses d'ail, 60 g de parmesan frais râpé et un large bouquet de basilic frais. Placez les gousses d'ail pelées et dégermées dans un mixeur avec les pignons de pin, les feuilles de basilic, le parmesan. Mixez. Assaisonnez avec du sel de mer et du poivre, et ajoutez l'huile d'olive en filet, tout en remuant. La consistance doit être granuleuse. Utilisez des tomates de qualité, et une belle boule de mozzarella. Coupez de belles tranches fines dans les tomates et la mozzarella (de la même taille) et alternez une tranche de tomate, du pesto, de la mozzarella. Répétez les couches tant que les millefeuilles tiennent en place ! (environ 4 couches). Arrosez d'un filet d'huile d'olive et de fleur de sel. Décorez avec des feuilles de basilic fraîches. Simple et délicieux !