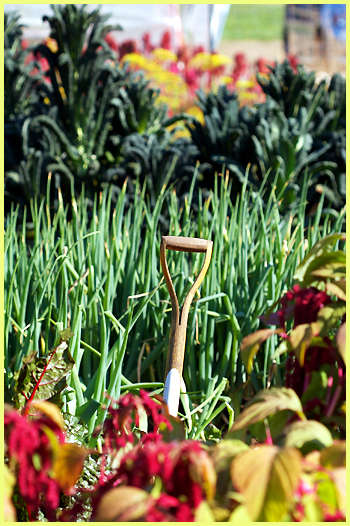 Vegetable Garden on Doe Bay Resort, on Orcas Island
When talking about the weather in Seattle, I was told by friends and random people that I should expect nothing but rain. I even heard things like "Why are you going there? Doesn't it rain all the time?"
Over the course of our recent trip to the north west coast of the US, we had quite the opposite. Instead of the rain, we enjoyed gorgeous sunny, warm days that revealed the splendor of a laid-back city and its surrounding nature. On top of it, I happened to be able to spent an evening with one of my favorite food bloggers. Does it get better than this?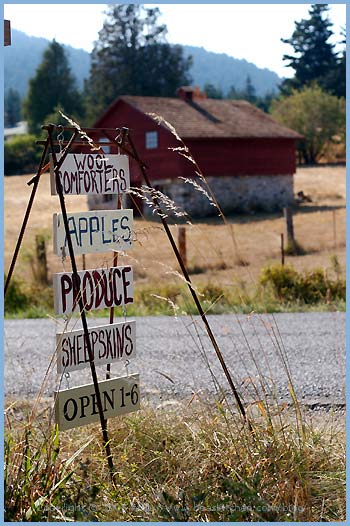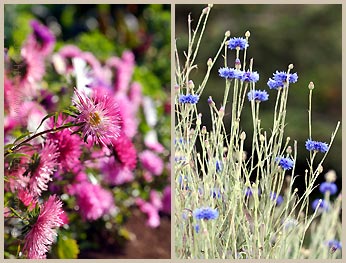 I always wanted to visit Seattle because I longed to discover Washington State's food plentifulness and enjoy its beautiful surrounding mountains and ocean. I couldn't have asked for better choices.

Orcas Island
We started our vacation by spending a few days on Orcas Island, which is part of the San Juan Islands. I did not know much about the islands before heading off and was unsure what to expect. On the day we arrived in Seattle, we took a quick shuttle to a smaller airport to get on board of a tiny plane. Our itinerary had so many connections, from Boston to Seattle, that I was amazed to see that everything went smoothly. With the late evening sun projecting an orange-yellow light beneath us, the view of the sounds from our little aircraft was simply magical. We landed on Orcas Island forty minutes after taking off.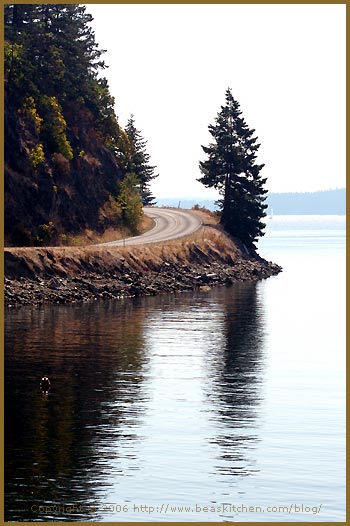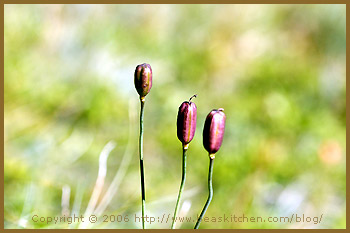 Orcas Island is definitely pretty and has nice things to offer. Looking rural at first sight, it is easy to want to feel lazy and spend afternoons napping under apple trees. We found winding roads, a State Park where it is easy to hike at the top of Mt Constitution, farms where you can stop to buy local produce and deer that are so accustomed to seeing humans that they even give you plenty of time to take shots before they disappear.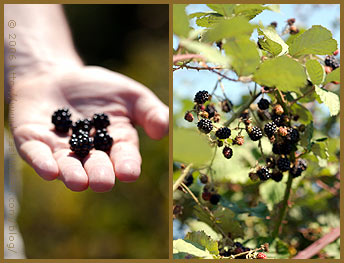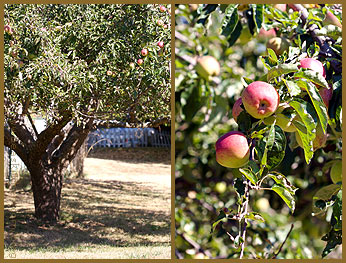 We enjoyed a few walks around Mountain Lake, took a canoe ride on the quiet lake found at the entrance of the State Park and stopped pretty much at every corner of the road to pick wild blackberries. One day, we even improvised a small container made from a plastic bottle that we cut in two halves, to bring berries home for our breaksfast the following day.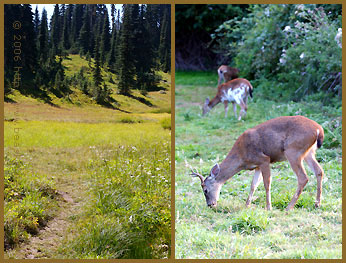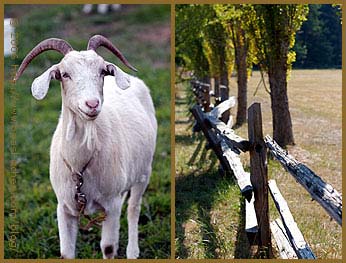 We rented a small cabin on Doe Bay Resort, which is a small isolated low-key resort on the eastern tip of the island. Nothing fantastic or luxurious, but it gave us what we needed: quiet and easy times. Waking up in the morning to hardly any sounds at all — except for our goat friends — was what we had been looking for. On the premises, I even discovered a vegetable garden used to provide the vegetables for the restaurant. My only wish was that I could have taken some of the treasures I found in it into my kitchen, between yellow zucchinis, beets, rhubarb and kale. The first two nights, we ate at the restaurant. The food was not amazing but the produce used was fresh. On our last night, we decided to improvise a simple dinner made of a tomato salad with avocado and cheese, and Asian noodles. With only a microwave that we could use, we had to be imaginative.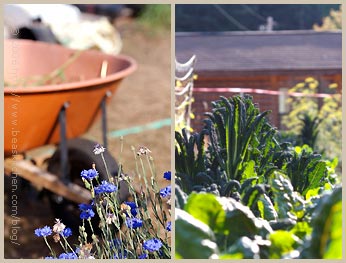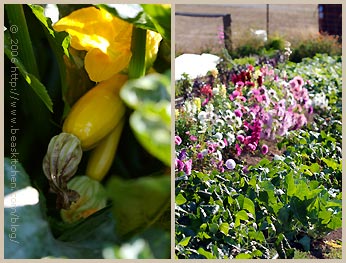 Overall, we had a good leisurely time. But we came back from Orcas Island with mixed feelings. True, there is beauty to be seen on the island. But what we did not know was something that we found out the hard way. After seeing discouraging signs like No Trespassing or Private Land while we drove on the roads leading to the shore, mainly on the west side of the island, we realized that most of the island is privately owned. I had never seen something like this elsewhere, or so much of it in one place. I might not have read the proper sites telling me about the place, and if I had, I would certainly have changed our plans. It became obvious that unless you own a place on the island, or have friends that do, you are limited to only parts of the island.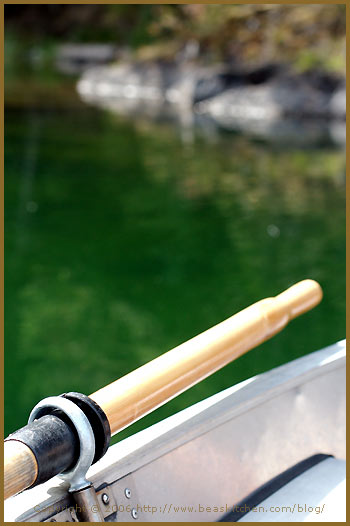 Did we regret to have come to Orcas Island? Not really as we liked what we did and saw. But if asked whether to go back, I believe that we would think twice about it. In fact, after our three days on the island, we were eager to continue on to our next step: Seattle.
Seattle
After flying back aboard a similar small aircraft, arriving in Seattle was made easy with a short taxi ride from Boeing Field airport to our hotel.
We stayed at Ace Hotel, which is conveniently located downtown on 1st Avenue (across from the most amazing bakery in the city: Macrina Bakery). This boutique hotel is clean and minimalist-looking, and offers excellent quality/price services for a modern-looking room with shared bathroom. A great option for us.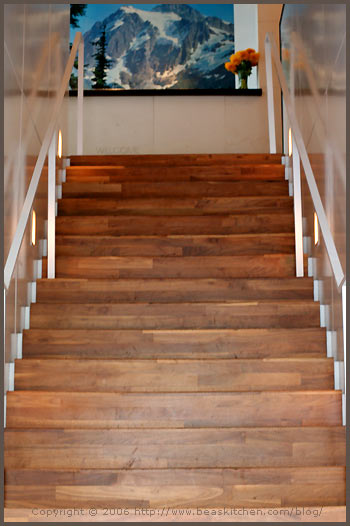 Entrance to Ace Hotel
The complimentary breakfast offered at the hotel was made of quality ingredients. Every morning, we indulged in fresh almond or raisin granola nicely wrapped individually, yogurts, orange juice, soy milk or regular milk, Teaosophy teas and fruits, bread and jam. I could not help but think about some of the bad breakfasts I had had in other places before, and felt pleased about our choice.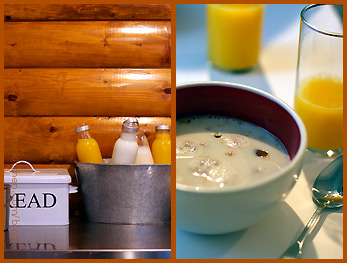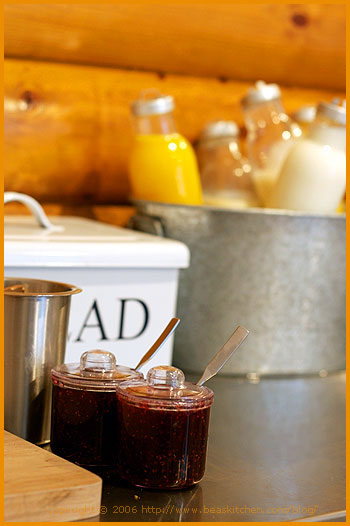 Breakfast Scene at Ace Hotel
Besides getting a feel for the city by walking its streets, there were a few important things I wanted to do while in Seattle. It started with discovering its farmers' market: Pike Market. As soon as you approached it, the display of flowers welcomed you. As a visitor there, it was just a shame that I could not buy fresh procude to bring home to cook. Instead, of course, I took pictures. C'est mieux que rien ! (It is better than nothing!)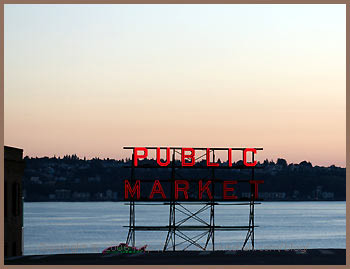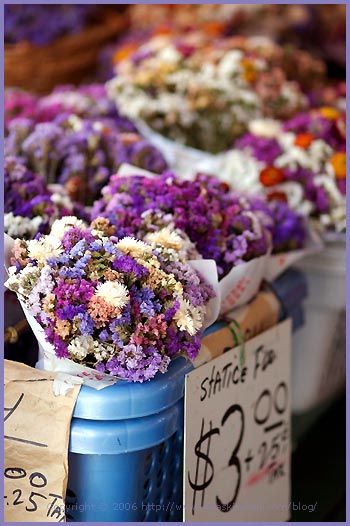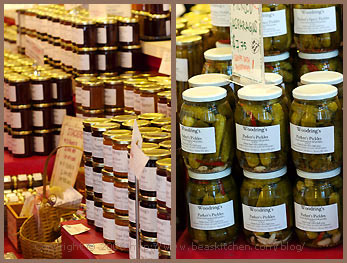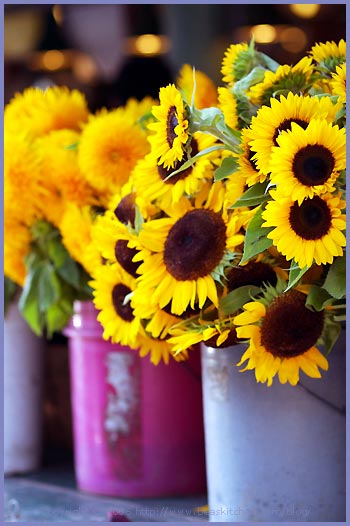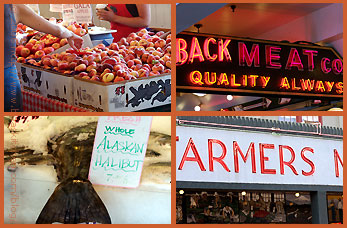 Pike Market Scenes in Seattle
On our second day in the city, we wandered along the harbor and its various piers, and decided to look for Café Flora for lunch, as I remembered Lara mentioning it on her blog. All the reviews mentioned fresh exquisite food, or the best vegetarian place in town. Our sandwiches were very tasty, and showed extreme care for the choice of vegetables.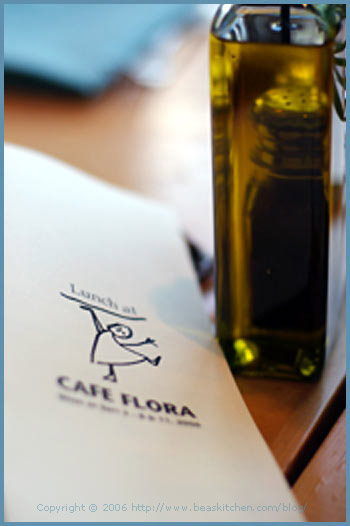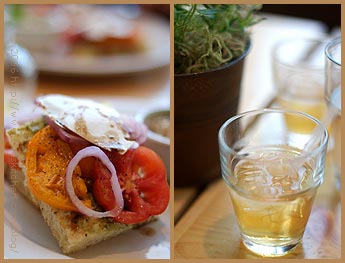 Café Flora for Lunch
We soon realized that Seattle is quite spread out compared to a compact city like Boston. In many ways, it reminded me of California and San Francisco for some of its hilly streets, or Auckland in New Zealand with similarly spread-out suburbs. In fact, it took us a taxi drive to get to the café from downtown, and a bus ride back.
Café Flora is located next to Lake Washington, in a much more upscale neighborhood of Seattle, at least it seemed in view of the houses and the beautiful botanical garden next door to the café, where we had a walk after lunch. Of course, we returned to the hotel with a feeling like "on en a plein les jambes" (literally we had a lot in our legs, meaning we had walked a lot) and the early evening came before we knew it. And by then, I was quite excited as another highlight of our trip was to occur.
By 6:30 pm, I was to meet with Lara and her husband Cam. And what a nice evening we had! I can confess that I was not surprised to find out that both Lara and Cam are simply extremely friendly, warm and welcoming. Lara had the initial plan to take us to Sitka and Spruce restaurant, her current favorite spot in Seattle, but we just had no luck as it was closed on the day we wanted to go. So instead, we headed to Crow restaurant for a nice dinner. The lively and fun conversations that we shared made P. and I feel so comfortable that we both felt as if we had met them before. In truth, we could not have hoped for a more welcoming time in Seattle, and this will certainly stay a highlight of our trip.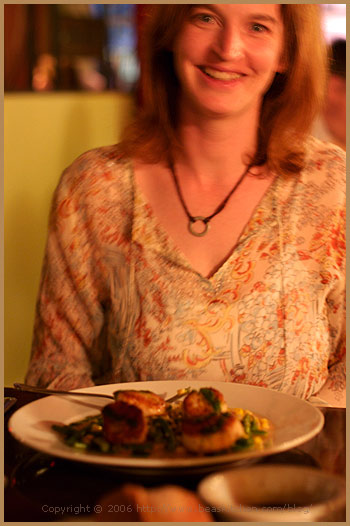 Lara at Crow Restaurant
We mentioned to Cam and Lara that we wanted to hike around Seattle, and it really took little convincing for us to follow their advice: the following morning, with a beautiful sunny day ahead of us, we headed South for a short three-hour drive to Mt Rainier National Park, to climb Tolmie Peak.
The drive to Moswich Lake — which was the starting point of our hike — took us through tiny quaint villages that give you a feeling that time has stopped there at some point. I could not help but take a few snapshots of Wilkeson where I even made friends with a cat comfortably looking at me while I approached. I guessed that he was also paralized by time. Everything seemed to be frozen in time in this village.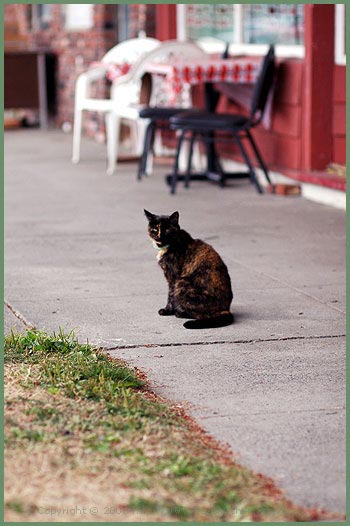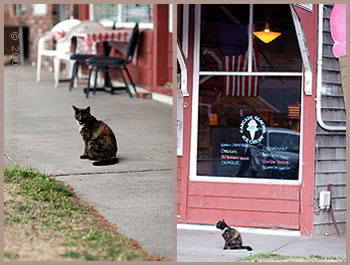 The hike on Tolmie Peak Trail in the Mt Rainier National Park is at an elevation of 5882 ft (1792 m) and was simply amazing. At times, if we had not known, we could have thought that we were in Switzerland. It took us about two short hours to get to the top, and three hours to cover the 6.5 miles roundtrip, but to this time, we added many stops, including this time, picking wild blueberries. The scent they diffused along the trail was so strong that if we had closed our eyes and had not been told where we were, we could have imagined that someone was baking a blueberry pie nearby. I do not think that I had tasted as sweet and tasty blueberries before.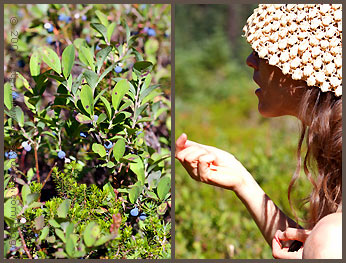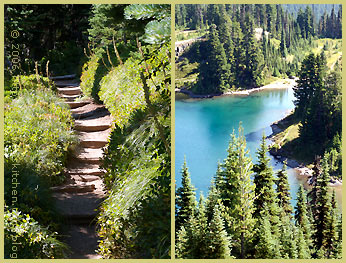 On the way to the Tomie Peak Lookout (at the top), we stopped at Eunice Lake and took a dip in its cold crystal-clear water that made you want to touch the bottom. You could see that far down.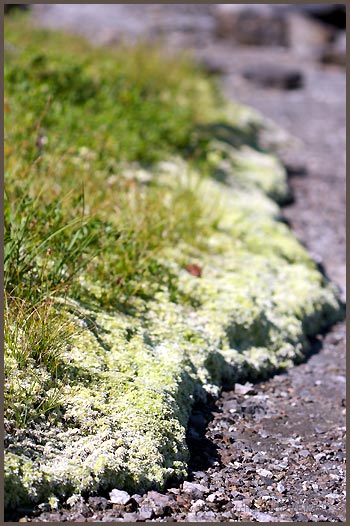 We carried a packed lunch bought in the morning from Macrina Bakery, and what a great choice that was. Having this bakery across our hotel was just mere luck of course, but I felt that we had been blessed to found ourselves in that situation. Did someone tell Madame la chance (Mrs Luck) that this was just what we were after? In fact, we liked the bakery food so much that the following day, when leaving Seattle, I simply had to go back in. This time however, not only did I buy the same salmon panini and orzo salad that we had enjoyed so much on the trail, but I just could not help but buy their cookbook when I caught a glimpse of it. Madame la chance was really with me. I was going to be able to bake the magnificent pumpkin nutty bread and plum snails eaten on the trail at home. They were just that good.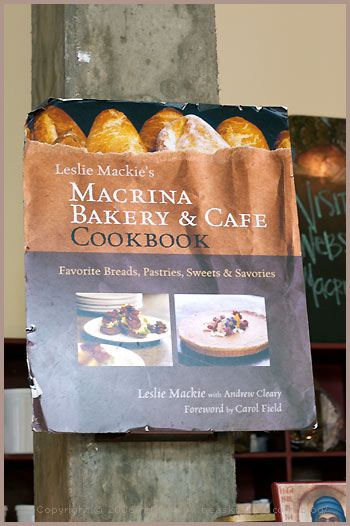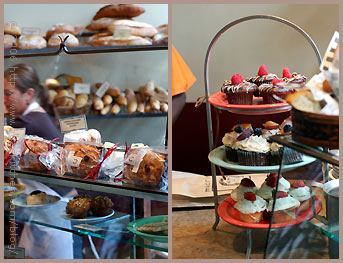 Mt Rainier will remain a superb highlight of our trip. And so will meeting with Lara and Cam. I will not forget Macrina Bakery either. As a matter of fact, I know already that one of my coming projects is definitely going to be baking something from my newly acquired cookbook in the coming days, so that I can prolong our vacation in the north-west coast. Or we just have to go back anyway. I still have to try Sitka and Spruce restaurant in Seattle, and hike more places around Seattle. I love them.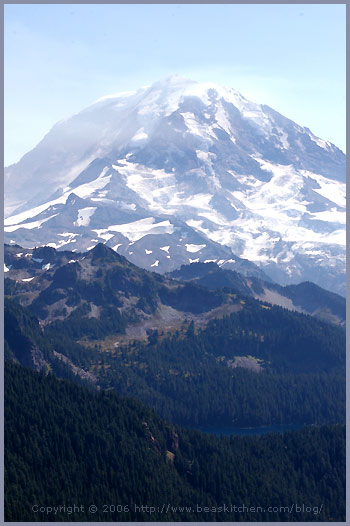 Mt Rainier as Seen from Tomie Peak