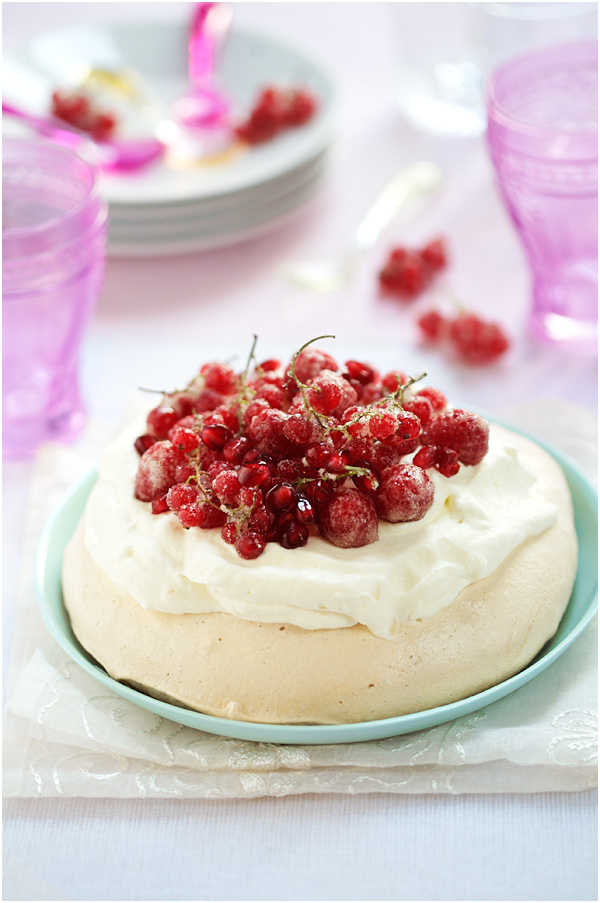 I am a little behind in wishing you all, my dear readers, a happy 2009 new year, non ? But then, I've always been told that it was quite all right to give one best wishes until the end of January.
I, of course, will not be able to forget 2008. What an amazing year it's been in our life! So rich and fulfilling!
First, there's been a lot of fun and exciting trips that P. and I took, each different in style, each leaving us with memories of good times; there's been rewarding work accomplishments, like continuing to contribute to the Boston Globe Food Section or working on the photography of a talented baker's cookbook (not yet released, but I will let you know when that happens). And there is more to come.
In 2008, I've cooked a storm, I've taken and styled hundreds of pictures — anyone else having digital storage issues? I've bought way too many cups, bowls, cutlery and plates, as I am constantly reminded by my darling P., and I've enjoyed every piece of it all.
But in 2008, there's been something larger and more challenging than anything I have ever done before, something no one can ever prepare you for, something much tastier and more enriching than all of the cooking, styling and photography combined, that regularly happens in my house.
Well, you know of it. It started with carrying our small treasured bébé in my belly during nine months in 2008. What a journey it's been! So natural and common.
Yet, so unique.
I, for one, can vividly remember when P. and I found out that I was pregnant. It was the day in late April when we left for Italy. It's funny to think about it today. We were somewhat panicked, overwhelmed and excited, I recall, about what was going to come next. And so, naturally, this piece of news changed entirely how the year unfolded for us. In such a rewarding way — we know that we are lucky.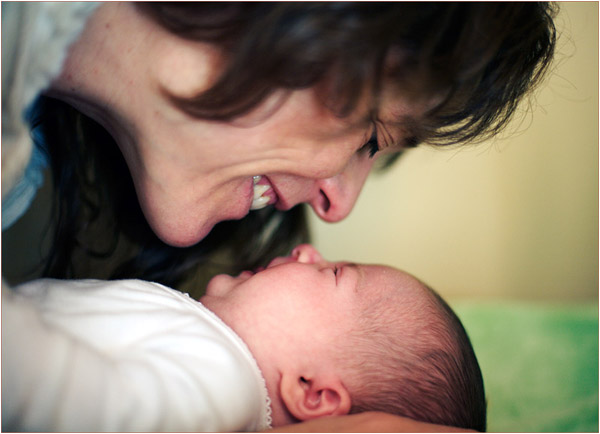 During all these months, you've kept coming to visit my blog to say hello. You've always been here, to leave me encouraging notes, share stories, ask questions, and chat about food and life — the good stuff! I cannot thank you enough for that. While I do not have the time anymore to respond to every comment you leave individually, know that each matters, and makes me smile. So thank you, once again!
So to finish 2008 and start 2009, let me share a story and recipe with you. The story of this berry pavlova.
So special.
When I made this dessert, I had all the intentions to taste and enjoy it, but I never got to it. And let me tell you why.
On December 23rd, P. and I had made a plan to have a casual dinner with four other dear friends before the craziness of the holidays and the arrival of bébé. My friend L. was very pregnant too.
"Let's keep it simple," her husband J. suggested. "We should just do take-outs."
"Sounds great," I wrote in my email back. "I will prepare a dessert! Something quick."
And so the day flew by. In the morning, I drove downtown to buy last minute Christmas presents — this is how unprepared I was this year. I baked cookies which I styled and took photographs of too, I made panna cotta and later in the day, I set myself to prepare my dessert. Of all things, I chose to bake a pavlova.
"I will pick you up at seven, after my massage," I told P. when he called by late afternoon. "I can leave the dessert in the car, it will be cold enough."
At five O' clock, I was in the car driving to the next town, feeling happy at the thought of how good it would be to have my entire body relax. "Oh I cannot wait," I kept repeating all day.
"When is the baby due?" A., the masseuse at Isis Maternity, asked as she settled me comfortably on the massage table. "Any area you would like me to work on? Any pain anywhere?"
"Nope, I feel pretty good, all things considered," I said laughing, looking and touching my big belly with both hands. "I'm ready, even if bébé is arriving only in ten days."
A. was never given the chance to finish the massage. Ten minutes after she started, my water broke and labor started soon after. Lulu could not wait; she was on her way to discover the world.
Before driving to the hospital, we stopped home to finish packing our bags, and have a bite to eat.
"I will bring you food," J. told us on the phone when we called to tell that we would not be able to come for dinner.
"Oh good," I told P., thinking about my desserts. "I will give him the pavlova."
I was just relieved that it would not be wasted, and that our friends would enjoy it thinking about the new adventure ahead of us.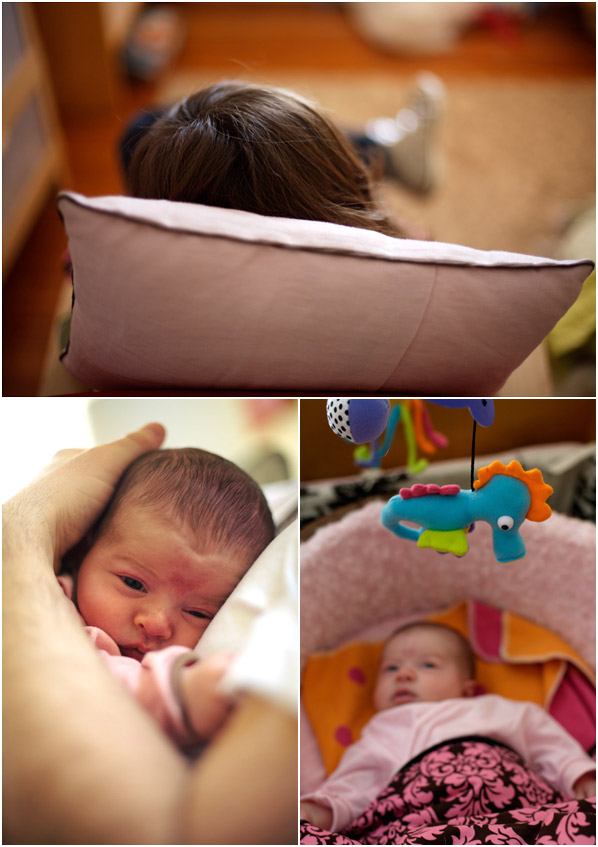 Lulu is four weeks today. Already.
Life has changed. Life tastes better, despite the tiredness and the puffy eyes. I am told it will get better. We are happy, overwhelmed with feelings I did not know before. Every day, I learn something new — and I am challenged. And every day, I continue to cook. Whatever it is, even if extremely basic.
"Stop cooking and rest," my friend N. told me when I told her about the lamb tajine we ate for dinner last night. I laughed. Rest? Of course, she is right. But stop cooking? She does not know me well enough!
Lulu and I have already made cookies, soups, stews and salads together. I like to talk to her and tell her what I am preparing as she stays close to my chest, cozily nested in a sling. Of course, she sleeps through most of it, but I still wonder whether she notices already the smells and pot and pan noises in the kitchen.
So naturally, I want to dedicate the recipe for this pavlova to our little princess. One day, P. and I will tell her the story of how it happened. She might smile and find it as special as we do.
Happy New Year everyone! May you have a wonderful year. And thank you for being here.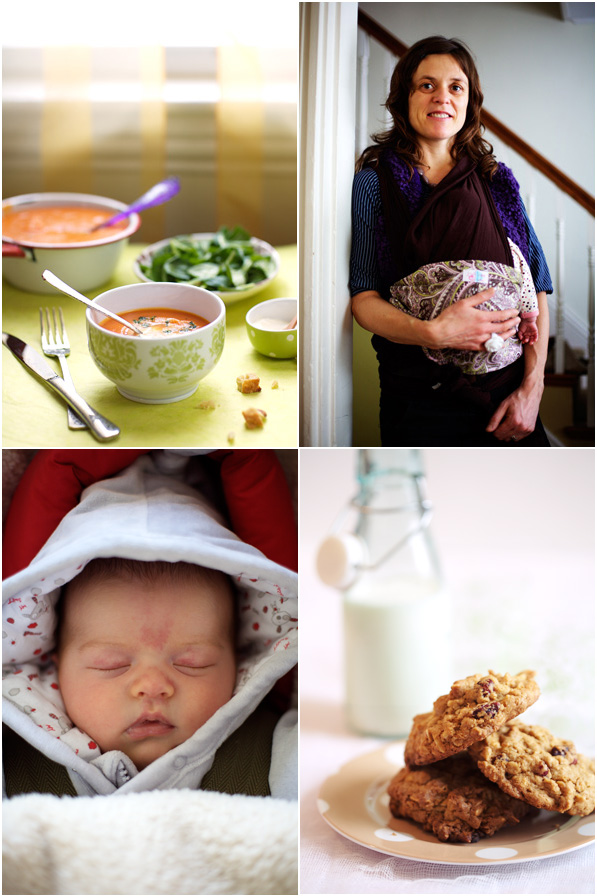 Note: I've been kindly reminded by a few readers that
La Tartine Gourmande
was nominated as one of the
Best Food Photography Blogs
at the
Best Food Blog Awards 2009
. I had no idea. Many thanks for those of you who chose my blog. You can vote for your favorites blogs following these links:
Good luck to everyone!
Lulu's Berry Pavlova
(For 2 small pavlovas or 1 larger one)

You need:
4 egg whites
Pinch of salt
2 cups confectioner's sugar
3 teaspoons cornstarch
Fresh red berries
Whipped cream
Grated coconut (optional)
Steps:
Preheat the oven at 270 F and place a rack in the center. Line a baking sheet with parchment paper and spray it with oil. Dust with cornstarch and remove the excess; set aside.
In the bowl of a stand mixer, add the egg whites with the salt. Whisk together until soft peaks form while adding the sugar gradually. The texture should be thick and glossy.
Add the cornstarch and continue to whisk until just combined.
Spread the meringue on the baking sheet and bake for about 1 hour. Turn off the oven and let cool inside.
Whip the cream firm with a little sugar and once ready to serve, top the meringue with it.
Add the fruit ( I crystallized mine) and sprinkle with grated coconut, if you like.
Le coin français
Pavlova aux fruits rouges de Lulu
(Pour 2 petits pavlovas ou 1 grand)

Ingrédients :
4 blancs d'oeufs
1 pincée de sel
200 g de sucre glace
3 càc de maïzena
Fruits rouges
Crème fouettée
Noix de coco râpée
Etapes :
Préchauffez le four à 130 C. Couvrez une plaque de cuisson avec du papier sulfurisé et huilez-la avec un spray. Saupoudrez de maïzena et enlevez l'excédent. Mettez de côté.
Dans le bol d'un mixeur, mettez les blancs d'oeuf avec la pincée de sel. Battez-les en neige, et ajoutez le sucre progressivement. Continuez à battre cette meringue jusqu'à ce qu'elle soit lisse et brillante.
Ajoutez la maïzena et mélangez jusqu'à ce qu'elle soit incorporée.
Etalez la meringue sur la plaque de cuisson et enfournez pendant environ 1 heure. Arrêtez le four et laissez la meringue refroidir dans le four.
Au moment de servir, battez la crème en chantilly avec un peu de sucre et étalez-la sur la meringue.
Ajoutez les fruits rouges et sapoudrez de noix de coco, si vous le souhaitez.