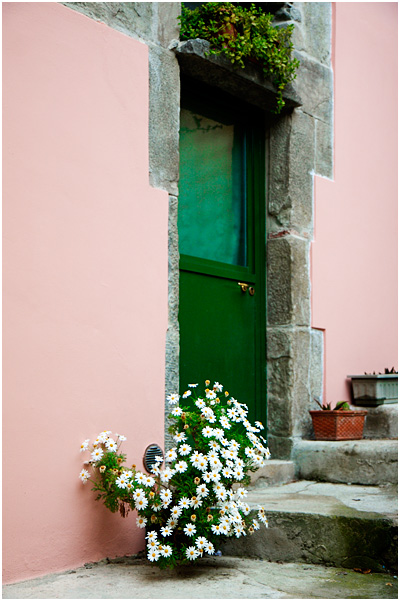 Italian splendor
"You are lucky," the young dark-haired Italian woman who greets us at our B&B in Siena says. "Last week, it was still pouring with rain, that's why we are only opening the pool later in the month."
Bummer, I think. I am really dying to have a dip, especially after our drive and the last few hot days in Italy.
My brother saw rain in April in Siena and Florence a few years before.
Us?
We are lucky indeed. During our entire stay, it rains for only two short hours, something I should even call drizzle.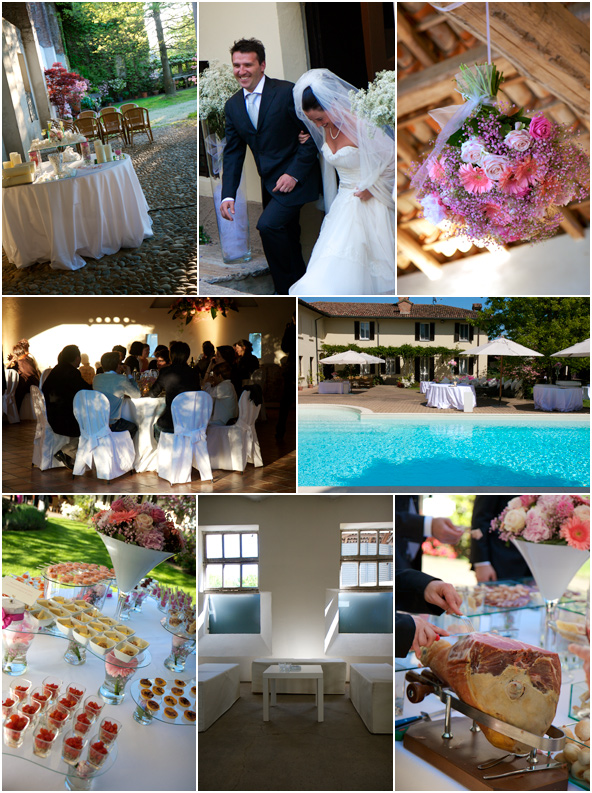 Our friends S. and J.'s wedding in Pavia
Saying that I am glad to be back to Italy is a rather mild statement: it's been almost twenty years since my last visit to this Mediterranean country but Italy offers all the bounty that I remember. The place has stayed intact.
We have come to Italy to attend our friends S. and J.'s wedding and we are not disappointed. We find Italy colorful, laid-back, friendly, loud, delightfully messy, full of stunning architecture, and expectedly overloaded with history. Even the vespas we see at every street corner and the motorbikes that pass us dangerously on the roads seem appealing, but this is only perhaps because we are on vacation mode.
"You never told me that your dad looks like Gérard Depardieu," I exclaim when I first catch sight of S.'s dad. I swear — and I am not alone to — he is the exact Italian copy of the French actor. S. bursts out laughing when I tell him but he has to agree.
"It's never crossed my mind since he is my dad, but now that you say it, I can see it too!"
Since it is our first experience of an Italian wedding, I am attentive to absorb and observe its culture in the tiniest details. The day is gorgeous, and S.'s father's farm — where the wedding happens in full — a delight to discover. I am particularly curious about the type of food that is served, or the number of courses, and cannot get over the scrumptious prosciutto sliced for us on the spot that keeps coming. The Mortadella is equally delicious.
"I think I am going to settle in this corner all night," Stephen, one of S.'s American friends, tells me. He has his mouth full and holds a small plate with a few more slices. We stand next to a large table full of neatly arranged finger food, labeled in Italian and English, where a waiter is busy slicing the meat. When the plate is empty, he fills it again. "I could dine on prosciutto alone," Stephen adds with a large smile, a clear expression of his food contentment.
The risotto served as a first course is also a first welcome to Italian food. I know already that our week will be full of delightful Mediterranean dishes, a paradise to fulfill my taste for this type of cuisine.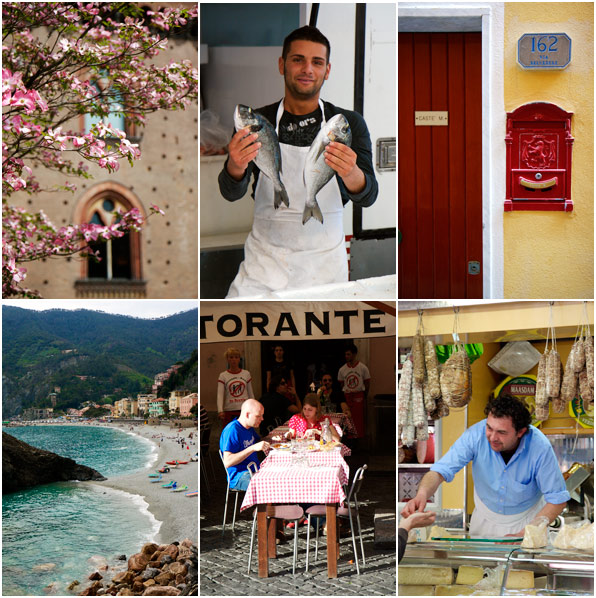 Since we've rented a car, our plan is to explore more of Italy while driving its countryside. S. helps us to plan our week and we eventually settle on the idea of spending the first few days in Cinque Terre on the Western coast. On the way, we decide to make a stop in Portofino.
Portofino is a small Italian fishing village in Liguria, also known as a tourist resort where the villas nested on the hills surrounding the bay make the place look like the Hamptons of Italy. The small harbor is considered as one of the prettiest Mediterranean ports but to us, the place is rather a surprise. Perhaps it is indeed cute and picturesque with its winding narrow streets and clusters of tall old houses brightly painted, but we are somewhat disappointed by the series of luxurious boutiques also found in the village: they clearly contrast with the natural beauty of the setting. Why turning such a lovely location into an upscale looking resort losing some of its simpler charm? Never our cup of tea. But we are good sports and nevertheless enjoy a pleasant stroll along the ocean into the village, relax in a terrace on the main square where we have a refreshing drink while looking at the passers-by. Since it is a Sunday, the place is busy, especially with the warm summery weather. In fact, we are glad to be there at this time of year as we imagine the place packed during the summer. I cannot help but think about what the village must have looked like years before, when it was still untouched by larger forms of tourism.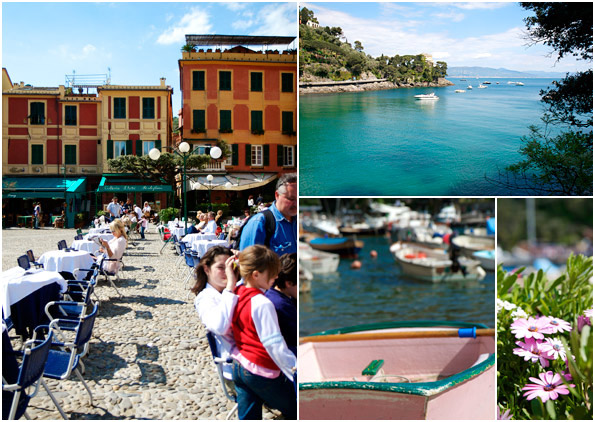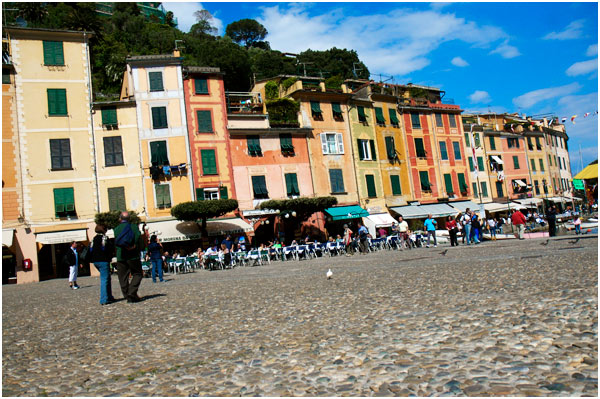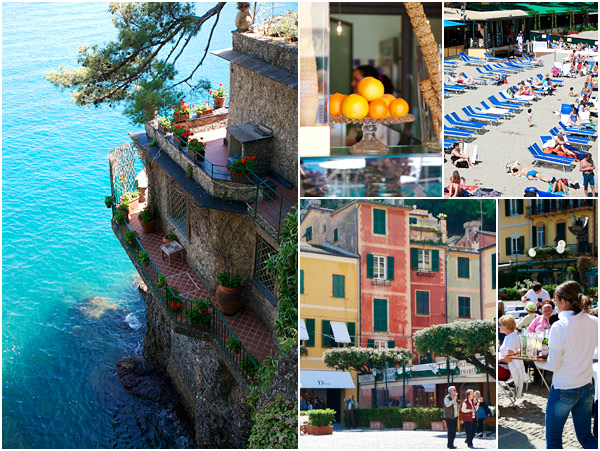 Portofino
By contrast, Cinque Terre provides plentiful of quietness despite the constant influx of tourists attracted by the uniqueness of the place.
Lying on the the coast of Liguria, Cinque Terre — meaning five lands — are five small villages (Monterosso, Vernazza, Corniglia, Manarola, Riomaggiore) tucked away on spurs of large rocks and arranged in clusters of tiny coves with small beaches surrounded by abrupt slopes where vineyards and olive groves are widely cultivated. There, narrow multi-storied houses are also built close the ones to the others, and since each is painted in a different hue, together they offer an attractive palette of well-matched colors. Luckily, the entire place becomes a Unesco protected territory in 1997, and a National Park in 1999.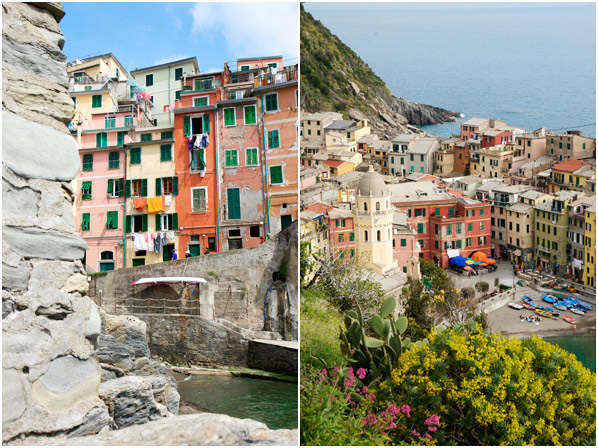 In Cinque Terre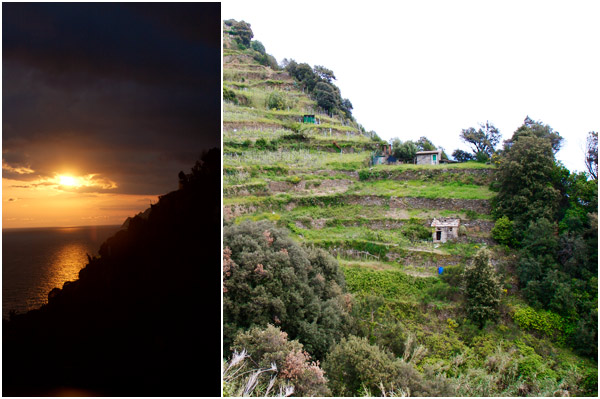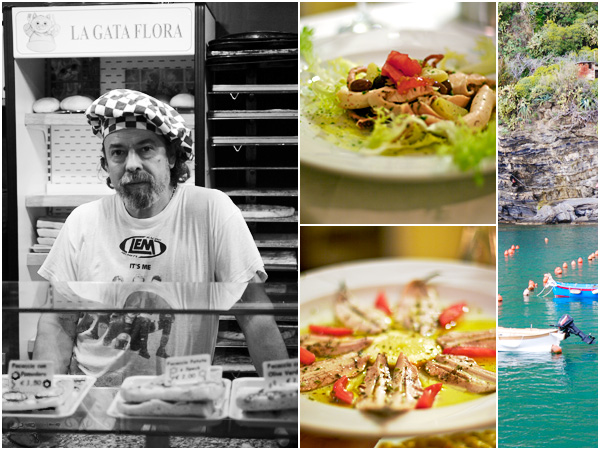 Since no cars are allowed in the villages, the best way to explore the area is on foot, which we are thrilled to do. We stay in a small apartment in Manarola, one of the quietest villages, also one of the cutest we feel with Vernazza. The villages are connected by a system of coastal walking trails, sometimes flat and sometimes steeper and more hilly, allowing us to walk from one village to the next easily — to walk from the first village to the last takes about five hours. Trains run between the villages too, so when we grow tired of walking, we leisurely hop on one to return to a village of our choice in no time. Easy and convenient.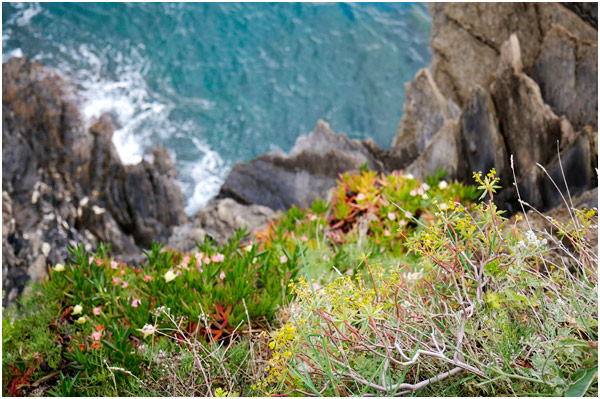 Corniglia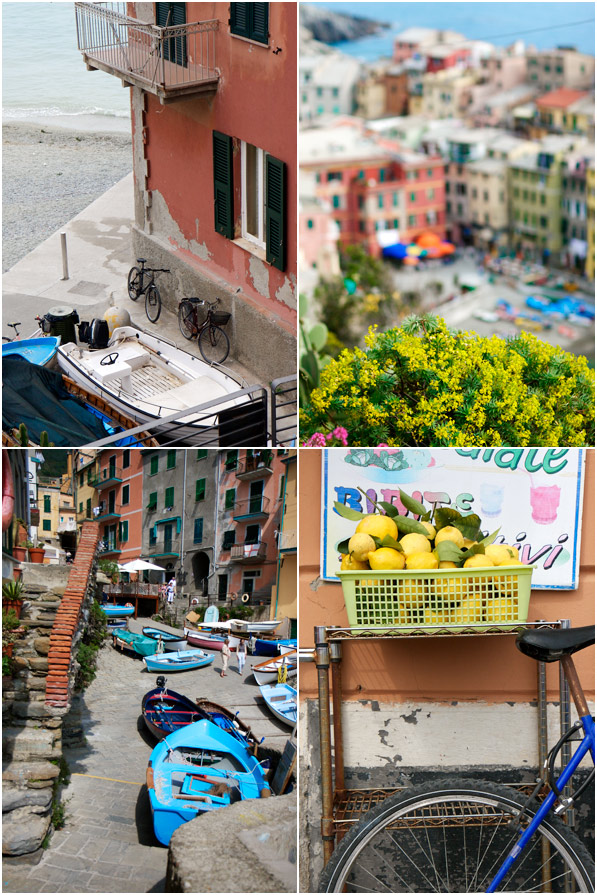 The villages of Cinque Terre receive many visitors indeed but despite that, life there stays slow and quiet, especially at night when the walking crowds are gone and only locals, and people like us living in the villages, stay. In the morning, I take pleasure at observing older people read the newspaper while basking in the sun and in late afternoon, I like to watch older women gathered to knit as they sit in an organized row on a street bench: every night, they come back to the same place at around the same time.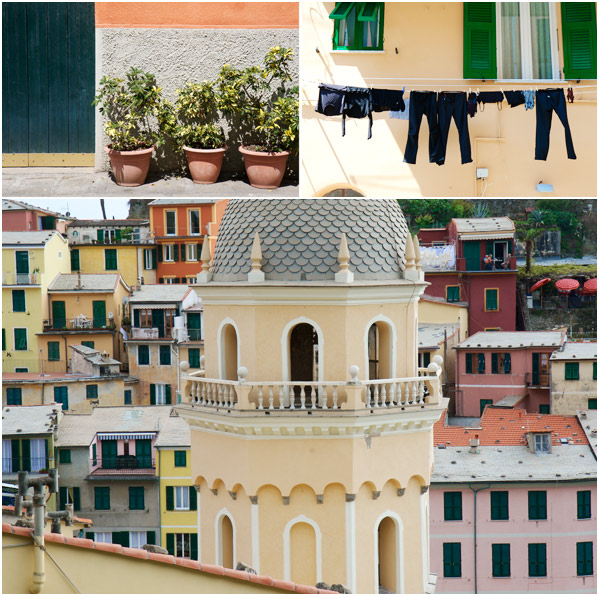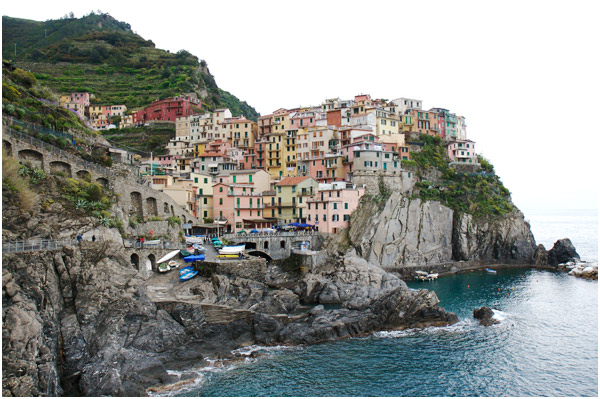 Manarola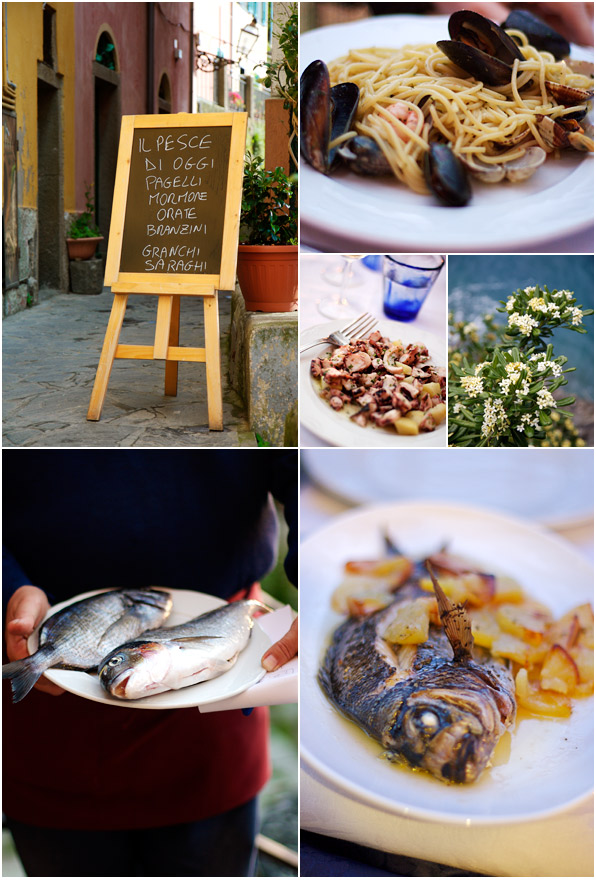 Dining on Seafood in Manarola
Due to its privileged Mediterranean location, fresh local seafood abounds. Every day, we pack a simple picnic made of prosciutto sandwiches to eat while sitting on a rock and watching life in the harbors and at night, we sample delicious fresh anchovies — anchovies of Monterosso are a local specialty — mussels, octopus — I particularly love the potato, octopus salads seasoned in fragrant olive oil and herbs that I eat — local grilled fish, cooked simply when we dine in a family owned restaurant in Manarola, or in a more elaborate way when we have diner with friends in Vernazza. On the many terraced mountainsides found around the villages, grapes and olives are cultivated, as well as lemons and oranges. Limoncello is a regional specialty as well as pesto, like in the rest of Liguria. And since we are in Italy, pasta is of course de rigueur.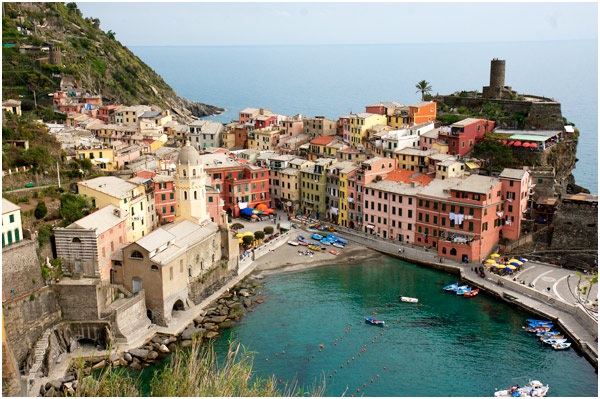 Vernazza
After three days of rest and quietness in Cinque Terre, we are ready to tackle busy cities like Florence and Siena.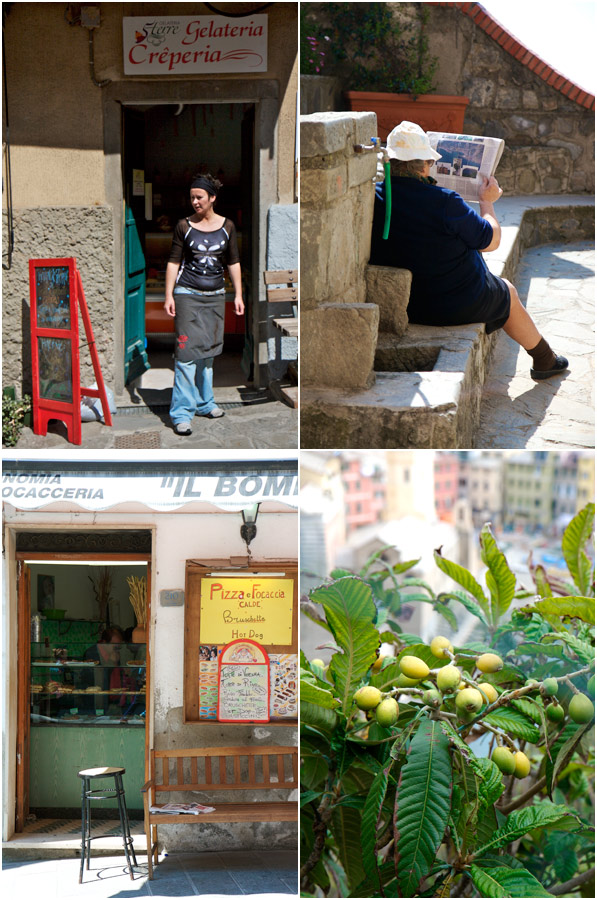 If you have been to both places, I am not going to teach you anything. These two cities found in the Tuscany region are simply stunning. We cannot get over the architecture found at every street corner: we stop counting the number of astoundingly gorgeous monuments, bridges and churches seen everywhere.
The two cities are only one hour drive apart, and are both rich of all the things anyone coming to Italy can dream of: history, cultural heritage, architecture and good food. — the Bistecca alla Fiorentina we sample in Florence is a must, as well as the artichokes.
Florence, the capital in Tuscany, is the most populated city in Tuscany — with 364,779 people according to Wikipedia — and we also hear about the rivalry existing between the two cities, something that dates back to the Middle ages in fact.
When we ask our Italian friend S. which city he prefers, he does not hesitate a second and answers assertively "Siena". Another Italian friend responds that Florence is the one without any doubt. Us? We really have a hard time to decide. And perhaps in fact, we actually do not have to choose since both leave a memorable impact on us.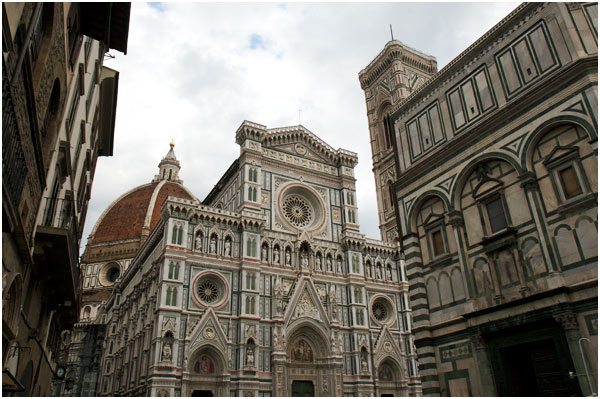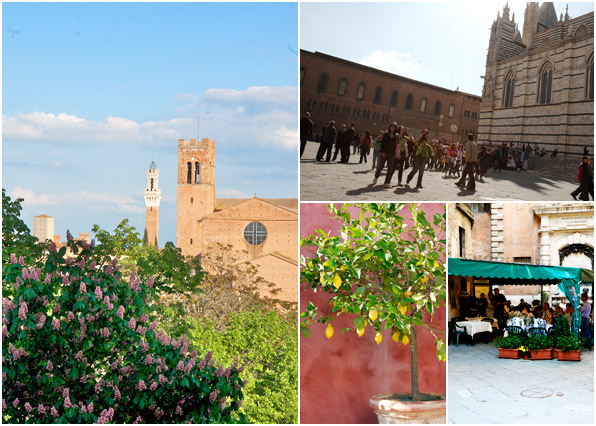 Worth noting that the historic centers of Florence and Siena are recognized as World Heritage Sites by the Unesco. If you are not a resident, you cannot drive in these parts.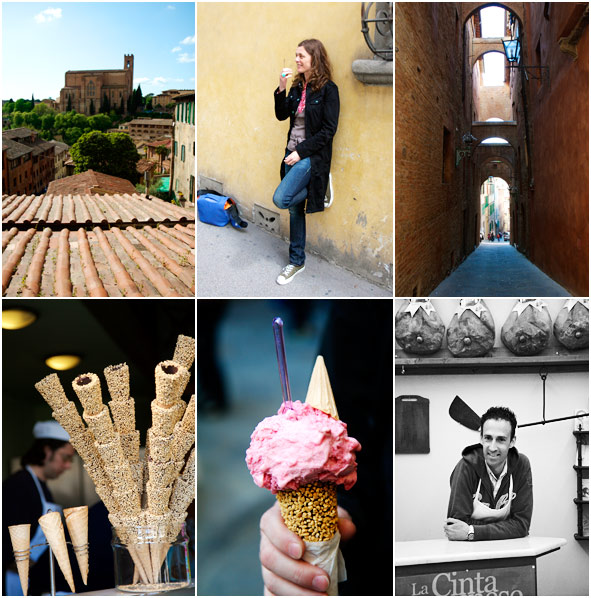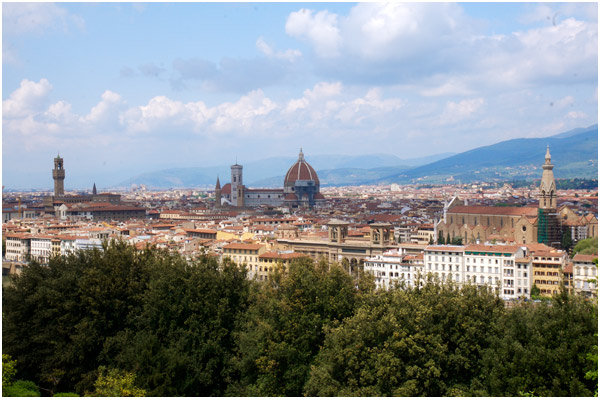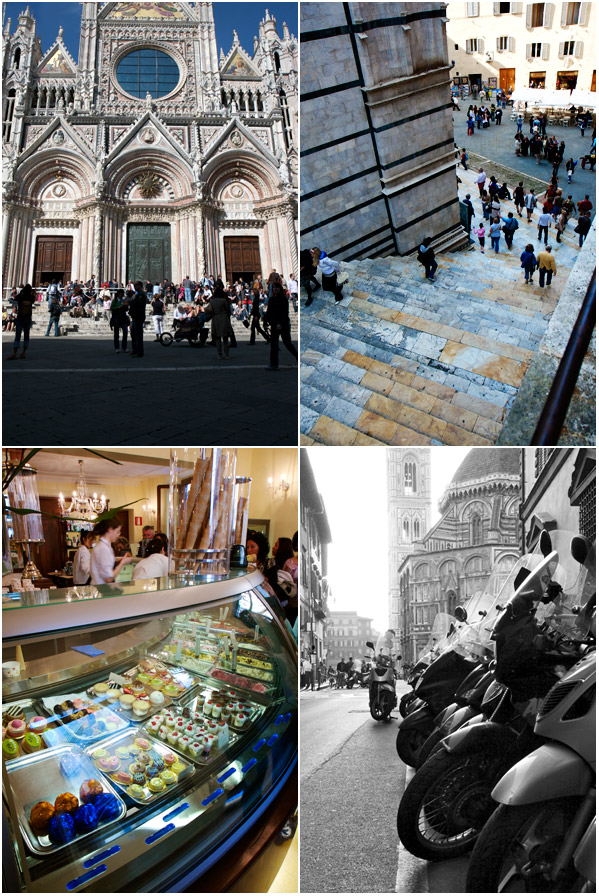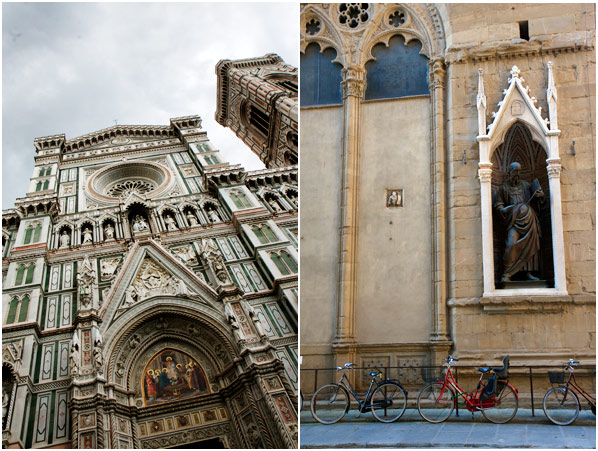 Life scenes in Siena and Florence
"We will never get to this place on time," I tell P. in a panic, after I look at my watch and realize the madness of driving into a city like Rome. When we see road signs we can hardly read, it is already too late to make a turn. It's worse than what I've experienced in other busy cities, like Paris, and I am still unsure how we eventually manage to reach the small apartment I've rented for a few days for us.
"Only an hour late," I tell P. with relief when the taxi finally pulls in front of a large house in the tiny street off Via Giulia where we stay. We've dropped our car to the rental place since to drive inside historic Rome, like in Florence and Siena, you need to be living in the capital. We are glad to see that the Italian woman that lets us in is still waiting. She does not speak English and we have hardly any Italian. But after a few gestures answering some of our questions, we quickly understand how conveniently located our apartment is: the Vatican is minutes walk on the other side of the Tiber river, and other roman highlights like the Spanish steps and the lively daily market, Campo de' Fiori, are close-by too.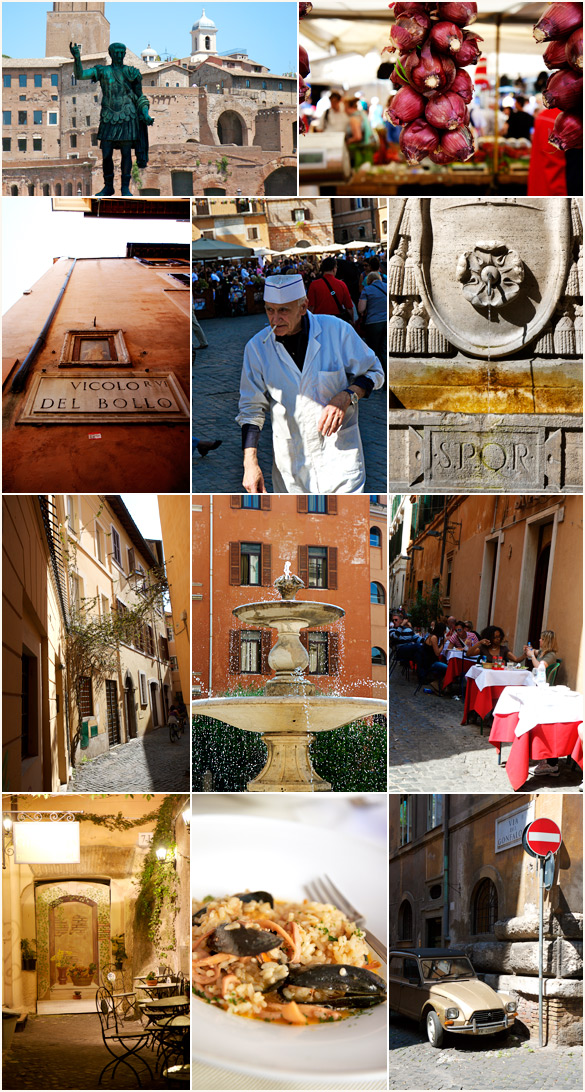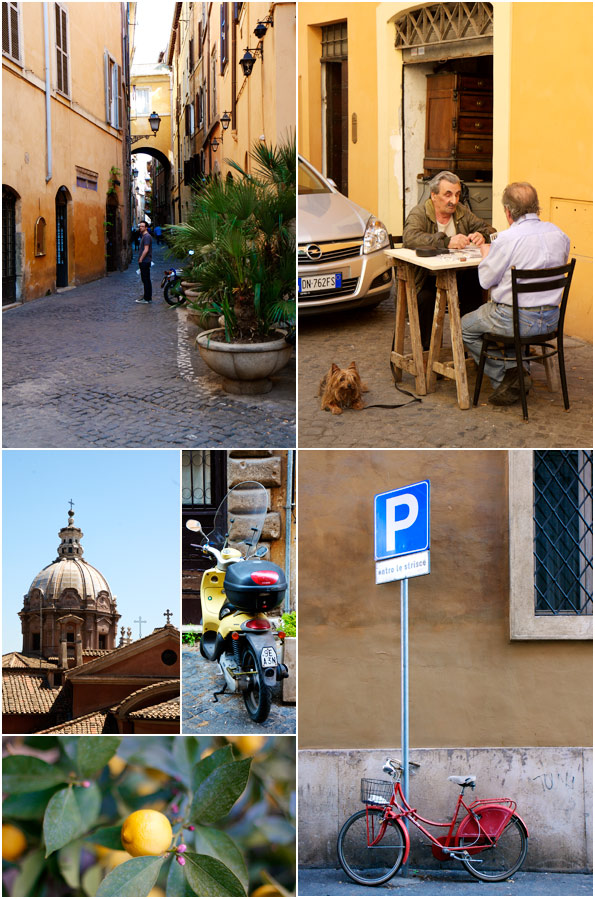 Rome blows our minds away. The city looks like it's somewhat changed over time without anyone trying to manage and organize the changes. Things are old, things are messy, but things look harmonious too. The street life is so present that when we find ourselves walking the streets at 1 am, we feel it could very well be 1 pm instead. Like in Florence and Siena, at every single step we take, or every time we turn, we discover something new, a piazza or a monument to wow us.
Being in Italy is a good reminder of how fond Italians are of their pasta, of all shapes and styles, risotto, mozzarella, cooking with tomatoes, eggplants and zucchinis — grilled vegetables is a common dish on menus — antipasti with scrumptious cured meats like Bresaola, pancetta, Prosciutto and Coppa — and naturally gelati. I had literally forgotten. Since there are gelati shops in almost every street, you understand quickly why the culture of eating a gelato at 10 am is like the one of someone having a morning coffee. Only natural. Me? I personally indulge in eating Roman artichokes every day, never tiring of them.
I want to cook, especially after a walk to the Campo de' Fiori market tempting me with delicious-looking fresh produce, but with so many restaurants and trattorias found everywhere too, I simply give up. In Rome, we do like the romans do: we eat out.
I promise to cook next time we come.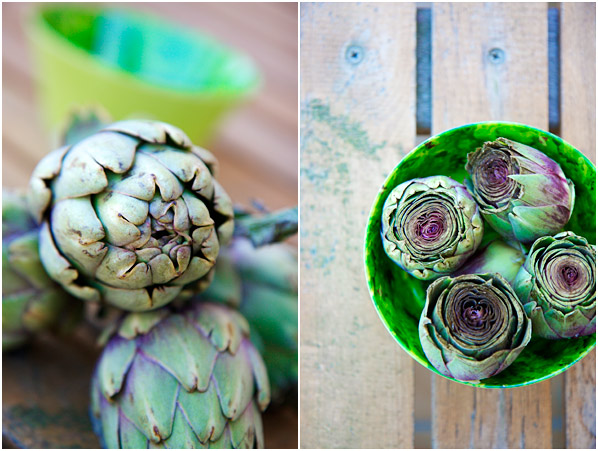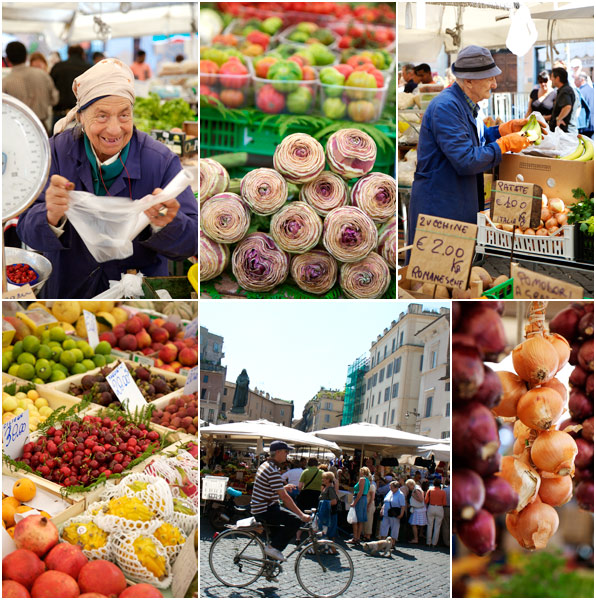 Campo de' Fiori market
Because of course, there will be a next time. Italy is that addictive. Besides there are so many more places that I crave to visit, including more of southern Italy.
In the meantime, I will explore the idea of finding a good recipe for Roman artichokes. I am definitely hooked on these.