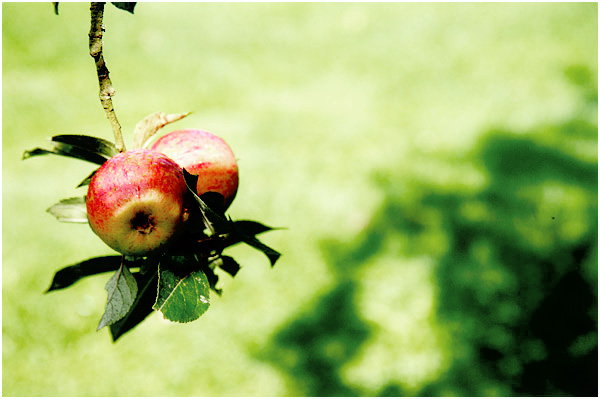 The loud pattering noise the rain made when it hit the blinds woke me up. For a second, I imagined we could be in the middle of a storm, like the ones my friend N. and I used to experience when she and I still lived in New Zealand, in the small drafty wooden house tucked away at the end of Breaker Bay road. I stretched from toe to head and yawned before noticing it was actually still dark outside. My watch indicated 7:15 am; Autumn was definitely on its way and soon enough, it would actually be dark even by 8 am. I felt tired. I turned on my left side and made myself comfortable by propping my head onto a second pillow. I hoped I could still get a few hours sleep, but then I started thinking about the day and the plan I had made. So instead, I decided to get up.
"It won't be fun if it rains, will it?" I told my sister-in-law G. on the phone when I was done with a hearty breakfast made of fresh baguette, cheese, fruit and yogurt. She and I were planning to drive to Metz to do some shopping and eat at pâtisserie Fresson. I was hoping to taste the tartines they serve for lunch using Poilâne bread.
"I guess you are right," she replied without even arguing. "Let's go tomorrow instead."
The city could definitely wait.
But nor Nature or my baking project could.
Fresson Pâtisserie Chocolaterie Traiteur
17, Rue Grand Cerf
57000 Metz
03 87 36 28 17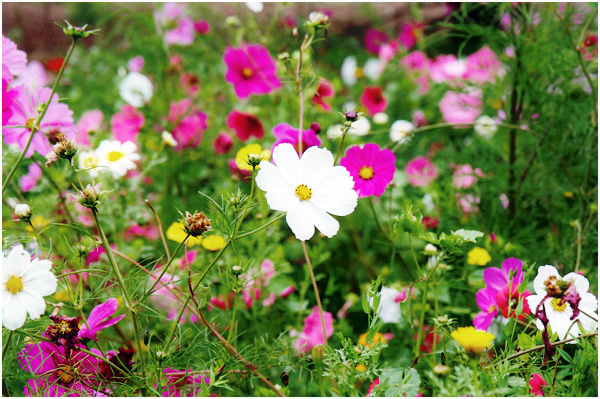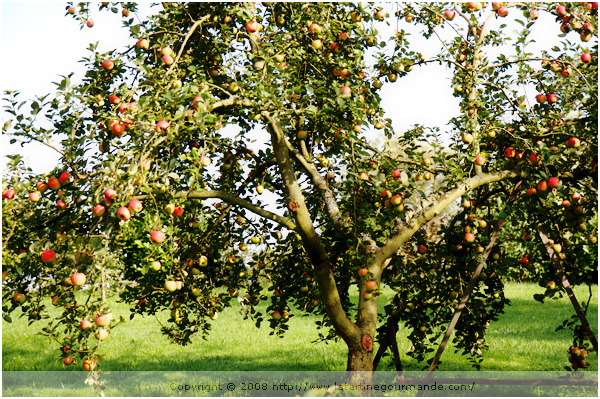 My brother has lovely apple trees in his garden. And so does his neighbor, and many other people in the village. In fact, most people have apple trees around here.
"Ah des pommes, il y en aura cette année !" (we will have lots of apples this year!) my mum told me when I asked about what the fruit year would look like. "Unlike quetsches and mirabelles. Producers say it is a bad year for these fruit."
"I take that you will make apple juice again, won't you?" I asked my brother B later.
"Oui."
My parents had left for the day so I decided to cook a simple lunch with the vegetables from their garden. I stewed young carrots and zucchini with thyme and the organic virgin olive oil brought from Crete, and served this vegetable dish with sautéed rice and freshly chopped parsley. I was glad to have picked the vegetables the day before because the soil in the garden was quite wet, but then I thought about salad. I *needed to have a green salad with my meal.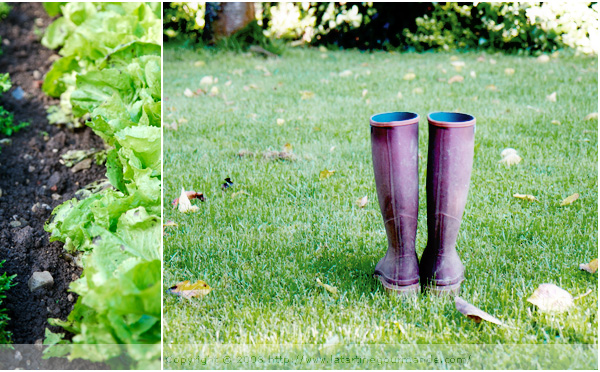 My dad's Wellington boots were too big for my yet pretty long feet but they were just what I needed to complete my plan. They left deep footsteps in the water-filled soil but I did not care. I would come back crottée (dirty), that's all. I picked the youngest salad I found, enough for two.
Five minutes later, a freshly tossed green salad was placed on the dining table.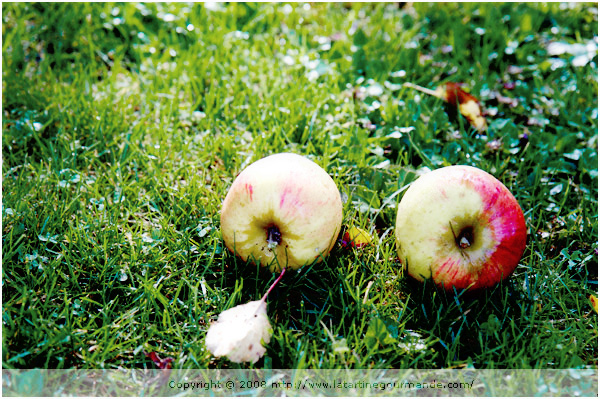 Then I thought about the apples.
And baking a tart.
"What about making a cake with apples?" G. told me. "Ça se gardera mieux, non ?" (It will keep better, won't it?)
She was right.
Hence this was how instead of a tart, I baked an upside down apple cake.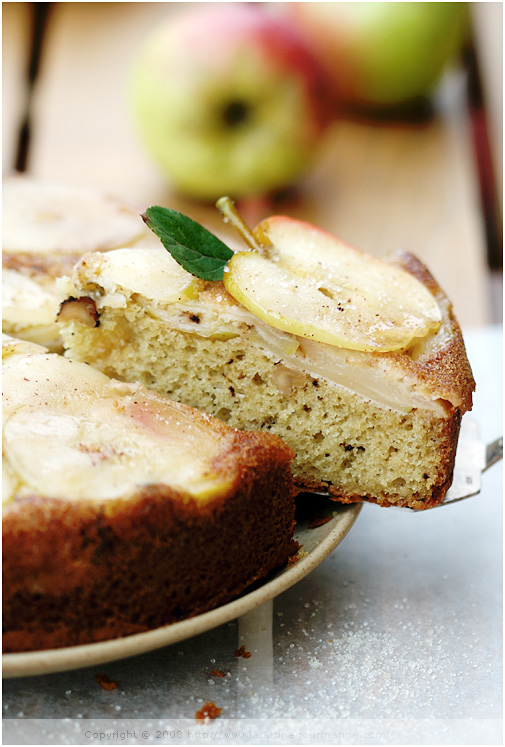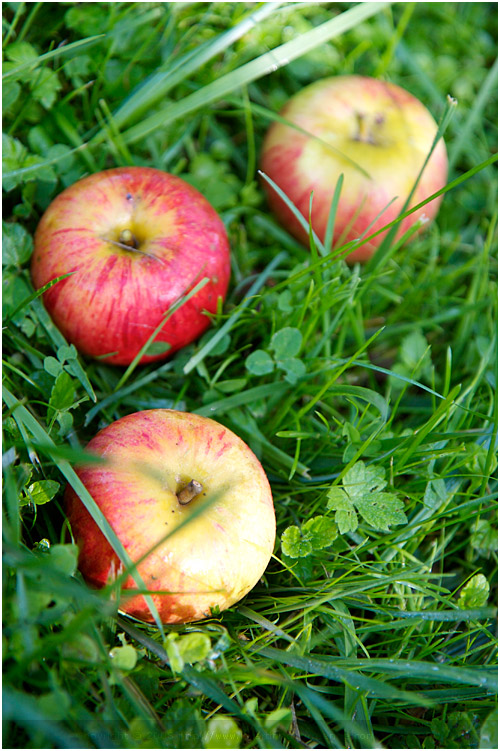 I walked to B. and G.'s garden to pick a few apples. There were fallen ones scattered under the trees, even if B. had cleaned the area the day before — they were going to make compote with them.
"Il y en a plus tous les jours," he told me (there are more fallen ones every day). "We have too many!"
Lucky him!
I was planning to use the leftovers of quinoa and brown rice flours I had, and the fragrant olive oil brought from Crete, once more. I also thought of adding flavor with vanilla seeds and ground cinnamon, and crunchiness with roasted nuts .
The cake was a success by all means.
We sat down after dinner and savored a few slices with a pot of white tea while watching Un Gars et Une Fille on TV. We loved the airy texture of the cake, and the light yellow color provided by the the olive oil. The apples were sweet and melted in the mouth, prompting us to eat more.
And back in my mind, I was already looking forward to breakfast for another slice.
Or two.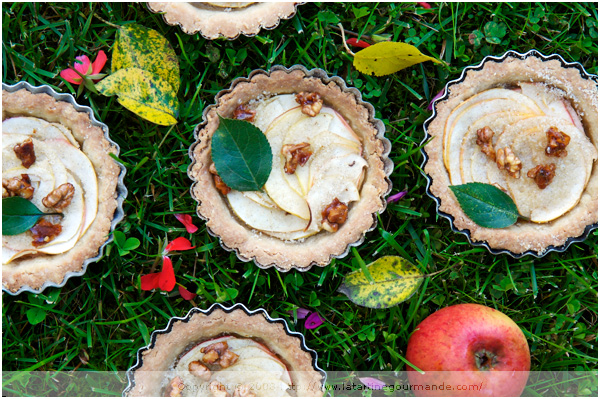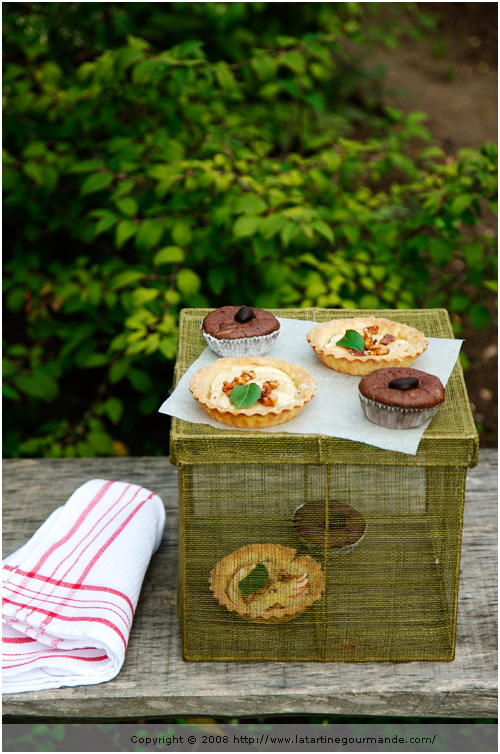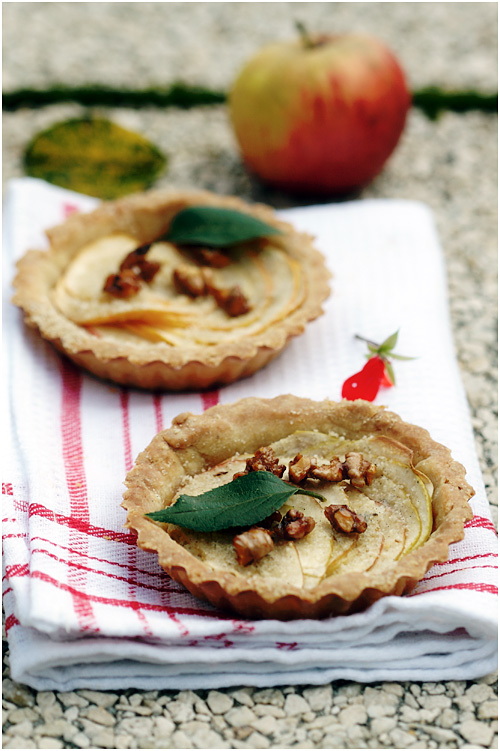 Apple Tartlets with Caramelized Walnuts
But then, one day later, I ended up making apple tartlets anyway…
I cooked them very simply, to make sure that we would enjoy the flavor of the fruit first.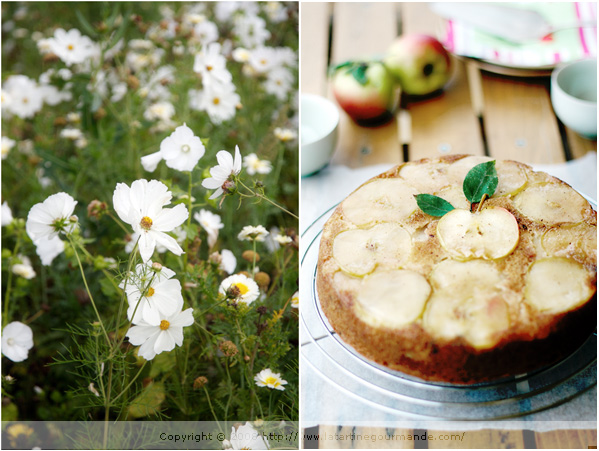 Upside Down Apple Cake, with Olive Oil, Vanilla and Cinnamon
Upside Down Apple Cake, with Olive Oil, Vanilla and Cinnamon
You need:
1/3 cup walnuts
2 tablespoons butter + to butter mold
3 to 4 medium-sized apples
1/4 teaspoon cinnamon
2/3 cup blond cane sugar + 2 tablespoons
1/2 cup plain yogurt
1 vanilla bean, cut in halves, seeds scraped out
3 eggs
1/2 cup minus 1 Tablespoon olive oil
Pinch of salt
1 teaspoon baking soda
2 teaspoons baking powder
*1/2 cup quinoa flour
1/3 cup cornstarch
*1/2 cup brown rice flour
4 tablespoons almond flour
*Or replace these two flours with 1 cup all-purpose flour total.
Steps:
Preheat the oven at 350 F. Butter a round 9 inch mold — preferably non stick.
Place the nuts on a baking sheet and roast them until fragrant (about 5 to 7 minutes). Remove and cool them; chop coarsely and set aside.
Wash the apples and slice them finely (do not core them but remove the seeds).
In a non-stick frying pan, heat 2 tablespoons butter on medium heat, and add the apple slices with the cinnamon and 2 tablespoons sugar. Toss well and cook for about 4 minutes, or until slightly tender.
Arrange the apple slices at the bottom of the mold.
In a large bowl, pour the yogurt with the sugar. Add the vanilla seeds, and mix well. Add the eggs, and then the olive oil.
Finish with the flours, cornstarch, salt, baking powder, baking soda and nuts.
Pour this batter over the apples and bake the cake for about 30 to 35 minutes, or until the blade of a knife inserted in the cake comes out dry. Let the cake cool and then unmold on a rack.
Le coin français
Gâteau renversé aux pommes, parfums huile d'olive, vanille et cannelle
Ingrédients :
30 g de noix
25 g de beurre + du beurre pour le moule
3 à 4 pommes de taille moyenne
1/4 càc de cannelle en poudre
125 g de sucre de canne blond + 2 càs
125 g de yaourt nature
1 gousse de vanille, graines grattées
3 oeufs
100 ml d'huile d'olive
Pincée de sel
1 càc de bicarbonate de soude
2 càc de poudre à lever
60 g farine de quinoa*
50 g de maïzena
70 g de farine de riz complet*
4 càs de poudre d'amandes
*Vous pouvez remplacer ces deux farines par 130 g de farine de blé
Etapes :
Préchauffez le four à 180 C. Beurrez un moule à manqué de 24 cm — de préférence anti-adhésif.
Mettez les noix sur une plaque de cuisson et faites-les dorer pendant 5 à 7 minutes. Retirez-les puis laissez-les refroidir avant de les concasser grossièrement; mettez de côté.
Lavez les pommes et coupez-les en tranches fines (n'enlevez pas le centre mais seulement les pépins).
Dans une poele anti-adhésive, faites fondre 25 g de beurre sur feu moyen, et ajoutez les tranches de pomme, 2 càs de sucre et la cannelle. Mélangez et cuisez pendant 4 minutes, ou jusqu'à ce que les pommes soient tendres.
Arrangez les tranches de pomme au fond du moule.
Dans un large bol, mélangez le yourt avec le sucre. Ajoutez les graines de vanille; mélangez. Ajoutez ensuite les oeufs puis l'huile d'olive pour obtenir une pâte homogène.
Finissez par ajouter les farines, la poudre d'amandes, la maïzena, la poudre à lever, la bicarbonate de soude et les noix.
Versez cette pâte sur les pommes et enfournez pendant environ 30 à 35 minutes. Laissez le gateau refroidir quelques minutes avant de le démouler sur une grille.