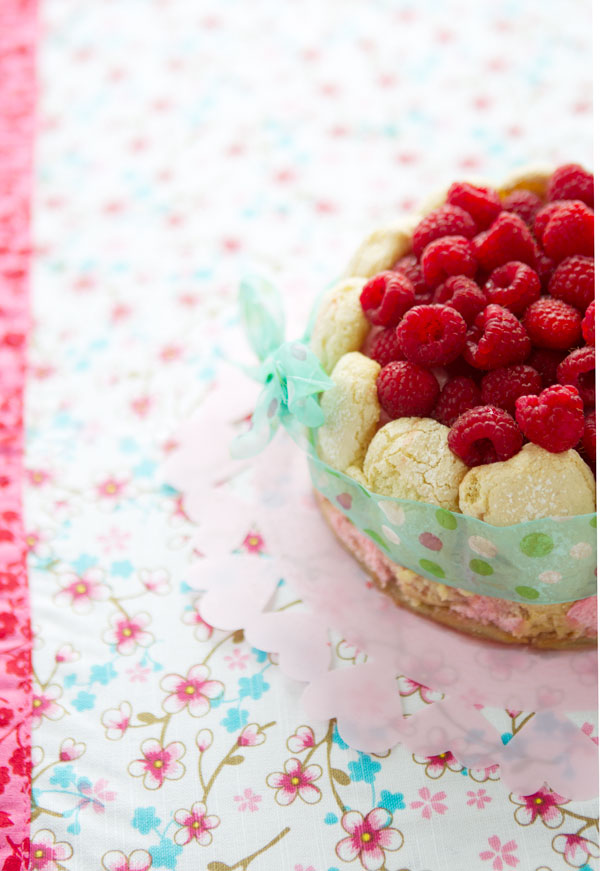 Raspberry charlotte, a recipe from my cookbook
I'm holding this moment close to my heart. On Christmas day, we celebrated Lulu's birthday.
She turned three. I am amazed we are already there.
It's an amazing age of innocence and curiosity for every detail of life. The time when her world is filled with teddy bears, butterfly stickers, coloring pencils and markers, hot chocolate sipped with a straw, Charlie and Lola, kitties, puzzles, doudous, T'Choupi books and legos. Lots of openness and love. And what's this, qu'est-ce que c'est, and what's that questions about the world in which she is growing.
I'm in love with this age. I'm in love with her exponentially.
For the first time since Lulu's birth, my parents were with us for this special time.
The perfect occasion to build together a lovely French Christmas celebration–I was really excited.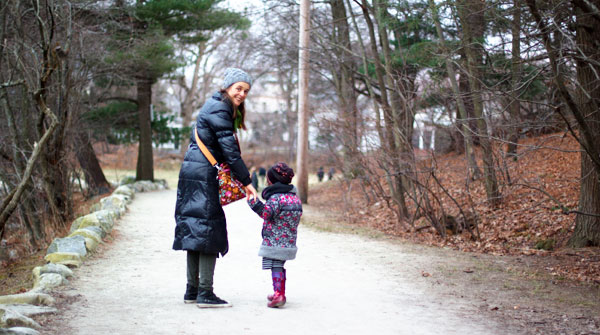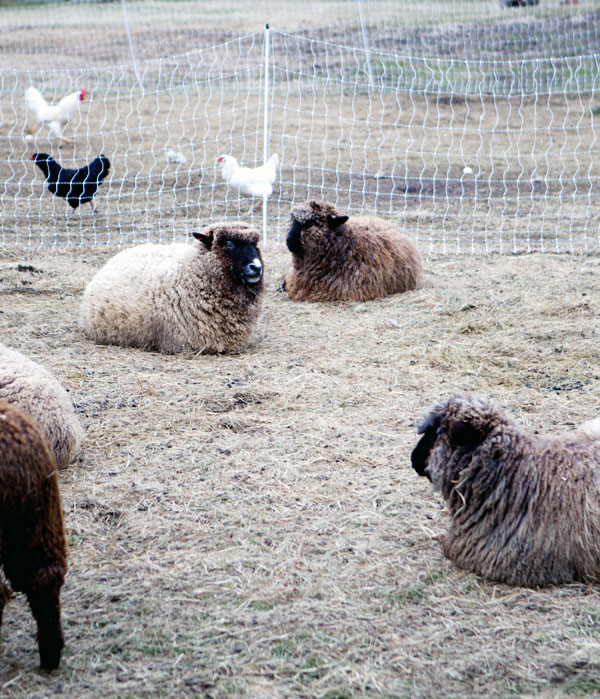 My mother and I spent a lot of time together in my kitchen. That was where she felt comfortable. It made me happy to watch her make it her creative space.
Most days, we cooked simple meals. Every day foods that I've learned to cook by my mother's side. One day, it was an organic chicken flavored with garlic and a bouquet garni that she prepared with mashed sunchoke and potatoes. Another day, she treated us with braised fennel served with wild Alaskan salmon and short brown rice, and we also begged, Lulu included, that she cooked her petit salé, an old favorite.
Foods we were so glad to eat after taking walks to the farm and at the park.
On the day of Lulu's birthday party held a week before the day, she even pulled together a large dish of paella to feed a crowd.
Next to her, I prepared custards and chocolate cakes and muffins and puddings.
"C'est toi qui t'occuperas de faire les desserts, (You'll be in charge of making desserts) she told me on the first night after they'd arrived.
Because between the two of us, I've always been the one known to make desserts.
To have them taste some of our daily favorite dishes, I prepared lentil soups and spaghetti with vegetables and langoustines.
We ate lunch and dinner in the French manner with baguette, cheese and salade verte to seal our meals–my dad is so French about it.
I liked to watch my mother create our meals. They came effortless to her. In a beautiful sort of way.
And so quite naturally, we ended up giving our Christmas an obvious French flair.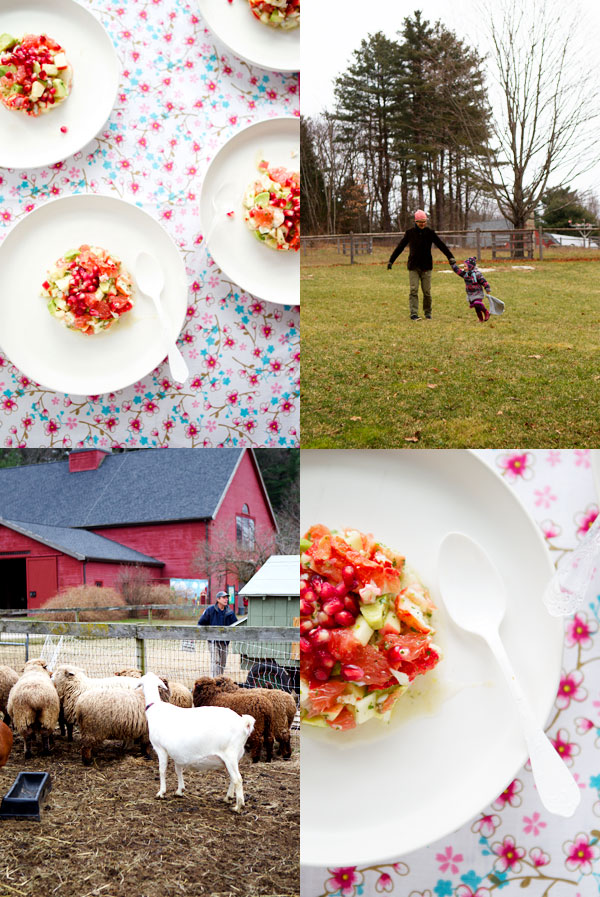 I don't know whether you know this, but for the French, le réveillon de Noël–the dinner eaten the day preceding Christmas–is as important as Christmas day. It's when the festivities start late in the night with family members gathering around a table filled with out-of-the-ordinary delicacies.
I keep lovely memories of our réveillons: smoked salmon and snails and an array of colorful amuse-bouches were treats that we'd enjoy after going to midnight mass. On Christmas day, when my dad was busy opening oysters and a bottle of champagne, my mother would prepare scallops or foie gras with onion jam, chapon (capon), duck, pintade (guineafowl) or game meat which she'd serve with seasonal petits légumes and airelle relish. Invariably, my brother and I kept our eyes and interest largely riveted on the chocolate bûche de Noël that always finished our meal.
I wanted that our Christmas spent together had a little bit of it all.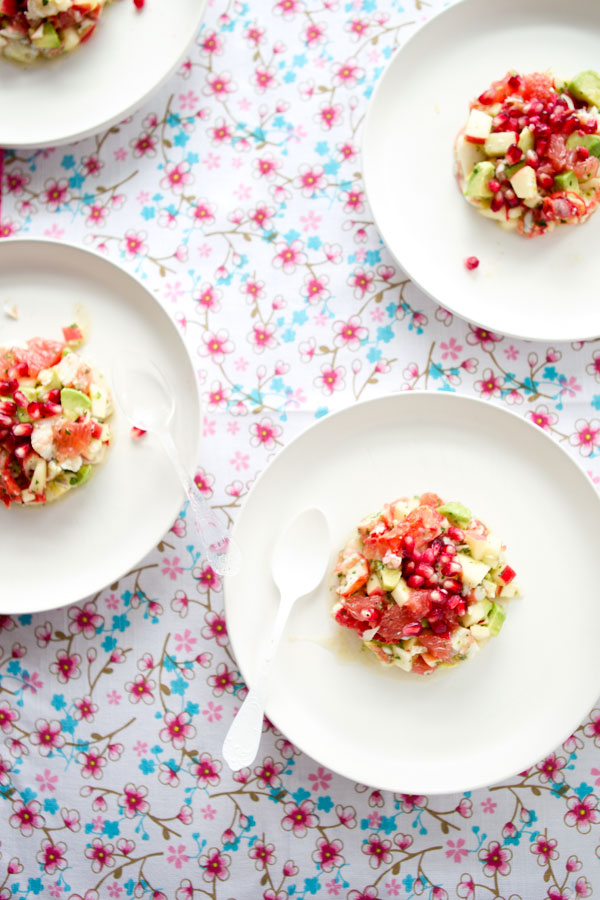 Dressed-up crab, grapefruit and avocado appetizer —
Recipe from my book
Together, my mother and I imagined tradition in our menu. But as the words fresh, colorful, and earthy kept popping inside my head, I knew that our foods would have a bit of each. And, since neither my mother nor father had seen my book before, the idea to cook from it made sense as well.
It really felt right to make it happen in that way.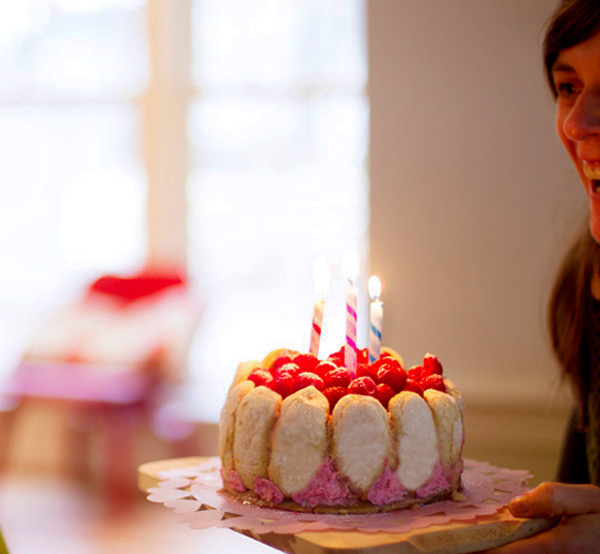 Raspberry Charlotte
So we did it.
On the night of the réveillon, we ate delicious, plump and sweet oysters from Island Creek Oyster Farm. We enjoyed a mâche and scallop salad dish, from the same recipe I had imagined for the Christmas the year before. I loved that it was so easy to make, but so eye-catching too with its pretty finely sliced potato galettes arranged on top. And then I prepared a veal tajine with preserved lemons, Turkish dried apricots and millet, and a homemade raspberry sorbet for dessert.
"Avec les cookies du père Noël !" Lulu had exclaimed excitedly as she was pulling a plate filled with the cookies that she and I had prepared in the afternoon for Santa Claus.
Then, on Christmas day, we used recipes from my book: Endives leaves with roquefort, grapes, radishes dressed in a pistachio vinaigrette served as an amuse-bouche; dressed-up crab and avocado appetizer (I used a fresh leg of cooked crab to replace fresh salmon in the recipe). Then, my mother cooked cailles aux raisins (quails with grapes) and a potato gratin dauphinois, two French classics. And I made a raspberry charlotte which brought oh and ah to the table when Lulu caught sight of the three small candles lit on top of it.
"Souffle fort !" (Blow !) we encouraged her while singing "Joyeeeuuuux aannniversaaaiiire, joyeux anniiivvveerrsaaiire Lulu" (Happy Birthday) in French.
She was beaming. She looked touchingly shy. But so happy with all of us gathered around her.
She is a Christmas baby.
She had just turned three.
And she looked beautiful.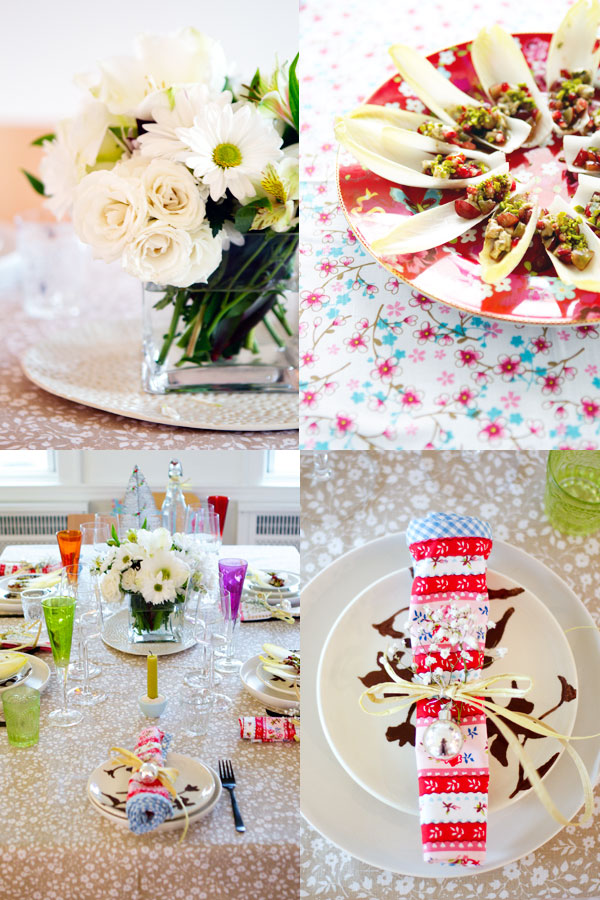 Belgian endive leaves
with Roquefort, grapes, radishes dressed in a pistachio vinaigrette —
Recipe from my book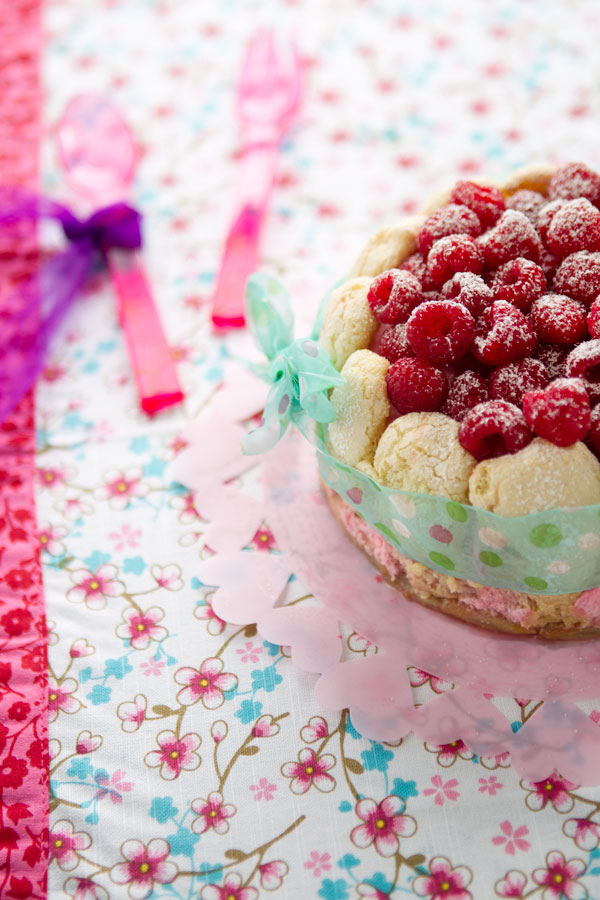 I hope you all had a lovely Christmas celebration. And will have a wonderful night to enter into the new year. Can you believe that we are so close to 2012 already? My last post of 2011.
Bonne année ! I will talk to you next in 2012!