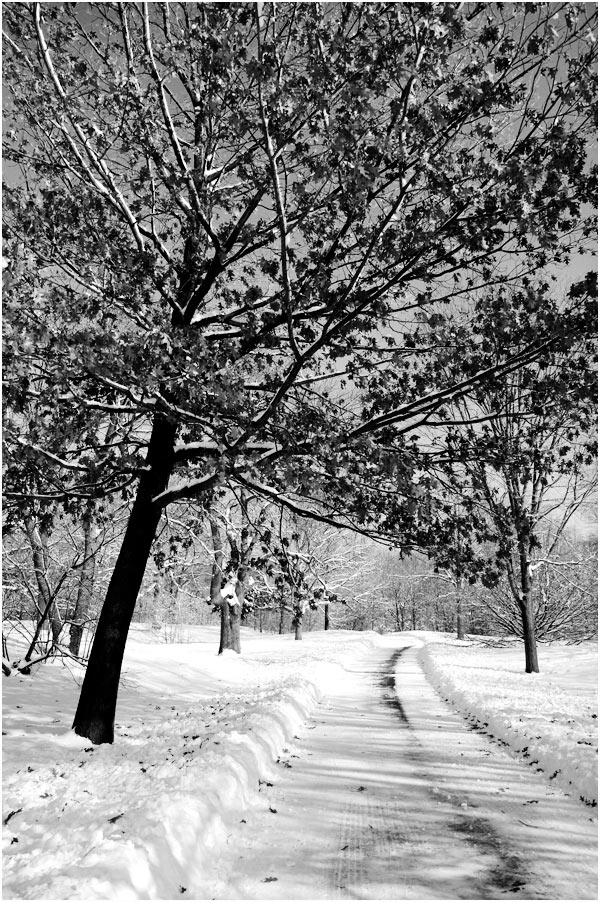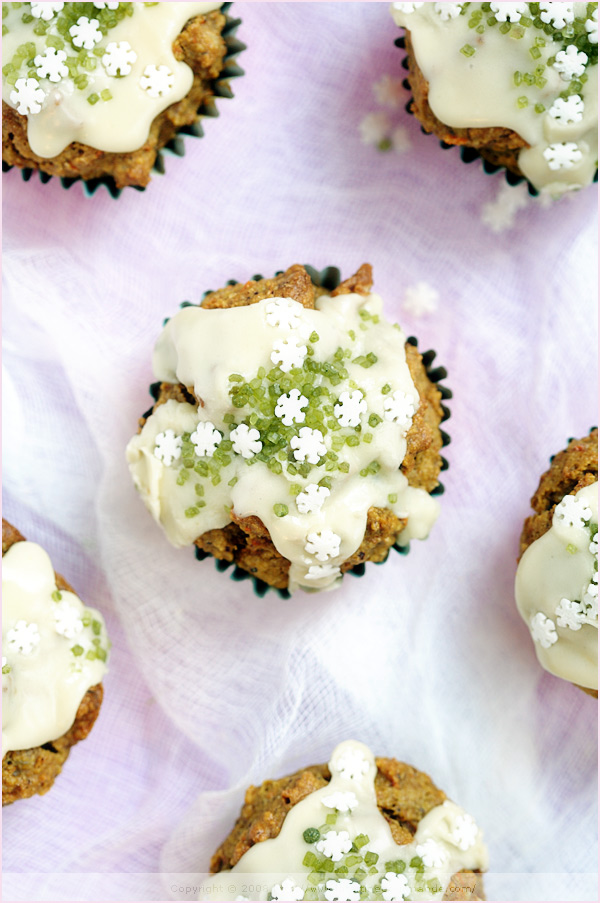 Hazelnut and Carrot Cupcakes
What can I say? Your words have been amazingly touching and good to read, overwhelming us with joy. Thank you are two words rather weak to describe how we feel about what you said.
Really, merci.
So yes, life has been good over the past two weeks. Tremendously changed too, as anticipated. Our little L. made it happen this way. We've created a home nest that's brought incredible joys, fun, play times, laughter — and lack of sleep too. These puffy ones? These are mine! My dear parent friends, I understand what you were talking about…
We truly can spend hours staring at L., observing her facial expressions when she naps, eats or gets changed — my favorite ones are when she smiles with her eyes closed or when she purses her lips. Irresistible.
Our friends? They've also been wonderful. They've brought us food on many occasions, like delicious spiced meat balls, homemade applesauce, fennel salad, soup and duck. We've also eaten some of the dishes I had cleverly frozen prior to L.'s arrival: last night we relished on a dish of comfy pumpkin lasagna. And I must say, food has not tasted that good in a long time; we enjoy eating much more slowly, appreciating every single bite we put in our mouth.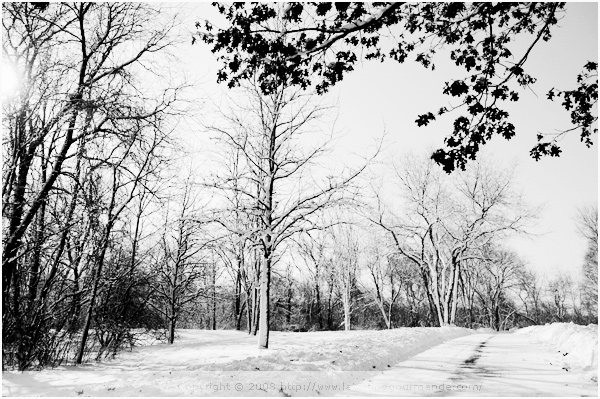 I thought I was not going to cook at the beginning after L's birth. I had been told that like many, I would find it hard to. But despite the general tiredness, it made me really feel good to do so: the call in me was just stronger.
So I cooked, because my body is craving nutritious foods even more so; because we new parents need to, and because I want L. to grow strong and healthy.
I made a few dishes of slow cooked tajines, nutritious salads, simple vegetables soups, sweet apple clafoutis — and I baked cookies, granola and many types of muffins too. Snacks during pregnancy were a must — they are even more so during breastfeeding times. I enjoy them during the day, and at night, when the house is filled with silence and P. and I are taking care of L.'s needs.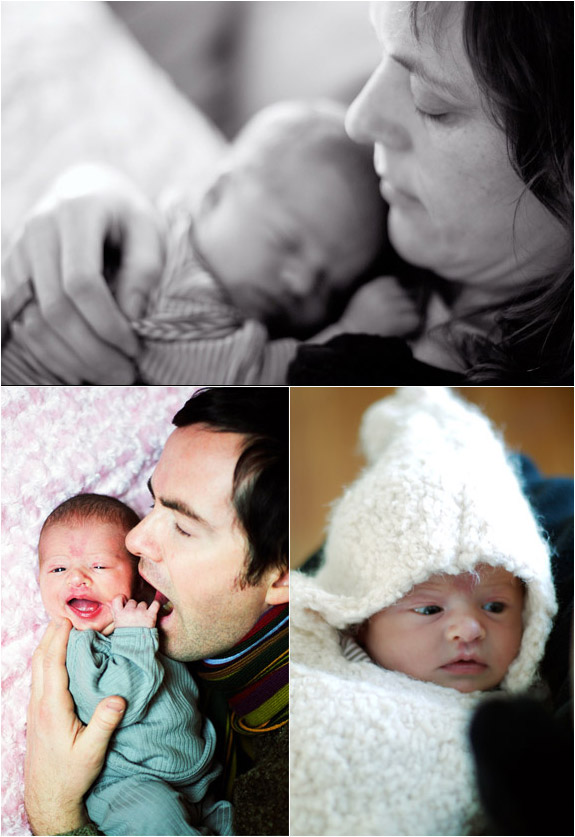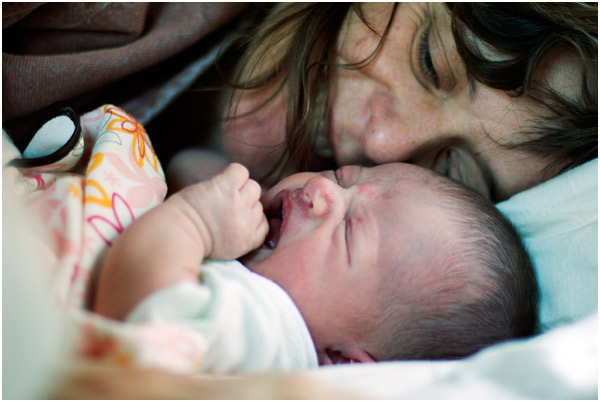 Yesterday's morning, as we lay in bed for a family nap, we kept wondering whether this was really all happening. We kept staring at the little one cozily nested between us, and we felt overwhelmed and warm inside. The house sounded particularly quiet, perhaps because of the snow that had kept piling outside. As the sun was generously out, I was looking forward to taking a short walk to the park, to feel the cold wind brushing against my skin awaken my senses. The park was like a magnificent white playground: it felt good to be there.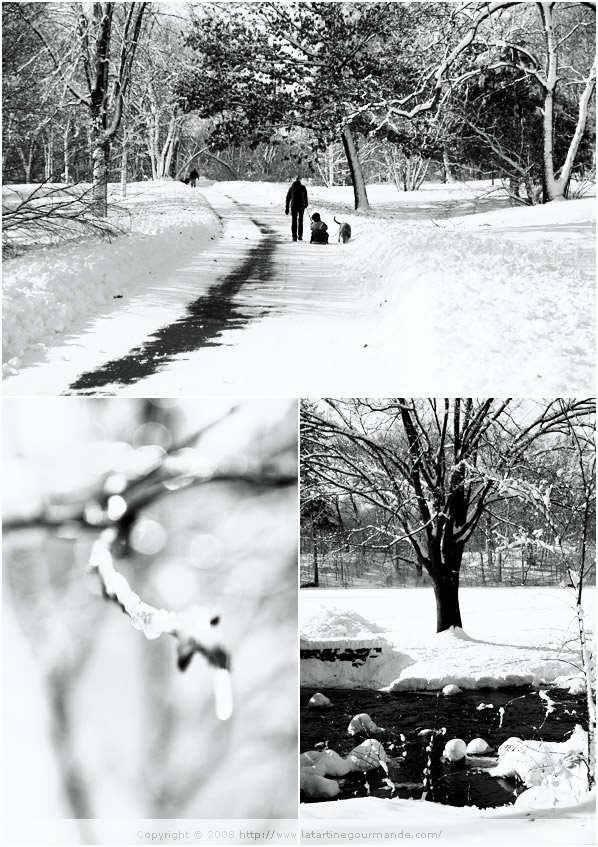 Upon my return, I was filled with a rush to bake.
Don't ask.
Between feeds, I decided to make hazelnut carrot cupcakes.
I did not really know where the recipe was going to take me. I simply let it happen, naturally. I used carrots, nutritious flours like hazelnut, quinoa and amaranth, Muscovado sugar, eggs, olive oil, spices like cinnamon and nutmeg, and plain yogurt to add moistness to the baked goods.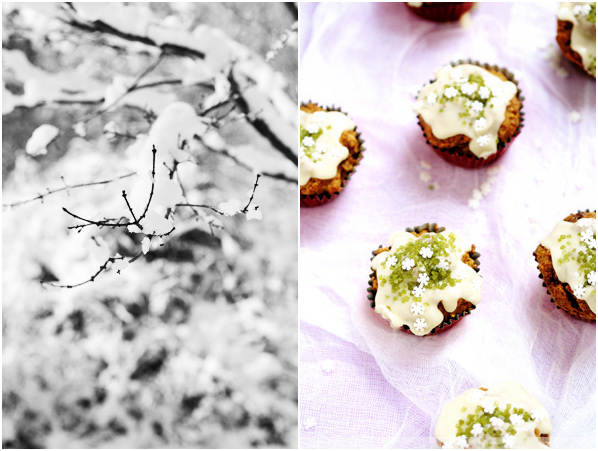 Sometimes, I simply know that some ingredients will work together, that they will be right when combined.
We loved the end result. These cupcakes are lovely to enjoy as a snack, or eaten for breakfast.
Et moi ? I was happy to have a new healthy snack to feed the many hungry times I have during the day. The icing was for the visual fun, for those of you with a sweeter tooth — I personally prefer them plain.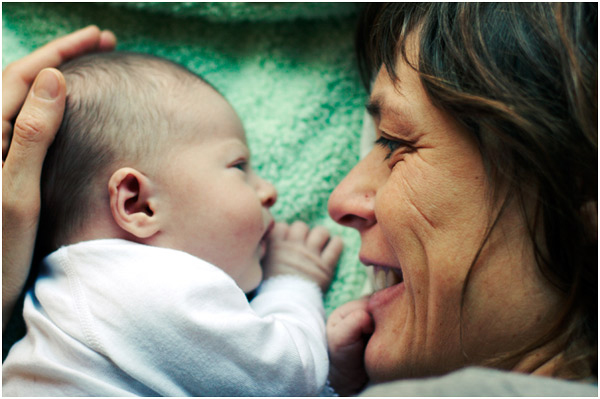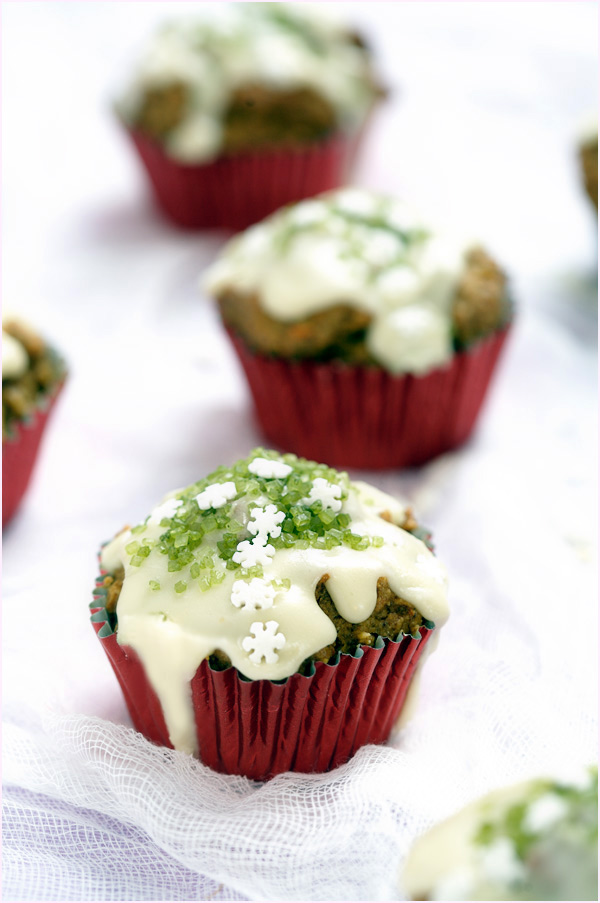 Hazelnut and Carrot Cupcakes
(For 12 cupcakes)
You need:

For the cupcakes:
3 carrots, peeled and grated finely
1 cup quinoa flour
3/4 cup hazelnut flour
3/4 cup amaranth flour
1 teaspoon ground cinnamon
1/4 teaspoon ground nutmeg
3 eggs
1/2 cup olive oil
1 teaspoon pure vanilla extract
1/2 cup chopped hazelnuts (or walnuts)
1 teaspoon baking powder
1/2 teaspoon baking soda
1/3 cup plain cream-like whole milk yogurt
3/4 cup packed brown Muscovado sugar

For the clementine icing:
3.5 oz confectioner's sugar
A few drop of lemon juice
3 tablespoons heavy cream
Juice of a clementine
Decoration sugar
Steps:
Preheat the oven at 350 F. Prepare a muffin pan filled with paper cases; set aside.
In a bowl, combine the flours, baking powder, baking soda; set aside.
In the bowl of a stand mixer, beat the eggs with the sugar. Add the yogurt and oil and mix well.
Combine in the dry ingredients, the carrots and spices. Add the chopped nuts.
Divide this batter between the molds and bake for 30 to 35 minutes. Let cool.
Prepare the icing by combining all ingredients. Spread a small amount on top of each cupcake. Add decoration sugar and let cool completely.
Le coin français
Cupcakes aux noisettes et aux carottes
(Pour 12 cupcakes)
Ingrédients :

Pour les cupcakes:
3 carottes, pelées et râpées finement (180 g)
125 g de farine de quinoa
75 g de farine de noisettes
80 g de farine d'amaranth
1 càc de cannelle en poudre
1/4 càc de muscade en poudre
3 eggs
120 ml d'huile d'olive
50 g de noisettes (ou de noix) hachées grossièrement
1 càc de poudre à lever
1/2 càc de bicarbonate de soude
80 g de yaourt nature velouté
125 g de sucre de canne roux (Muscovado)

Pour la glaçage à la clémentine :
100 g de sucre glace
Quelques gouttes de jus de citron
3 càs de crème liquide
Jus d'une clémentine
Sucre de décoration
Etapes :
Préchauffez le four à 180 C. Préparez un moule à muffin et remplissez chaque alvéole d'une caissette en papier.
Dans un bol, mélangez les farines, la poudre à lever et la bicarbonate de soude; mettez de côté.
Dans le bol de votre mixeur, battez les oeufs avec le sucre. Ajoutez le yaourt et l'huile jusqu'à ce que l'ensemble soit homgène.
Ajoutez les carottes, les épices et le reste des ingrédient secs (farines et noix).
Divisez entre les caissettes et enfournez pendant 30 à 35 minutes, ou jusqu'à ce que la pointe d'un couteau insérée eu milieu d'un cupcake en ressort sèche. Laissez refroidir.
Préparez le glaçage en mélangeant tous les ingrédients (la consistance est épaisse mais reste fluide pour bien se répartir). Etalez 1 càs de glaçage sur chaque cupcake et ajoutez le sucre de décoration. Laissez refroidir complètement.