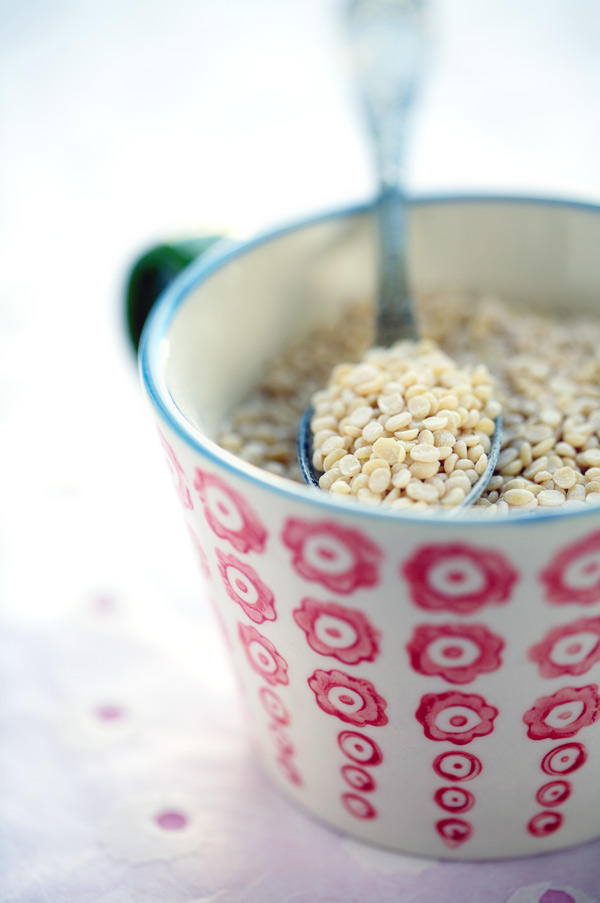 White lentils
I woke up craving a bowl of lentil soup.
"White lentils! How unusual!" I thought after grabbing a bag from the shelf, so that I could look more closely. The label on the package read Ivory white lentils, and that name piqued my curiosity right away. With their pale fair color, the lentils looked delicate. Will they cook like green lentils? I wondered. Or like red? I didn't think twice. I knew that I had to try them and dropped one bag into my cart. And as I walked through the aisles of the store to finish my grocery shopping, I started to brainstorm ideas on how I would use the légumes. Perhaps a salad, or add them to a vegetable stew.
Until I thought about a hearty soup.
For the entire week that followed, however, the bag sat at the corner of the counter top. Untouched. I'd catch a glimpse of it every morning when I walked into the kitchen. It seemed that it was looking back at me, saying "c'mon, do something with me!" So I thought about my soup idea again. The hearty soup I had imagined at the store with slices of spicy Spanish chorizo and winter vegetables. The soup I eventually imagined to serve topped with a poached egg, a generous dollop of crème fraiche and a dash of paprika, so that the dish would become substantial and more nourishing.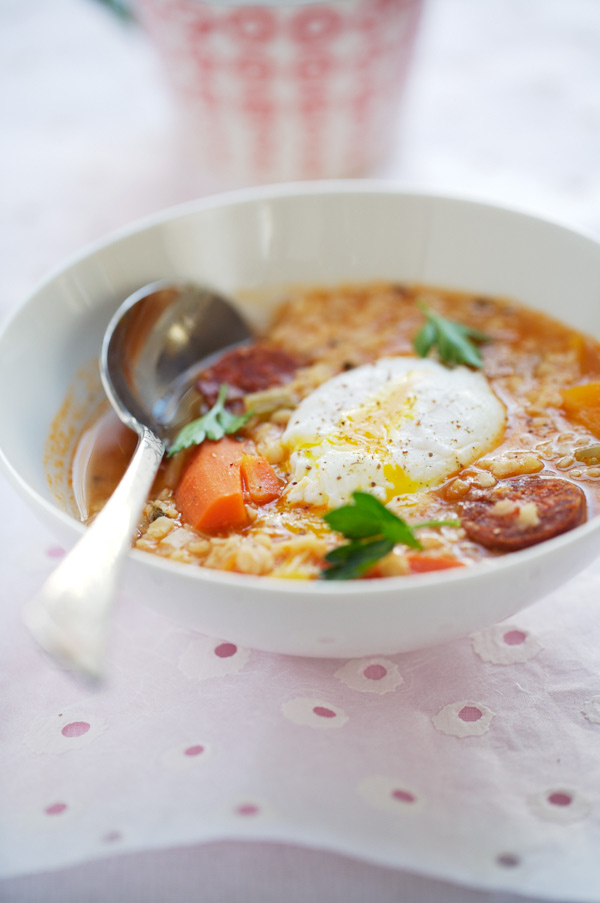 White lentil soup with chorizo and paprika cream
Soups like this one are dishes I enjoy preparing during the winter a lot. Perhaps once a week. They are everything-in-a-pot kind of dishes that are really easy and quick to prepare, something that I must say, I find quite convenient while I am trying to work and look after Lulu at the same time. Once started, I can leave the soup to simmer on its own, almost unattended, and come back to it half an hour later to find a pot of delicious nutritious food.
If you decide to make the soup, you'll find that white lentils cook quickly — just as red lentils do. They do not require any soaking, which is rather practical too, should you decide to prepare the soup spontaneously. Once the lentils are cooked, they develop a mild flavor and soft texture that blend perfectly into a thick broth when combined with small pieces of butternut squash, carrots and tomatoes. The overall flavor is spiced up with Spanish chorizo and the soup becomes truly irresistible with a generous dollop of crème fraiche dusted with paprika, and a poached egg. Who, really, could resist the thought of a soup finished with a poached egg in it? In our household, we surely can't.
The first time I made the soup, Lulu and I ate it with pieces of whole grain bread for lunch. At first, I was unsure whether she was going to like it but was still decided to give it a try. When I saw that after the first spoonful, she was asking for more, I felt my heart leap with excitement.
"C'est bon, non?" (It's good, isn't it?) I told her while putting the food inside her mouth. She was banging two teaspoons on the table with her mouth wide open. Asking for more.
We left the table filled with great energy from our food, which Lulu was quite pleased to use later on the swing. And I just went along.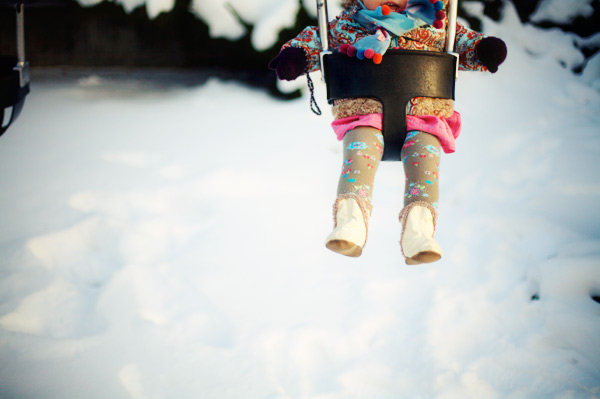 White lentil soup with chorizo and paprika cream
(For 6 people)
You need:
For the soup:
2 cups dry white lentils
2 carrots, peeled and sliced
4 tomatoes, blanched, skinned and seeded, diced
1 cup peeled and diced butternut squash
2 bay leaves
2 celery branches, diced finely
4 garlic cloves, finely minced
1 red onion, chopped finely
1 leek, white part only, chopped finely
4 twigs of thyme, chopped finely
3 branches of parsley + more to serve
Sea salt and Sechuan pepper
4 cups chicken stock
4 cups cold water
2 tablespoons double concentrate tomato paste
24 slices of chorizo
For the eggs:
6 extra fresh eggs
1 tablespoon white vinegar
Pinch of sea salt

To serve:
Crème fraiche
Dash of ground paprika
Steps:
In a large pot, heat two tablespoons olive oil over medium heat. When warm, add the red onion, leek, celery, chorizo and thyme and sweat for 4 minutes, stirring and without browning.
Add the garlic and continue to cook for 1 minute.
Add the tomato paste and tomatoes and cook, stirring, for 2 minutes
Add the lentils, carrot, butternut squash, parsley twigs, bay leaves, water and stock. Bring to a simmer and season with salt and Sechuan pepper. Cover and simmer for 20 minutes, or until the vegetables are soft. Keep warm.
In another pot, heat a large volume of water. Add a generous pinch of salt and the vinegar. Bring to a bare simmer.
Break one egg inside a small cup and slowly transfer the egg into the simmering water. Repeat with the other eggs and cook for 1 minute only, or until the egg white sets and the yolk is still runny.
Remove the eggs carefully with a slotted spoon and transfer them to a paper towel to absorb the excess water.
Divide the soup between bowls and add one tablespoon crème fraiche. Add the poached egg, a dash of paprika and freshly chopped parsly. Serve without waiting.