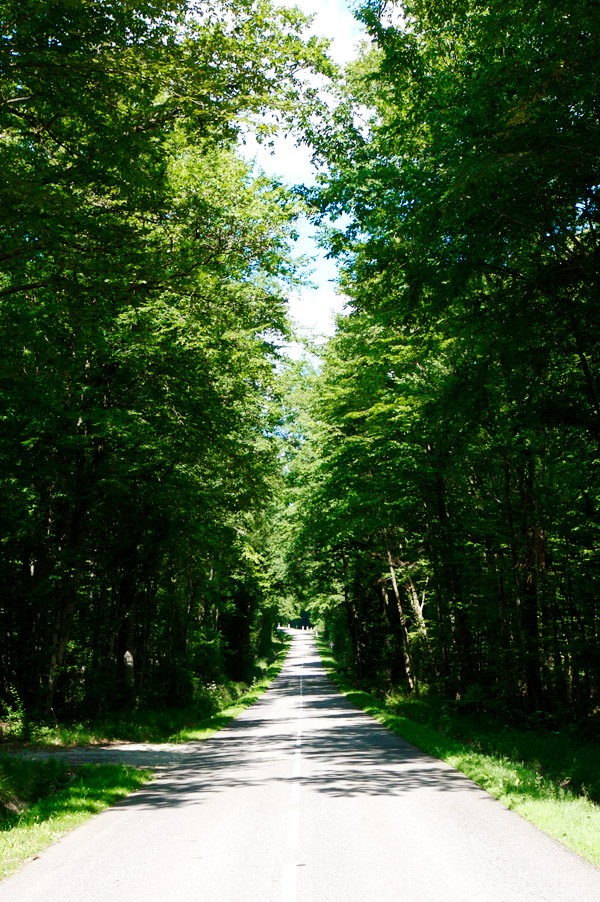 "Vous avez dû attendre pendant longtemps ?" (Did you have to wait for long?) my parents asked. We were standing at one end of terminal E in Roissy Charles de Gaulle airport, hugging and kissing. My parents were as eager to see us as we were to see them. But I knew that, in fact, they were even happier to greet and hold their little grand daughter. Lulu was snuggled cozily against my stomach in her ergo. We could only see the top of her head and hair and eyes which she had wide open. She was smiling and flapping her bare legs against mine, turning her head to the right, then to the left, not to miss anything that was happening around us. We were all tired but so happy to be home in France.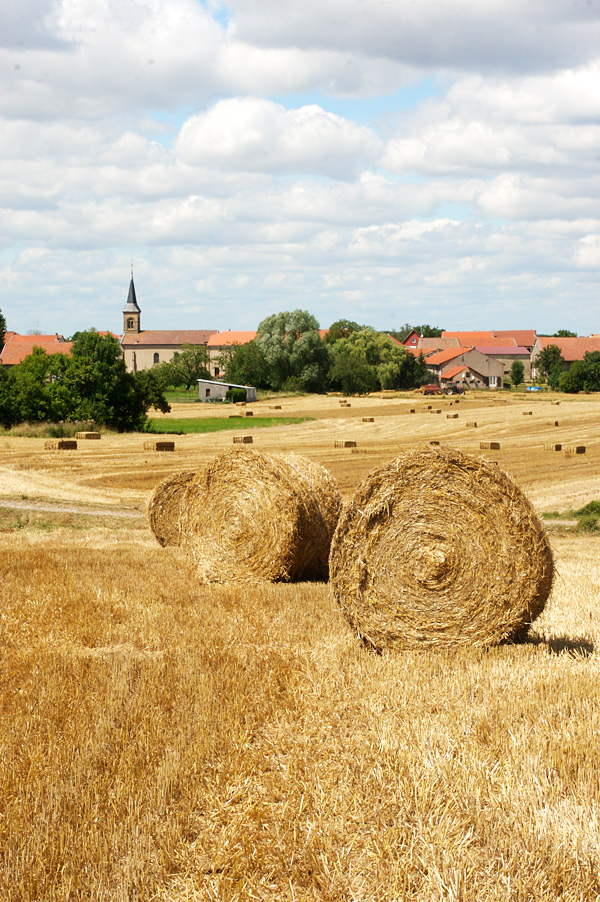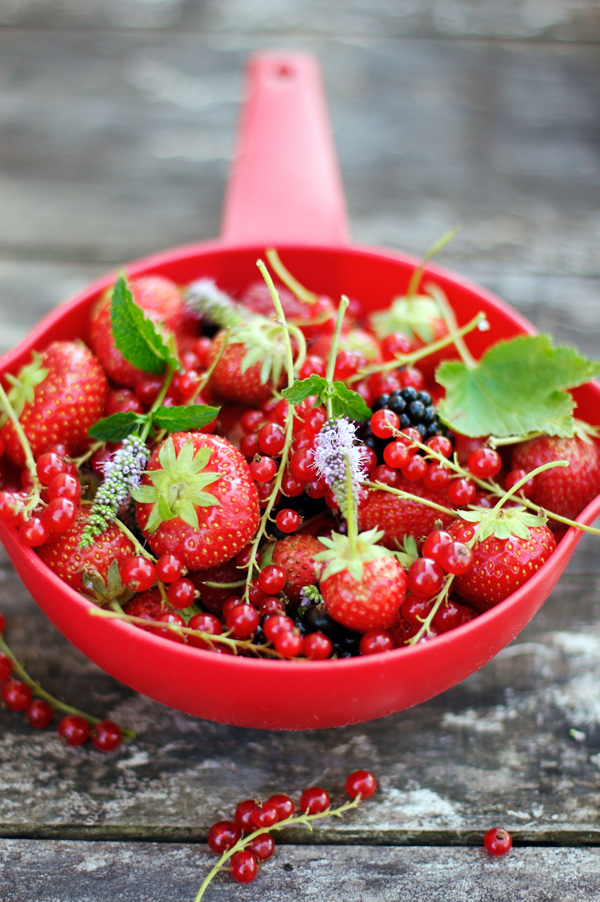 The thought of traveling back home had filled me with feelings of excitement even if I had worried about our journey to Europe. It was Lulu's first transatlantic flight. How would she handle it? Would she be fine with the many plane rides, between Boston, Paris, Dublin and Paris again? How would she do with the jet lag? But our little Lulu didn't mind at all any of it. In fact, she adjusted extremely quickly, much faster than P. and I did.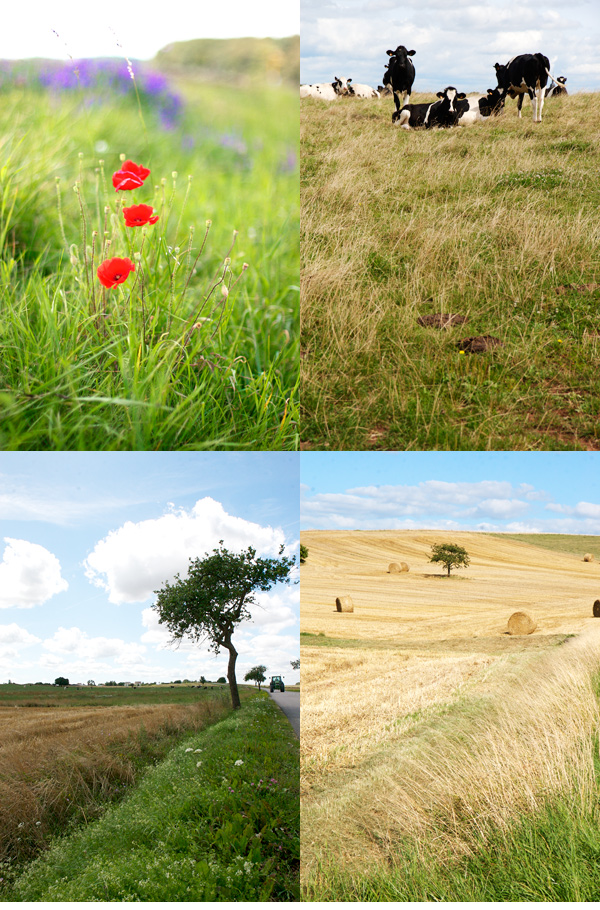 Summer in rural eastern France, where my parents and brother live, has left me wonderful memories. I realized that it had been years since I had traveled there during summer.
It's the soft morning light cast on the countryside early in the morning, the colorful wild flowers illuminating the fields, the rich smell of freshly cut grass, the butterflies dancing from flower to flower and the clacking sound of the crickets late at night that I love. It's the time of year when, I remember, as a young girl, we used to harvest hay at my grandparents'. Sometimes, I was allowed to drive the tractor back from the fields, and proudly did so. Later in the afternoon, my brother and cousins would sneak in the barn to play, jumping on bales of hay neatly stacked high.
Days in the countryside are spent at a slower pace even if summer means it's a busy time for many who live there. In my family, we like to pick all sorts of fruit to make jams and preserves and bake tarts; we preserve French beans and beets, and make ratatouille. We walk in the grass bare foot and nap under the cherry trees, if we feel like it. We did that very well, I must say, the day after we arrived, then the next, and the day after the next too — and we never seemed to find the activity boring. Would you?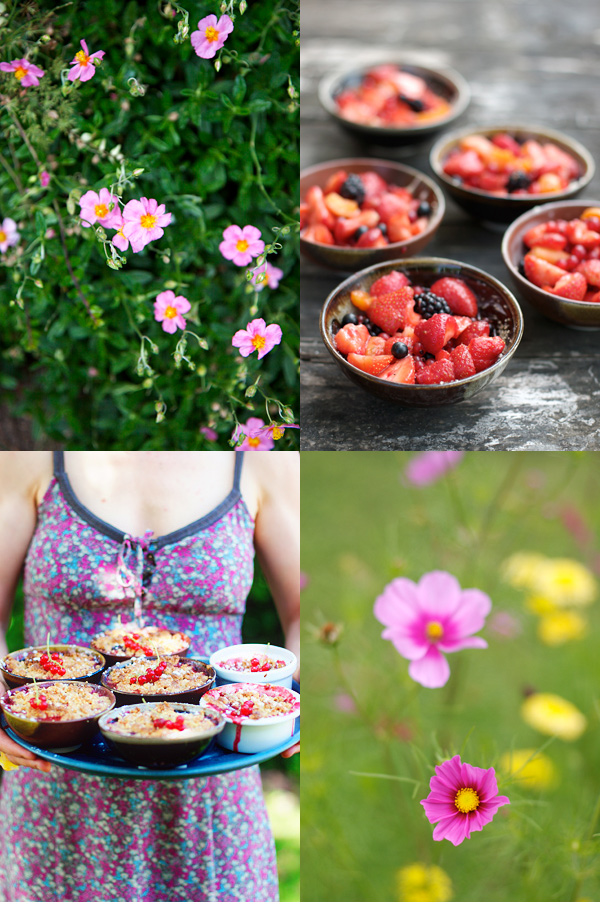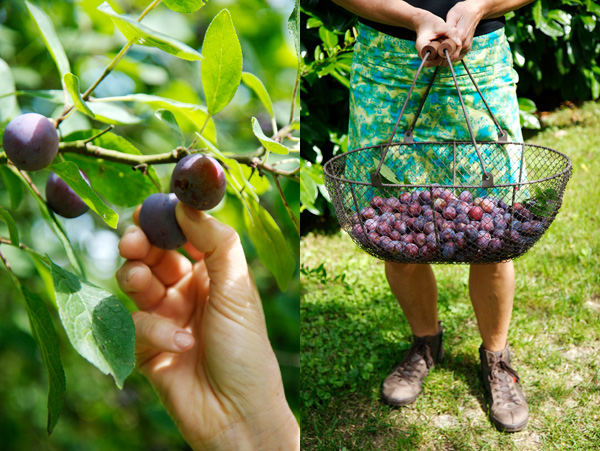 Lulu, too, made the place her own. She and I loved the daily routine we established. There were the usual morning and afternoon naps, the walks to the village to buy baguettes for lunch, and the many hours spent playing on a large blanket spread under the trees, in my parents' garden. It was delightful to see her enjoy herself so much. She was fascinated by trees and loved to watch the wind move their leaves. She played with the flickering shadows created by the rays of sun filtering through the branches.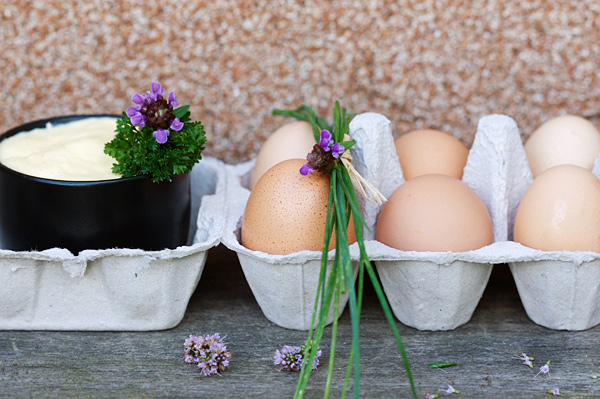 I told her about where our food comes from. When I took her to the village, I showed her the cows and sheep and chicken and rooster and rabbits. I pointed at eggs nested at one corner of the hen house. I made her smell red currants and apples and strawberries and plums that my parents grow.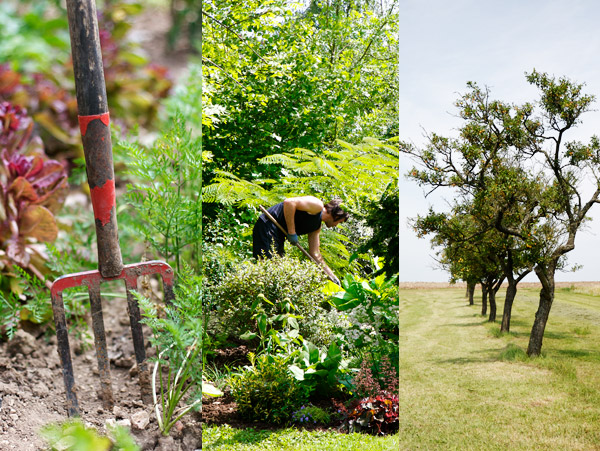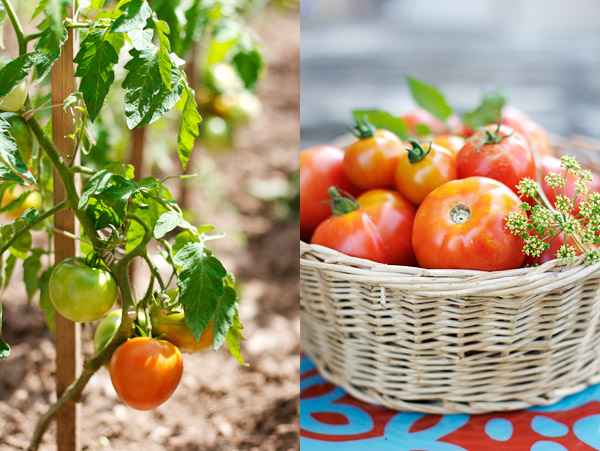 She ate the vegetables — carrots, beans, zucchini, beets and tomatoes — we prepared from my mother's and brother's gardens. Every day, it seemed that she was learning something new — her new discovery is to clap her hands (she does that so joyfully, really, it's cute!) while blowing raspberries at the same time. It's amazing, actually, how quickly she has changed over the course of these last three weeks away.
Our life is so much richer with her at the center of it.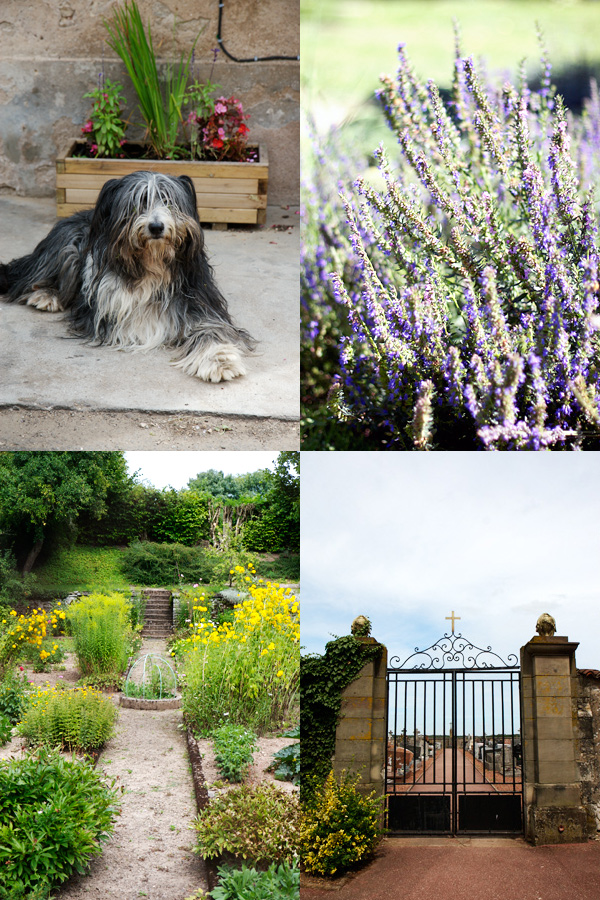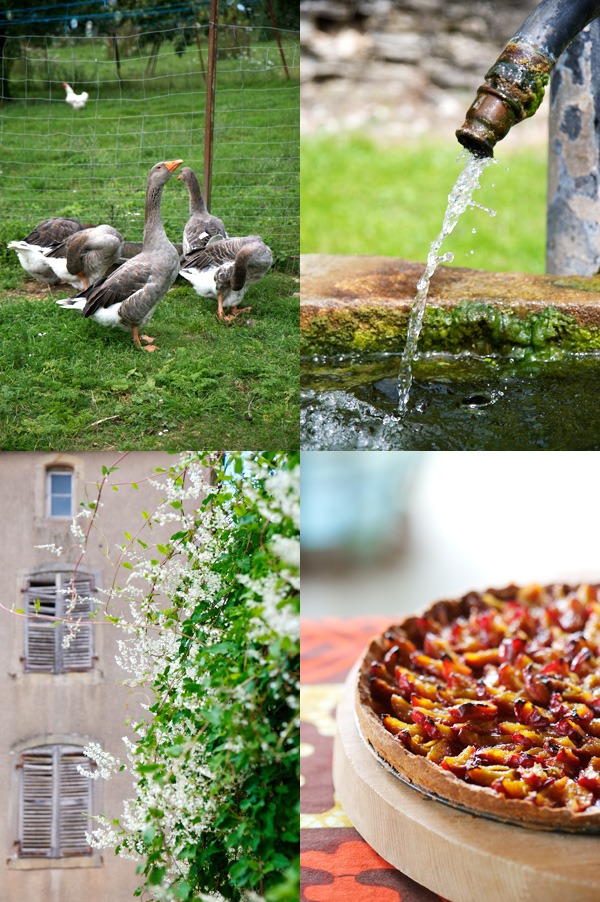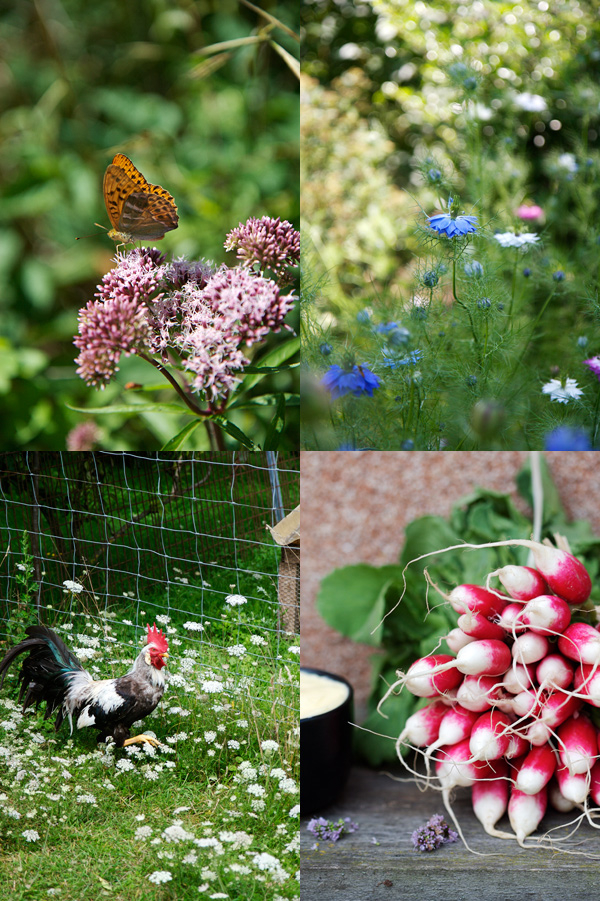 "Tu veux que je la prenne ? "(Do you want me to take her?) my mum asked me one morning after I had just finished to nurse Lulu. She was wide awake, laughing, talking and kicking her legs above her head. It was also 6 am, the time of day when my mother gets up — it's brave! I didn't need to answer. She knew. I felt relieved. Si tu veux! (Sure!)
While falling asleep, I could hear them *converse* with each other in the kitchen at the breakfast table — Lulu sitting in her high chair while my mother was eating her bowl of muesli and yogurt.
It didn't matter that we did not travel long distances or do much. We did what we had been craving for weeks: we rested.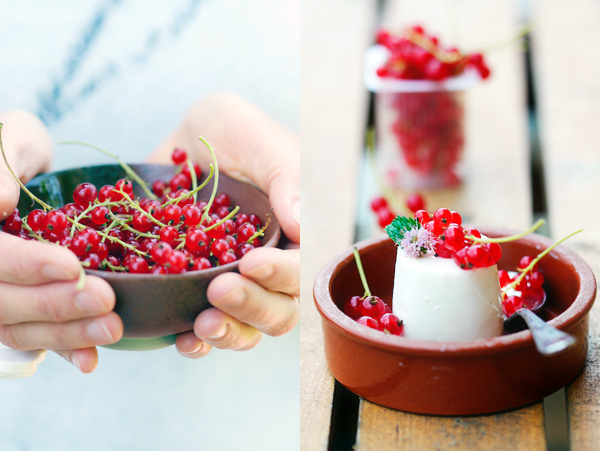 The food was gorgeous, and I ate a ton. I even wonder where I put it all! Between the fresh vegetables and fruit from the garden, I also indulged in dairy products hungrily, eating yogurts, petits-suisses and fromage blanc as if I was discovering them for the first time again. I devoured cheese greedily, at all times of the day. Oh yes! Everything felt more tasteful and flavorful. My mother cooked — isn't this the nicest? — and I helped, baking and making fruit tarts.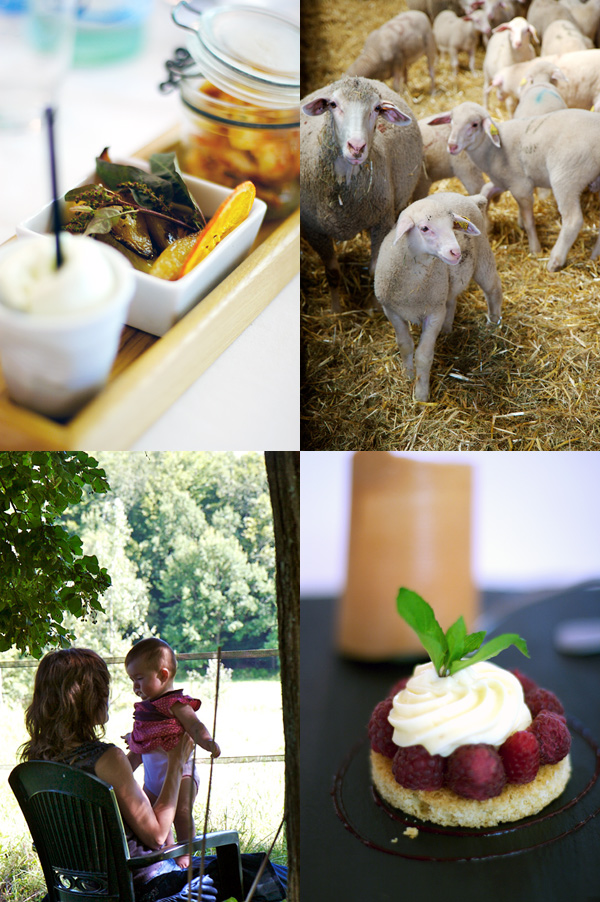 Every day, Lulu came with me to the garden where I picked more berries and seasonal fruit, carrots, salad and tomatoes for lunch. The mirabelles, prunes de cochon and quetsches were so ripe that we stewed them and made tarts.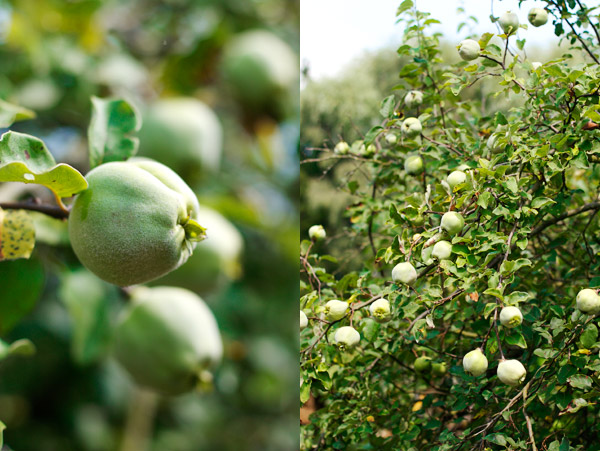 Quince tree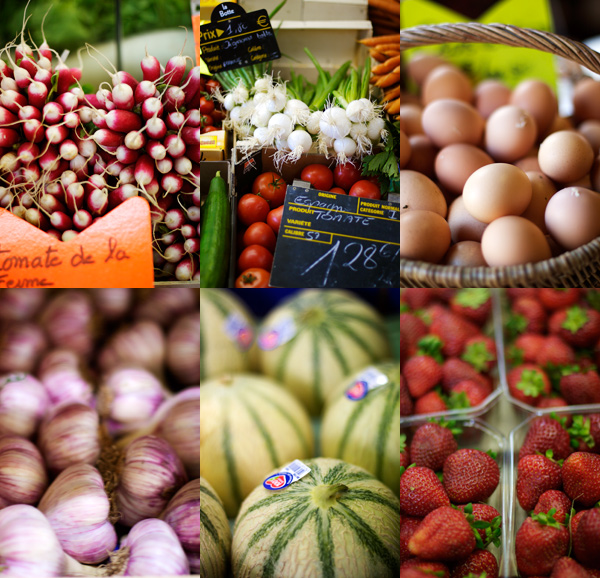 One day, my mum and I took Lulu to the local market.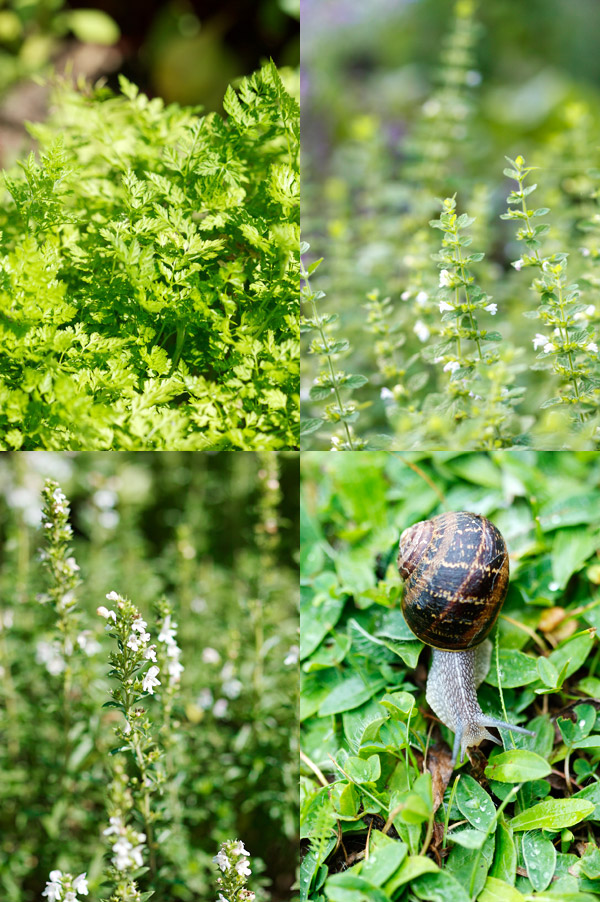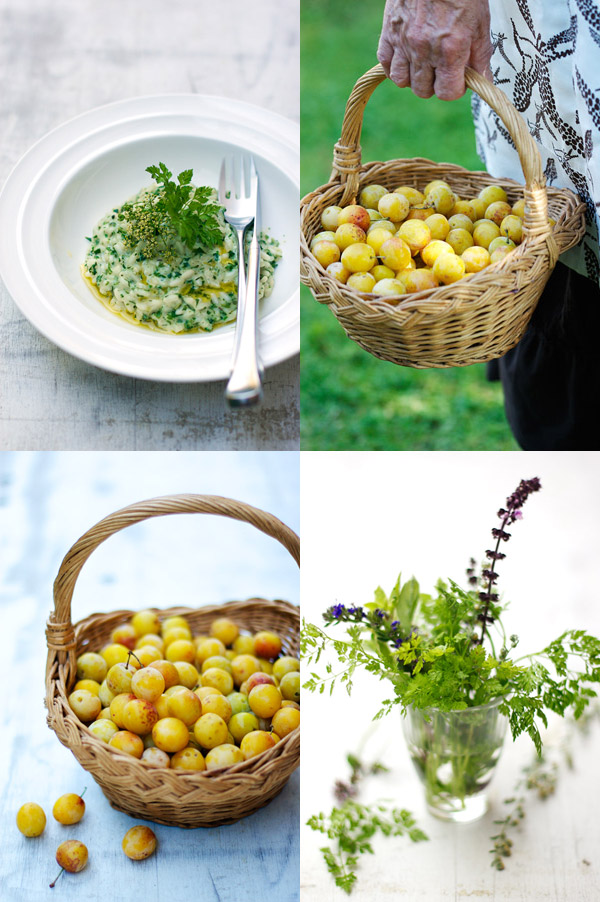 Mirabelles and Herb Risotto
In my brother's garden, I collected fresh herbs, different types of basil, sage, thyme, chervil, livèche (lovage) — my sister-in-law's favorite — and mint to make a herb risotto. I'll have to tell you about it. We enjoyed it so much that I cooked it twice.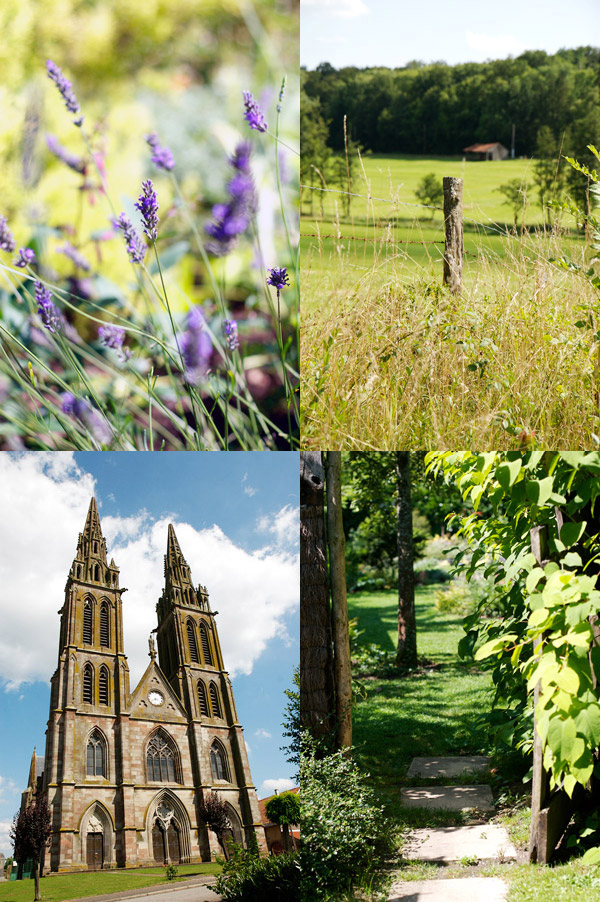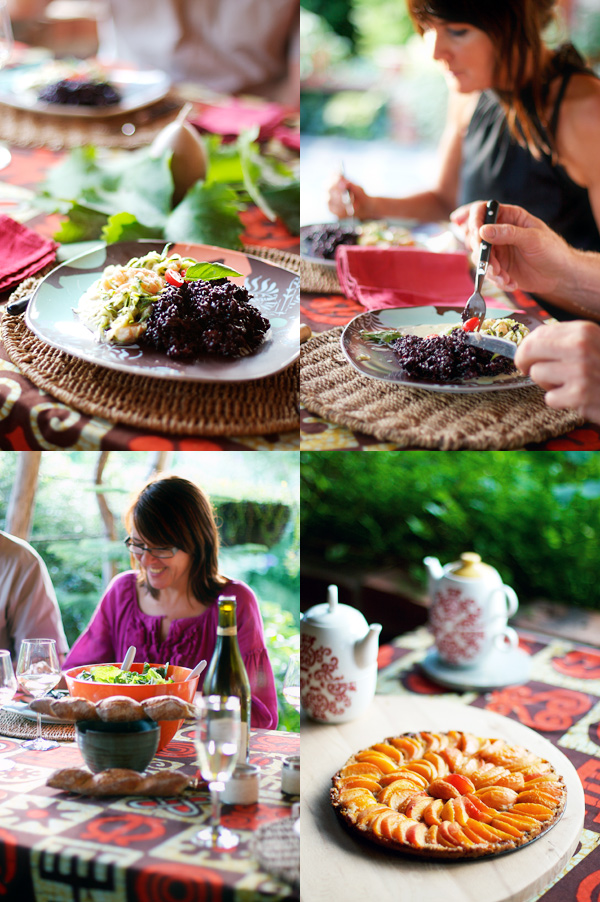 We had family lunches and dinners at home that we ate outside and a few times, we drove the scenic winding road, just a few kilometers away, to l'Ecluse 16 — a lovely restaurant nested in the Bonne Fontaine forest, by the canal de la Sarre — where we ate scrumptious modern food.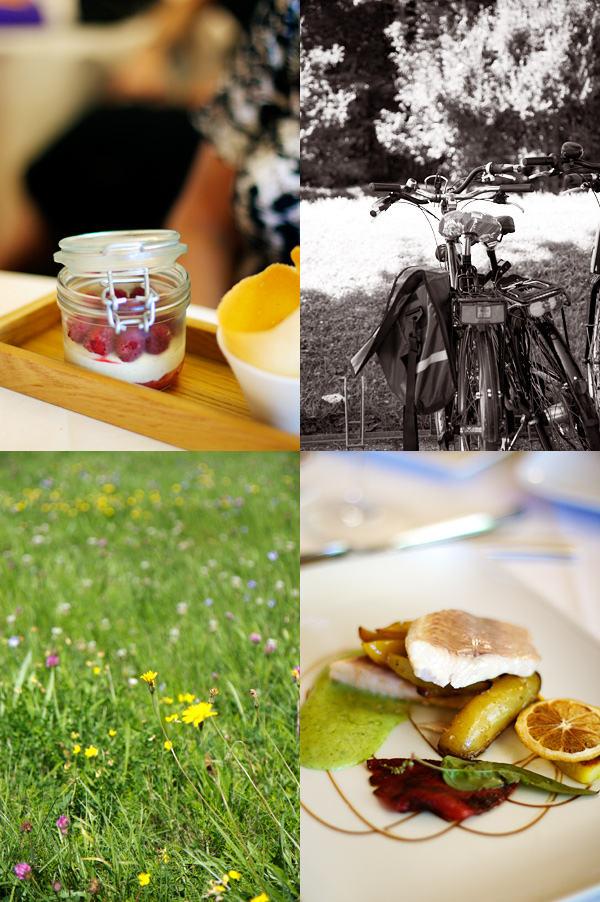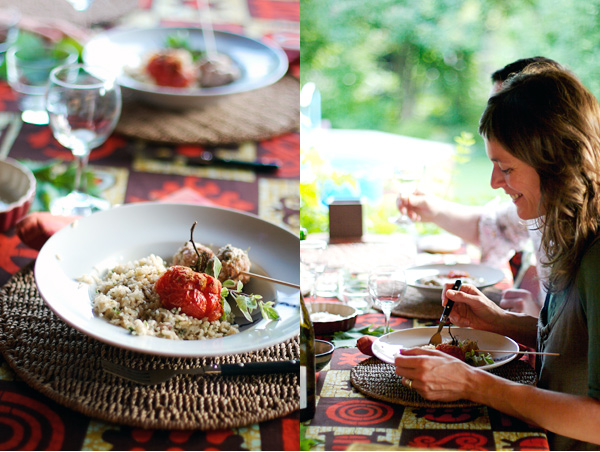 I thought I wouldn't find red currants, as suggested by my dad, but I was excited to discover that the bush in my parents' back garden was still heavy with bright red berries, fully ripe. Every day, my mum used them in fruit salads while I baked them in muffins.
I also made a red currant and almond tart.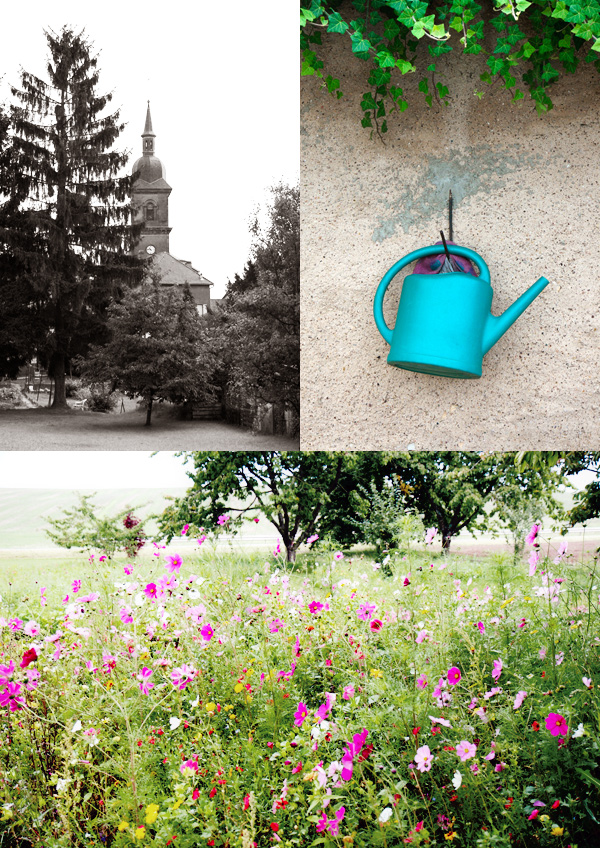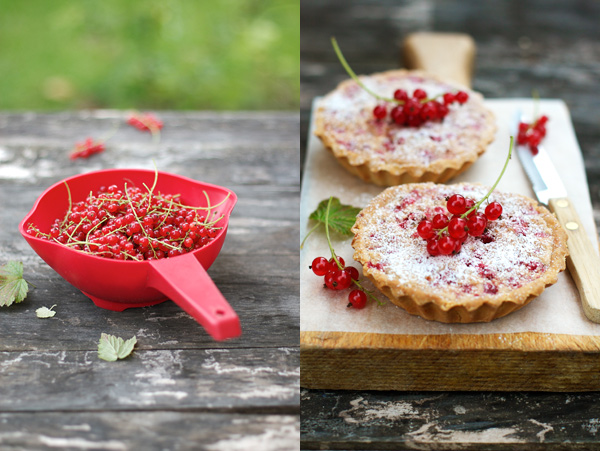 Red currants are a delicacy in the US, which always surprises me when they are so abundant and easily found where I am from in France. In the city of Bar-le-Duc near by, locals use the fruit to make a special jam. The tradition consists in removing the seeds with a goose feather and dates back to 1344. The jam is extremely delicate.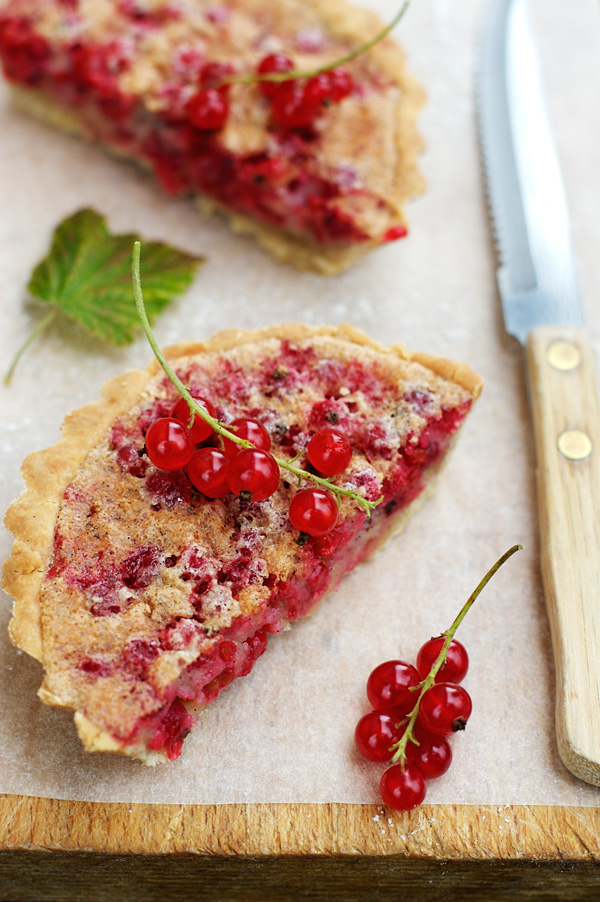 Red currant almond tart
If you've eaten the berries before, you know that the fruit is rather acidic, and has small seeds inside. The berries are delicious in tarts when they are prepared with a sugary almond batter, which balances the tartness of the fruit.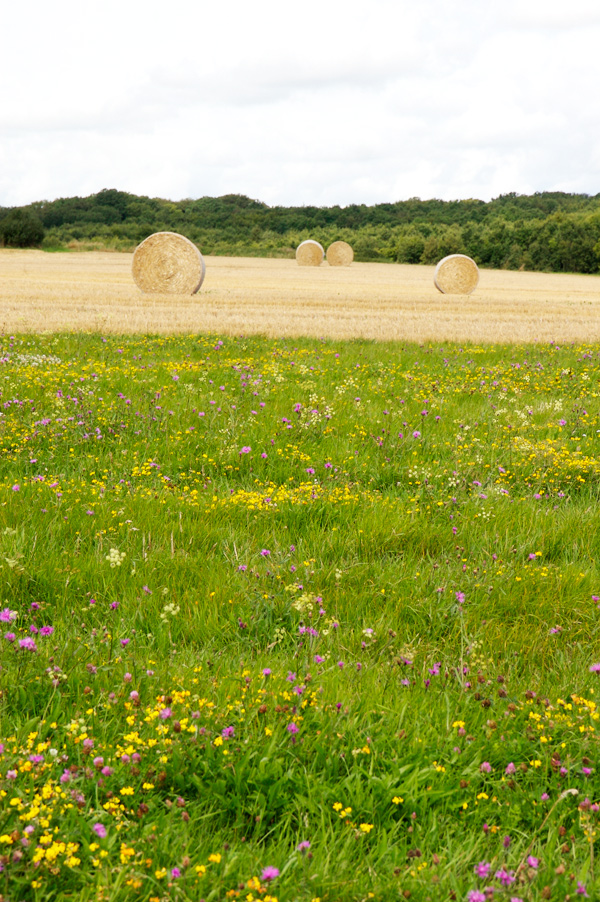 "I told you it would be worth it," I told my dad, with a victorious look on my face, when we all sat down at the table again to have dessert. He had jokingly asked that I stopped stealing the last red currants on the tree. It was hard to! One of his favorite thing is to pick and snack on the fruit while working outside.
"Oui, elle est très bonne ta tarte," (Your tart is really good) he said, helping himself to a second slice.
What I didn't tell him is that, a few days later, I grabbed another handful of the red berries to bake muffins. I just couldn't resist.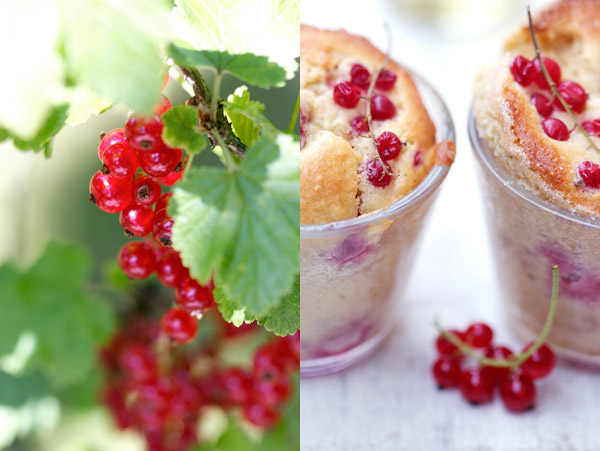 Everyone commented on how delicious the muffins were.
And the missing red currants went unnoticed.
It's wonderful how that works.
Red Currant Almond Tartlets
(For 6 tartlets)
Note:
You'll notice that I do not give the measurements in cups here simply because I didn't have them with me. And, as most of you know, we do not use the cup-measurement system in France. Instead, we prefer to weigh ingredients (which I'll always find a much more precise way, especially to bake)
For the crust:
3.5 oz (100 g) brown rice flour
2.1 oz (60 g) quinoa flour
0.7 oz (20 g) cornstarch
1 egg
Pinch of salt
90 g (7 tablespoons) cold butter, diced
For the filling:
10.5 oz (300 g) red currants, washed
2.8 oz (80 g) brown sugar
2 eggs
1.5 tablespoons (20 g) cornstarch
2.1 oz (60 g) almond meal
1 vanilla bean, split open and seeds scraped out
Steps:
In a bowl, combine the brown rice and quinoa flour. Add the cornstarch and pinch of salt. Add the butter and work with the tips of your fingers to make coarse crumble.
Add the egg and work until combined and the dough forms a ball. Wrap in plastic and place in the fridge for a few hours, or overnight.
Preheat the oven at 400 F. Bring the dough to room temperature before rolling. Garnish the molds and make small holes at the bottom. Cover with a piece of parchment paper and dry beans. Prebake the crusts for 15 minutes and remove the parchment paper and beans; let cool.
In a bowl, beat the eggs with the sugar until light.
Add the almond meal and cornstarch and vanilla seeds and continue to beat. Add the red currants and combine.
Divide between the tartlets and bake for 25 minutes to 30 minutes at 375 F, or until the top is golden in color. Let cool and serve with dusted confectioner's sugar.