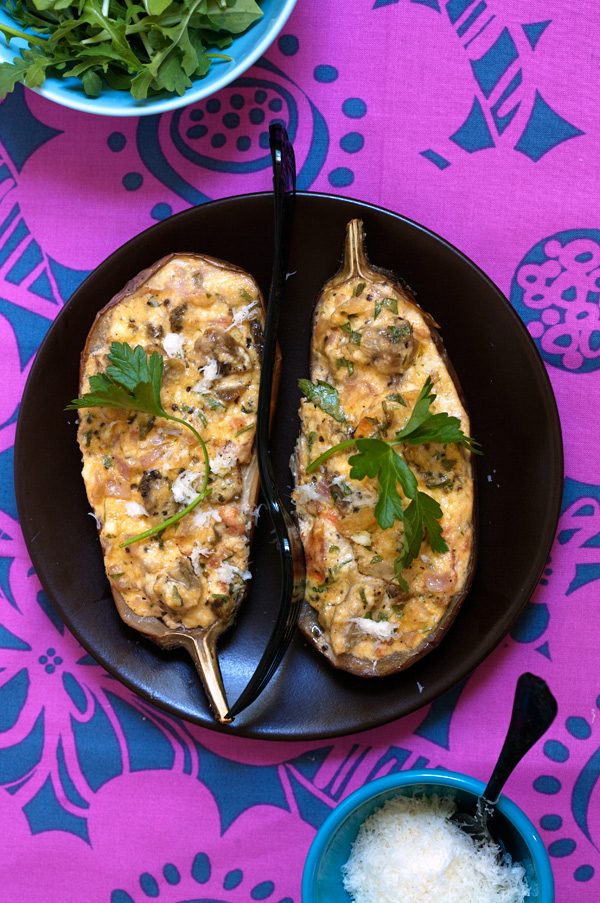 Stuffed Eggplants
"Tu ne peux pas partir avant d'avoir mangé des tomates farcies!" (You cannot leave before eating stuffed tomatoes) my mother exclaimed as she walked in the kitchen with a basket full of tomatoes picked in the garden. Of course not! Les tomates du jardin (tomatoes from the garden) are always delectable, making me never want to buy a tomato ever again. And her recipe for tomates farcies is a must-have-right-now.
And like my mother, whether using tomatoes, zucchini, eggplant or peppers, during the summer, I love to stuff vegetables. Don't you? Just like in the recipe of these stuffed eggplants.
It's a recipe that I wrote for the Seasons column of the Boston Globe. I like to vary the stuffing. Sometimes, I'll make one using ground veal and pork, or beef. At other times, it's going to be rice or quinoa with grated vegetables, spices and herbs in a vegetarian version.
Here, the recipe calls for Italian eggplants (I prefer them because they are smaller, tastier and easy to stuff) and a stuffing combining ricotta, ham, coriander, tomatoes, the flesh of the eggplants and a generous amount of freshly grated pecorino. It's honest, humble food. It's a dish simple to make, one that you can prepare ahead of time and reheat at the last minute when you want to spend more time outside.
I hope you enjoy it!