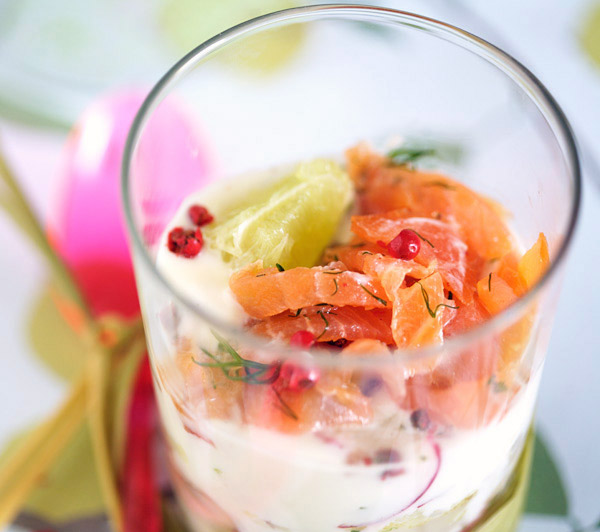 Verrine fraicheur: cucumber, yogurt and smoked salmon
It's been so hot since I've returned from France that the oven has remained unusually quiet. Almost untouched — beside the berry sabayon au gratin and coconut macaroons I made (and that's because I was too bored, upset to feel stuck inside all day.) So I am patiently (and that's saying a lot!) waiting for the cooler days to come. Counting them, one by one. Un, deux, trois, quatre….reloading the weather forecast page on my laptop every time I walk by, with the hope that it's a mistake, that they've made a mistake, that tomorrow, the temperatures will be bearable, and life will resume its course. Quietly.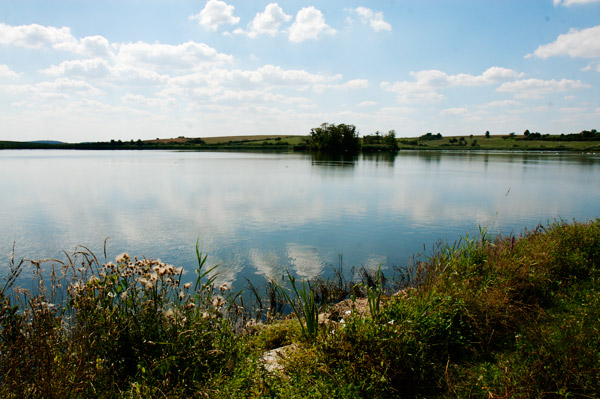 Because this heat is severe and aggressive, and when I think about it, this is what I dislike about summer. When it's too much of everything: too much noise, too much heat, too much AC — and an obvious lack of fresh clean air. I am trying not to miss the cherry trees in my parents' garden too much, but frankly, it's hard not to. They were so relaxing and soft, ces arbres. So quiet and tranquil.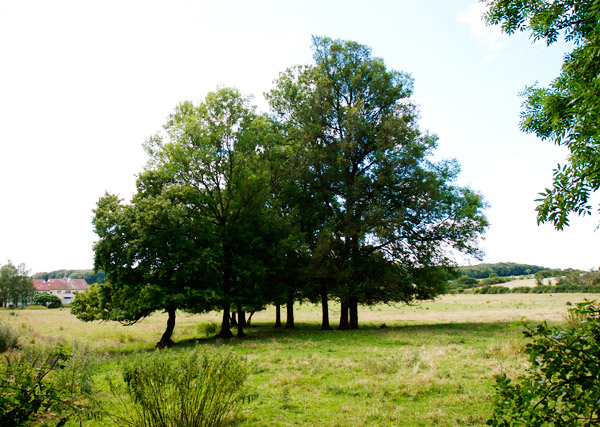 It's no surprise then that after I put Lulu to bed tonight, I felt exhausted. She was exhausted too. At first, I thought it was the jet lag still playing on us. But in fact, I know that it's the heat that sucked the last bit of my energy.
I am not trying to complain. There are many worse things than reading 95 F on the thermometer. Sometimes I hate being so affected by this sacrée chaleur (damned heat). But I am looking forward to the early fall when I can use my oven again. When I feel like it.
No wonder that I felt like preparing a cold verrine for dinner. To start. Something simple to make, no fuss, a dish refreshing to eat on the porch with my feet dipped in Lulu's pool, trying to feel better.
I started with grated cucumber sprinkled with salt to release some water. Then, I added local radishes, sticks of apple and plain yogurt. With a drizzle of lime juice and one of olive oil, more yogurt and slices of smoked salmon, I had food perfectly right to cool off. My dinner.
Still hoping for the cooler days to finally arrive, and for summer to go away with its luggage of unwelcomed heat.
I'll just have, once again, to reload the weather page before going to bed. Hoping!

Note that this verrine also makes a lovely and pretty appetizer for a casual dinner with friends.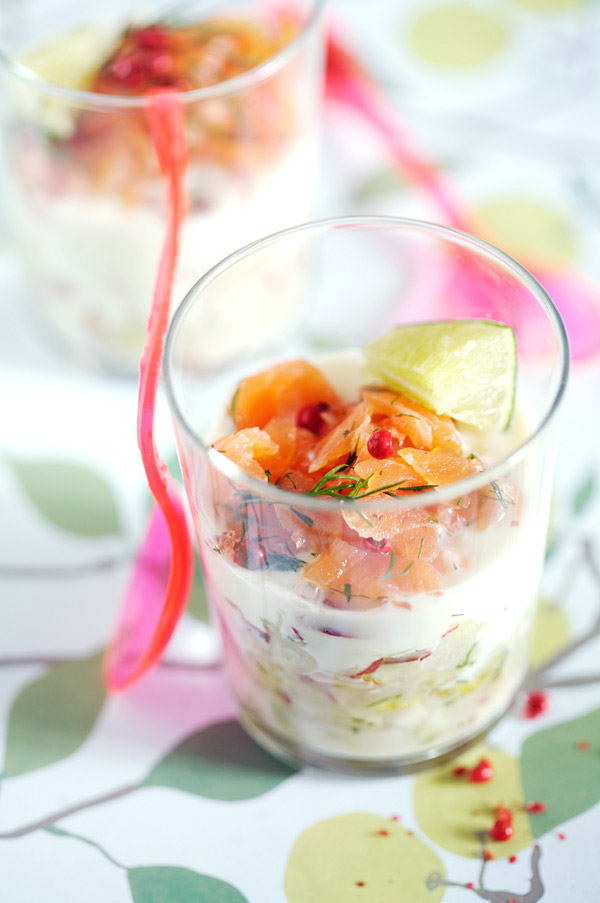 Verrine fraicheur: Cucumber, yogurt and smoked salmon verrine
(For 4 verrines)
You need:
1 cucumber, peeled and seeded
Salt
Lime juice
1 tablespoon olive oil + more to drizzle
1/2 apple (green or pink lady)
4 pink radishes, cut in small sticks
1 tablespoon + 6 tablespoons plain creamlike yogurt
1 tablespoon chopped fresh mint
1 tablespoon chopped dill
4 slices of smoked salmon, diced (try to choose a mild one, not too salty
Cracked red peppercorns
Steps:
Grate the cucumber and place it in a bowl. Sprinkle with salt and let rest on the side for 30 minutes.
Cut the apple in small sticks and drizzle with lime juice to prevent oxidation. Transfer to a bowl. Press on the cucumber with the tip of your fingers to squeeze out the excess water. Combine with the apple and radish sticks.
Add the fresh herbs, 1 tablespoon yogurt* and the olive oil. No need to add more salt as the cucumber is already seasoned.
Divide between four glasses.
Top with 2 tablespoons of yogurt in each glass and finish with the diced smoked salmon.
Drizzle with olive oil and top with cracked red peppercorns. Serve with more lime juice to taste. Accompany with bread sticks.

*I use a full fat velouté style plain yogurt. I particularly like the Traderspoint creamery brand. The yogurt is made with organic milk from grass fed cows.
Le coin français
Verrine fraicheur avec concombre, yaourt et saumon fumé
(Pour 4 verrines)
Ingrédients :
1 concombre, pelé et égrainé
Sel
Jus de citron vert
1 càs d'huile d'olive + pour servir
1/2 pomme (verte ou type pink lady)
4 radis roses, coupés en petits bâtonnets
1 càs + 6 càs de yaourt nature velouté
1 càs de menthe hachée
1 càs d'aneth hachée
4 tranches de saumon fumé, coupées en petits dés (préférez un saumon peu salé)
Baies roses pilées
Etapes :
Râpez le concombre et placez-le dans un bol. Ajoutez une pincée de sel et laissez dégorger pendant 30 minutes.
Coupez la pomme en bâtonnets et arrosez d'un file t de jus de citron vert pour éviter qu'elle ne s'oxyde. Enlevez l'excédent d'eau du concombre en pressant légèrement du bout des doigts. Ajoutez à la pomme et aux radis.
Ajoutez les herbes, 1 càs de yaourt et l'huile d'olive. Pas besoin de saler car le concombre est déjà salé.
Divisez entre 4 petits verres.
Ajoutez 2 càs de yaourt dans chaque verre et continuez avec le saumon fumé.
Arrosez d'un filet d'huile d'olive et ajoutez les baies roses. Servez avec plus de jus de citron vert, selon goût et servez avec des gressins.