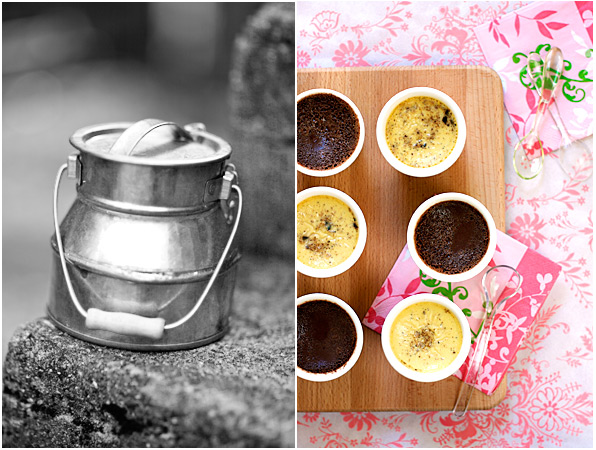 Les petits pots de crème, vanille et chocolat
Where was I again? Oh yes, desserts, I promised you one.
Its story is simple. Neither fuss nor complication, but a delicious outcome that I am never becoming tired of.
I was a young carefree girl growing up in the eastern part of France. Most days after school or during the grandes vacances, my brother and I used to ride our bikes to the place du village to meet our friends under the tall majestic marronniers (chestnut trees) that seemed to have been there for ever. They provided a lot of shade for us to hide from the sun during summer, and in the fall, their leaves scattered on the ground made a colorful bed for us to play on. We loved these trees; they had become our secret meeting place if we needed to have one.
Once or twice a week, on the way back home, I would stop to get fresh milk at Monsieur S.'s, one of the few farmers in the village. I was quite delighted that my brother did not care for it, hence I did not have to take turns with him.
I was proud to be the one in the family to fetch the milk.
I liked the short walk home carrying my bidon (pail) full of milk in one hand, pushing my bike with the other. The milk felt warm when it brushed my leg, and I imagined all the good things my mother was going to prepare with it. A bol de chocolat chaud was the first thing I was looking forward to.
"Tu vas faire des crèmes vanille chocolat en dessert ?" (Will you make vanilla and chocolate creams for dessert) I often asked my mum once I was back home.
She would look back and smile. She knew it was one of my weaknesses. Hence it is perhaps the first dessert that she taught me to make: simple and comforting. Since then, I have not grown tired of it.
On the contrary.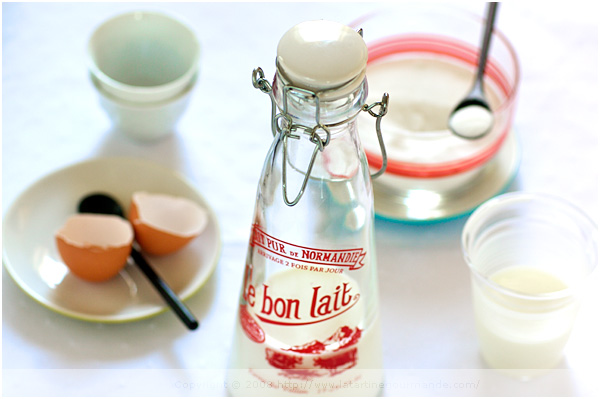 "What is the most distinctive thing you notice in a French supermarket, that tells you that you are in France?" I asked P. one of the many days when I was pondering and reflecting on cultural differences. I imagined that he was going to tell me "the cheese section", or perhaps the "boucherie display " but instead, he exclaimed "les crèmes desserts et les yaourts !"
Indeed, dairy products stand out as different, as I am reminded every single time I go back.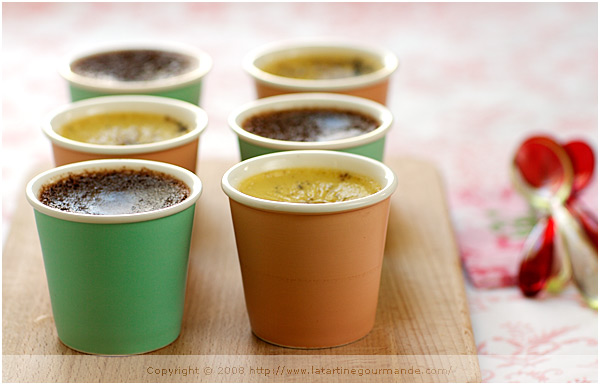 The French really love their dairy products, yogurts and crèmes desserts, including petits pots de crèmes. And they know how to market them well too. Walk into any French supermarket and visit the refrigerated dairy section, and you will understand what I mean. Lines of dairy products — fruit yogurts with beautiful flavors like rhubarb , lemon or apple (a few of my favorites), flans of all kinds, silky fromage blanc, creamy petit suisse, flavored mousses, delicious soy products too — are nicely packaged, cleverly marketed for easy customers victims, like me. Some look modern and new while others have an old-fashioned (à l'ancienne) flavor, as if they had been made in the old days. How could I resist yogurts made by companies like La laitière or La Fermière coming in glass or pottery jars? Every time I return from a trip to France, my collection of glass jars keeps increasing.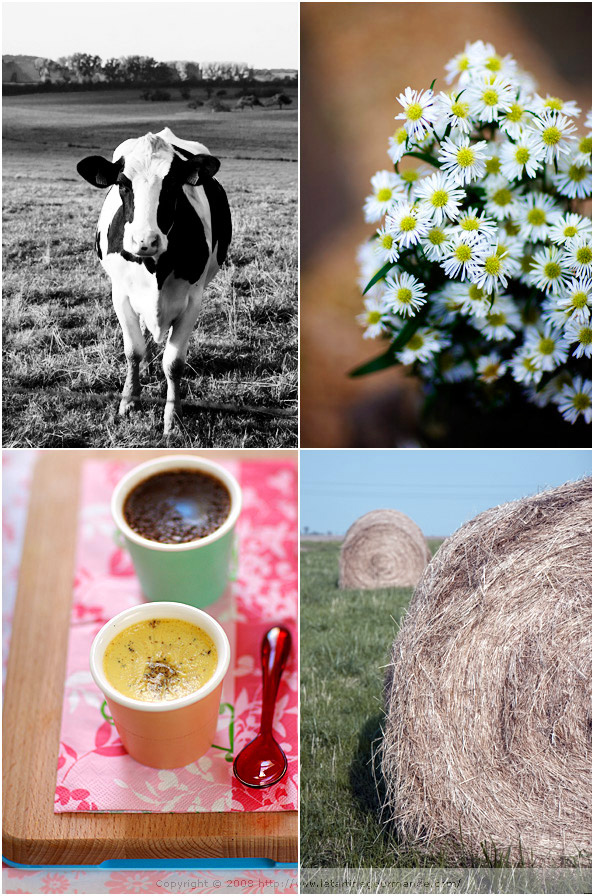 So naturally, I make petits pots de crème often since I am somewhat frustrated with the selection of yogurts and crèmes desserts I find in American supermarkets.
In this recipe, I use what I've been taught when I started to prepare this dessert as a child, but I also add a twist, varying the quantities and ingredients. And since I could not decide between chocolate and vanilla, I made both in the same batch, solving my common indecisiveness issue.
When I want to stick to the classic French recipe the way I've learned, I use milk. Some people will tell you that they also like to combine cream to milk but in my case, I prefer to keep the dessert on the lighter side, hence I only use milk.
In more recent years, I have also enjoyed using coconut milk combined to soy milk. Either way, the outcome is delicious and tastes as I fondly remember.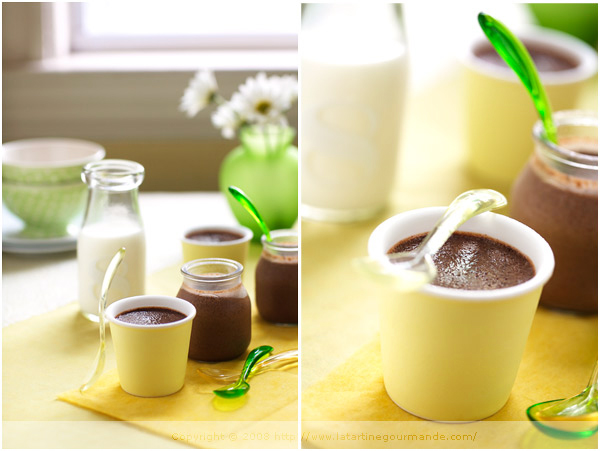 Petits pots de crème coco chocolat
Then, there is also the recipe for the chocolate coconut pots de crème I've made a few times, one that has become a favorite too. But we should start with the beginning, and talk about the first recipe first.
Shall we?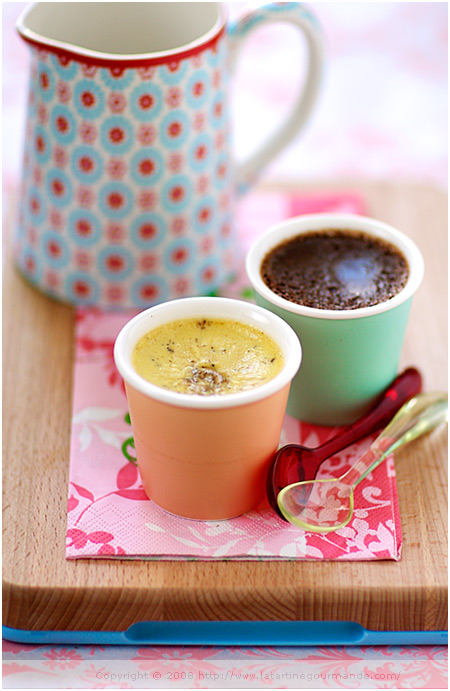 Chocolate and Vanilla Petits Pots de Crème
(for 6 ramekins or small jars, according to size)
You need:
2 eggs + 1 egg yolk
1/3 cup blond cane sugar
2 cups whole milk
1 vanilla bean, split open and seeds scraped out
50 g dark chocolate, 64 % cocoa
1 tsp unsweetened cocoa powder
Steps:
In a pot, pour the milk and add the vanilla bean and seeds. Bring to a boil and then stop the heat, cover and let infuse for 30 minutes. Filter.
In the meantime, melt the chocolate in a double-boiler and keep on the side.
Preheat your oven at 320 F.
In a bowl, beat the eggs and egg yolk with the sugar, then add the hot milk slowly while beating.
Divide the cream in two equal halves, and add the melted chocolate and cocoa to one half.
Pour the vanilla and chocolate creams in small ramekins or jars — make sure to remove the foam that might have formed on top — and place them in a dish filled with hot water, so that they are half immersed.
Place in the oven and cook for about 30 minutes (for the chocolate creams) and 35 to 40 minutes for the vanilla creams. Check regularly after 30 minutes. The middle of the creams should still be moving a little — the creams will settle once they cool down. Take the jars or ramekins out and let them cool down. Place a plastic wrap on top and place them in the fridge to rest for a few hours before eating. Then, simply enjoy whenever you feel like it — that is often!
Le coin français
Petits pots de crème au chocolat et à la vanille
(pour 6 petits pots, selon contenance)
Ingrédients :
2 oeufs + 1 jaune d'oeuf
1/3 cup (70 g) de sucre de canne blond
500 ml de lait demi-écrémé ou entier
1 gousse de vanille, fendue et grattée
50 g de chocolat noir
1 càc de cacao non sucré de qualité
Étapes :
Faites bouillir le lait avec la vanille fendue et grattée. Arrêtez le feu et couvrez pour laisser infuser pendant 30 minutes. Filtrez.
En attendant, faites fondre le chocolat au bain-marie et réservez.
Préchauffez votre four à 160 C.
Dans une jatte, battez les oeufs avec le sucre pendant 1 minute, puis sans cesser de battre, versez le lait chaud en filet sur cette préparation.
Divisez la crème en deux et ajoutez le chocolat et le cacao à l'une.
Versez les crèmes parfumées dans de petits ramequins, en prêtant attention à enlever l'écume formée à la surface, et placez-les dans un bain-marie (eau chaude à mi-hauteur).
Cuisez au four pendant 30 minutes pour les crèmes au chocolat, et 35 à 40 minutes pour les crèmes vanille. Vérifiez vers 30 minutes de cuisson. Les crèmes restent tremblottantes quand vous les bougez deoucement — elles se solidifient en refroidissant. Sortez-les du four et laissez-les refroidir avant de les filmer, et de les mettre au frigidaire pendant quelques heures. Puis degustez à volonté, c'est à dire souvent.