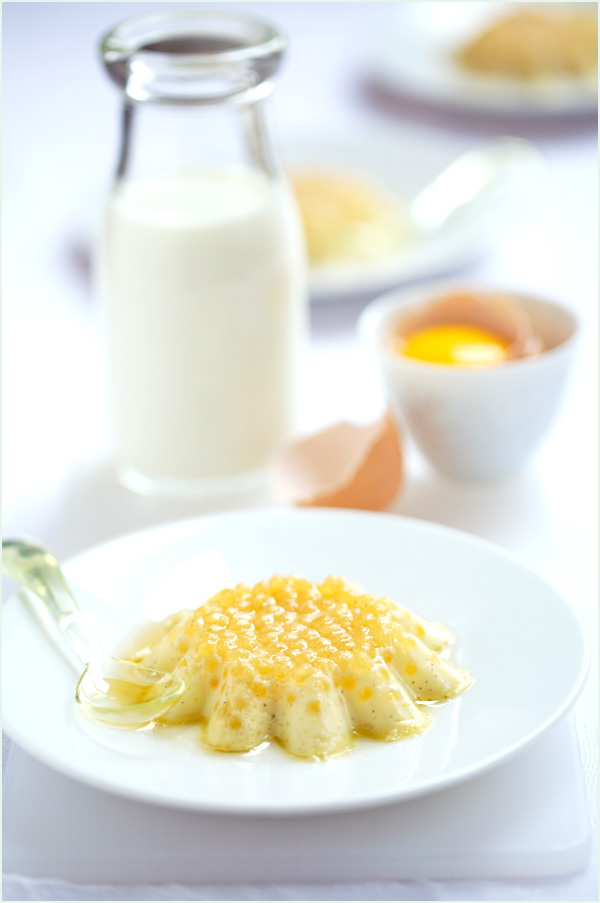 Tapioca pudding
It's amazing how nice you've been. I mean, between the comments and the emails I've received, you've been extremely kind. My apologies if I have not yet responded to your mail, but I am still trying to figure out how to manage my time well between Lulu and the kitchen. My friends keep telling me that it will get better after she is two months old. Things already change so quickly, getting better and easier, every day.
And Lulu is growing. Fast. Eating away to have inviting pink chubby round cheeks I keep wanting to squeeze; smiling to make us, the excited new parents, melt. There is so much new life in her — and joy. It's fresh and light, as good as a juicy strawberry freshly picked in the early morning.
Much sweeter, in fact.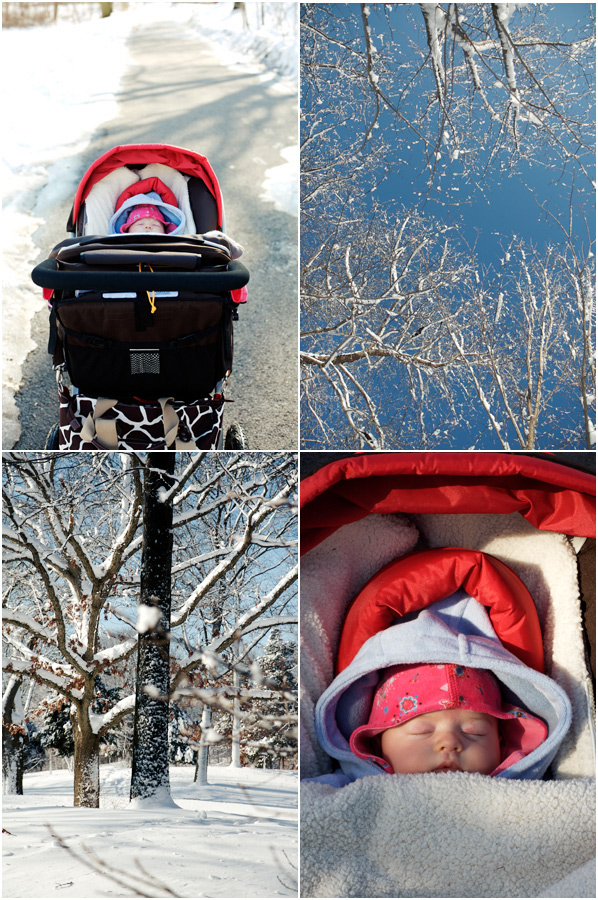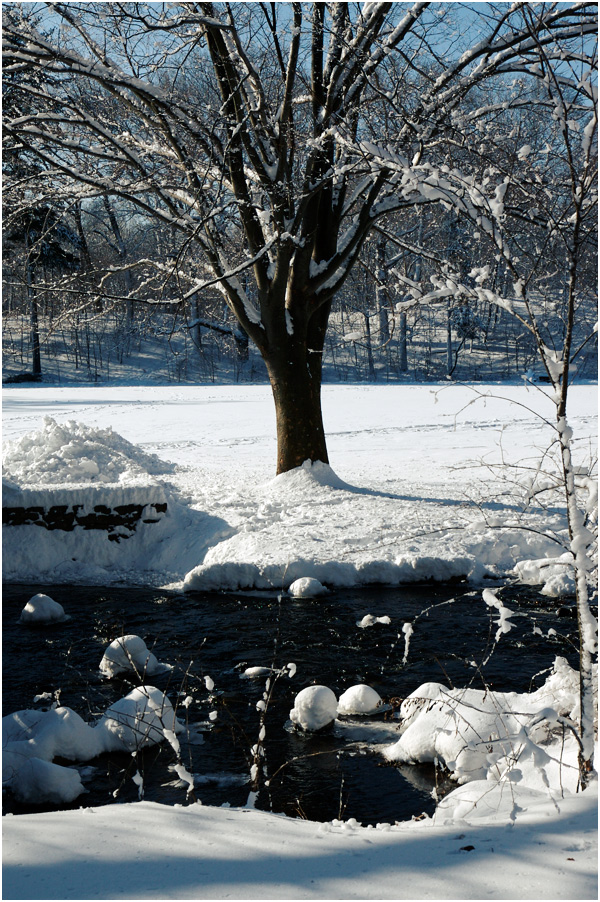 "I cannot believe it will be in the forties tomorrow," I told P. when I clicked on the weather icon on the screen of my laptop. We were both sitting at the breakfast table in front of a steaming cup of tea, eating granola and yogurt. I was thrilled since it meant that I was going to be able to go out for a walk with Lulu. Finally! She would get to see snow covered trees close by for the first time. Perhaps she might even see squirrels bury nuts, or catch a glimpse of happy dogs running across the white field.
She slept, of course, like most babies do when they go out in the stroller for the first time, and she probably saw none of the above, even if I sensed that she must have felt the peacefulness outside.
As I pushed the stroller steadily, I found myself lost in my thoughts, organizing what I would do next when we returned home. I thought about the book I had to write, and what I wanted to be cooking.
"What would you say is one of the things you mum made a lot when you were a kid," I asked P. when we sat at the dining room table later that day. He was busy typing on his laptop but still looked up to answer, then paused for a few seconds, like he always does when he is thinking.
"Tapioca pudding."
"Nice! I replied; my mouth salivated just at the idea of that lovely dessert. "You gave me an idea!"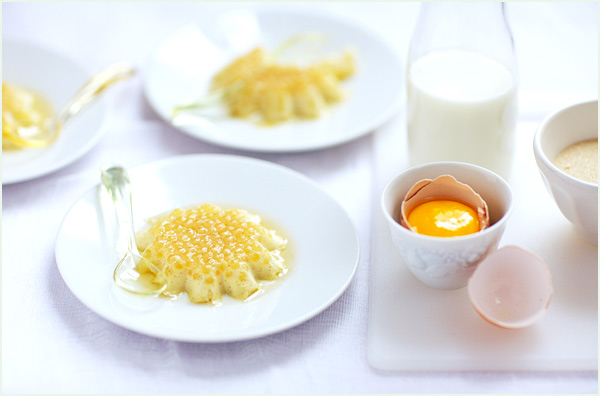 I know my idea of a tapioca pudding is quite different from what P. used to eat. He told me so. Mine somewhat resembles more a flan in texture, similar to other favorite desserts like a crème renversée, or a petit pot de crème which I can never resist. You will see, it is easy.
I used cardamom and vanilla to flavor the pudding since, as you might have noticed before, we really like these spices. To start, if you want, prepare a caramel to coat your ramekins. Cook the tapioca pearls in the milk with the sugar and spices so that the flavors develop. Then, mix in eggs to make the dessert hold together, and bake it in a bain-marie. In my opinion, this type of dessert is best eaten once it is cooled down in the fridge.
Really nothing difficult. But the guarantee to have a lovely touch to finish dinner on a sweet, yet not so much so, touch.
Our kind of dessert. I am convinced Lulu will love it, like her papa and maman do. And that is not only wishful thinking.
She will.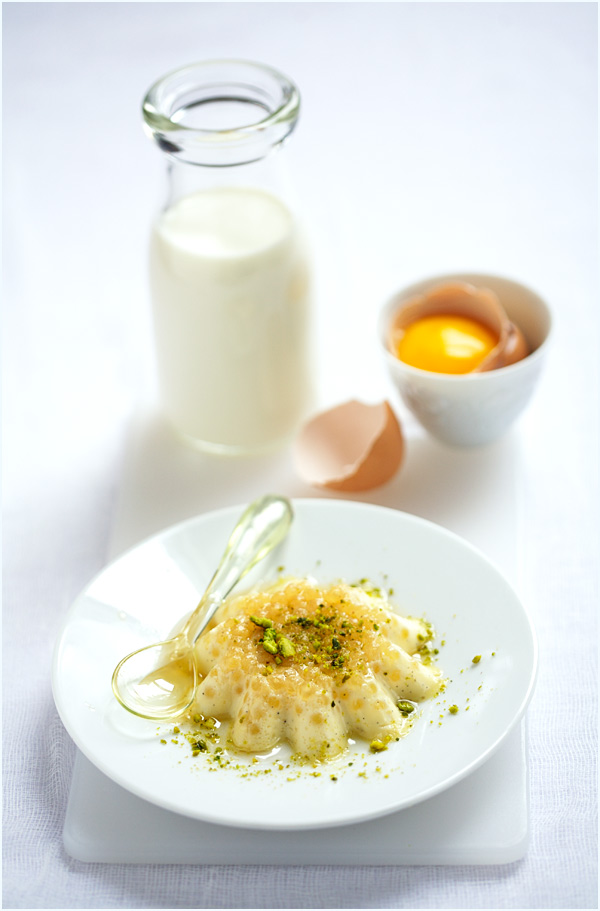 Cardamom and Vanilla-flavored Tapioca Pudding
Cardamom and Vanilla-flavored Tapioca Pudding
(For about 12 ramekins)
For the Caramel:
5.5 oz white sugar
3 tablespoons + 1 teaspoon water
1 tablespoon warm water
Steps:
In a pot, pour the sugar with the water. Once the sugar has absorbed the water, bring to a boil. Cook until the caramel has a nice golden color.
Add 1 tablespoon warm water and stir quickly.
Pour the caramel in oiled ramekins without waiting. Set on the side.
For the pudding:
1/2 cup small tapioca pearls (100g)
3 eggs
4 cups whole milk
1 vanilla bean, split open
6 green cardamom pods, crushed
1/4 cup + 2 tablespoons blond cane sugar
Steps:
In a pot, pour the milk. Add the vanilla bean and seeds, cardamom pods and sugar. Bring to a boil.
Rinse the tapioca under cold water and add to the milk. Cook on medium heat until soft and translucent. Let cool.
Discard the cardamom and vanilla bean and add the eggs. Divide the batter between the molds and cook in a bain-marie for 30 minutes (oven preheated at 350 F), or until the middle of each flan is set. Remove from the oven and let cool before placing in the fridge.
When you want to serve, place the bottom of the ramekins in hot water. Run the blade of knife around the edge to help unmold the flans onto plates. Eat as you prefer.
Le coin français
Pudding de tapioca à la cardamome et à la vanilla
(Pour environ 12 ramequins)
Pour le caramel:
150 g de sucre
3 càs + 1 càc d'eau
1 càs d'eau chaude
Etapes :
Mettez le sucre et l'eau dans une casserole. Une fois que le sucre a absorbé l'eau, portez à ébulition. Cuisez le caramel jusqu'à ce qu'il ait une belle couleur ambrée.
Ajoutez alors 1 càs d'eau chaude et mélangez rapidement.
Versez le caramel dans des ramequins huilés sans attendre. Mettez de côté.
Pour le pudding:
100 g de perles fines de tapioca
3 oeufs
1 l de lait entier
1 gousse de vanille, fendue et grattée
6 capsules de cardamome verte, pilées
75 g de sucre de canne blond
Etapes :
Versez le lait dans une casserole. Ajoutez les graines de vanille, la gousse et les capsules de cardamome avec le sucre. Amenez à ébulition.
Rinsez les perles de tapioca sous de l'eau froide, égouttez-les et ajoutez-les au lait. Cuisez à découvert jusqu'à ce que les perles soient transparentes. Arrêtez le feu alors et laissez refroidir.
Retirez la gousse de vanille et les capsules de cardamome, et ajoutez les oeufs. Mélangez bien. Divisez l'appareil entre les ramequins et faites cuire au bain-marie pendant 30 minutes (four préchauffé à 180 C), ou jusqu'à ce que les flans soient pris, surtout au centre. Retirez du four et laissez refroidir. Mettez au frigo.
Au moment de servir, mettez les ramequins dans de l'eau chaude, et passez la lame d'un couteau autour du moule pour pouvoir mieux démouler le flan sur assiette. Dégustez selon votre envie.