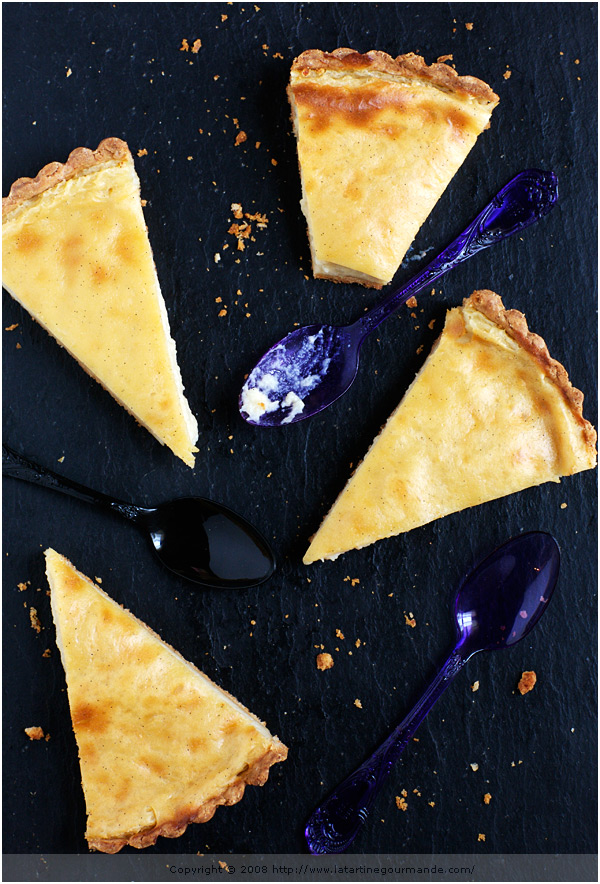 Vanilla and Cardamom-Flavored Flan Tart
The rain kept pattering against the windows; I sighed. I had longed to go out for a walk but then, the prospect of getting wet like a cat that's just taken a bath sounded less than appealing. Not today. Not these days. I knew that bébé would not like it either. "It is not the time to get a cold!" I dreamed that he or she whispered in my ear.
"162!" Carol told me after she removed the heart listener from my belly. "Does it sound good?" I asked, with a hint of worry in my voice. I never seem to understand these numbers when it comes to babies.
A large smile lit her gentle face.
"Excellent!"
That put me in a good mood, despite the rain and the fact that I was feeling somewhat tired. Bébé likes to kick more and more, at night especially, under my right ribcage. I imagine a lot of happiness inside my belly, and even if I am woken up, I don't mind. It is life within and at each movement it still feels surreal.
We left the doctor's office, feeling happy and excited.
"What are you going to do today?" P. asked when I drove him to work a few minutes later.
"Probably work on a few recipes," I answered, already thinking about the box of root vegetables I had back home. I love this time of year for that reason, when I can eat Jerusalem artichokes, parsnips, rutabaga or turnips. Often, these more ancient vegetables are overlooked. They are, however, so delicious and nourishing. And inspiring. For dinner that night, I was planning to gently simmer them with a veal stew.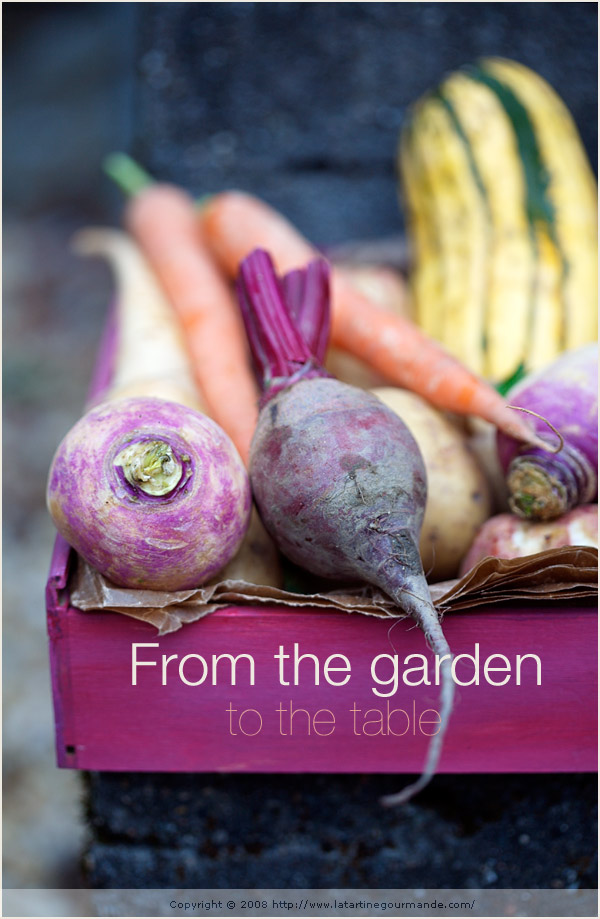 "I think I will also bake something," I added while P. shut the car door close. "Une tarte au flan, ça te dit ?" (What would you say about a flan tart?)
He smiled back at me. P. always teases me when I ask whether he likes an idea I have. Because even if he does not like it, I follow my thought anyhow.
"Of course I like the idea! I don't even think I've eaten one before."
"Good! Here you go!"
Tarte au flan is a classic French dessert commonly found in pâtisseries or boulangeries everywhere in the country. It's not a fancy treat, but rather a comforting and rustic one, probably as popular as an éclair or a pain au raisin would be. The flan is generally a vanilla-flavored custard baked on top of a crust (plain, sweet or puffed). I don't like this tart too sweet, which can often be the case when purchased. Probably because I am not too keen on desserts too sweet, in general. I still remember my friend A.'s reaction after he tried a piece of chocolate cake I baked for dinner, a few months ago. He liked the cake, but told me that he was also used to eating sweeter desserts. It's quite interesting to observe how one can get accustomed to a specific taste, very sweet or less so.
I started by infusing milk with a vanilla pod cut in halves, and crushed pods of green cardamom. The smell of the mingled spices diffused throughout the entire house, making quickly my mouth start to salivate. "I won't be able to wait until the tart is cooled before having a taste," I thought.
Making a tarte au flan is easy, and the rest of the recipe followed naturally: a crust made with quinoa and brown rice flours prepared the day before, eggs beaten with two types of cane sugar for enhanced flavor, and cornstarch to provide texture to the flan. About forty minutes later, a delicious tarte au flan stood right in the middle of the kitchen island. The smell of the baked tart and the spices wafted everywhere in the house, once again.
I looked at the tart and decided to wait. But ten minutes later, as I gently ran my finger on the top of the tart to check its temperature, I changed my mind.
"Still somewhat warm," I thought. "I'll just cut a tiny slice to taste," I went on telling myself, as if I was trying to find excuses to justify my impatience to try the tart.
And the first taste worked like magic. Within seconds, my head was filled with memories of the times when, every Wednesday afternoon, I used to stop at the local bakery with my high school friends J. and R. to buy a slice of tarte au flan. J. always chose a millefeuille, and R. an éclair au chocolat: they were the treats we, boarding school girls, had every week.
I cut another slice and made myself a cup of mint tea. Then, I sat down by the window to watch the rain continue to fall, and feel the steady movements of bébé inside my belly.
P. would really enjoy that simple dessert too — I was convinced.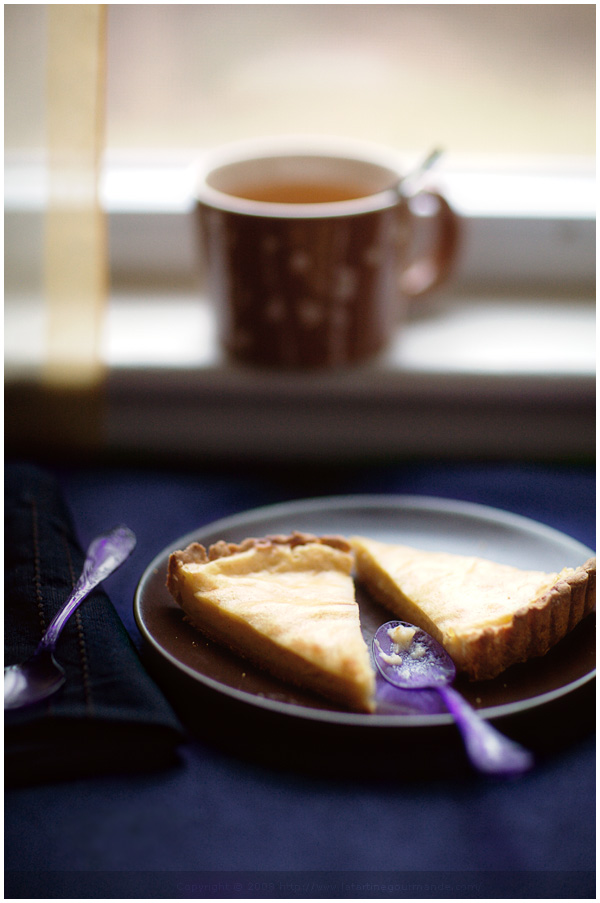 Vanilla and Cardamom-Flavored Flan Tart
For a 10 to 11 inch tart
You need:
Pastry Crust (mine was made with quinoa and brown rice flours)
2 eggs + 1 egg yolk
4 cups whole milk
3/4 cup cornstarch
1 vanilla bean, cut in halves and seeds scraped out
8 green cardamom pods, crushed
1/2 cup blond cane sugar
1/4 packed cup light Muscovado sugar
Steps:
Preheat the oven at 400 F.
Roll the crust and garnish the mold with it. Make small holes at the bottom with a fork, and keep in the fridge, covered, until ready to use.
In the meantime, in a pot, heat the milk with the vanilla seeds and pods, and the cardamom. Once you reach boiling point, stop the heat, cover and let infuse for 20 minutes; filter and keep warm.
In a bowl, beat briskly the eggs and egg yolk with the two types of sugar. Add the cornstarch gradually while beating. Mix well.
Add the warm milk gradually, never ceasing to beat. Transfer this cream to the pot again and bring to a first boil while stirring. The cream should have thickened.
Pour the cream over the crust and level the surface. Bake for 10 minutes.
Decrease the oven temperature to 350 F and continue to bake for 30 to 35 minutes, or until the top is golden in color. Let completely cool — unlike what I did! — before eating.
Le coin français
Tarte au flan parfumée à la vanille et à la cardamome
Pour une tarte de 26 à 28 cm
Ingrédients :
1 pâte brisée (la mienne a été réalisée avec de la farine de quinoa et de la farine de riz complet
2 oeufs + 1 jaune
1 litre de lait entier
90 g de maïzena
1 gousse de vanille, fendue et grattée
8 capsules de cardamome verte, pilées
100 g de sucre de canne blond
30 g de sucre roux de canne Muscovado
Etapes :
Préchauffez le four à 200 C.
Etalez la pâte et foncez-en le moule à tarte. Piquez le fond avec une fourchette et réservez au frais, à couvert.
Pendant ce temps, faites chauffez le lait avec la vanille et la cardamome dans une casserole. Une fois que l'ébullition est atteinte, couvrez, arrêtez le feu et laissez infuser pendant 20 minutes; filtrez et gardez au chaud.
Dans une jatte, battez énergiquement les oeufs et le jaune d'oeuf avec les deux sucres, puis ajoutez la maïzena; mélangez bien.
Versez le lait en petit filet sans cesser de remuer. Transférez cette crème dans la casserole et remettez sur le feu pour qu'elle épaisisse. Laissez à peine bouillir.
Versez la crème sur le fond de tarte et égalisez la surface. Enfournez pendant 10 minutes.
Baissez la température à 180 C et poursuivez la cuisson pendant envriron 30 à 35 minutes, jusqu'à ce que le dessus de la tarte soit doré. Laissez la tarte complètement refroidir sur grille.