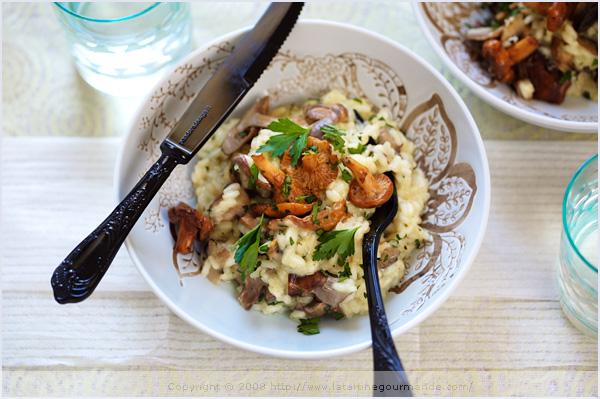 Mushroom Risotto
Are you as fond of champignons des bois as I am? When I still lived in France, during the fall, my friend B. used to drive me to the local forêt (woods) where we eagerly spent hours looking for cèpes, chanterelles and girolles (a type of chanterelles). I was fascinated by how much B. knew about wild mushrooms. Moi ? I was quite clueless, to put it mildly, and would probably have picked something toxic, had B. not been around. In fact, in France, when you are unsure about how safe a mushroom is, you can visit your local pharmacist who will evaluate the mushrooms for you. No risk then; this is a process pretty handy.
As I was thinking about my next story for the Boston Globe's Seasons Column, mushrooms came spontaneously to my mind. I knew right away that I wanted to combine them into a risotto. At this time of year, there is hardly a week going by without a risotto prepared for dinner — we love it that much.
So I wrote this mushroom risotto recipe for the Seasons Column in the Boston Globe's Food section published today. Creamy, earthy, delicious for a casual meal. Or a more dressed-up one, if you prefer.
Well, risotto is one of those dishes that never disappoint, don't you think?