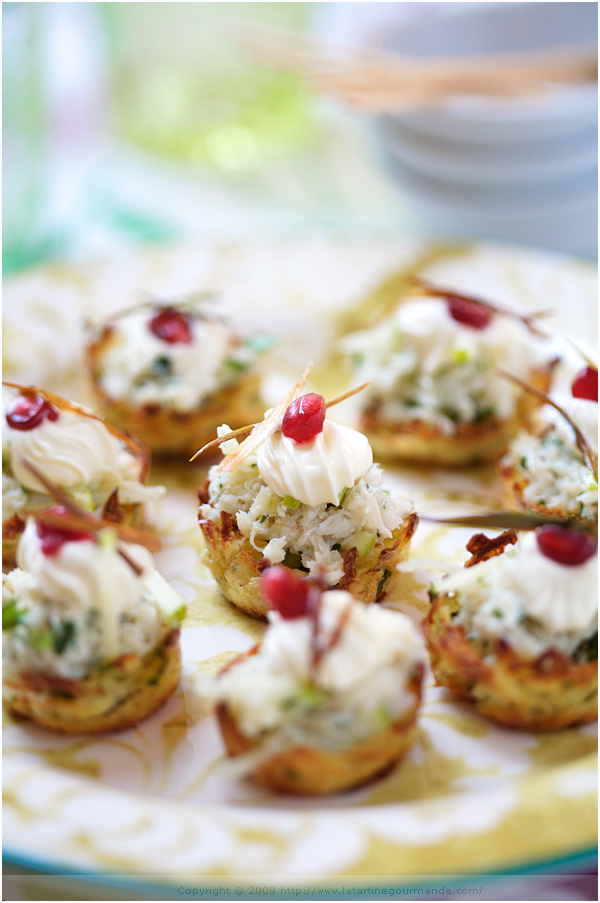 Potato Nests with Crab and Apple Topping
"It's next week, I tell you!" I told P. looking at the calendar hanging by the kitchen door.
"Incroyable !"
This is really the way we feel this year. Christmas next week? I don't think we have been as little prepared for Christmas as we have this year. Preparing for bébé's arrival has taken every bit of our energy and time — and thoughts. Take for example the following: I am unable to remember where I put things, sometimes even the point of a conversation, stopping myself in the middle of a sentence.
It's funny, really!
With food, though, things seem to have stayed somewhat on track, at least consistent. I don't forget to prepare food, and to eat — quite on the contrary. I did not think much about it at first, but I have even started to freeze some dishes to keep us going during the first days we will spend with bébé. Then, food ideas have kept flooding my mind too, making me wish I had more time, and ability to eat, the many things I really want to cook.
I made these amuse-bouches for example, for one of the videos kindly shot by the people at How2Heroes. Ah..oh…yes, please, be indulgent, it's my first cooking video experience — with, on top, a pregnant woman's brain.
These potato nests are filled with flavors. They are light and refreshing, wonderful before starting a festive meal. In only one mouthful, you can taste crispy potatoes with a finish made of fried leeks, sweet and juicy apple and pomegranate, silky crème fraiche, and refreshing crab. The bonus? All the steps can be made ahead of time, and assembled at the last minute.
They will be on the menu for our Christmas, should we be home that day – unless bébé decides to arrive then, and feast with us.
Well, we shall see about that. In the meantime, I ate these treats this afternoon. Excellent as a snack for a gourmande pregnant woman!
I promise!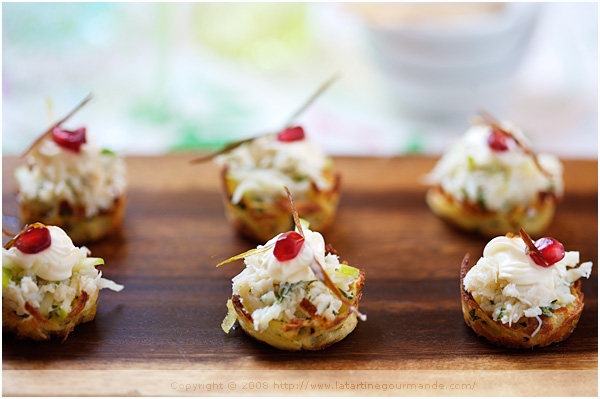 Potato Nests with Crab and Apple Topping
(For about 20 pieces)
You need:
2 potatoes (baking or Yukon Gold are fine) peeled and grated, about 7 to 8 oz
1 tablespoon chopped parsley
Salt
1 egg, beaten lightly
1/2 teaspoon freshly grated nutmeg
Freshly grated red peppercorns, to taste
1 oz melted butter
1/2 cup crab meat (lump)
1/2 organic green apple, grated or cut in small sticks
2 tablespoons pomegranate seeds
1 scallion, chopped
1 tablespoon chopped coriander
1/2 tablespoon chopped chives + more to decorate
1 tablespoon olive oil
1 tablespoon lime juice
Salt and pepper
Crème fraîche, to serve
Steps:
Preheat your oven at 420 F (210 C).
In a bowl, combine the grated potatoes with the egg and nutmeg. Add the parsley and season with salt and red peppercorns (or black pepper).
Take a mini muffin pan (I used a silicone one, all molds are 1.5 inch) and grease it with cooking spray. Take a small amount of the grated potatoes in your hands. Squeeze out the excess juice and press it down at the bottom of each mold, to make a nest.
Add 1/2 teaspoon butter in each mold.
Cook for 25 minutes, or until brown. Remove, unmold and let cool.
In the meantime, in another bowl, combine the crab with the apple and lime juice. Add the olive oil, coriander, scallions and chives. Season with salt and pepper.
Fill each potato nest with the crab preparation and add a drop of crème fraiche on top. Top with a few pomegranate seeds. Decorate with chives or fried leeks.
Le coin français
Nids de pommes de terre, garnis de crabe et de pomme verte
(Pour environ 20 amuse-bouches)
Ingrédients :
2 pommes de terre, pelées et râpées, environ 200 g
1 càs de persil haché
Pincée de sel
1 oeuf, battu légèrement
1/2 càc de muscade fraichement râpée
Baies roses, ou poivre noir
15 g de beurre fondu
80 g de chair de crabe
1/2 pomme verte, râpée ou coupée en bâtonnets très fins
2 càs de graines de grenade
1 oignon tige, haché finement
1 tablespoon chopped cilantro
1/2 càs de ciboulette hachée + brins pour servir
1 càs d'huile d'olive
1 càs de jus de citron vert
Sel
Crème fraîche, pour servir
Etapes :
Préchauffez le four à 210 C.
Dans une jatte, mélangez les pommes de terre râpées avec l'oeuf et la muscade. Ajoutez le persil et assaisonnez de sel et de baies roses concassées ou de poivre noir.
Graissez un moule à mini muffins (chaque petit moule mesure 4 cm) (le mien est en silicone). Pressez l'équivalent d'une petite cuiller de pommes de terre au fond de chaque moule de façon à fomer un petit nid, en vous assurant d'enlever l'excédent de liquide (pressez les pommes de terre entre vos doigts).
Ajoutez une 1/2 càc de beurre fondu sur chaque nid.
Cuisez pendant environ 25 minutes, ou jusqu'à ce que les pommes de terres soient bien dorées. Retirez du four, démoulez et laissez refroidir.
Pendant ce temps, dans un autre bol, mélangez le crabe, la pomme, le jus de citron vert. Ajoutez l'huile d'olive, l'oignon tige, la ciboulette, la coriandre. Assaisonnez de sel et de poivre.
Remplissez chaque nid de pommes de terre avec cette préparation au crabe. Ajoutez un peu de crème fraiche et une ou plusieurs graines de grenade. Décorez avec un brin de ciboulette, ou du poireau frit.