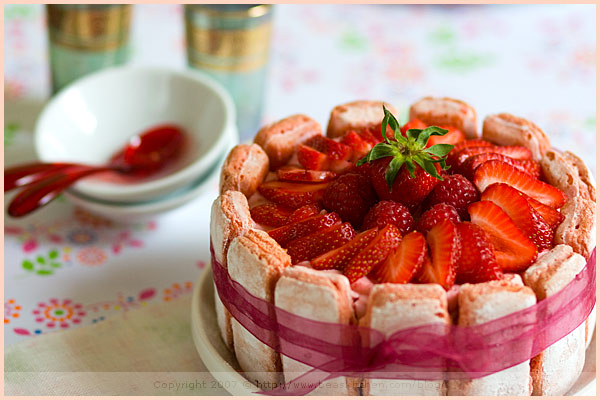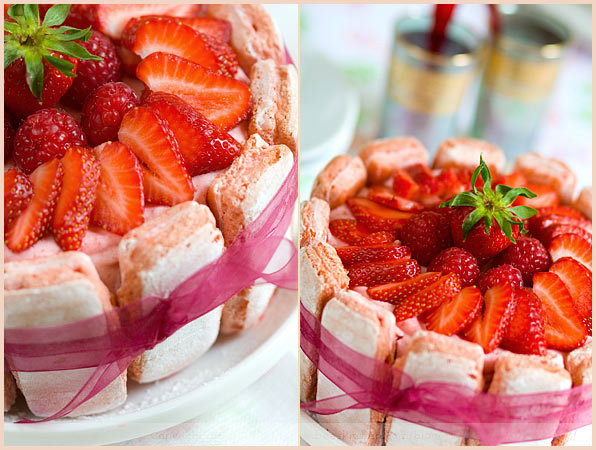 Strawberry and Raspberry Charlotte
I know, I know, there seems to be a lot of pink or red desserts on my blog these days. Desserts generally speaking! But I can assure you that this is not all we eat. In fact, there are always more savory things to eat than sweet. I simply cannot keep up with taking pictures of everything I make, or eat. Not enough time!
But I had to let you know about this one. It is that special!
Pourquoi ?
Tomorrow is my birthday! Mais oui ! This happens too. And being my usual self, I am so impatient that I cannot wait until tomorrow. Come on, you are like this too, n'est-ce pas ?
As long as I can remember, my birthday cakes have always included strawberries, this is how much I like this fruit. This year, I decided to rework and improve the recipe of one of my favorite cakes, Dame Charlotte, and designed this one. Regretfully and as sad as it sounds, Dame Charlotte is already no longer with us because last night, we ate it in the company of two friends.
So without waiting, let me introduce you to a special Dame, la charlotte habillée de rouge or how to make a Raspberry and Strawberry Charlotte.
All it takes is biscuits roses de Reims, a strawberry sponge cake, raspberries, a strawberry mousse, and some patience and love. Because like anything else in life, if you treat Madame Charlotte well, it gives it all back to you!
Miam ! Que du bonheur cette charlotte !
And next week, this time for good, I will be off to France. I hope to keep some posts going while I am there! Not bad for a birthday treat, isn't it?