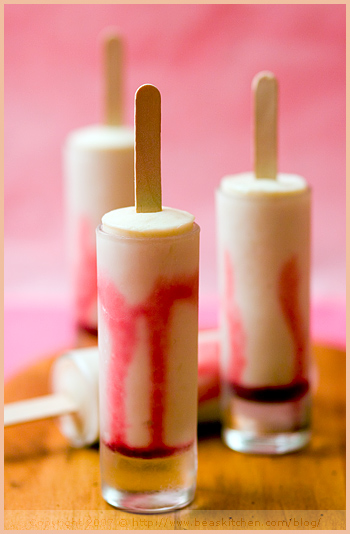 Rhubarb and Raspberry Yogurt Pops
Do you remember sucking on ice pops when you were a kid, keeping the stick in your mouth for hours afterwards? I do. In France, my favorites were simple: Miko bâtonnet vanille or chocolat — the ice cream stick being le bâtonnet de glace. My mum always made sure to keep a good stock in the freezer, which kept my brother and I happy, and our pets too! My dog Yokky — or Sweeky our cat, depending on who was around first — would always get to lick the stick, licking and licking endlessly until it was so clean that it looked like new. They knew how to do this well! And you know, I cannot even remember when I ate a Miko for the last time! So then I remembered….
I had in mind to make this yogurt ice pop recipe ever since I saw it in one of last year's Vogue Entertaining and Travel Magazine. It was, however, one of those things that clearly never happened at the time! Summer went by, busy and warm, fall kicked in with its gorgeously colorful leaves and before I realized it, we entered the middle of winter, with snow even at times. And this winter, at least on this side of the globe — as opposed to other places which my brother likes to remind me of — is just only starting to go away. Today finally feels like spring or summer, the day — Labor Day — when the tradition in France is to try to find lilies of the valley, du muguet. I will have to promise myself not to laugh at sayings again, like this French one: "En avril ne te découvre pas d'un fil, en mai fais ce qu'il te plait" (in April, do not shed a thread, in May do as you please). You can be assured that I kept all my threads on until today! So, this year, I was determined not to forget to try this lovely recipe I had marked. And to make sure that I would stick to the plan, I started before summer. Good thinking, no? I had rhubarb and raspberries and, although truly inspired by the recipe in my magazine — the photography was amazingly good — mine diverged completely from the original.
These pops are a you-can-not-make-simpler recipe: make a rhubarb purée, use a good plain Greek yogurt, prepare a raspberry coulis to coat shot glasses which are then placed in the freezer. You can use or not an ice cream machine. I did not — as I am not particularly thrilled with mine. Perhaps time to go and shop for a new one, non ?
Agreed, my yogurt ice-pops are no longer close to a Miko, but they definitely brought me back to ancient times — how old am I again or is it that long ago? And without Yokky and Sweeky stuck to my legs, I even get to lick the stick! C'est pour moi toute seule (It is for me alone).
I might actually have another one, just now.
Rhubarb, Raspberry Yogurt Ice Pops
For 6 yogurt ice pops (small shot glasses)
You need:
The rhubarb:
9 oz rhubarb, peeled and diced
1 3/4 oz fine blond cane sugar
2 Tbsp water
The raspberries
6 1/3 oz raspberries
2 Tbsp fine cane sugar
1 Tbsp lime juice
The yogurt
10.5 oz Greek style yogurt 2%
2 Tbsp fine cane sugar
Steps:
Place your shot glasses in the freezer.
To make the raspberry syrup, place the fruit in a pot with 2 Tbsp sugar, the lime juice and bring to a boil, cooking for 2 min.
Strain to remove seeds and pour back in the pot. Cook until you obtain a thick syrup-like consistency, on medium heat. Let cool.
Pour in the glasses along the edges to describe a pattern and place in the freezer again.
To prepare the rhubarb, place 5 Tbsp sugar with the peeled and diced rhubarb in a pot. Add 2 Tbsp water. Cook until the rhubarb is soft and let cool. Purée finely in a food processor.
Mix this rhubarb purée with the yogurt and 2 Tbsp sugar. Adjust the sweetness according to taste.
Place in the fridge to cool (or use an ice cream machine to churn) and then pour in the shot glasses. Place in the freezer again.
While still soft, insert the wooden sticks.
Place in the freezer once more so that the yogurt pops fully set.
Le coin français
Sucettes au yaourt glacé de rhubarbe et framboises
Pour 6 sucettes (petits verres à liqueur)
Ingrédients :
La rhubarbe :
250 g de rhubarbe, pelée et coupée en dés
50 g de sucre de canne fin
2 càs d'eau
Le sirop de framboises :
180 g de framboises
2 càs de sucre (25 g)
1 càs de citron vert
Le yaourt :
300 g de yaourt grec à 2%
2 càs de sucre de canne fin
Étapes :
Mettez vos verres au congélateur.
Pour réaliser le sirop de framboises, mettez les fruits dans une casserole avec 2 càs rase de sucre et le jus de citron vert, et faites bouillir pendant 2 min.
Passez au chinois et remettez dans la casserole pour faire réduire en un sirop épais. Laissez refroidir.
Versez dans les verres le long des parois pour décrire un dessin et remettez au congélateur pour faire prendre.
Pour préparer la rhubarbe, mettez dans une casserole 5 càs de sucre (50 g) avec 250 g de rhubarbe pelée, et coupée en dés, et 2 càs d'eau. Cuisez jusqu'à ce que la rhubarbe soit réduite en purée et laissez refroidir. Mixer au robot en une purée fine.
Mélangez cette purée de rhubarbe refroidie au yaourt et ajoutez 2 càs de sucre. Vérifiez que c'est sucré à votre goût.
Mettez au frigo pour que ce soit bien froid (ou utilisez une sorbetière pour faire prendre), puis versez dans les verres et remettez au congélateur.
Veillez à insérer les bâtonnets avant que le yaourt ne soit complètement pris.
Remettez au congélateur.