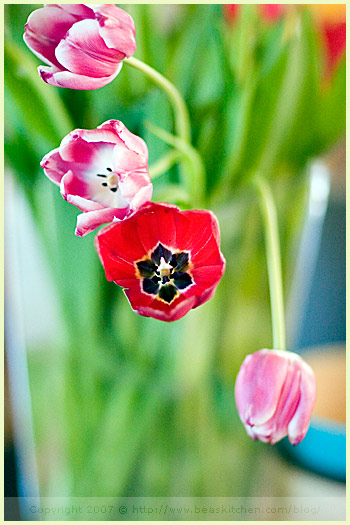 "Oh, you look so French," the woman told me when she reached the page where one of my photos showed on my blog. "Really?" I replied hesitantly. I hardly knew her and did not want to sound too curious and intrigued. But truth being said, inside, I was dying to ask her: "But WHAT do you mean?" After hanging up, I rushed to the large mirror hung above the living-room fireplace and looked at my face. Was it my nose? My teeth? My haircut or the way I move my mouth when I speak.
What was it?
[This? Spring in Boston, finally.]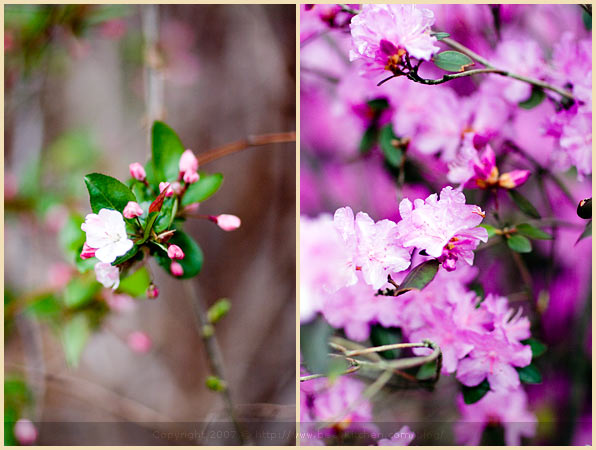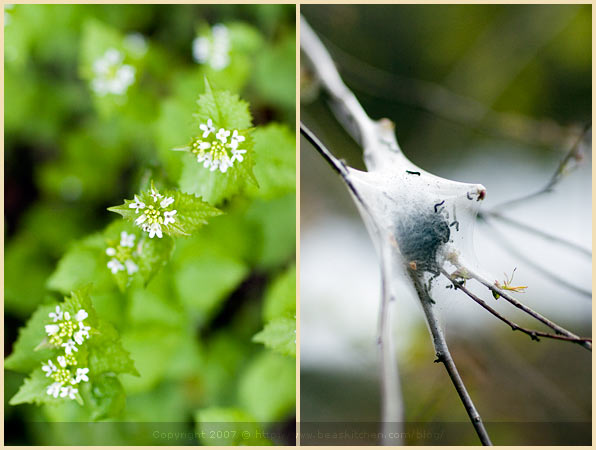 "Elle exaggère, évidemment," I thought while examining my face closely, looking for what could be an indication that she was right. In fact, I did not even know what to look for. "She is only saying this because I am speaking to her and she obviously must have noticed my accent". Well yes, it will sound cliché but I am still trying to manage to speak or write English like a native. And after ten years living overseas, I imagined that it would get better with time. But you know, sometimes I think it is actually getting worse. Every day I have to work at it. For example, take the following. Without counting the occurrences when I feel as if I cannot speak either language well, I also have to make real efforts to lose my habit — French I am told — of adding "euh" to punctuate the ends of my words. Especially after P. teases me and I get really upset. I don't add euh. Why do you say this? But he is right. A random "Stop it!" becomes "Stop it-euuuuhhh". Once I asked a friend whether I should add that I was French in an email I was preparing to send for a job, and he replied "Ahahah, I think your voice will make it clear". Why is this foreign language not flowing like it would — or used to — in French? Why do I have to be assise entre deux chaises (being stuck between the two, literally sitting between two chairs)? In spite of the fact that I know well that I am not alone in this battle, I nonetheless wish that I could write in English as naturally as I wake up in the morning every day. After ten years, one would think it were possible, no?
Of course, as I think again about this woman talking to me on the phone, I come to realize that she is not the first one to tell me that I look French. But despite the many times when this happened, I still do not know what it means. And maybe I will never know. I have learned that this is obviously one thing that can more easily be seen on others. The reason why am I able to say "Oh, she looks so English or "Look at this woman, she could not be more Russian" when I am unable to see or believe that I look French boils down to how much I know about a country and its people. If I can tell that someone is Russian when I see him or her, it is perhaps because I have many Russian friends living in Boston. I can do this for them but not for myself. And so, I then started to question and think about this even more. What about my food? Does it feel French at all?
"Ah mais oui," P. answered when I asked him.
"Ah bon ? (Really?)", I replied. "Et une soupe et une tartine, c'est français ça aussi ? (And a soup and a tartine, is it French too?)"
I just don't know anymore. One thing is sure. If it is, then I am definitely looking very French. At least I will be able to check it out for myself over the course of this week when I will be eating and speaking as locals do. Being and looking French. Perhaps. I surely hope that I will not have forgotten what it is like.
Note: I adapted the soup from a recipe I saw in the French March/April 2007 edition of the magazine Elle à Table (which I finally received in early May, two months after the release day). This is also part of these unusual events of living abroad and being told:
"Ah mais ce n'est pas possible, on ne peut pas l'envoyer avant la fin avril" (It is not possible, we cannot send it before the end of April).
"WHY? " I had to ask, doing my best to remain as polite as one can possibly be after reading this odd response! "You DO realize that if I read about Easter recipes after Easter, it is somewhat gênant (annoying). I am subscribed to many foreign food magazines, English, Australian, but I have never heard of such a thing before!"
"Well, the magazine is sent from France."
I did not comment besides regrettably canceling my subscription (although I was dying to ask them whether the magazine was actually coming on a boat meant to sail around the world first). A real shame since I really liked this magazine.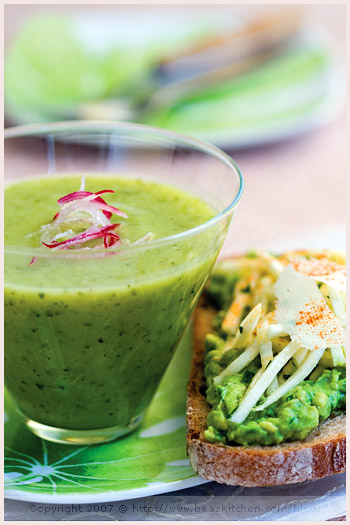 Green Soup and Avocado, Celery Tartine
Green Soup with an Avocado, Celery Root Tartine
(For two nicely-sized tartines)
You need:
For the tartines:
2 nicely-sized slices of country bread
1 avocado, ripe
1 Tbsp coriander, chopped
1 Tbsp chives, chopped
2 tsp lime juice
1 tsp fish sauce
Pinch of cayenne pepper
Celery root, grated and seasoned with a vinaigrette made of French mustard, white balsamic vinegar, oilve oil and freshly chopped parsley
Pinch of paprika
Shaves of Manchego cheese, or any sheep cheese of this texture
For the green soup:
1 yellow onion
3 medium-sized zucchinis
2 parsnips
3.5 oz fava beans, shelled (frozen when not fresh)
Salt and pepper
Fresh coriander
Olive oil
3 cups water
A few pink radishes
Crème fraîche

Steps:
To prepare the soup, take a large thick-bottomed pot and cook the onion in 2 Tbsp olive oil for a few min.
Peel the parsnips. Wash the zucchinis and dice all vegetables coarsely.
Add them to the onions and cook for 5 min. Cover with the water and continue to cook for 20 min, or until all vegetables are tender.
Add the fava beans and continue to cook for 5 min.
Mix your soup with a hand mixer or food processor. Add the chopped coriander, and season with salt and pepper. Serve with a grated pink radish (and cream if you like).
To prepare the tartines, start by mashing the avocado with a fork.
Add the coriander, lime juice, chives, fish sauce and a dash of cayenne pepper.
Prepare the celery root (grated) and season it with the vinaigrette and parsley.
Toast the slices of bread and top with the avocado cream.
Add the celery and cheese shaves. Finish with some paprika.
Eat the soup with the tartines.
Le coin français
Soupe toute verte
Tartine avocat, céleri rave et fromage
(Pour deux belles tartines)
Ingrédients :
Pour les tartines:
2 belles tranches de pain de campagne grillées
1 avocat mûr écrasé à la fourchette
1 càs de coriandre fraîche hachée
Ciboulette
2 càc de citron vert
1 càc de nuoc-mâm
Pincée de cayenne
Céleri rave râpé, assaisonné avec une vinaigrette moutarde balsamique blanc et huile d'olive, persil
Pincée de paprika
Copeaux de fromage, Manchego ou un brebis
Pour la soupe verte :
1 oignon jaune
3 courgettes moyennes
2 panais
100 g de fèves décortiquées (surgelées si difficile à trouver fraîches)
Sel et poivre
Coriandre
Huile d'olive
750 ml d'eau
Quelques radis roses
Crème fraîche

Étapes :
Pour préparer la soupe, faites revenir l'oignon dans 2 càs d'huile d'olive dans une cocotte à fond épais.
Pelez les panais. Lavez les courgettes et coupez tous les légumes en gros dés.
Ajoutez-les aux oignons et faites suer pendant 5 min. Couvrez avec l'eau et cuisez environ 20 min, jusqu'à ce que les légumes soient tendres.
Ajoutez les fèves et poursuivez la cuisson pendant 5 min.
Moulinez la soupe et rectifiez l'assaisonnement. Ajoutez la coriandre hachée et un radis rose râpé.
Pour préparer les tartines, commencez par écraser l'avocat à la fourchette.
Ajoutez la coriandre, le jus de citron, la ciboulette et le nuoc-mâm, et une pincée de cayenne.
Préparez le céleri rave avec la vinaigrette et le persil.
Faites griller les tranches de pain et tartinez-les de la crème d'avocat.
Ajoutez ensuite le céleri et des copeaux de fromage. Finissez par une touche de paprika.
Dégustez la soupe avec les tartines.