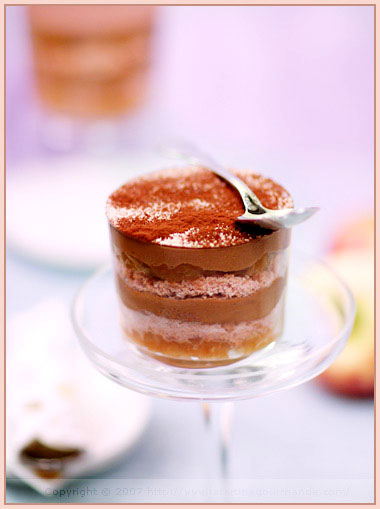 Spiced Apple and Dark Chocolate Tiramisu
Would you believe me if I told you that I almost missed the date today? But how could I, really? I actually have something to celebrate, and YOU, my dear readers, to thank.
Two years ago, I started this blog. Exactly 730 days ago, on Nov 26, 2005, with a first post entitled Food Photography. I wrote that post innocently and spontaneously at the time, as if I had been urged to share something suddenly important — I also had to laugh when I saw the picture accompanying the article. I was then far from imagining that its contents would mean as much as it does to me today!
Because today, it means a ton.
Food Styling and Food Photography have been good to me indeed. It might sound cheesy to admit, and say, but I will say it all the same: I simply never tire of styling, or photographing food. When some people read, or watch a movie to relax, I enjoy playing with a few apples, a bowl full of sugar, or a piece of lettuce, and see what happens. And I cook. Seriously, I think it is a true addiction, one that I will never feel an ounce of guilt about. I thrive on it.
Will I be grateful enough for all the good things that blogging over the last two years gave me? It made writing for magazines or the Boston Globe possible; traveling to enchanting places, speaking at a conference, attending one, participating in a fun food styling workshop, and working on food projects for clients a reality. It allowed me to meet fantastic inspirational people — bloggers, professionals and readers — who became friends. Sure enough, it was not always all roses and flowers. It is never this way, and like everyone else, I have had my ups and downs. This is life. But then, it is when I receive your emails, or read your comments, that all of these more difficult times fade away. Your encouraging words are enough to make me smile, and feel reenergized again.
Blogging is about what we share, and what you give me when I reach out. I will never thank you enough for that. Truly again, merci.
I only wished I could share this simple dessert with you to express my gratitude. I sense that you would not mind, n'est-ce pas ?
Note : I designed this dessert for a dinner I hosted for dear friends recently. If you like chocolate, apples, mascarpone and spices, then it is meant for you too.