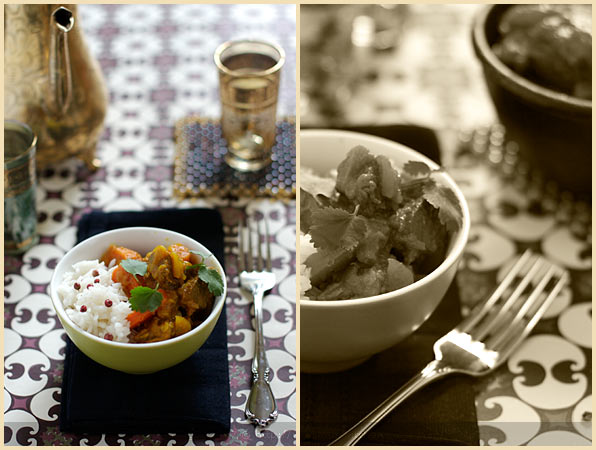 Indian Lamb Curry
Sometimes, only the glimpse of a stunning picture noticed in a travel and food magazine, or the visual memory of a colorful scene remembered from a movie or documentary, makes me want to pack my bags, and travel far away. It actually happens often. I keep a list of sub-folders on my laptop under a Places-to-visit label. The list keeps growing.
I imagine the vastness of India friendly and intimidating at the same time. I dream to find peacefulness when I will visit, with magnificent sceneries of the Taj Mahal, tall mountains, gushing rivers and lush forests. One day, I will go to the Himalayas. The hot sun will scorch my fair skin, and perhaps for once, I will not mind too much. Gatherings of people everywhere will be the sign that the country is densely populated. I will walk through vibrant markets displaying richly colored textiles, delicate panels of silk, bags full of colorful vegetables and aromatic spices. Later, I will wander the country's even busier streets, where mingled smells of different foods will transport me to exotic foreign places. I will drink tea and try my hand at making Naan bread, the right way. I have never been to India, but I am lucky to have a lot of Indian friends in Boston, to tease me with the idea of going soon. The melody of the English language they speak really enchants me. I love to hear their accent especially when, like the French, they struggle to pronounce the "th" sound. And then, I am in love with their food. "Comforting" is the adjective I would choose if asked to describe Indian food, with only one word.
I can still remember the first time when I cooked an Indian meal. It was so spicy that after the first bite of the lentil dish I had prepared, P.'s and my cheeks turned pink red. I am not sure whether it was from the surprise, the heat in the room, the spices or the incontrollable laughter moving our entire bodies, or all of the previous. Not being initiated to how much spices I had to add, I had obviously used too much.
The best, of course, is when Indian friends invite you over for dinner. B. used to when he lived in Boston. We felt sorry to see him move out of town, especially since we knew that his delicious cooking would go with him.
Whenever I cook Indian, I rarely do it on the spicy side. It is only a question of preference. For many, curry is a love affair; everyone prefers the dish prepared a certain way. Me? I like my curries mild.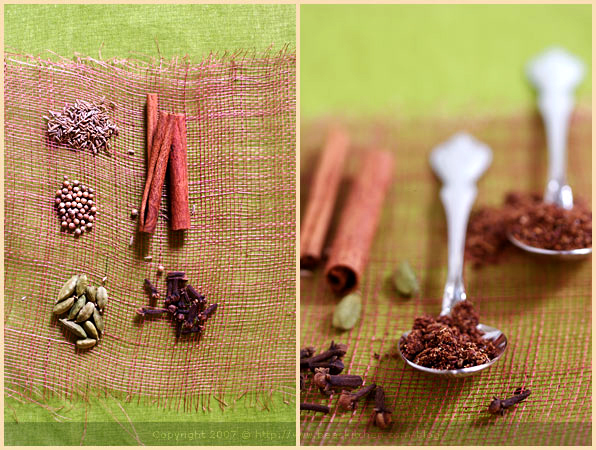 Garam Masala
I found the recipe for this curry in an old copy of the French Elle à table magazine but, because it is somewhat a habit of mine, I also decided to change it according to my taste. Add vegetables, leave pepper out, increase the quantities to have more sauce. The recipe is not difficult but like many comfort foods, it requires time.
You can buy garam masala easily in specialized stores, but it is probably best, and more fun, to make your own. The garam masala added to the dish called for black and green cardamom pods, but because I only had green, this is what I used. Once you make garam masala, you will wonder why you would consider buying some again. Not only it is more fragrant and delicate, but it is also extremely easy to make. Mine used a combination of cinnamon (stick), green cardamom pods, coriander and cumin seeds, and cloves. Also, keep in mind that to keep its full fragrance, garam masala should only be added at the end of the cooking time.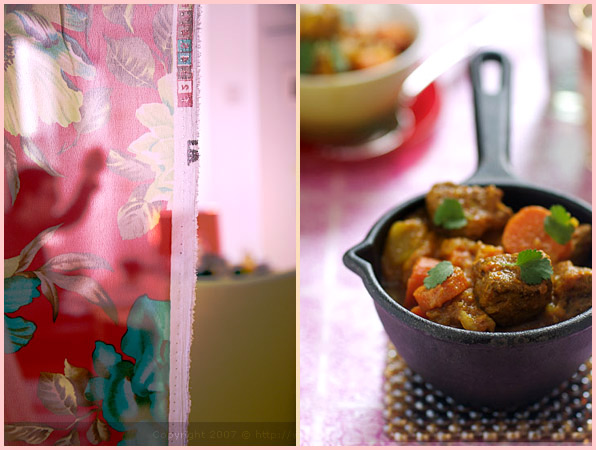 Our friends J.F. and L. loved the dish when I served it for dinner last weekend. After J.F. helped himself with a third serving, he did not know it, but my whole face stretched into an enormous smile. Did he sense that this was the best compliment a hostess could receive? French house cooks are always pleased when guests finish their plates, and ask for a second serving. A third is beyond expectation.
"Tu en veux encore ?" (Do you want some more?) I said to J.F. when I saw his plate cleaned so carefully.
"Ah ben évidemment !" (of course!)
To my surprise, he liked the dish despite the carrots I had decided to add. J.F. does not like vegetables much. In fact, he does not like them at all.
"Mais cuites comme cela, les carottes, tu vois, c'est bon," (cooked like this, carrots are actually nice) he added after swallowing one. They had soaked in the aroma of the sauce and spices, and acted perfectly to tempt the most reluctant-to-vegetable candidates, like J.F.
"This is a good way for Monsieur to eat vegetables," L. added. Her open smile indicated that this piece of news pleased her a lot.
In fact, when I brought the large pot of curry to the table, I was convinced that I would have a lot left for the following day. But nothing remained.
Curry is simply a dish that has to be shared, until the last piece is gone. With company like good friends, it somewhat tastes even better.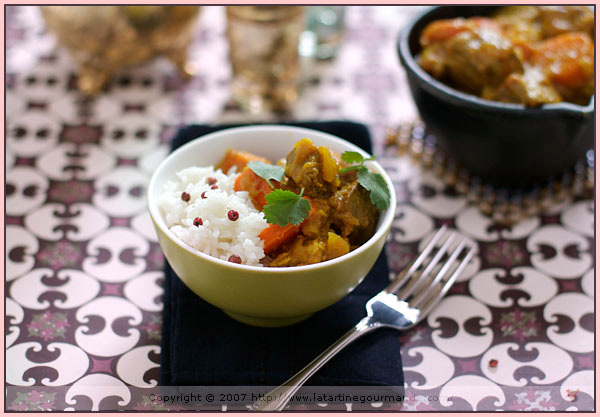 Mild Indian Lamb Curry
(For 4 to 6 people, according to appetite)



You need:

For the garam masala :
2 cloves
6 green cardamom pods
1 cinnamon stick
1 tsp cumin seeds
1 tsp coriander seeds
1 tsp canola oil

For the curry :
3 garlic cloves, grated finely
1 inch ginger root, peeled and grated thinly
3 tsp turmeric
1 large onion, thinly sliced
4 tomatos, blanched for 1 min, peeled, seeds removed and diced
3 carrots, peeled and sliced
2 Tbsp fresh coriander, chopped
4 Tbsp canola oil
Salt and pepper
1 3/4 pounds lamb, diced
Steps:
To prepare the garam masala, heat the oil in a non-stick frying pan. On low heat, cook the spices in this order: the cinnamon stick (for 5 min), coriander seeds (3 min), cloves (2 min), cardamom pods (2 min) and cumin (30 s). Let cool and grind using a coffee grinder or a spices grinder. Keep.
Heat 2 Tbsp oil in the pan and brown the meat on all sides. Season with salt and pepper. Keep.
In a large cocotte, heat 2 Tbsp oil and add the onion. Cook until soft on low to medium heat for 2 min, then add the garlic and ginger.
Add the slices of carrots and the tomato. Cook for 3 to 4 min, then add the turmeric and a a few Tbsp water. Season with salt and pepper, and bring to a boil, while stirring.
Add the meat and reduce the heat to low. Simmer covered for 2 h 30 min.
Ten min before the end, add 3 Tbsp garam masala.
Season to taste, and add the chopped coriander. Serve with white steamed rice to which you add pink peppercorns.
Le coin français
Curry d'agneau d'Inde doux
(Pour 4 à 6 personnes, selon appétit)



Ingrédients :

Pour le garam masala :
2 clous de girofle
6 capsules de cardamome verte
1 bâton de cannelle
1 càc de graines de cumin
1 càc de graines de coriandre
1 càs d'huile d'arachide

Pour le curry :
3 gousses d'ail, râpées finement
2,5 cm de racine de gingembre, râpé finement
3 càc de curcuma
1 gros oignon, émincé
4 tomates, blanchies, pelées, épépinées et coupées en dés
3 carottes, pelées et détaillées en rondelles
2 càs de coriandre fraîche, hachée
4 càs d'huile d'arachide
Sel et poivre
800 g d'agneau, coupé en gros dés
Étapes :
Pour préparer le garam masala, faites chauffer l'huile dans une poêle anti-adhésive. Sur feux doux, faites dorer les épices dans l'ordre suivant : le bâton de cannelle (pendant 5 min), les graines de coriandre (3 min), les clous de girofle (2 min), la cardamome (2 min) et le cumin (30 s). Laissez refroidir, et réduisez en poudre avec un moulin à café ou à épices. Réservez.
Faites chauffer 2 càs d'huile dans une poêle et faites dorer la viande sur tous les côtés. Salez et poivrez. Réservez.
Dans une grande cocotte, faites chauffer 2 càs d'huile et ajoutez l'oignon émincé. Faites blondir pendant 2 min, puis ajoutez l'ail et le gingembre.
Ajoutez ensuite les rondelles de carottes et les dés de tomate. Faites suer pendant 3 à 4 min, puis ajoutez le curcuma et un peu d'eau. Salez et poivrez, et amenez à ébulition.
Ajoutez la viande et réduisez le feux à doux. Mijotez à couvert pendant 2 h 30 min.
Dix min avant la fin de la cuisson, ajoutez 3 càs de votre garam masala.
Rectifiez l'assaisonnement et ajoutez de la coriandre fraîche. Servez avec un riz blanc parfumé auquel vous ajoutez des baies roses.