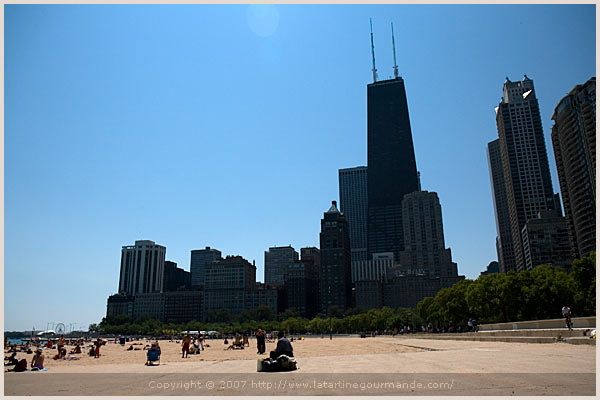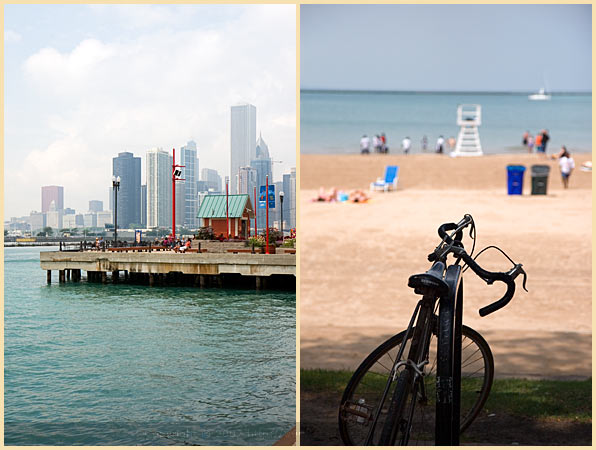 Navy Pier and Lake Michigan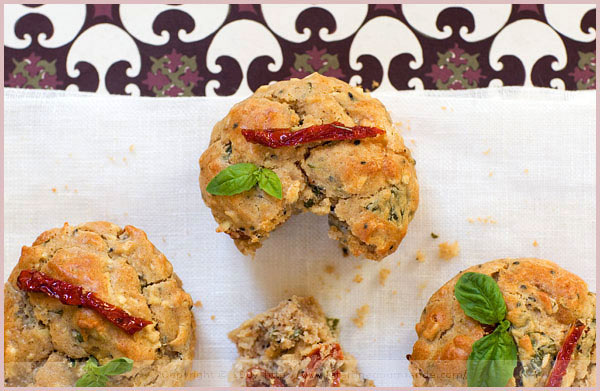 Sun-Dried Tomato and Parsnip Muffins
On Friday morning, I woke up at 7 am, had breakfast and got dressed, ready for an exciting day. My sister-in-law lives in a condo on the 34th floor of a tall building downtown Chicago, close to Division Street. This is where I stayed for a few days this past weekend. It is quite a convenient location, I must say, offering magnificent views of the city, a lovely outdoors pool on the 8th floor where I swam every day. In truth, the whole experience seemed surreal.
"Walk to the lake, turn right and then continue on" she told me when I asked her the best way to reach Navy Pier, where the Blogher conference was held. "It is only one mile and a half."
So I did.
It was only a few blocks before I reached the lake and when I arrived, I realized that I had forgotten how pretty it is, and how pleasant it is to walk along its white-sanded beach early in the morning. Lake Michigan is massive, like an ocean. Looking at it, you forget that you are still in a big city like Chicago. Un vrai poumon, a breath of fresh air next to miles of concrete. I really enjoy visiting this Midwest city, the "windy city" as it is referred to, perhaps also because this is the first place I lived close to when I moved to the States.
The conference is now over, and I've just returned to Boston. Can I really summarize the weekend?
It went fast and was full of great moments. From meeting food bloggers in person, finally being able to put a face on a name or hear a real voice instead of imagine it through words — my friend Lara of course and Elise whom I knew already and was delighted to see again, new people like Nicole, Kalyn, Alanna, Jasmine, Nupur, Catherine, Katie, Ruth, Susan, Gemma, Shuna, Claire and more names that I am sure I am forgetting — hanging out with P.'s sister whom I rarely see, to catching up with my great friend M., an old roommate from the time when she and I lived at the French House in Champaign. It was a collection of many good things.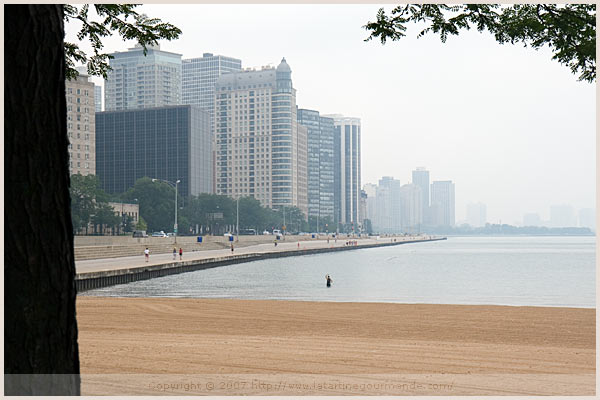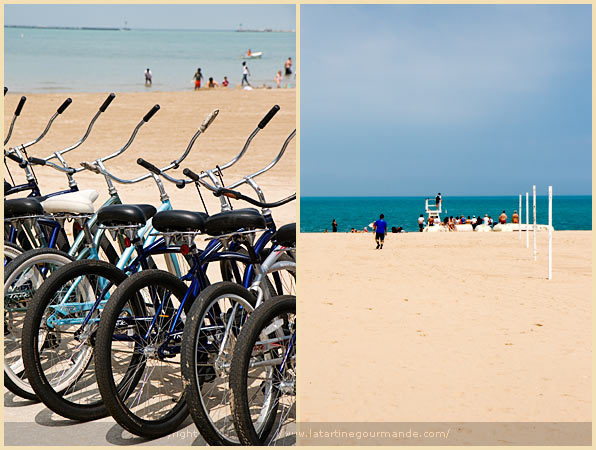 The Beach Downtown Chicago, by Lake Michigan
On Sunday — the last day I had in Chicago before heading back — I had a few hours to wander around. The city's wide streets were busy with people enjoying a gorgeously sunny day. At the beach, I caught a glimpse of people swimming, playing volley ball or running. Some were also sun-bathing. Again, I had to shake my head to really believe that this was all happening so close to downtown. I managed to steal a few snapshots here and there ( and was so bummed to have missed a lovely farmer's market on the Saturday, just one block away from my sister-in-law's condo. The only day I did not bring my camera with me!)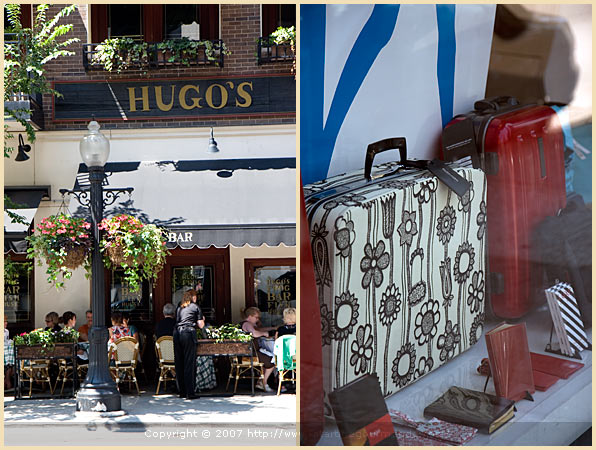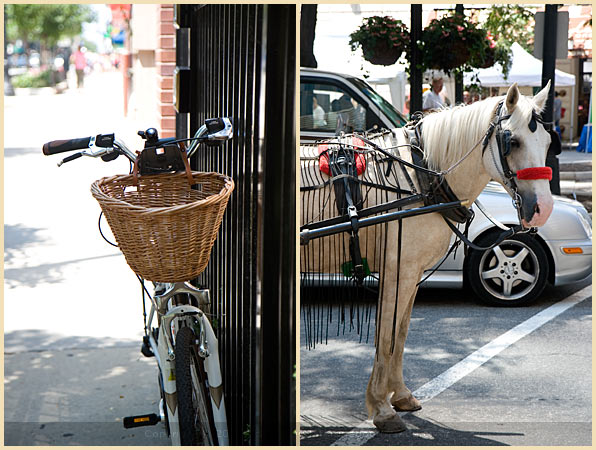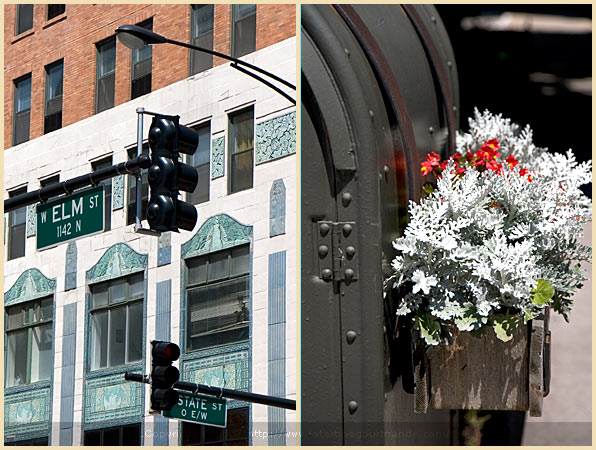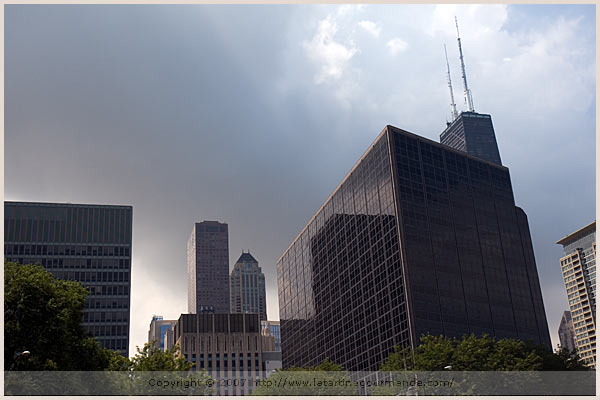 Both Lara and I were nervous before our food photography presentation. But it went well (from our point of view) and we hope, of course, that it met the attendees' expectations. Within only one hour, there were so many things we wished we could have said and shared. There is so much to say about food styling and food photography. Hopefully, there will be other times. Thank you for attending!
Lara and I at the Blogher Conference
Photo courtesy of Elizabeth Lynch, whom I was delighted to meet
While Lara discussed some technical aspects of food photography, white balance, aperture and depth of field, talking about the differences between manual and automatic focus, shooting with or without flash, and Jan gave useful Photoshop tips, I focused more on the prep steps involved before a food shoot, giving tips that I learned along about food styling. Because to me, no matter how advanced a camera is, or how technically skilled a photographer is, without a good composition, a food image can be disappointing.
How to compose an image is obviously something that varies from one person to another, according to our sensibility. We all have a different style and opinion of what looks good. For me? It is intimately tied to my strong attachment to Visual Arts. With slides supporting my presentation, I tried to give ideas on the how-to to make what I consider a well-balanced food photograph.
In my food pictures, I typically want to create a story and produce an emotion. Here are some of the things that I tried to convey and share, from my personal experience:
Tips on Food Styling
Always ask yourself, what the food you are shooting means to you. Is it rustic, elegant, does it need to be eaten in the dish, on a plate, outside or inside?
Look for colors that enhance the food. Perhaps the same color for the food and background, or matching colors.
Use repetitive shapes, geometry and symmetry to make pictures interesting.
Pay attention to balancing space between the food and props. Move objects around to play with different settings.
Use textured backgrounds that give more life, and vary angles to shoot and frame the picture.
Do not always shoot from the same angle. Overhead shots, front or side.
Always shoot larger than the end result. Remember you can always crop the pictures like you prefer in post.
Be playful with the food and showcase the beauty found in raw ingredients. Observe the natural shapes and forms in food.
You do not need to show everything either. Suggestive cropping can really have a more powerful effect.

I am sure that I am forgetting things. As a matter of fact, you can find plenty of information on our session here and there. Thank you for such a nice summary of our presentation.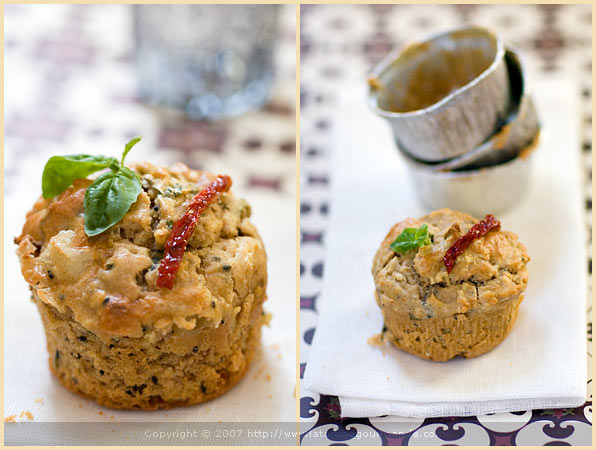 And so the recipe in this post will come as an example to try to explain my choices in deciding to style these savory muffins.
Why did I show the molds in which the muffins had been cooked?
To create the story from beginning to end. I did not clean the molds on purpose. I spent time arranging the pile in the background until I was happy with its looks.
Why did I use a narrow depth of field?
Because the most important thing is the muffins, and so using a selective focus is what I was after.
Why did I show a muffin half-eaten?
To make the reader and viewer participate. It could be as if you were eating the muffin too. Showing from top with an overhead shot also helped with the story I wanted to convey. Notice that I cropped to show only parts of the muffins. And I organized them in a horizontal line.
Why the basil and tomato on top of the muffin? To suggest the flavors of the muffin (you would not use a fresh herb that is not used in the recipe).
Why a geometrical pattern for the background?
To repeat the round shape of the muffins.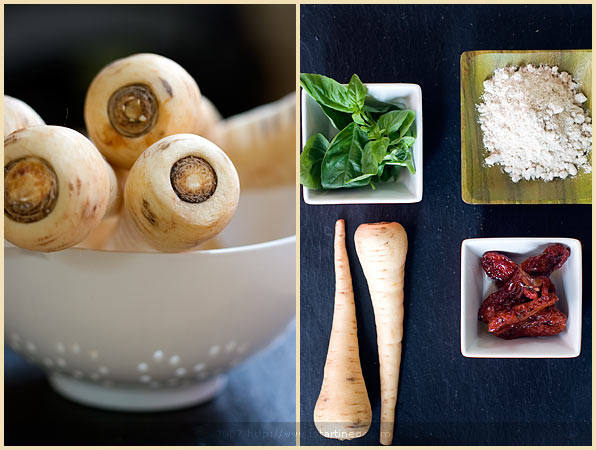 I discovered savory muffins while living in New Zealand, in the many cafés found everywhere in Wellington. I will always remember the first one I ate. What a great discovery it was. Since then, I have enjoyed experimenting with different flavors and ingredients.
I am suggesting here a vegetarian version using parsnip — a too often forgotten vegetable, yet so tasty — sun-dried tomatoes, chestnut flour and basil.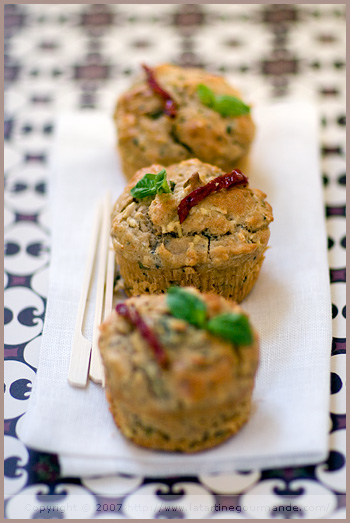 Easy to make, great for a party when cut in finger food bites, these muffins also accompany well any type of soups or salads, and make a treat at brunch. When I brought them as an amuse-bouche at our friend R.'s house, they did not last for a long time. I took it as a compliment.
These muffins would also have been perfect as travel food. Airport food, I have said before, is not my best friend, especially this time when, on my way to Chicago, I was stuck for a few hours at the airport after my flight had been canceled. I hope to remember next year.
The Blogher conference was great. A big thank you to all the Blogher organizers and attendees. It was an honor to attend and speak.
Sun-Dried Tomato and Parsnip Muffins
(For 6 muffins)
You need:

1 cup all-purpose flour
1/3 cup chestnut flour
1 Tbsp baking powder
3 large eggs
2 parsnip, peeled and grated
2 oz Sainte Maure, or fresh goat cheese
7 to 8 sun-dried tomatoes in oil, diced
1/2 cup minus 1 Tbsp whole milk
1/2 cup minus 1 Tbsp hazelnut oil
1/4 tsp ground cumin
1 Tbsp nigella seeds (optional)
2 Tbsp basil, chopped
Salt and pepper
Steps:
Preheat your oven at 350 F.
In a large bowl, mix the eggs with the milk and oil.
Add the cumin, salt and pepper.
Add the flour, baking powder and mix to have a smooth batter.
Add the parnsips, cheese, basil, sun-dried tomatoes and nigella seeds.
Butter 6 muffins molds and coat with flour. Remove excess.
Divide the batter between the molds and cook for 30 min, or until the blade of a knife inserted comes out dry. Remove and let cool on rack.
Le coin français
Muffins aux tomates séchées et panais
(Pour 6 muffins)
Ingrédients :

150 g de farine T 45
50 g de farine de châtaigne
1 càs de levure chimique (1 sachet)
3 gros oeufs
2 panais, pelés et râpés
60 g de Sainte Maure
7 à 8 tomates séchées à l'huile, coupées en petits dés
10 cl de lait entier
10 cl d'huile de noisette
1/4 càc de cumin en poudre
1 càs de graines de nigelle (facultatif)
2 càs de basilic ciselé
Sel et poivre
Étapes :
Préchauffez votre four à 180 C.
Dans une jatte, mélangez les oeufs avec le lait et l'huile.
Ajoutez le cumin, du sel et du poivre.
Ajoutez la farine et la levure chimique et mélangez bien sans faire de grumeaux.
Ajoutez les panais rapés, le fromage, le basilic, les tomates séchées ainsi que les graines de nigelle.
Beurrez 6 petits moules à muffin et farinez-les. Enlevez l'excédent de farine en tapotant.
Divisez la pâte entre les moules et enfournez pendant 30 min, ou jusqu'à ce que la pointe d'un couteau inserée ressorte sèche des muffins.
Technorati Tags: Food Styling, La Tartine Gourmande, Food Photography, Chicago, Blogher 2007, Savory Muffins, Nigella Seeds, Parsnip