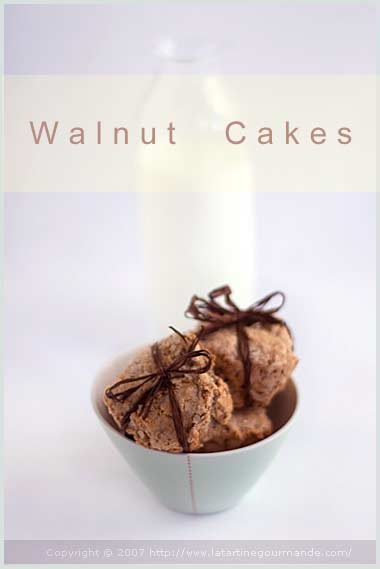 Walnut Cakes
When I woke up this morning and looked at the calendar, I could not believe that it was already August.
"Phhh, c'est pas possible, on est déjà en août," I told P. as we were both sitting at the dining table, busy eating our bowls of cereal. (I can't believe that we are already in August!)
I really do not know where July went. I had plans to do many things, such as take better care of the garden, study my Spanish, make a few batches of jam, have my camera and lenses cleaned, tidy my wardrobe and get rid of clothes I collect but do not wear and also, cook a recipe, or two, from Adventures of an Italian Food Lover, Faith Heller Willinger's new cookbook. But July arrived quickly and left just as fast as it came, and my plan failed, leaving me with still many things to accomplish on my ever-growing to-do-list. Besides, July was just too hot to do anything. I am definitely not a hot summer girl. Actually, I cannot wait for August to be over too.
But last night, as I had a few hours in front of me after dinner, I decided to pull Faith's cookbook out of the large grey bag I keep on a dining-room chair, in which I keep food magazines and "books to study". I made a pot of green tea and sat down to start reading.
When Cath from A Blithe Palate contacted me earlier in July to ask if I would like to participate in a cookbook event she and Ivonne were hosting, I was initially hesitant. Not because I did not like the idea (I love cookbooks!) but because I knew that July was going to be fairly busy for me, between being away, working on some photo shoots, writing articles and going to Chicago, amongst other things. I did not want to promise something and then disappoint. But Cath was nice enough to send my a copy of Adventures of an Italian Food Lover anyway. She wanted participants to make a dish and share a story about the particular friends or family with whom they would share the dish, or by whom they were inspired when making the dish.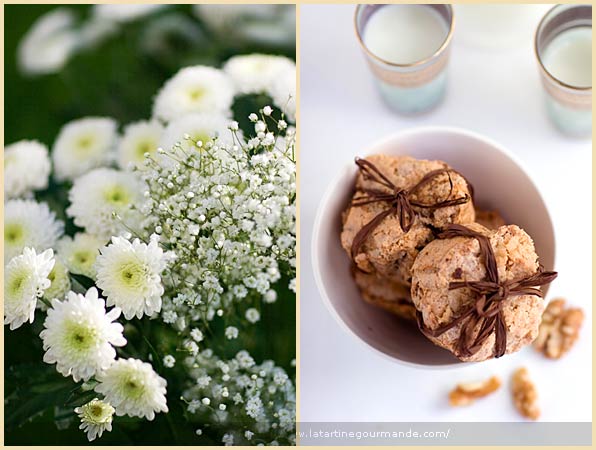 Faith's cookbook is a lovely collection of authentic recipes accompanied by stories experienced as she traveled through Italy for over thirty years. It offers memories of her times spent with friends around great food. And really, is there anything else that matters? In her book, there were so many recipes and attractive dishes that I could have chosen that in the end, I settled with a very simple, yet satisfying one. I baked individual Walnut Cakes.
The reason why I chose Faith's Walnut Cake recipe was because it made me think of the Flourless Walnut Cake that I had made back in November of last year. And immediately, it reminded me of when I visited my family in France then, when I was able to pick fresh walnuts with my mum, at my uncle's farm. It is hard to describe the feeling I experienced then with words. Picking walnuts is something that many people do and do not think about, isn't it? It can even become a chore, something that you know you have to do, but drag yourself to doing. For me however, this activity tasted quite different and was special. And I will tell you why.
There is no doubt that living overseas is amazingly powerful and enriching. During the eleven years of my expatriate life, I have learned so much that it is simply impossible to imagine my life differently now. My friend A. would add "On ne peut pas faire marche arrière" (You cannot go back), and he is so right. His experience includes Armenia, Turkey, France and the US. But of course, it would also be a lie to say that living an expatriate life only brings positive things. Like with anything else, it has its downsides. When I decided to leave France for New Zealand and the US, I really had no plan of the length of my time away. One year, maybe two. But years went by, and with each, I kept the hope that my family would visit. They did, of course, but certainly less often than I would have wished. In my family, I am the traveling one. I am the one who typically goes to them, and not the other way round.
So yes, when I made Faith's cakes, I simply thought about my family. I really do not often have simple moments like picking walnuts with my brother and his wife, my dad and mum. We rarely clean peas, bake cakes, take a walk, prepare and share a meal together. I even rarely cook for them.
And I miss it.
Because again, what else is there?
PS: there is already a round-up of the event on Cath's blog here and Ivonne's there. Take a look.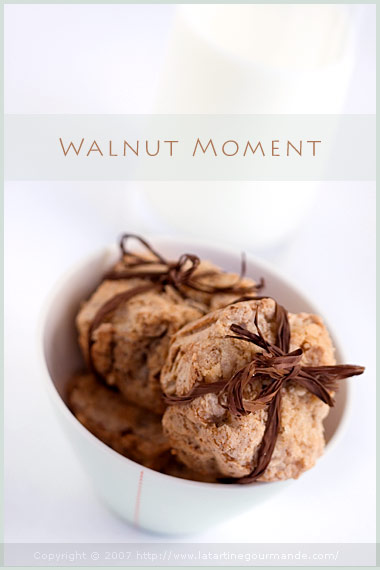 Lucia's Walnut Cake
(Recipe from "Adventures of an Italian Food Lover")
You need:
1/3 cup + 2 Tbsp cane sugar
6 egg whites
2 cups walnuts, coarsely chopped
Pinch of salt
Steps:
Preheat the oven at 350 F.
Line an 8 inch spring form pan with parchment paper (I used ramekins to make individual cakes; makes 6 small).
Put 3 egg whites and 1/3 cup of sugar in a pot and stir on low heat with a wooden spoon until the preparation looks like white-slush melted marshmallows.
Beat the 3 other egg whites firm with a pinch of salt.
Combine the cooked egg whites with the nuts and fold the firm white eggs in.
Divide between the molds and sprinkle with 2 Tbsp sugar.
Cook for 55 to 60 min for a large cake, 35 min for the small ones (check that they are cooked by inserting the blade of a knife in; it should come out dry).
Take out and let cool.
Le coin français
Gâteau aux noix de Lucia
(Recette tirée du livre "Adventures of an Italian Food Lover")
Ingrédients :
60 g de sucre + 2 càs
6 blancs d'oeuf
200 g de noix, concassées grossièrement
Pincée de sel
Étapes :
Préchauffez votre four à 180 C.
Mettez une feuille de papier sulfurisé dans un moule à fond amovible de 20 cm (j'ai utilisé des ramequins pour faire des gâteaux individuels, au total 6)
Mettez 3 blancs d'oeuf avec 60 g de sucre dans une casserole à fond épais et faites chauffer sur feu doux en remuant avec une cuiller en bois, jusqu'à ce que la préparation ressemble à de la guimauve blanche fondue.
Battez 3 blancs d'oeuf en neige ferme avec une pincée de sel.
Mélangez les oeufs cuits aux noix, puis ajoutez delicatement les blancs en neige, sans faire retomber la masse.
Divisez cette préparation entre les moules et saupoudrez avec 2 càs de sucre.
Cuisez au four pendant 55 à 60 min pour un grand gâteau ou 35 min environ pour des gâteaux individuels (vérifiez que les gâteaux sont cuits en insérant la lame d'un couteau. Elle doit en ressortir sèche.
Sortez du four et laissez refroidir.
Technorati Tags: Food Styling, La Tartine Gourmande, Food Photography, Gluten Free, Walnut Cake, Adventures of an Italian Food Lover