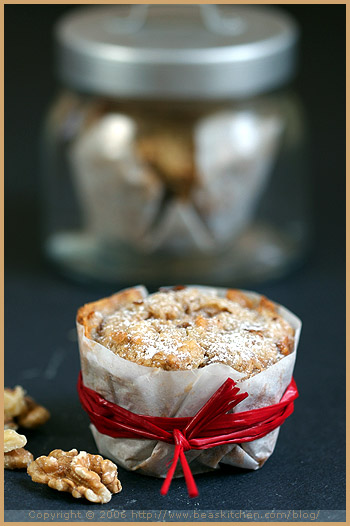 I had not touched this cookbook in a while until last week. Sometimes some of my cookbooks can be left untouched on shelves for weeks. I just have too many, even if I know this is not paying them justice. Y'en a de trop ! One pile of books seems to always hide another pile, with one book obstructing another one. "I like this cookbook a lot though," I thought. "Maybe I should place it in the front, not to forget it." Looking at the elongated shape of that tall, not-your-usual-size cookbook, measuring 11 x 16 inches (28 x 41 cm), I wondered how I could possibly just miss it since trying to put it away anywhere remains a challenge with such an awkward size. When you open it, it takes half of the kitchen table. With beautiful pictures on the right illustrating nicely designed text on the left, this cookbook showcases original recipes, with flavors that transport you in a realm of cooking perhaps never explored, covering many tastes and cultures. There is not a single recipe which I tried from it that was neither wrong nor disappointing. Not difficult ones either. Maybe at times, some recipes needed tiny adjustments here and there, but these were usually only small details fairly easily fixed, in any case. I used my common sense.
Walnuts Obsessed — Obsédée par les noix
I could simply not avoid it, even if I wanted to. Because I had such a nice experience picking walnuts at my uncle's only a few weeks ago, and because they are so seasonal — no surprise then that every cooking magazine I read talks about them — , I started to make a fixation on walnuts. Taking it a step further, I started to obsess about baking walnut cakes. Flipping through the pages of the pile of monthly cooking magazines accumulated by my chair, I found a few recipes that I marked. Initially thrilled to find a good number, many of them unfortunately gave results far from equalling my initial anticipation. The first recipe I tried was just blend in taste, the second one turned into a disaster with an unappealling what-is-supposed-to-look-like-a-cake flat mass. Almost discouraged, I caught a glimpse of Philippe Conticini's cookbook, Tentations, and decided to look inside. My lucky day! I extracted a wonderful walnut cake recipe.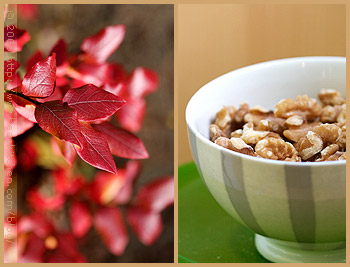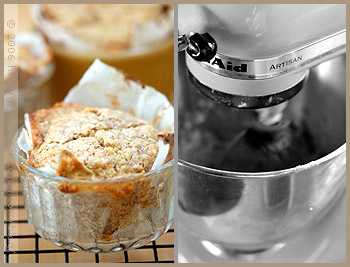 Walnuts are good for our health, providing a lot of good omega 3 fatty acids and vitamin E, to name only a few. A good reason to stock up on them but deep inside, I know this is not necessarily why I like to eat them. They are crunchy — a big plus for me — and make an excellent food snack at any time of the day, preferrably often, even more delicious when toasted in the oven, or flavored with spices. I can never resist walnuts. Why would I? They are even nicer if you can pick them fresh in their shells, when they are still green. We used to make wine with them, du vin de noix, never lasting long, I can tell you that part. But this is a total different subject.
I am pressing you to try this recipe. These walnut cakes are simply amazingly good. Moist, light, not airy but crunchy, what can I add to convince you? They require neither flour nor egg yolks, but crunchy little pieces of walnuts lightly wrapped in a batter made of egg whites. Some sugar and butter are added, of course, and that is pretty much it. In a week, I already baked two batches. Walnuts winning over chocolate even, that is saying a lot for P. and I for whom dark chocolate remains a must!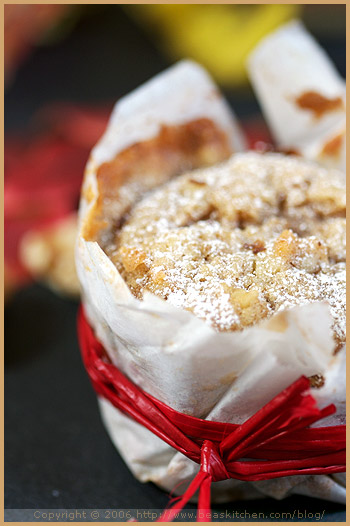 Flourless Walnut Cakes,
recipe adapted from Philippe Conticini's Tentations
(for 8 cakes)
You need:
10 oz walnuts halves
4 egg whites, whipped + 2 raw egg whites
2 2/3 oz confectioner's sugar
3.5 oz butter, very soft
1.5 oz fine cane sugar
1 pinch of salt
Steps:
Using a food processor, chop the walnuts coarsely (medium rather than fine) with the confectioner's sugar .
In a bowl, place the soft butter, add the nuts and the raw egg whites, and mix with a whip.
Beat 4 egg whites and before they are too firm, add the cane sugar and mix. Fold the whites delicately into the previous preparation.
Place pieces of parchment paper at the bottom of ramekins and grease them. Sprinkle with sugar and fill the ramekins with the batter (the cakes will rise slightly). Level the top of the batter with the blade of a knife and place the molds in the preheated oven at 350 F for 20 mns (the recipe indicates 10 mns, but I thought it was not long enough.) Wait for 5 mns before unmolding the cakes. Sprinkle with confectioner's sugar and eat lukewarm, it is even better.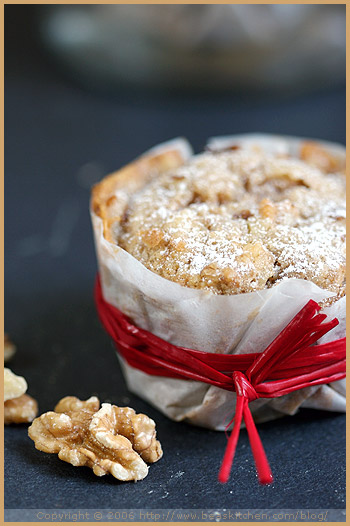 Le coin français
Gâteaux aux noix sans farine,
recette adaptée du livre de Philippe Conticini, Tentations
(Pour 8 gâteaux)
Ingrédients :
280 g de cerneaux de noix
4 blancs d'oeuf battus en neige + 2 blancs d'oeuf crus
75 g de sucre glace
100 g de beurre très mou
40 g de sucre en poudre
1 pincée de sel
Étapes :
Dans un robot, hachez grossièrement les noix (en poudre moyenne plutôt que fine) avec le sucre glace.
Dans un bol, mettez le beurre très mou, les noix hachées et les blancs d'oeuf crus. Mélangez bien avec un fouet.
Montez les 4 blancs d'oeuf en neige et juste avant qu'ils ne soient trop fermes, ajoutez le sucre en poudre. Mélangez la neige délicatement à la préparation précédente.
Garnissez des ramequins de papier sulfurisé beurré et saupoudré de sucre. Remplissez-les avec la préparation (les gâteaux vont légèrement monter), lissez la surface avec la lame d'un couteau, et mettez au four pendant 20 mns (la recette indique 10 mns, mais je pensais que c'était bien trop court.) Attendez 5 mns avant de les démouler. Saupoudrez de sucre glace et dégustez-les tièdes, c'est encore bien meilleur.