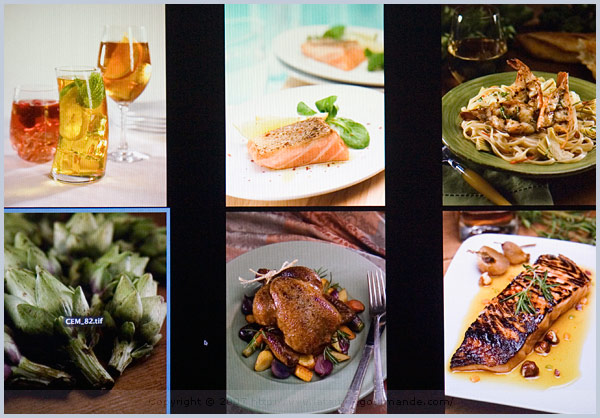 Class Projects
What happens when you put sixteen women, a few men and a Peanut dog in a photography studio in L.A. for a 3-day class? You are intrigued and curious at first when you arrive, you start the class somewhat shy, but by the end of the three days, you are feeling so at ease that you actually ask whether there is a spare bed somewhere in the studio for you to crash on. You are not too fussy, anything will do. Because you have so much fun that you wished you could stay a little longer.
This is what I was lucky to experience this past weekend in Los Angeles, when I attended a three-day food styling workshop at Food Fanatics with Denise Vivaldo and Cindie Flannigan. We talked and laughed — you know, the kind of laughter that really comes from down your guts — we listened to amazing food styling stories they shared with us, we dug in and styled food; in a few words, we learned a ton. I had never been in Hollywood or even L.A. before beside flying through the city a few times on my way to Australia and New Zealand, so I had everything to discover. But can you really see this massive American city in three days? So you wish again that you could have stayed somewhat longer, especially after you meet such a bunch of nice people, including wonderful Matt and Adam, who both came to visit for a few hours, and Karine from Le Carrefour, whom I knew through her lovely blog and was delighted to find at the workshop. The world is getting smaller!
Let's start with the beginning, shall we?
Smile!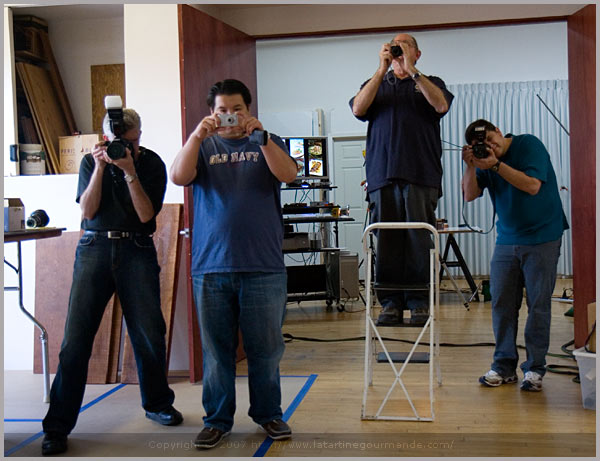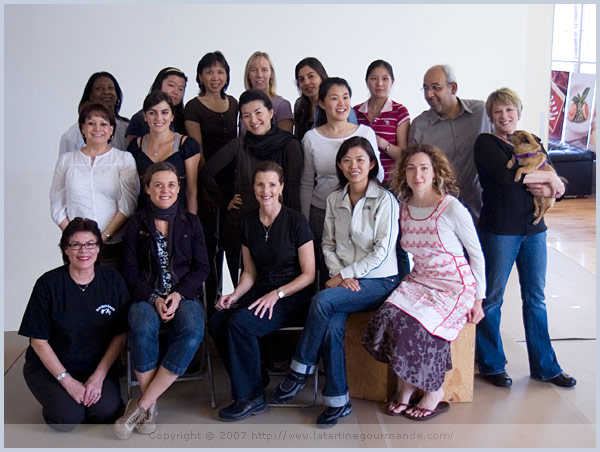 The happy bunch
I do not remember the last time I attended a class that captivated my attention as much. Our group was composed of really fabulous people. Our hosts, Denise and Cindie, are two special women who have so much energy that I seriously wonder what they eat for breakfast every morning; the students, fourteen of us coming from all parts of the world, from Korea, Singapore, Taiwan, Canada, Costa Rica, to the United States, all coming from different backgrounds, wannabe professional photographer, personal chef, caterer, graphic designer, event stylist and food bloggers; and Victor Boghossian, a talented and friendly photographer: together, we formed a happy bunch. We had come to the studio to work with Denise and Cindie with the same purpose: learn about the tricks of the trade of the food stylist profession. Amazingly interesting!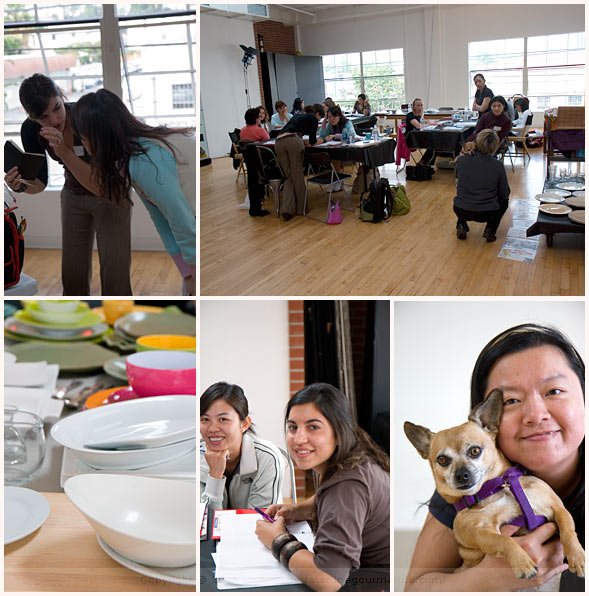 Karine and Jaz; Food Fanatics Studio in Hollywood; Sabrina and Sylvia; Valerie and Peanut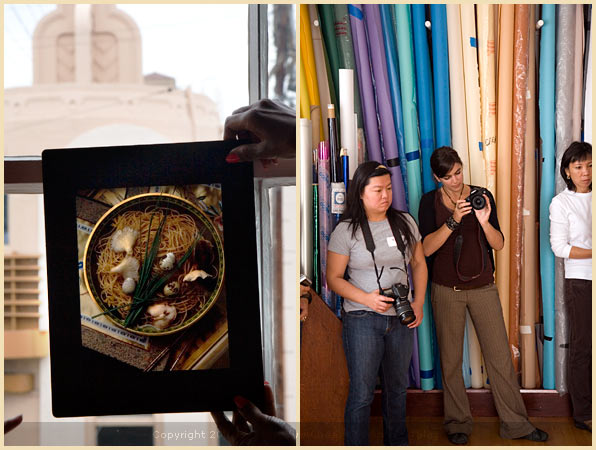 The first day was devoted to speaking about logistics. Denise started by showing us what a typical food stylist kit looks like — think one or several plumber-looking bags full of stuff, des trucs et des machins — making us realize that a food stylist really has to be a jack of all trades. Food styling is not an easy job: it requires patience, precision and focus. You are not convinved? I was when I saw Denise pull a magnifying glass out of her kit. What a clever tool to have!
Imagine hours spent to perfect that unique plate of rice or noddles that a client has asked for, making sure that not a single detail is going to be left out. Is the shape of the garnish herb on top straight? Does it look fresh enough? What about the background used against the food, does it distract the eye from focusing on the food? Balancing the picture is obviously key; using the right amount of props essential. In fact, as a general rule, making it simple can become even more challenging. "What are you trying to sell?" is the question to keep in mind while styling any food project.
We also learned about the business side of the profession, and received precious information about pricing, insurance, taxes, how to build a portfolio, how to get clients and mainly, how to keep them happy. A food stylist is going to work with a photographer to make the food look beautiful; he or she will offer suggestions according to his or her sensibility but in the end, both the art director and the client will be the ones to decide. Normal, c'est le client qui paie ! As Denise and Cindie pointed out, there are a lot of good jobs but there are also a lot of bad ones. There are those that have a very small budget, and those with bad products. Some jobs pay well while others pay little. And for some jobs, you can have a fully-equipped kitchen, when for others, there is not even a sink or a stove. In short, you as the stylist need to make sure that you receive as much information about a job from the client beforehand. C'est vital ! The more prepared you are, the better off you will be.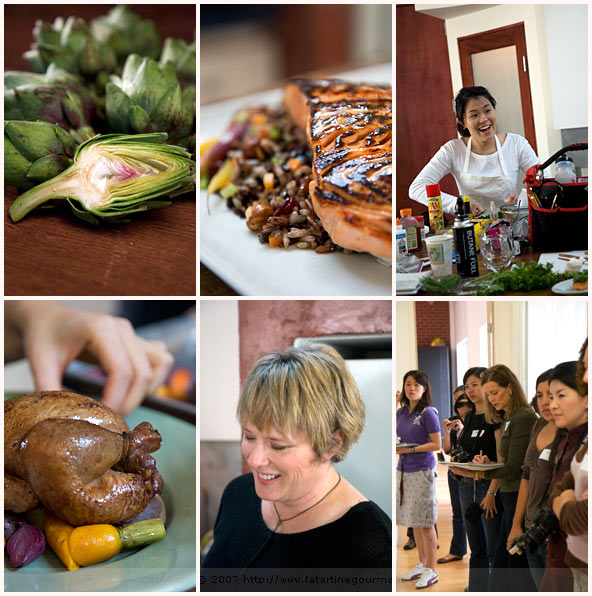 Jaz prepping the herbs; Cindie
During the workshop, we received the opportunity to practice on building an image for our portfolio. We were divided into five groups, and each group was assigned a project to work on. Our task was to style the food we chose, and work with the photographer to produce a food image. Could you guess which one my group worked at?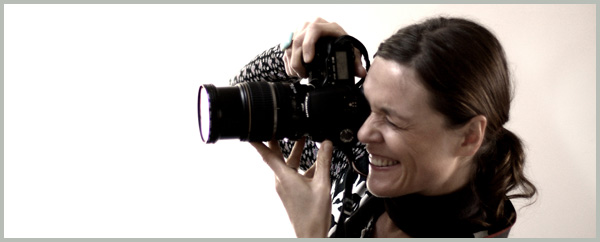 I am caught by Karine; photo courtesy of Karine from Le carrefour
"Is this the hero?" Victor asked with a cunning smile when he saw us bring the first plate to our shooting set. "No, not yet," I responded. "We are preparing it."
You see, every single time you prepare a dish to be shot, you are going to have one preparation dish, and a final one, called "the hero". It has to be a winner, hasn't it?
Shooting tethered (that is with the camera directly connected to a computer screen) is a great advantage since you receive immediate feedback because you are able to see every picture detail right away, and can decide whether you are happy with it.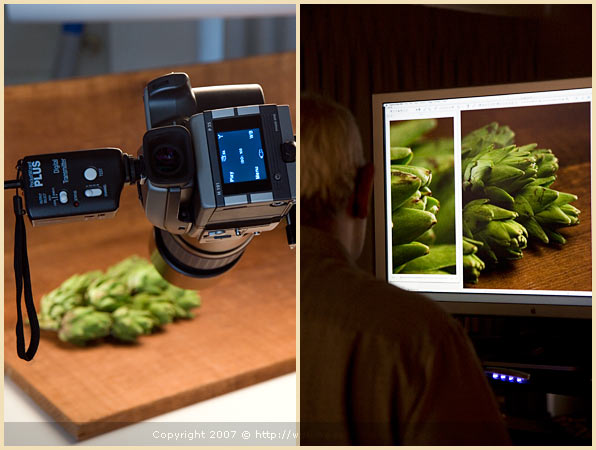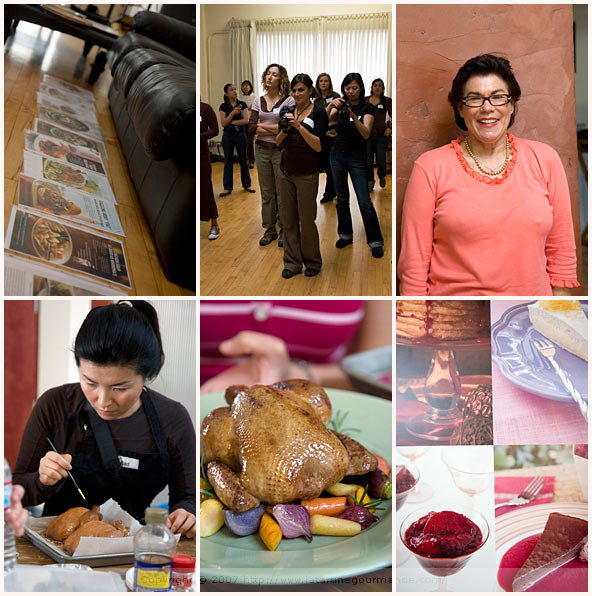 Denise; Ellen working on cornish hens
We learned how to use a blow torch, how to keep herbs fresh and crisp*, how to prepare and pamper a chicken to make it camera-ready — a food stylist's holy trinity is Pam, Kitchen Bouquet and water — or how to plate rice or noodles (wet paper towels stuck under help to give shape). Since most food shoots last for hours, the food will almost always not be consumed. Would you really want to eat lobster that has been sitting on a table for two hours under bright spot lights or eat a chicken that has been painted with Kitchen Bouquet and is hardly cooked? A food stylist will be much better off if he or she understands the mechanics about food very well. Having a culinary background helps tremendously, but is not necessarily essential.
* Put the fresh herbs in iced water, then wrap them in a wet paper towel. Place them in the fridge until ready to use.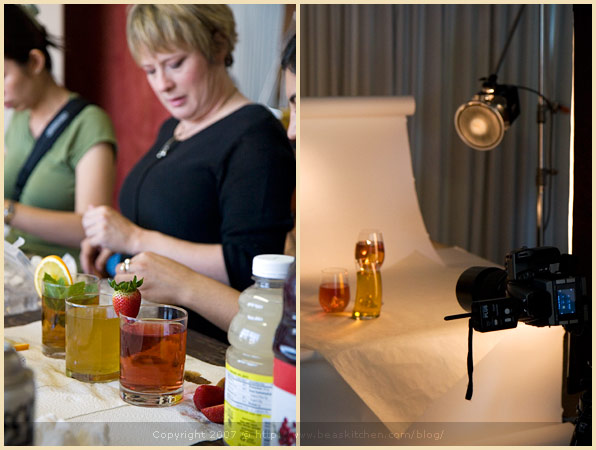 Cindie overlooking a project on drinks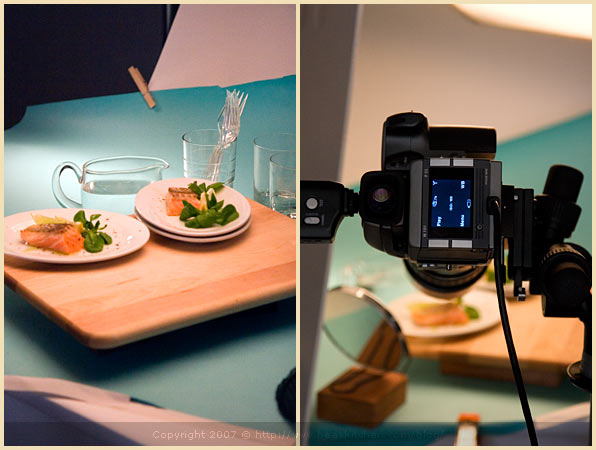 Our Salmon Project
I loved working on our project. With the help of Jaz and Karine, my two adorable teammates, we prepared the concept of our image the day before we shot with Victor. What props would we use? What spacing would we have between the food and props? Would we use one or two plates? What kind of depth of field would we want? What type of mood would we give to the picture? Answering each one of these questions helped us choose the colors, size of plate and arrangement of the photo. We wanted a minimalist, simple and clean image. Then, with the talent of Victor, the magic tricks he played with the lights and his fancy Hasselblad camera (hear, jealousy here), we produced a picture together. Et voilà !
What do you think, do you think that we managed?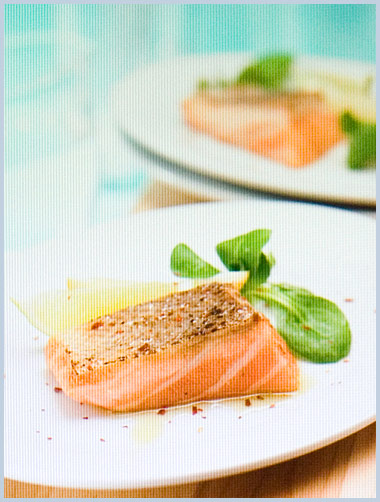 Three days passed quickly and I learned plenty. I left with the memory of many faces and people that I wish to meet again. I was sad to leave them — and my friends S. and J. who had to cope with me while I stayed at their cute house — but then, I was happy too: in January there is two-day Master's Food Styling Class. I do not know about you, but I am planning to be there!
PS: Tell me that I am not alone in this situation here, and I will feel better. When was the last time that you forgot to change back a setting on your camera until too late? Will you believe me if I tell you that I shot most of these pictures with a 1000 ISO?
Sigh…
Check Karine's and Sabrina's stories too.
Denise Vivaldo
P.O. Box 351088,
Los Angeles, California 90035
phone 310-836-3520
fax 310-836-3422
DVivaldo@earthlink.net