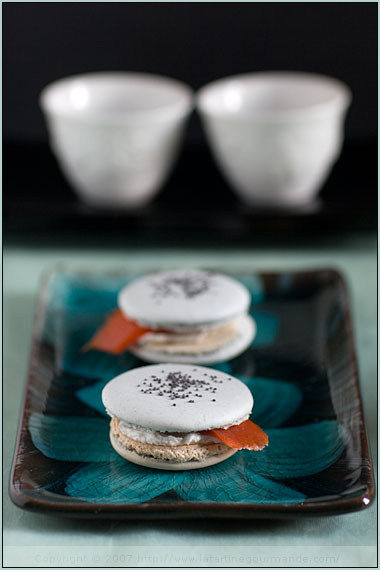 Smoked Salmon, Goat Cheese, Poppy Seed Macarons
When a few weeks ago, Akiko kindly gave me a copy of one of the latest cookbooks she did the photography for — Macarons — I was excited and perplexed too. As much as I like to admire the aesthetics of macarons, I am never going to go crazy over them. Call me ignorant if you wish, but I would always prefer a slice of my mum's tarte aux quetsches or a piece of dark chocolate to a macaron, even when they are made by celebrities like Pierre Hermé or Ladurée. Ca y est, I said it. But I am certainly no wall* (But flesh is weak), and tempted I was when I looked at Akiko's gorgeous pictures, and found this surprising association of smoked salmon, fresh cheese and poppy seeds macarons. Infallibly* Inevitably, it is the picture which really sold me on trying to make macarons again.
I was a poor victim of the look and feel of the picture

(The picture in this post is mine, but check Akiko's if you have the cookbook! You will understand what I mean.)
*Thank you Ben for your corrections. As you said to me, P. sometimes resists to correct me!


Macarons
By José Maréchal
Photography Akiko Ida
Published on Oct 17th 2007
Publisher: Marabout