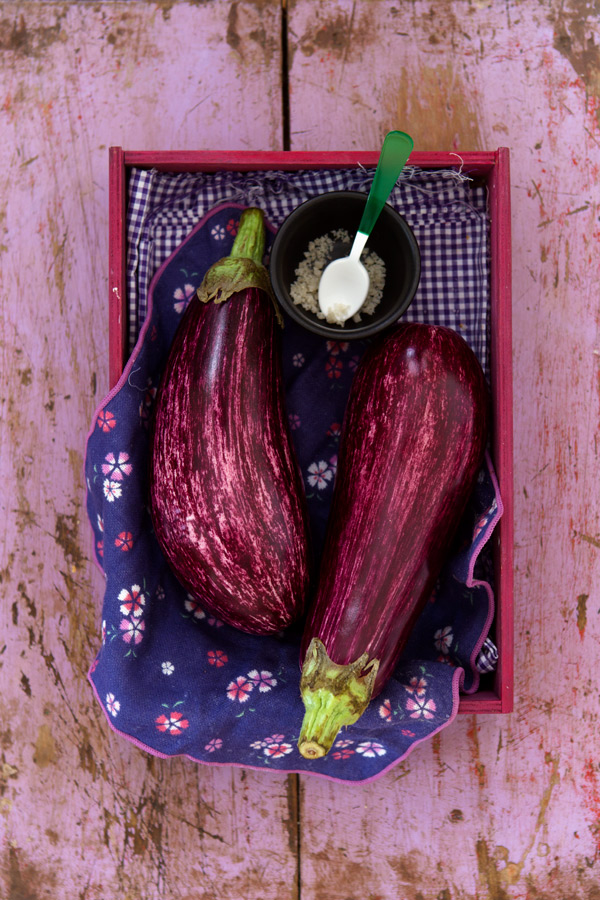 Out Take from a Photo Shoot on Eggplants
A few pictures are better than a blank page and letting days go by without popping in to write something.
Non ? Et en plus elles sont toutes colorées en violet !
(And what's more, they are all colored in purple! Lulu would certainly exclaim joyfully.)
Hello everyone!
I am once again sorry for not having come to visit my creative space, ici, for a while.
In a nutshell: I traveled to France with Lulu, and I taught two workshops with my food stylist friend Sandra Mahut in her Parisian studio (and oh the lovely people I met, the lovely props I bought back home–our days together were just amazing.
[One adorable and talented Swedish student already talks about it on her delicious blog, Dagmar's Kitchen ].
I took Lulu for an overnight stay in a yurt near where my parents live.
I am continuing to prepare another food styling and photography workshop in England at the end of June (it is sold out), and I am also working on one in Sicily in October (there are only a few spots left actually, so if you are interested, send a request to info@annatascalanza.com; Case Vecchie is a beautiful truly Sicilian property; this is what we did last year–I cannot wait to see Gino again!)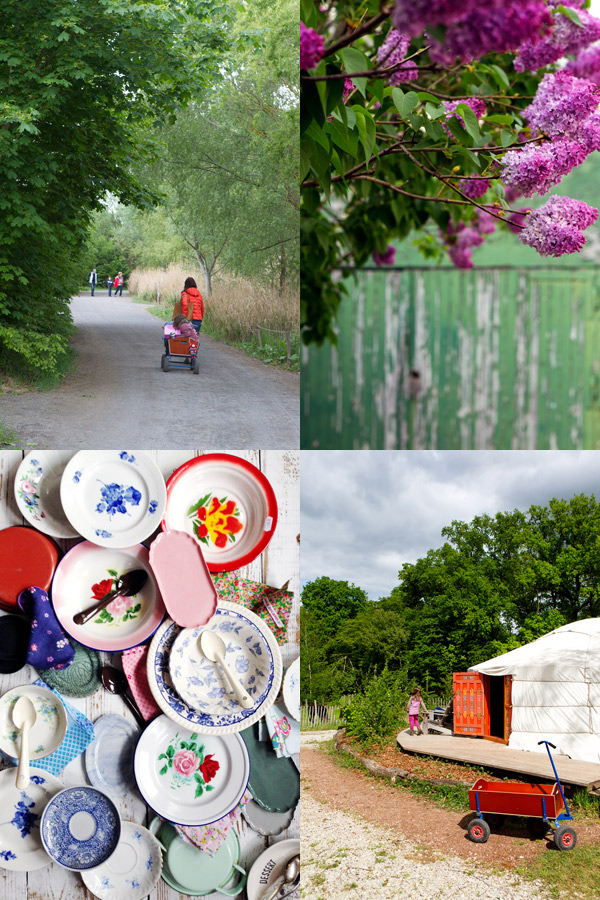 I keep doing a number of photo shoots with old and new clients–and I am loving them.
I celebrated my birthday.
My birthday cake was all about chocolate. Lulu chose it from inside my first book and we baked it together. I didn't have much time to neither dress it up nor take proper pictures.
Tant pis ! (Never mind)
That chocolate cake, Lulu tells me, is her favorite for the time being (my girl knows her chocolate, it seems!)
[The recipe for the two chocolate mousse cake is taken from my cookbook.]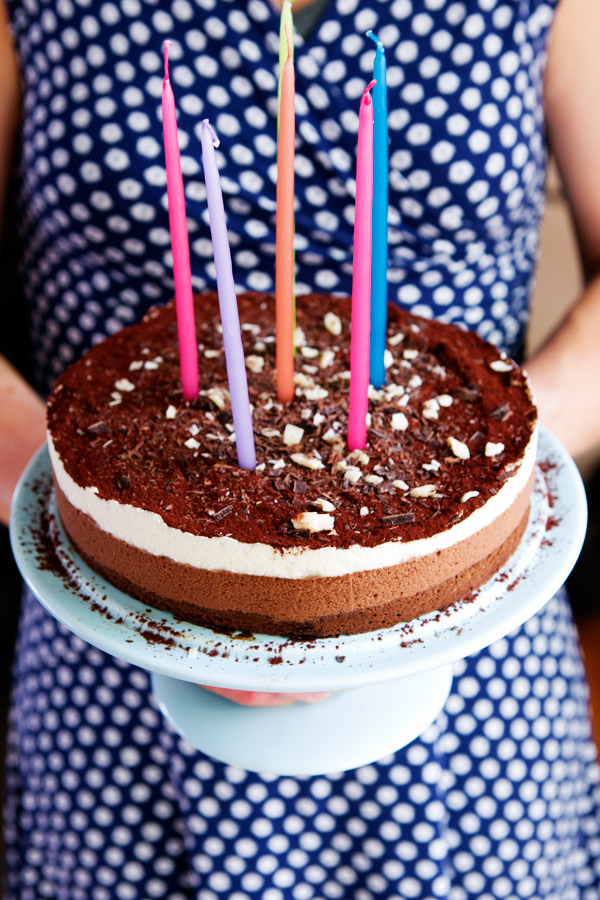 My friend Victoria kindly took this photo of me holding my cake!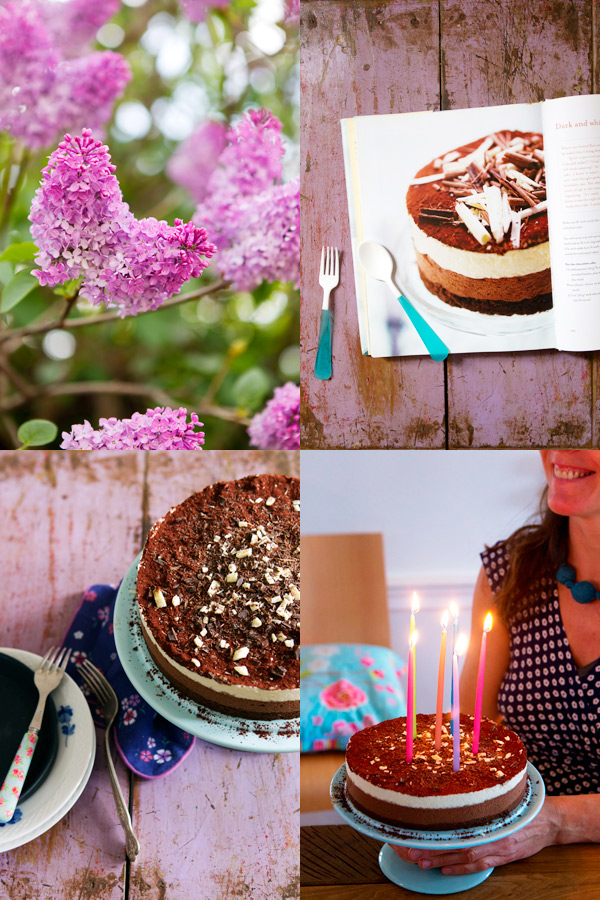 And in the middle of it all, I'm still W O R K I N G on the last steps to finish writing the manuscript for my second book.
I am so excited about this book!
I cannot wait to see how it will look like.
So for now, so that you know, this is where most of my time and energy go.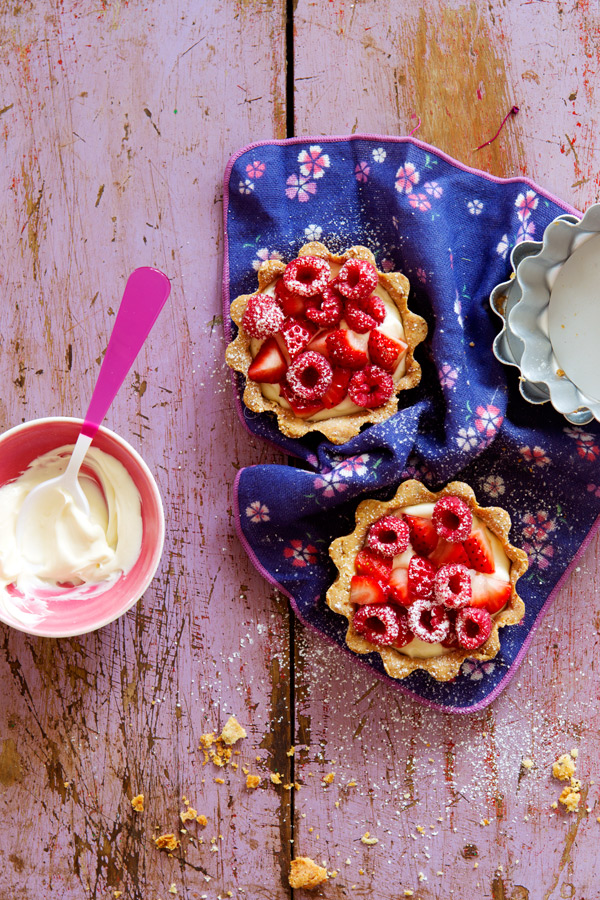 And oh, I also baked strawberry and raspberry tartlets with new flower shaped tartlet molds I could not help but use right away.
Somehow, purple surrounded them as well. I am still not sure why….
I hope you will enjoy the tartlets.
It's like the start of Spring in your plate.
Strawberry and raspberry tartlets
The recipe is simple to prepare, in just a few steps (I wrote the recipe loosely as I was making them). The tartlets should be assembled at the last minute once the crusts are prebaked.
Once your crust (use this one, if you want) is ready and has rested, roll it, and garnish eight 3 1/2-inch (9 cm) tartlet molds.
Blind bake the crusts at 350 F (180 C) for 20 minutes (Cover with parchment paper and beans and cook for 15 minutes. Remove the beans and parchment paper and cook for 5 more minutes.)
Beat quality mascarpone cheese (7 ounces; 200 g) with sifted confectioner's sugar (3 to 4 tablespoons) and vanilla extract together (2 teaspoons)
Spread the mascarpone cheese on top of the crusts once they are cooled.
Top with fresh berries cut loosely to fit the size of your tartlet molds.
And then maybe drizzle berry coulis on top, if you have some handy.