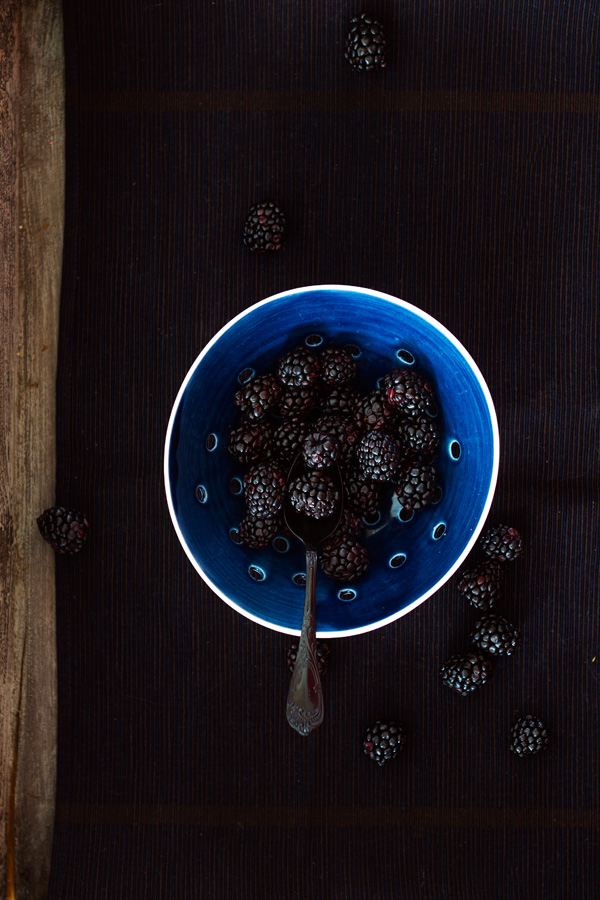 Hello everyone,
It is definitely this time of year when I am catching up to announce all of the upcoming workshops I've been working on for a while now.
This one, in particular, is quite special to my heart.
I mean, just say the letters P.A.R.I.S, and my eyes open wide and lit up with excitement.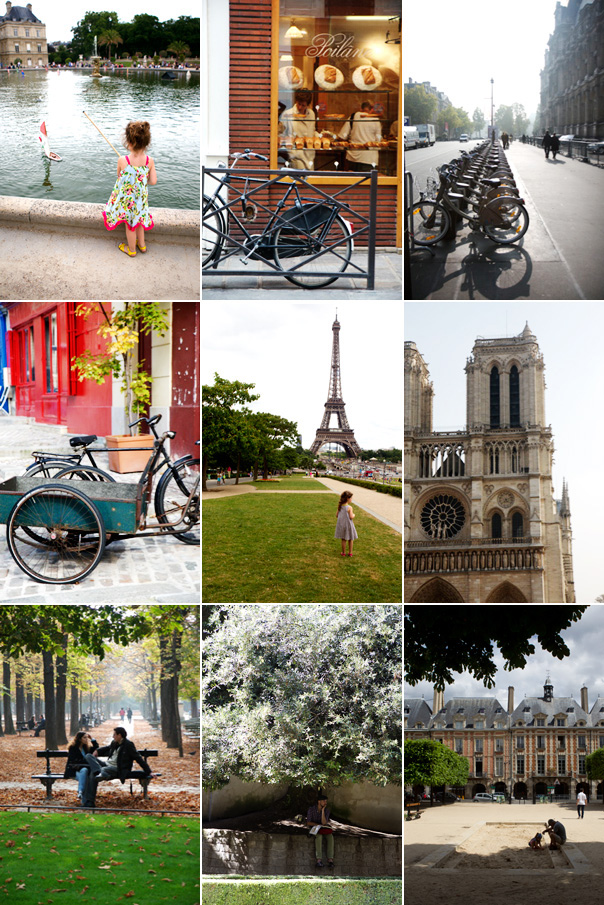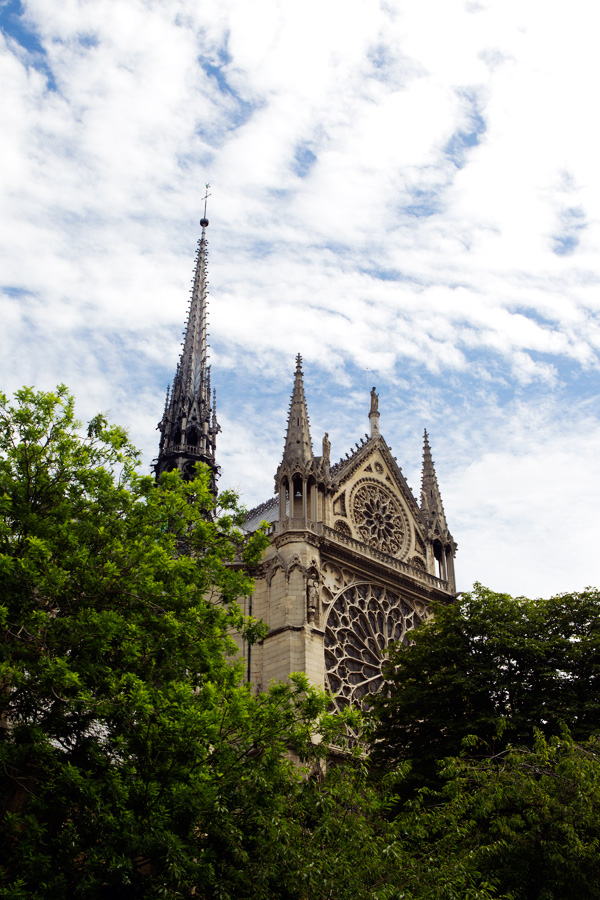 A few scenes of Paris through my lens
This coming April, I am planning to run two workshops in Paris with my friend Sandra Mahut, a fabulous food stylist who has worked as a professional food stylist in France for over 10 years (working for some of the best cookbook publishing houses in Paris with the best food photographers in the capital–and she now works as a photographer herself!)
Together, we want to introduce you to the world and life of a food stylist in France.
We will jointly teach sessions about food styling and photography with numerous hands-on exercices. You will have so many props to use! Really exciting! We will also take you to a real marché aux puces (flea market) to look for unique props; we will go to a typical Parisian marché, and then also enjoy some time near famous Amélie Poulain Canal St Martin for an outdoors shoot.
The format of both workshops follows the same schedule, but one will be taught in English while the other will be taught in French.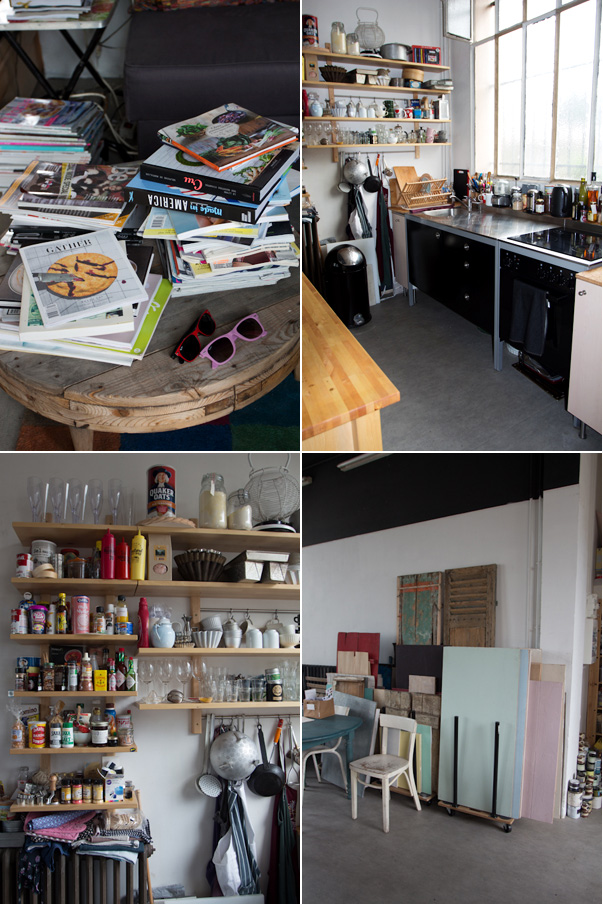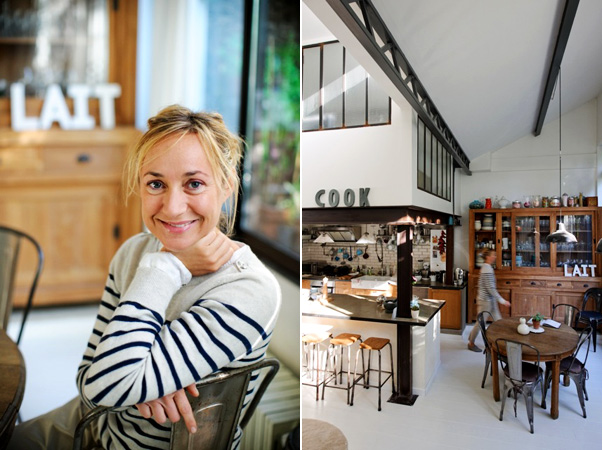 Sandra Mahut on location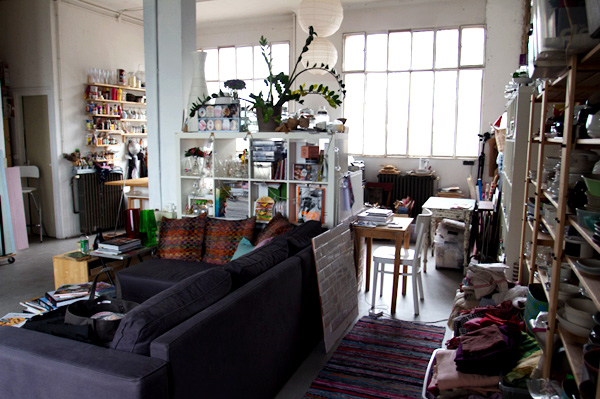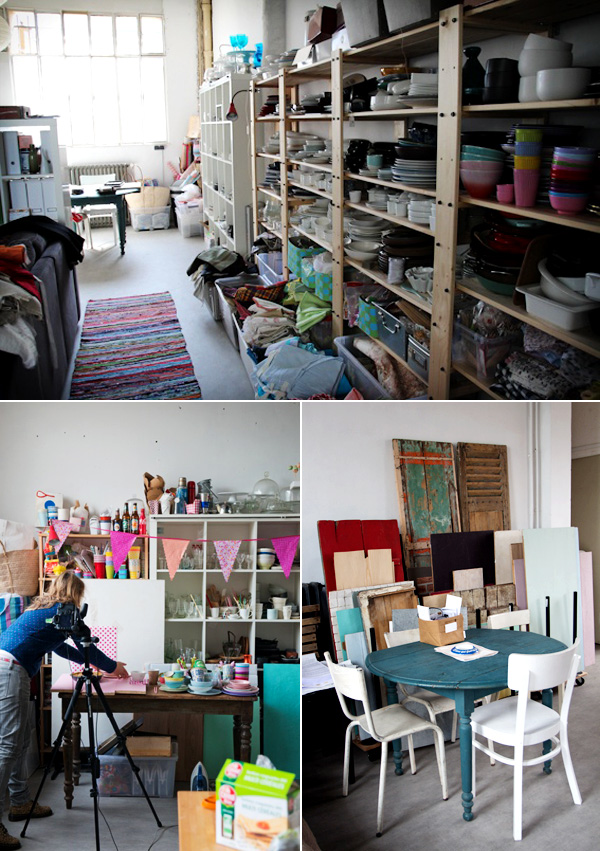 Sandra Mahut's Studio in Paris
Here are the details:
A 3-day workshop in the studio of a food stylist in Paris, France.
April 21st, 22nd, and 23d 2014
Between food styling sessions in a stylist's studio located near the 20th arrondissement (métro Porte des Lilas), we will take you to a flea market looking for unique props; we will take you to a typical Parisian market to buy fresh produce; and we will take you to enjoy a special lunch in a lovely restaurant in Paris.
If you are looking for an authentic Parisian experience with a great way to improve your food styling and photography skills, this one is for you!
The workshop includes:
–Three days of instruction with myself and professional food stylist Sandra Mahut
-Visit of a flea market
-Visit of a food market
–3 lunches, including one (or two) at typical Parisian restaurants
–Transportation between studio to our local visits
Space is limited to 8 students. You should own a SLR camera and know the basics about how to use it.
Cost: $1,400
This workshop will be taught in English. Itinerary is subject to change due to outside factors.
—————————————
To register for this workshop, click on this link. For logistics reasons, this is a non-refundable workshop, so make sure you can attend.
—————————————
Tip: Hotel Mamashelter is located nearby rue de Bagnolet and is a great place to stay for 3 days. See for more information here.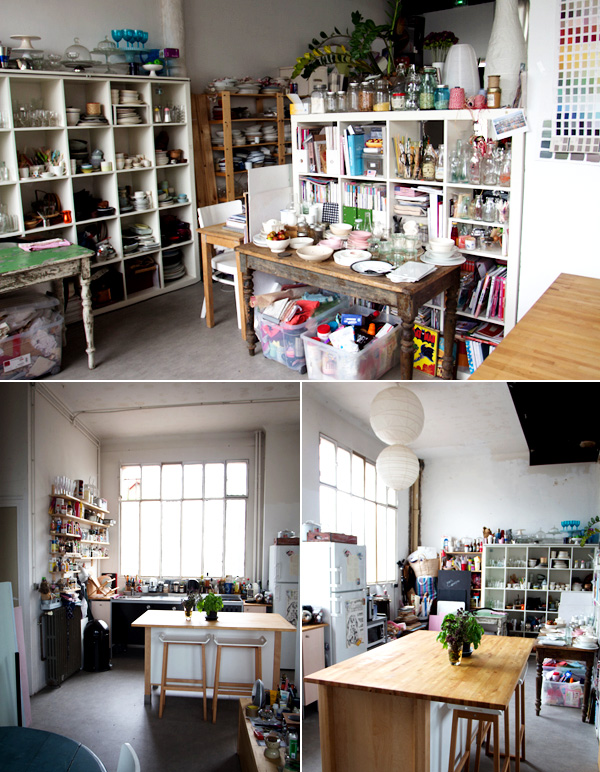 UPDATE FEB 3, 2014: DUE TO HIGHER INTEREST, WE SWITCHED THE INSTRUCTION TO ENGLISH FOR THIS WORKSHOP, APRIL 24, 26. 2014. THE FORMAT OF THE WORKSHOP IS THE SAME AS WORKSHOP #1, APRIL 21-23, 2014, DESCRIBED ABOVE.
TO REGISTER, FOLLOW THE LINK HERE.
———————
Atelier de 3 jours dans le studio d'une styliste culinaire à Paris.
23, 24, et 25 avril 2014
Entre diverses sessions de stylisme et de photo culinaires dans un studio de styliste studié près du 20ème arrondissement de Paris (métro Porte des Lilas), nous vous emmènerons dans un marché aux puces parisien à la recherche d'accessoires uniques; nous visiterons un marché pour y acheter des produits frais; et puis nous irons déjeuner dans un joli restaurant typiquement parisien.
Si vous avez envie d'une expérience parisienne avec l'oppportunité d'améliorer vos connaissances de stylisme et de photo culinaires, cet atelier est fait pour vous !
Le prix comprend :
–Trois jours de cours avec moi-même et Sandra, styliste culinaire professionnelle basée à Paris
-Visite du marché aux puces
-Visite d'un marché parisien
–3 déjeuners, y compris un (ou deux) déjeuners dans des restaurants typiquement parisiens
–Transport entre le studio et nos petits visites locales
La place se limite à 8 personnes. Vous devez avoir un appareil photo reflex (numérique) et savoir vous en servir pour les bases.
Coût : $1400 (environ 1030 euros)
Ce atelier sera enseigné en français.
Il est possible que l'itinéraire change en fonction de facteurs extérieurs.
—————————————
Pour vous inscrire, cliquez sur ce lien. Pour des raisons d'organisation, cet atelier est non-remboursable, donc assurez-vous que vous pourrez y assister.
—————————————
Conseil: l'hotel Mamashelter est à proximité rue de Bagnolet et est idéal pour 3 jours. Suivez ce lien pour plus d'amples renseignements.
And to celebrate this very French moment, I thought I'd share this French dessert recipe I made recently with blackberries.
I made it a project when I suddenly had a craving for blackberries. Don't ask why.
The outcome was really pleasing because I thought of creating this clafoutis-like recipe, truly an everyday food classic chez nous.
It's one I would come back to when friends come over unexpected and I need dessert on the table pour le goûter or dinner.
Then, I just have to say the word clafoutis to make everyone at home happy for dessert .
Tout simplement bon !
So, shall we meet in Paris for more French treats?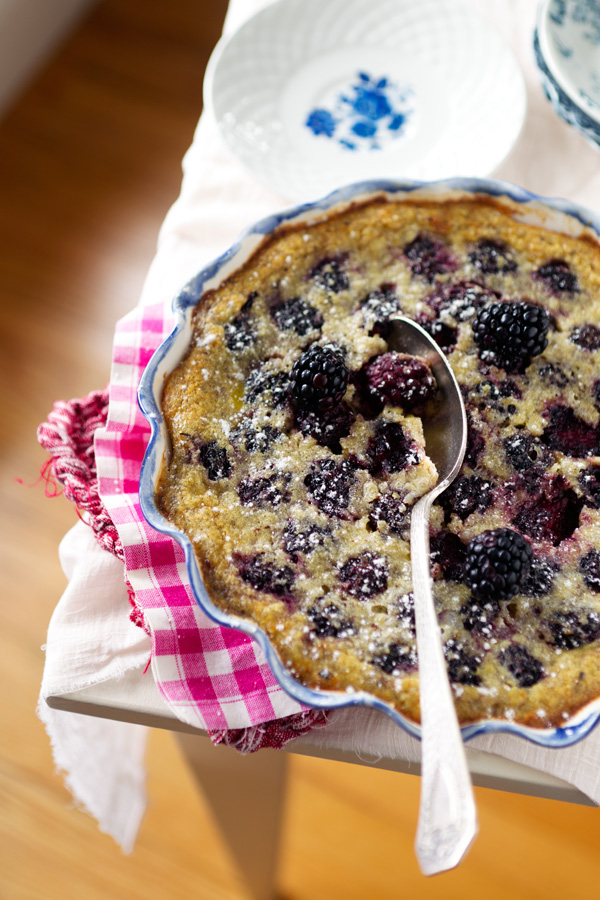 Clafoutis aux mûres et aux noisettes
Hazelnut and Blackberry Clafoutis Recipe
Serves 4
You need:
Butter, for the mold
1/4 cup + 1 tablespoon blond cane sugar
2 large eggs + 1 egg yolk
2/3 cup whole milk
1/2 cup unsweetened coconut milk (or crème fraiche)
1/2 tablespoon pure vanilla extract
Pinch of sea salt
3 tablespoons hazelnut meal
1 tablespoon millet flour
9 ounces blackberries
Confectioner's sugar, to dust
Preheat the oven to 350 F and butter a 9-inch mold. Sprinkle with 1 tablespoon sugar and tap the excess out; set aside.
In a large bowl, beat the eggs, egg yolk with the sugar and a pinch of sea salt.
Stir in the milk and coconut milk.
Beat in the hazelnut meal and millet flour.
Pour the batter in the mold and add the blackberries.
Bake the clafoutis for 35 to 40 minutes, or until the top is set and light brown in color.
When ready to serve, dust with confectioner's sugar and serve lukewarm.
Le coin français
Clafoutis aux mûres et aux noisettes
Pour 4 personnes
Ingrédients :
Beurre, pour le plat
50 g + 1 càs de sucre de canne blond
2 gros oeufs + 1 jaune d'oeuf
150 ml de lait entier
120 ml de lait de coco non sucré (ou de crème fraiche)
1/2 càs d'extrait de vanille pur
Pincée de sel
3 càs de poudre de noisettes
1 càs de farine de millet
250 g de mûres
Sucre glace, pour la finition
Préchauffez le four à 180 C et beurrez un plat allant au four de 23 cm. Saupoudrez-le de sucre, et enlevez l'excès; mettez de côté.
Dans une grande jatte, battez les oeufs et le jaune d'oeuf avec le sucre et une pincée de sel.
Versez le lait et le lait de coco et mélangez.
Incorporez la poudre de noisettes et la farine de millet et mélangez bien.
Versez cet appareil dans le moule puis disposez les mûres.
Cuisez le clafoutis pendant environ 35 à 40 minutes, ou jusqu'à ce que le dessus soit légèrement doré.
Servez tiède saupoudré de sucre glace.