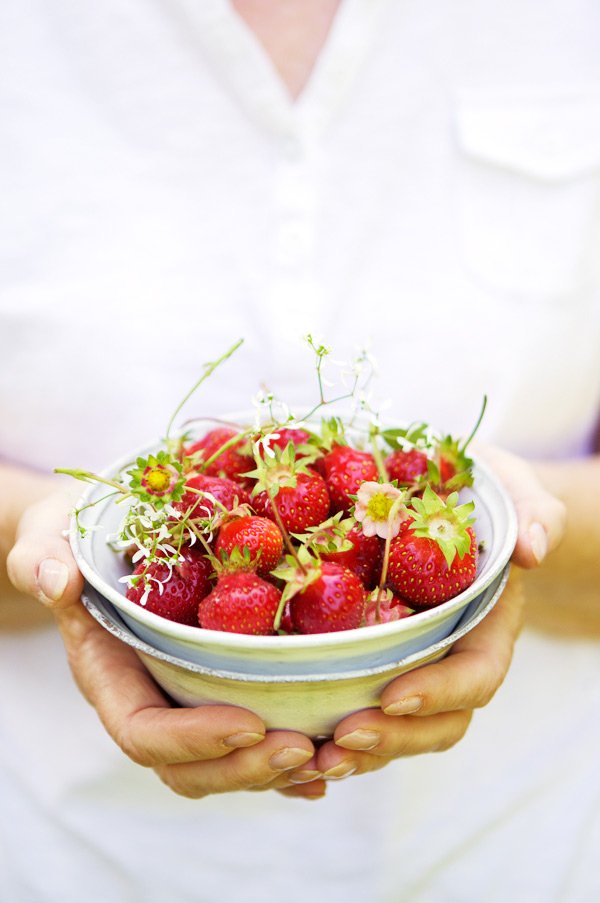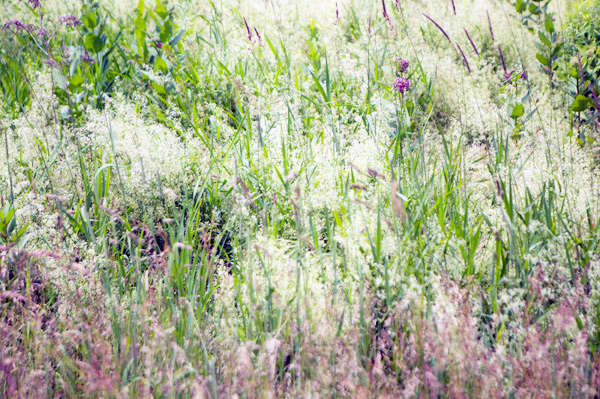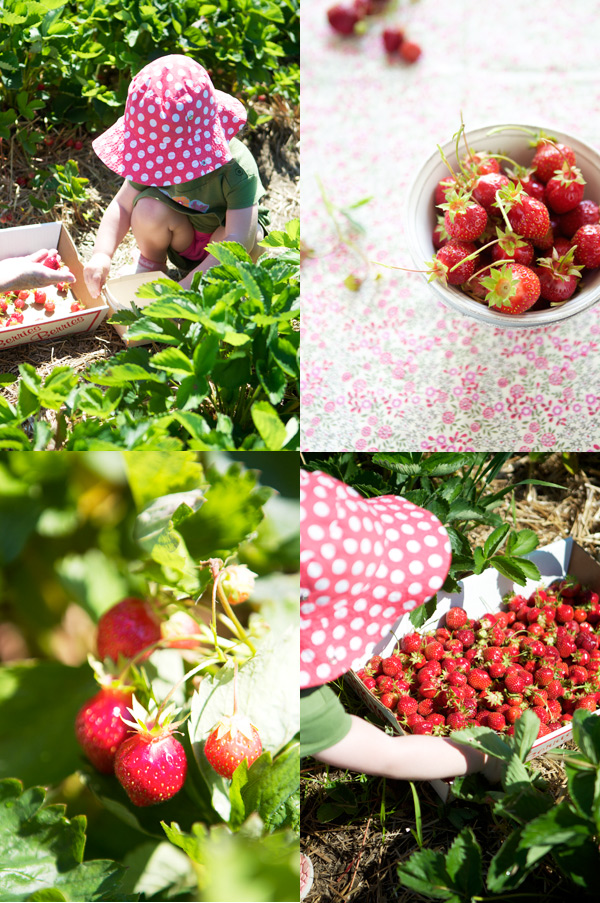 Les fraises
"We'll go early," I told my mother-in-law Patricia while she and I were tidying the kitchen after dinner.
It was a nice moment of our day, I thought, as the cool evening breathe was gently filtering in through the open window above the sink. It was perhaps eight and Lulu was fast asleep upstairs.
We'd enjoyed a dinner of curried shrimp served with spring greens and coconut rice, and a shaved fennel salad on the side.
Patricia and I were chit chatting about this and that, happy to reflect on the day.
"On va cueillir des fraises, d'accord ?" I said, laughing. I was referring to my craving to drive to a strawberry field the next day where I wanted to take Lulu.
I knew that the three of us would have a lot of fun there.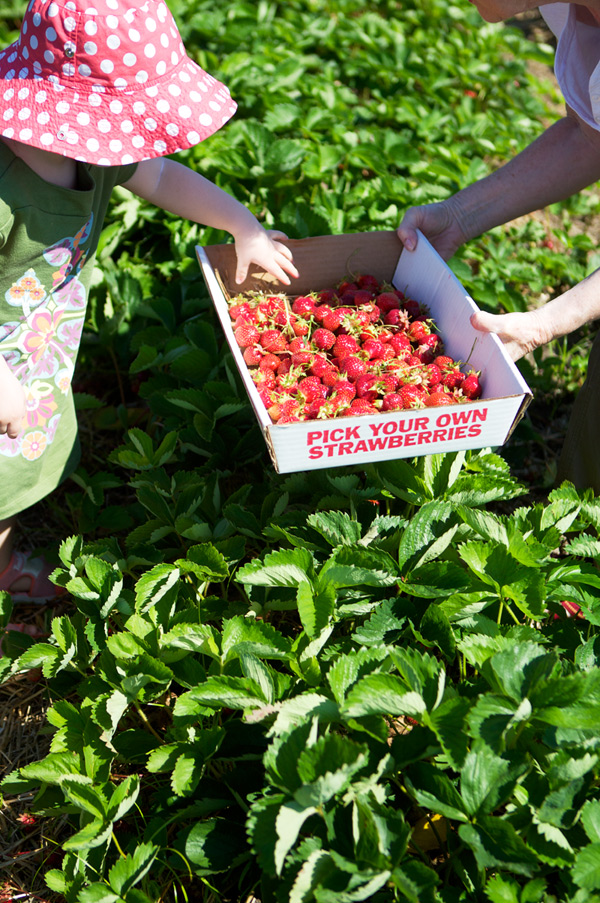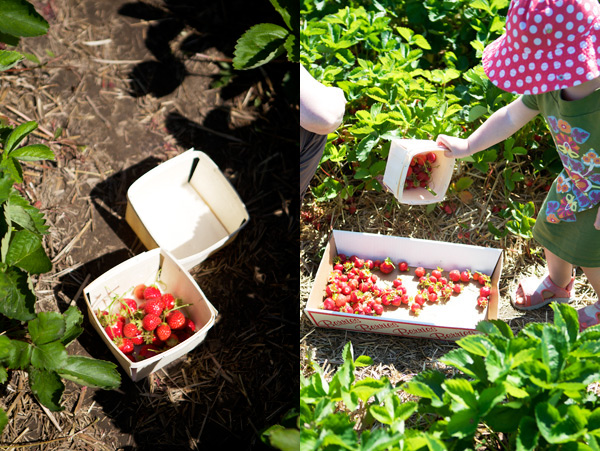 I could not help but remember that my mother would have planned the day in that manner too:
Get up really early and drive for an hour to a pick-your-strawberry farm in Alsace nearby;
Fill large cardboard cartons with fragrant fruit and drive home before the hottest hours of the day hit;
And then spend the afternoon in my mother's small kitchen with the blinds drawn down, which would keep the house cool and allow us to work the fruit.
We liked to make jams and tarts and preserves.
I remember that we'd make sure to keep a basket for us to eat. And another one filled with the prettiest strawberries that we'd eventually use in a charlotte aux fraises for the Sunday lunch that followed.
I was always looking forward to that moment in the season. The car drive through the Lorraine countryside to Alsace. My hands colored red from touching the fruit. The smell of jam cooking in the kitchen. The charlotte aux fraises that my mother liked to prepare in her white Tupperware Charlotte mold.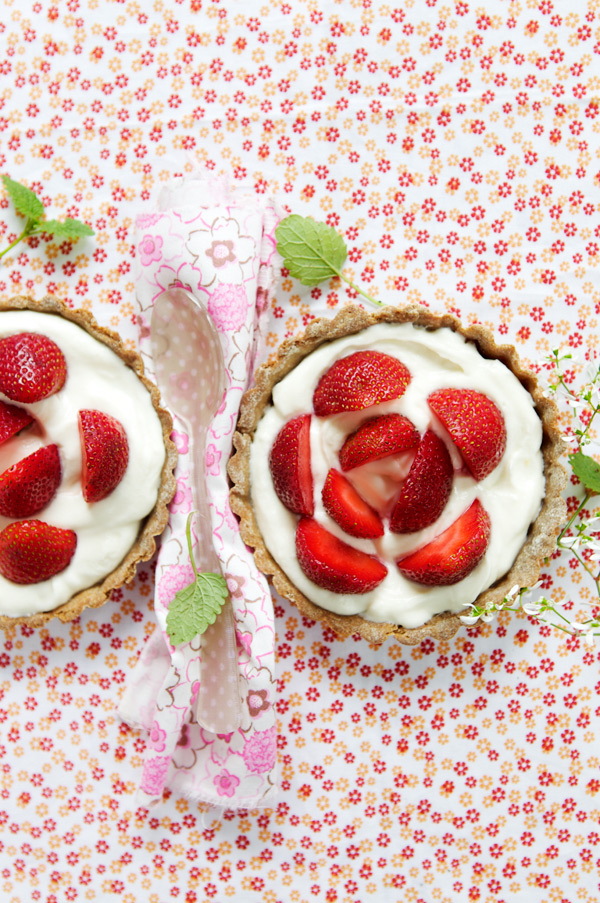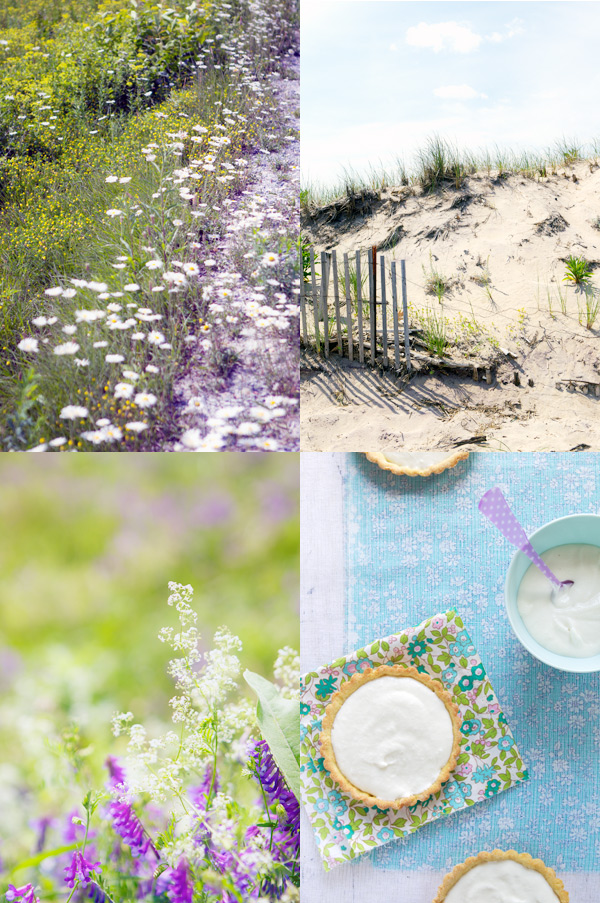 "We are blessed with the weather," I told Patricia at the breakfast table. "I think we can go." The rain from the previous day had cleared to leave room to a perfectly blue sky and a radiant sun.
Verrill farm was only a fifteen-minute drive from the house and when we arrived, I noticed small clusters of people already busy picking strawberries.
"I hope we'll find something good here," I told Patricia as we approached the stand to collect our baskets. "It's my first time to this farm."
Luck worked in our favor.
The deep green leaves of the numerous well-aligned strawberry plants proved they were healthy. Each plant was so abundant with fruit that we didn't need to walk far to fill our baskets quickly. Lulu kept running back and forth between her grand-ma and me, excited at each time she'd spot a strawberry under the leaves.
They were shining like precious rubies in the light of the morning sun.
"Une fraise dans le panier, et une fraise dans ma bouche!" (One strawberry in my basket, and one in my mouth!) " I exclaimed as I bit into one.
The strawberries were small and sweet, and had every one of the qualities that makes me fall in love with freshly picked fruit every season.
After only a short hour, our baskets were filled.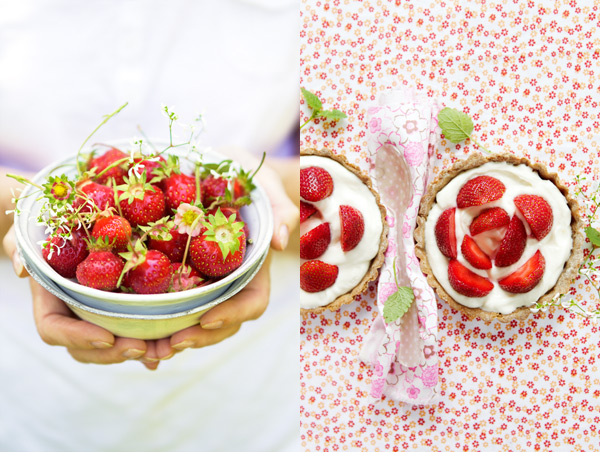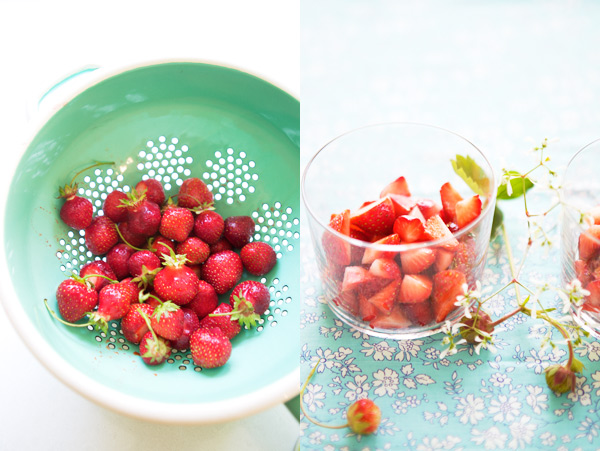 I knew I had little time to think about what to do with the strawberries. They looked like strawberries that needed to be eaten and prepared right then. They had that color. That shape. That looks.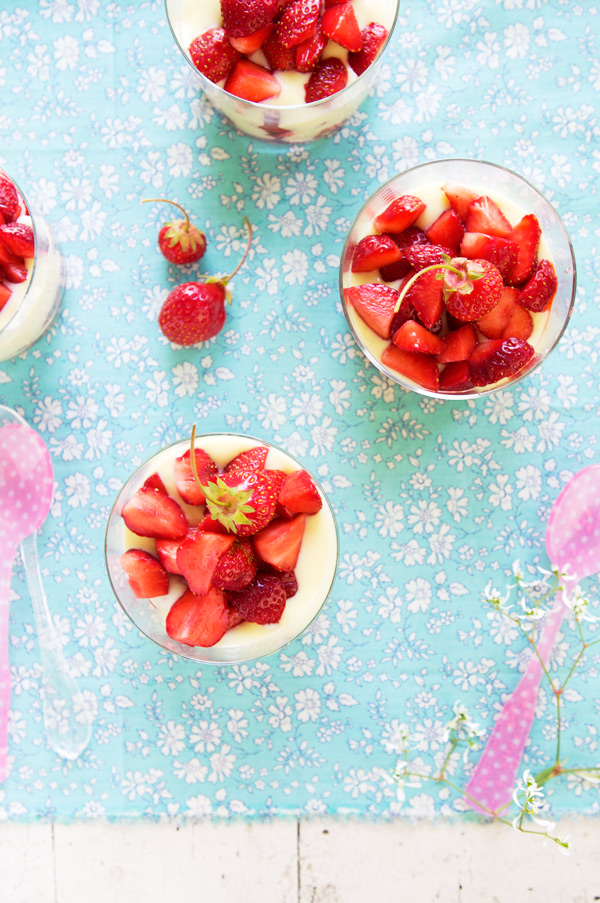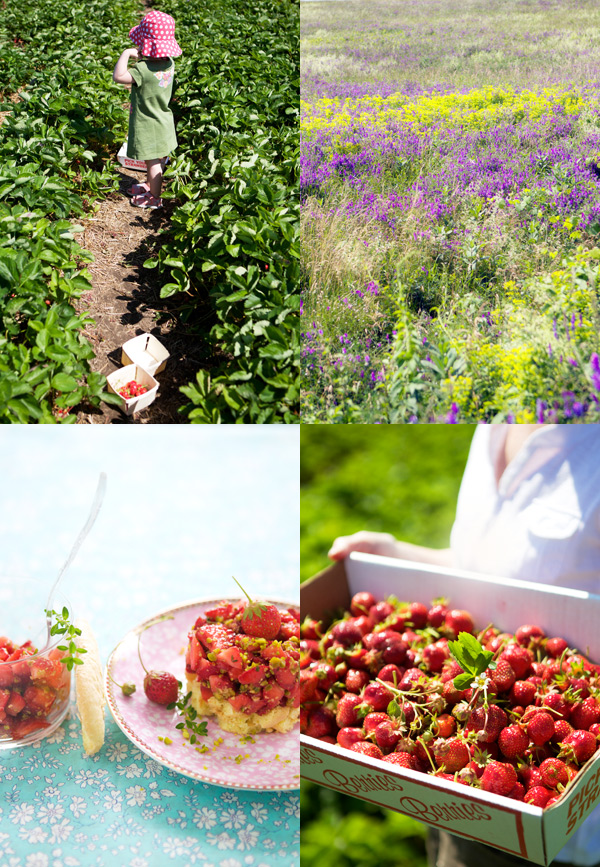 We ate them nature, and sprinkled with a tad of sugar and lemon juice.
Then, I played with a few dessert ideas that we included in the meals that my parents-in-law and us shared together before they left.
I made strawberry verrines with vanilla-flavored custard the first day for lunch. Because anything with the word custard attached is bound to make my Irish family happy.
Then I prepared strawberry tartares for dinner. With ladyfingers and more custard.
I baked strawberry clafoutis.
And I froze a few strawberry batches because I knew we'd love to have fresh strawberry sorbets.
And then there were these strawberry tartlets.
Glorious.
Bursting with summery flavors.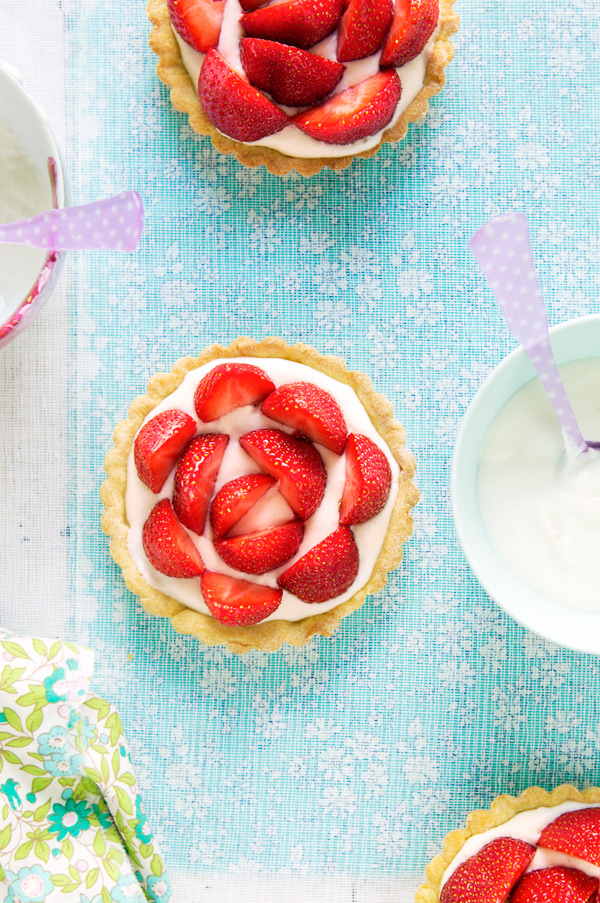 I prepared them using a gluten free teff-based rustic pastry crust first, topping the prebaked crusts with a light vanilla-flavored mascarpone cream and freshly sliced strawberries.
Nothing else.
We loved them as is.
So I decided to bake them again, but with a millet-based pastry crust the second time.
And without noticing, all of the strawberries we had picked disappeared.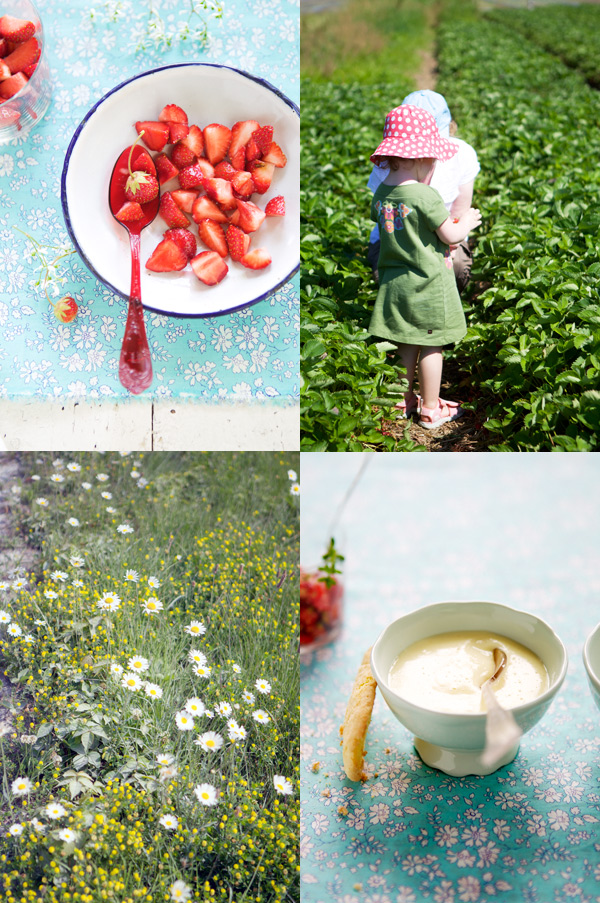 A few days later, I was putting Lulu to bed when unexpectedly she exclaimed "More strawberries!"
I looked at her, surprised.
"La ferme, maman ?"
And then I smiled. She was thinking what I was craving too.
"Ok, demain, on ira chercher des fraises," I replied while tucking her under her favorite flowered blanket. "I'll ask Ely if she wants to come with us."
I knew she was looking forward to having her hands and lips stained red once again. Stop at the farm stand right after for a popsicle, or something else. And spend time with our friend Ely.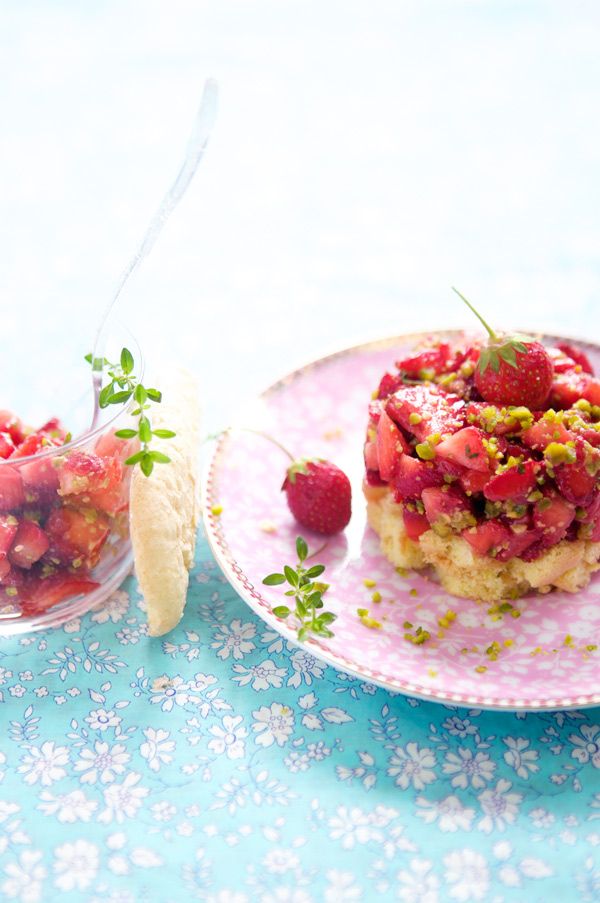 I was just happy that she liked all of it as much as I did.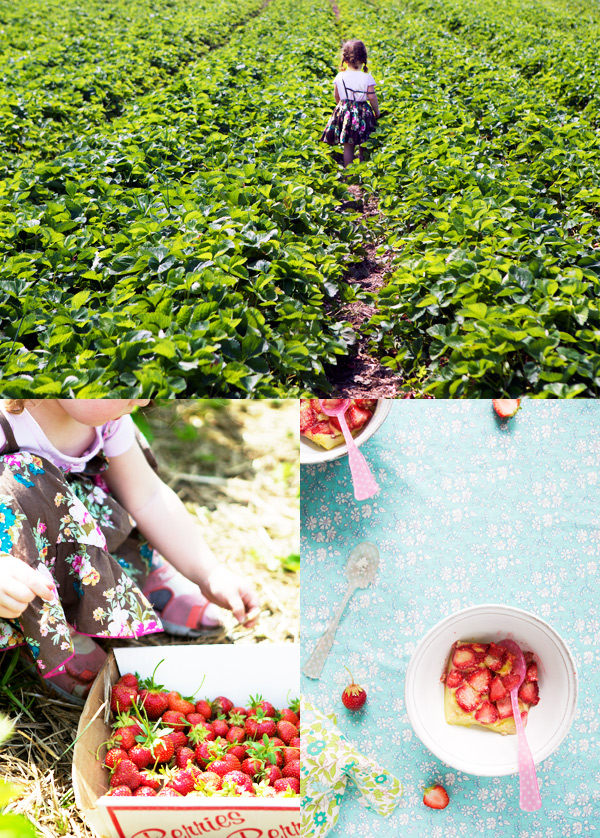 We woke up early the next day. It was sunny. Hot. And after an hour, we drove home with four kilos of strawberries.
Ready to be taken care in all sorts of tasty ways.
Oh summer!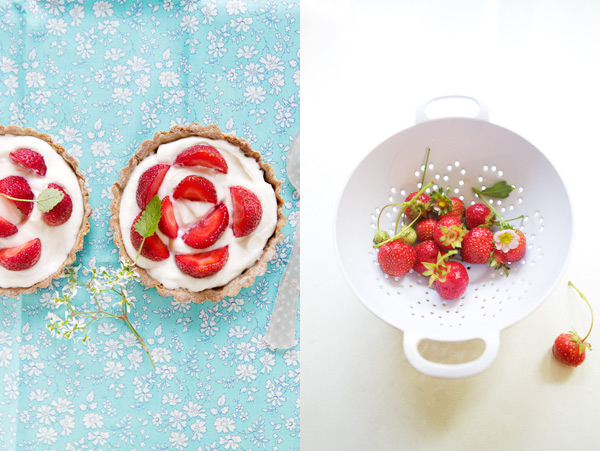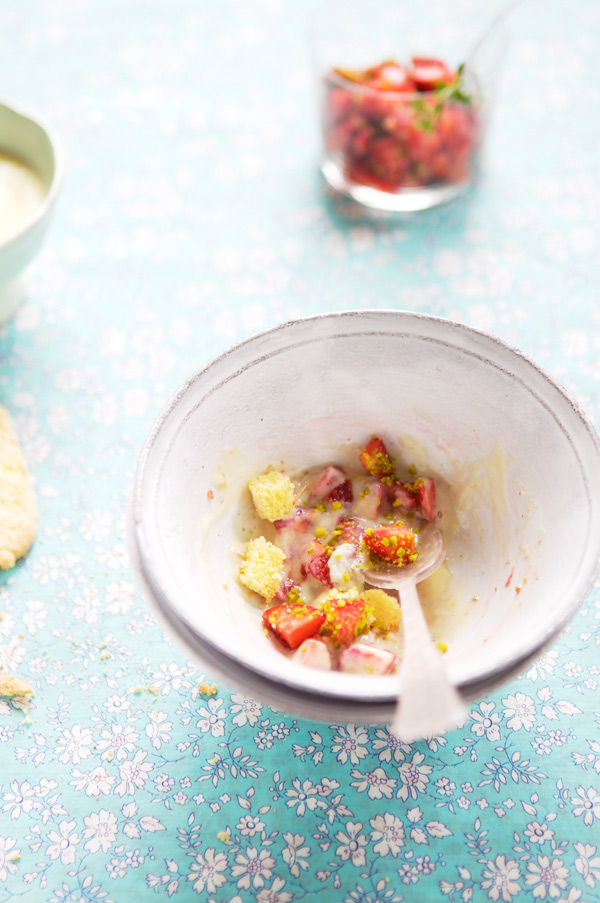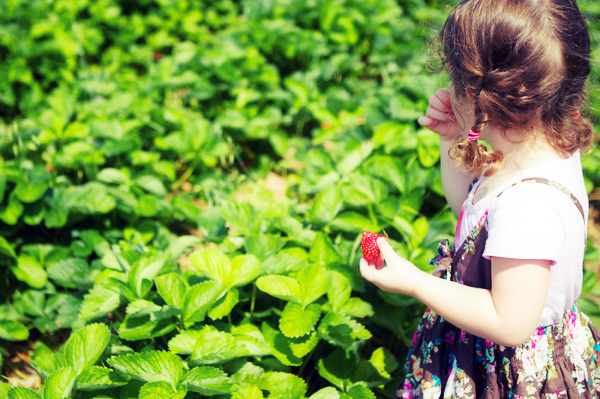 Strawberry tartlets with mascarpone cream
For four 4.5-inch tartlets

For the sweet crust:
2/3 cup millet flour
1/3 cup cornstarch
1/3 cup almond meal
2 tablespoons blond cane sugar
1.5 teaspoons xantham gum (if using)
6.5 tablespoons (90 g) cold butter, diced
1 egg
2 to 3 tablespoons cold water

For the garnish:
7 oz (200 g) mascarpone cheese, at room temperature
4 tablespoons blond cane sugar
2 teaspoons pure vanilla extract
2 egg whites
Pinch of sea salt
24 small strawberries, hulled and halved
Steps:
To prepare the sweet crust: In a bowl of the food processor, pulse the flour, cornstarch, almond meal, xantham gum and sugar.
Add the butter and continue to pulse until crumbs form.
Add the egg and pulse to incorporate.
Add the water, one tablespoon at a time, and continue to pulse until the dough detaches from the bowl.
Divide into 4 balls and place them in a bowl dusted with flour. Cover and place in the fridge for one to two hours.
Bring the dough back to room temperature. Roll and garnish the molds–you might have a little leftover. Using a fork, make small holes at the bottom and place the molds in the fridge for 30 minutes.
Preheat the oven to 400 F and cover the dough in each mold with parchment paper. Top evenly with dry rice (or whatever you use to blind cook a crust). Bake for 10 minutes. Remove the paper and rice, and continue to bake for 5 minutes. Remove the molds from the oven and let the crusts completely cool (you can prepare them a day before too, if you prefer).
To prepare the cream: In a bowl, beat the mascarpone with the sugar until soft. Stir in the vanilla.
Whip the egg whites with a pinch of salt until they form soft ribbons. Fold in the mascarpone preparation. Divide the cream between the crusts, making sure it is leveled, and top with the strawberries.
Le coin français
Tartelettes aux fraises et à la mascarpone
Pour 4 tartelettes

Pour la pâte sucrée :
80 g de farine de millet
45 g de maïzena
40 g de poudre d'amandes
2 càs de sucre de canne blond
1,5 càc de gomme xanthane (si vous l'utilisez)
90 g de beurre non salé froid, coupé en dés
1 oeuf
2 à 3 càs d'eau froide

Pour la garniture :
200 g de mascarpone, à température ambiante
4 càs de sucre de canne blond
2 càc d'extrait de vanille pur
2 blancs d'oeuf
Pincée de sel de mer
24 petites fraises, nettoyées et coupées en deux
Etapes :
Pour préparez la pâte: dans le bol de votre mixeur, mélangez en utilisant la fonction pulsez la farine de millet, la maïzena, la poudre d'amande, la gomme xanthane et le sucre.
Ajoutez le beurre et continuez à pulser jusqu'à ce que de grosses miettes se forment dans le bol.
Ajoutez l'oeuf et continuez à pulser.
Ajoutez l'eau, une càs après l'autre, en travaillant la pâte jusqu'à ce qu'elle se détache du bol.
Divisez-la en 4 petites boules et mettez-les dans un bol, saupoudrées de farine. Filmez et mettez au frais pendant 1 à 2 heures.
Sortez la pâte du frigo pour qu'elle se ramolisse un peu et étalez-la. Garnissez-en de petits moules à tartelettes. Faites de petits trous dans le fond avec une fourchette et remettez au frigo pendant 30 minutes.
Préchauffez le four à 200 C et couvrez chaque fond de tartelette avec du papier sulfurisé. Ajoutez un poids (du riz cru par exemple) et faites précuire les fonds de tartelette pendant 10 minutes. Retirez le riz et le papier et poursuivez la cuisson pendant 5 minutes. Sortez du four, démoulez et laissez refroidir (vous pouvez préparer les fonds de tartelette la veille, si vous le souhaitez.)
Pour préparez la crème: dans un bol, fouettez la mascarpone avec le sucre. Ajoutez la vanille.
Montez les blancs en neige avec une pincée de sel jusqu'à ce qu'ils forment des rubans. A l'aide d'une maryse, ajoutez-les délicatement à la crème à la mascarpone, en veillant à ne pas faire tomber la masse. Garnissez les fonds de tarte de cette crème et ajoutez les fraises. Dégustez sans attendre.