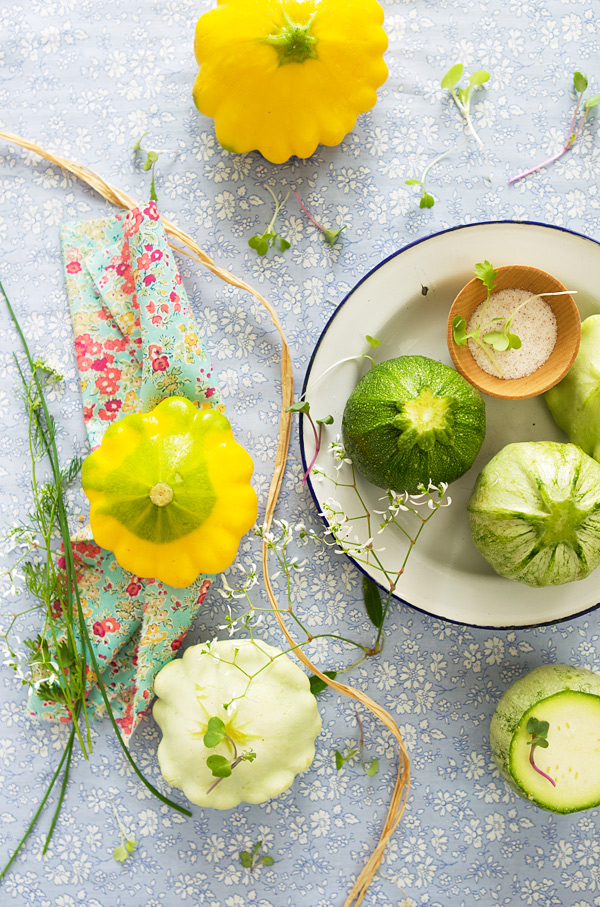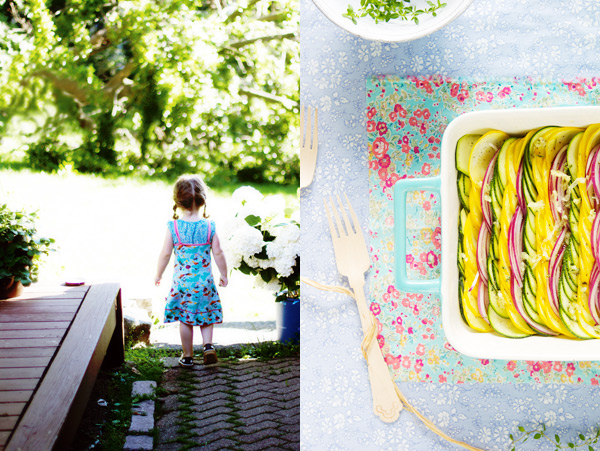 Tian de courgettes
I have a special relationship with zucchini. Les courgettes, as we call them in French and in England. Yellow, green, round, long or oval; diced, shaved, julienned, grated or whole–I love them all under any form.
My mother always kept two or three large zucchini plants different in shape and color every summer. While she liked to comment that they took over the space in her garden, I remember mainly how excited we all felt when came July, and we could eat the first homegrown zucchini of the season.
Their taste and texture were incomparable.
We preferred to collect the zucchini young so that the vegetables would stay extremely tender. During the peak season, there were always a lot of zucchini on our dinner table.
We enjoyed them in ratatouille, gratin de courgettes, flans, salads, soups, tian de légumes d'été–and stuffed zucchini, my utter favorite next to a tian (the other dish you can see in the pictures too).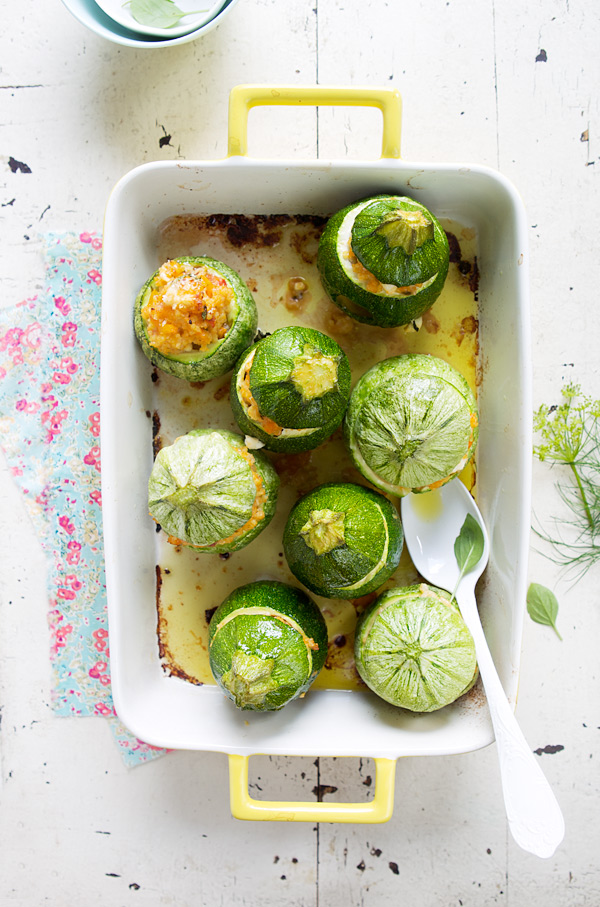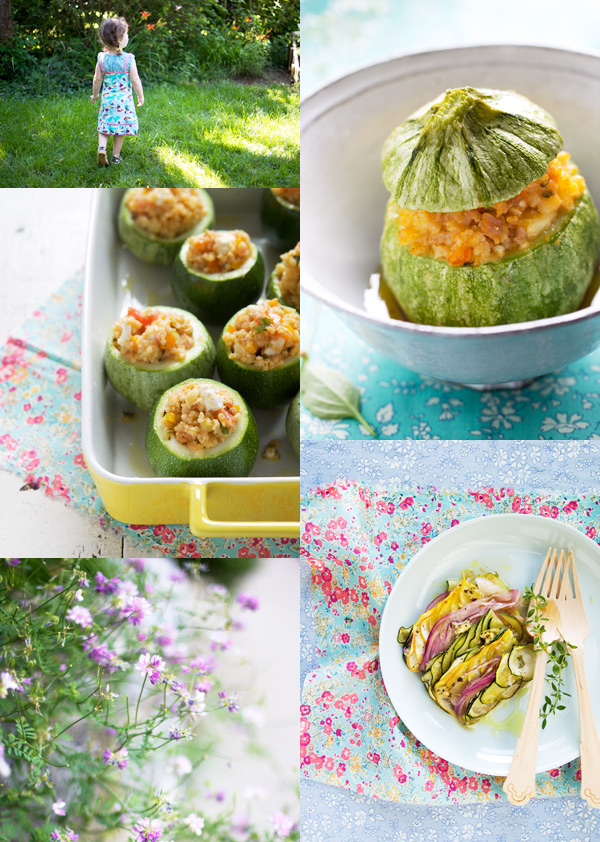 I am always inspired by new ways to prepare stuffed zucchini. Frankly, I don't always have a plan.
I like to use what ingredients and fresh produce I have handy, and possibly use-up leftovers of cooked grains kept from a previous meal.
When my parents-in-law visited two weeks ago, it was quinoa. And a few days ago, it's millet that sneaked inside my stuffed zucchini. I needed that kind of comforting summer food again.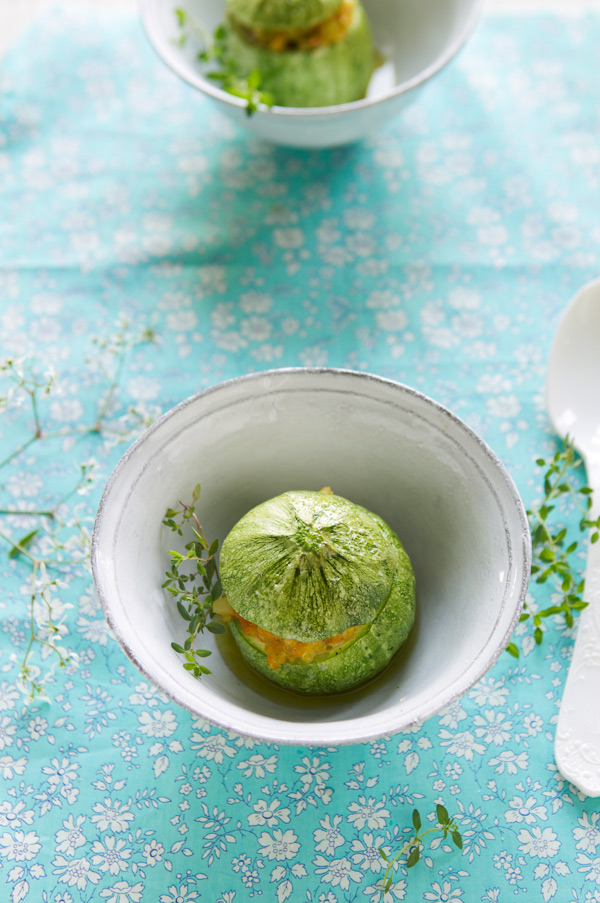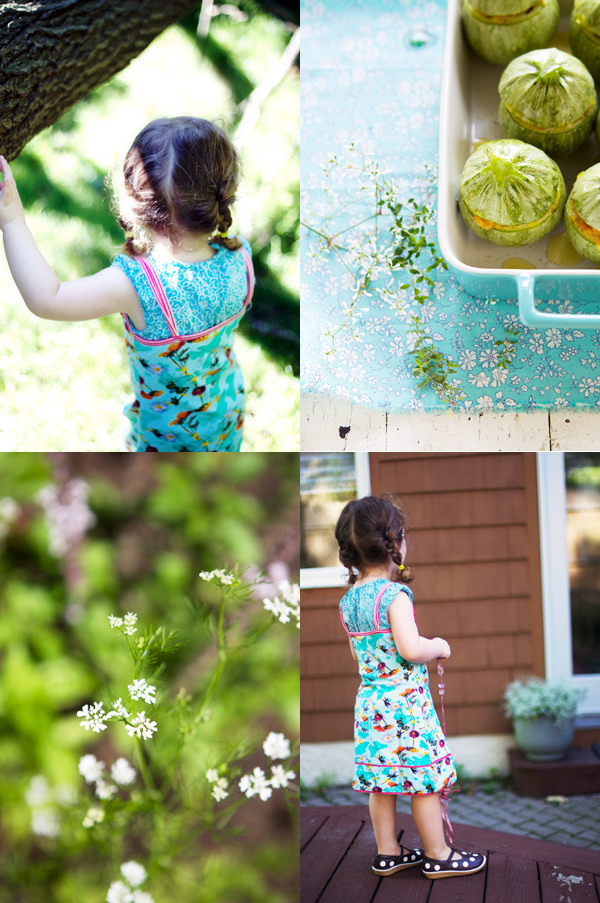 I was excited to cook using round globe zucchini purchased at the farmers' market.
"Ce sont des courgettes du jardin ?" (Are these zucchini from the garden?) P. had asked when I brought dinner on the table and he looked at the dish.
"Du jardin. Salade du jardin !" (From the garden. Salad from the garden!) Lulu went on pointing at the bowl of mesclun salad. She likes to follow me in the garden to water the vegetables, asking all sorts of What's this and What's that questions.
I smiled. I wished. She was right about the salad. Not so much about the zucchini though.
Regretfully.
"No, not yet. Mine are very green, but they don't produce any vegetables yet."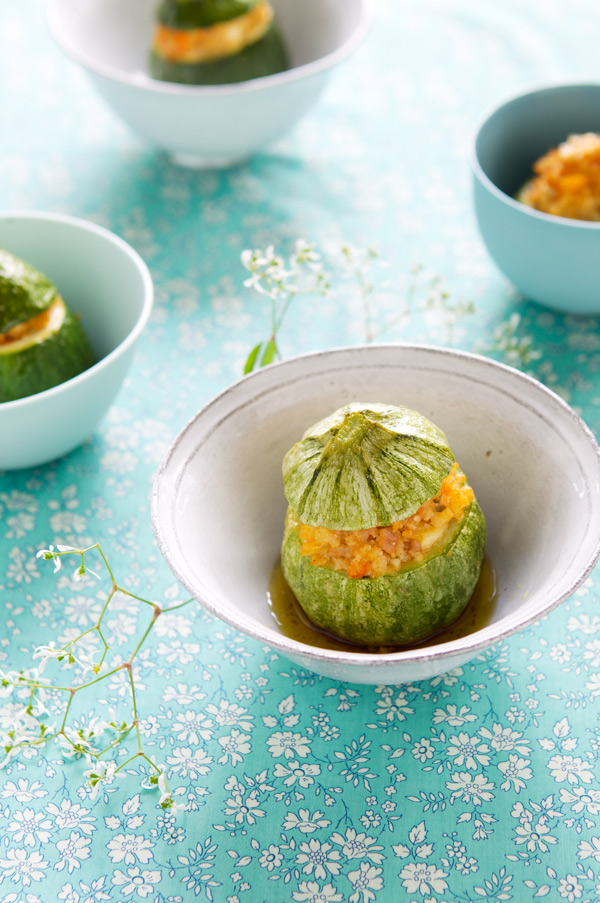 I keep hoping that they will though.
This year I have two globe zucchini plants in the garden that I like to watch and talk to.
They are still not producing vegetables since I planted them a little late in the season because of the crazy months of April and May and the rainy spring we've had, but I have the hope that they will soon– hopefully before I leave for Europe in August.
Fingers crossed.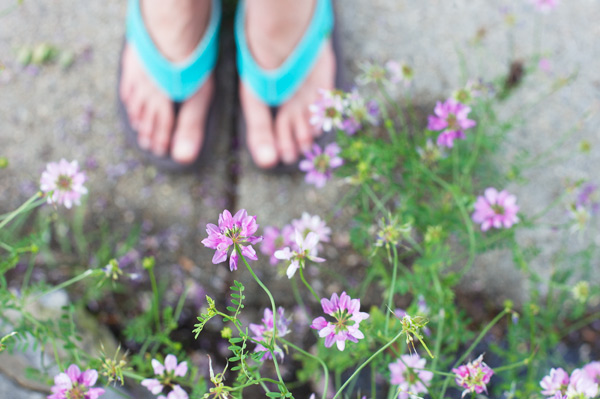 So here you are.
These stuffed zucchini are easy to assemble. And practical too because they can be prepared ahead of time and reheated when you are ready to eat.
I cooked them plenty of fresh herbs from the garden, spices and garlic, and with vegetables I sauteed in olive oil first. Then I added cooked millet, feta and Manchego cheese.
Nothing difficult.
But tons of flavors.
Summer and garden happiness in your plate!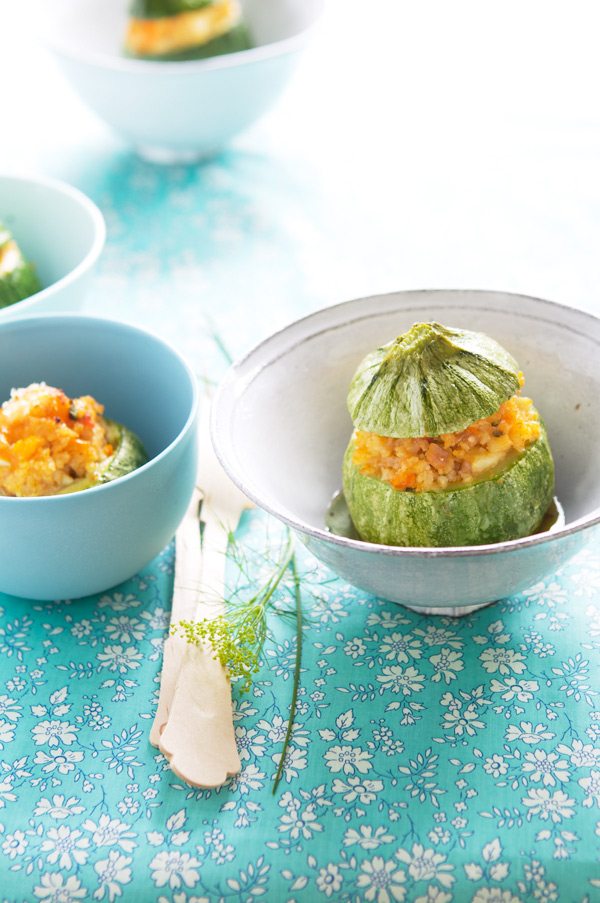 For other stuffed zucchini ideas, you can check these links too:
Globe zucchini stuffed with millet and vegetables
For 4 people
You need:
2 tablespoons olive oil + more for dish and to drizzle
8 small globe zucchini
Sea salt and pepper
1/4 red onion, peeled and finely chopped
1 teaspoon ground coriander
2 thyme twigs
2 garlic cloves, peeled and finely minced
1/2 orange pepper, finely diced
2 vine or Heirloom tomatoes, blanched, peeled, cored, seeded and finely diced
1.5 cups cooked millet
2 oz (60 g) crumbled feta cheese
2 oz (60 g) grated Parmesan or Manchego cheese
2 tablespoons mixed chopped basil, coriander and parsley
Steps:
Preheat the oven to 375 F and oil a large baking dish; set aside.
Cut a small top for each zucchini. Using a melon spoon, scoop out the flesh making sure not to puncture the outer skin. Season with salt and pepper and set aside. Keep 1 packed cup of the zucchini flesh chopped finely (about 6 ounces; 170 g). Place the zucchini shells in the baking dish.
In a saute pan, heat 2 tablespoons olive oil over medium heat. When warm, add the onion, ground coriander and thyme. Cook, stirring, for 2 minutes and add the garlic. Continue to cook for 1 minute.
Add the pepper and cook for 1 to 2 more minutes.
Add the tomatoes and zucchini. Stir and season with salt and pepper. Cook on low heat, uncovered, for 7 minutes, stirring once in a while. Stop the heat and discard the thyme.
Stir in the cooked millet, feta cheese, Manchego and fresh herbs.
Stuff the zucchini with this preparation. Top each zucchini with its respective hat. Drizzle generously with olive oil and add a tad of water at the bottom of the baking dish. Bake the zucchini for 45 minutes to 1 hour, or until the outer skin of zucchini is tender. Serve with a side green salad.
Le coin français
Courgettes rondes farcies au millet et aux légumes
Pour 4 personnes
Ingrédients :
2 càs d'huile d'olive + plus pour le plat et pour arroser
8 petites courgettes rondes
Sel de mer et poivre du moulin
1/4 oignon rouge, pelé et haché finement
1 càc de coriandre en poudre
2 brins de thym
2 gousses d'aˆïl, pelées et hachées finement
1/2 poivron orange, coupé en petits dés
2 tomates de vigne ou anciennes, blanchies, pelées, épépinées et coupées en petits dés
1,5 tasses de millet cuit
60 g de feta émiettée
60 g de Parmesan (ou Manchego) râpé finement
2 càs de mélange de basilic, coriandre et persil hachés
Etapes :
Prérchauffez le four à 190 C et huilez un grand plat creux allant qu four. Mettez de côté.
Coupez un petit chapeau sur chaque courgette et avec une petite cuiller à melon, évidez les courgettes, en prêtant attention à ne pas percer la peau extérieure-gardez environ 1 tasse de chair de courgette hachée (170 g). Salez et poivrez l'in†érieur des courgettes. Mettez chaque courgette dans le plat.
Dans une sauteuse, faites chauffez 2 às d'huile d'olive sur feu moyen. Une fois l'huile chaude, ajoutez l'oignon, la coriandre en poudre et le thyme. Cuisez pendant 2 minutes en remuant, puis ajoutez l'aïl. Poursuivez la cuisson pendant 1 minute.
Ajoutez le poivron et cuisez pendant 1 à 2 minutes supplémentaires.
Ajoutez les tomates et la courgette hachée. Mélangez et assaisonnez de sel et de poivre. Cuisez sur feu doux sans couvrir pendant environ 7 minutes, en mélangeant de temps à autre. Arrêtez le feu et retirez le thym.
AJoutez le millet, la feta, le fromage râpé et les herbes.
Farcissez les courgettes de cette préparation et couvrez d'un chapeau. Arrosez avec un filet d'huile d'olive, et ajoutez un peu d'eau au fond du plat. Faites cuire les courgettes pendant environ 45 minutes à 1 heure, jusqu'à ce que leur peau extérieure soit tendre. Servez les courgettes accompagnées d'une salade verte.