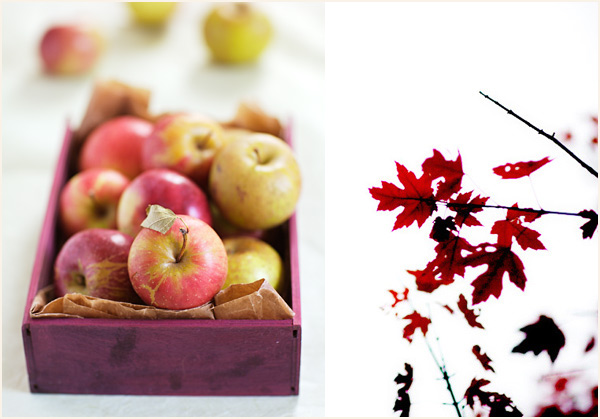 "I don't think you know what an apple tastes like, until you have picked one from a tree, or tasted an organic or a Heirloom one," I recently told P.
I really believe this.
And I know that I am lucky. I grew up with the best apple trees around — eating apples after dinner while watching TV was a highlight for my brother B. and I.
So I don't know about you but today, there will be a few apple tarts around in our house. After going to a Foliage Festival last weekend where I bought delicious Reine des Reinettes, I now have too many delicious apples that need to find a home. And what better thing but treat yourself with an apple tart?
These tarts are really simple to make, *really simple* to eat, so simple that you are allowed to taste every single ingredient, leaving you as light as a feather.
Vraiment ! So if you feel short of dessert ideas, think A. P. P. L. E.
Ideas never fail to pop out, when it is all about gorgeous authentic apples.
I really love the fall!