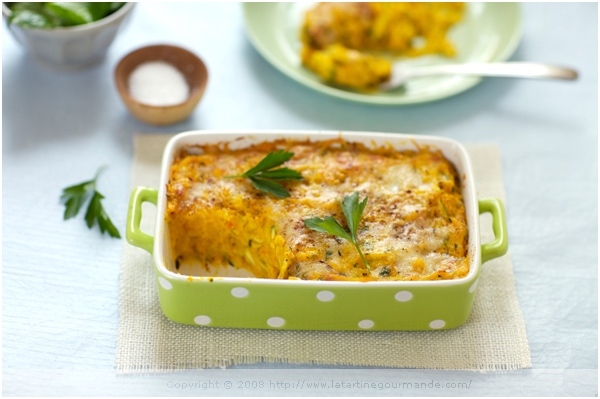 Gratin de potimarron for the Boston Globe
What a day! But let me start with what brings me to chat today.
Winter Squashes? Belonging to the family of les curcubitacés, in French. Do you like this word as much as I do?
I think that if the numbers of winter squashes P. and I eat on a weekly basis is any indication of our love for this fall produce, we might also soon turn ourselves into big orange pumpkins. And in my case, I would more likely be a red kuri squash, un potimarron, in fact. I am convinced that bébé will love them too!
I've used this particular attractive vegetable in soups, desserts, vegetable tarts, cakes, blinis, pancakes, lasagna, risotto, vegetable stews — and gratins.
This recipe was written for the Boston Globe's Food Section published today. It's extremely simple to prepare — you need a lovely red kuri squash (preferably organic), a few potatoes, a zucchini, ricotta cheese, a more flavorful cheese too, and some spices. This gratin is the type of food that makes you connect with the season and the bounty that it has to offer.
Frankly, we are spoiled, and we would be silly to not take advantage of it. And enjoy it.