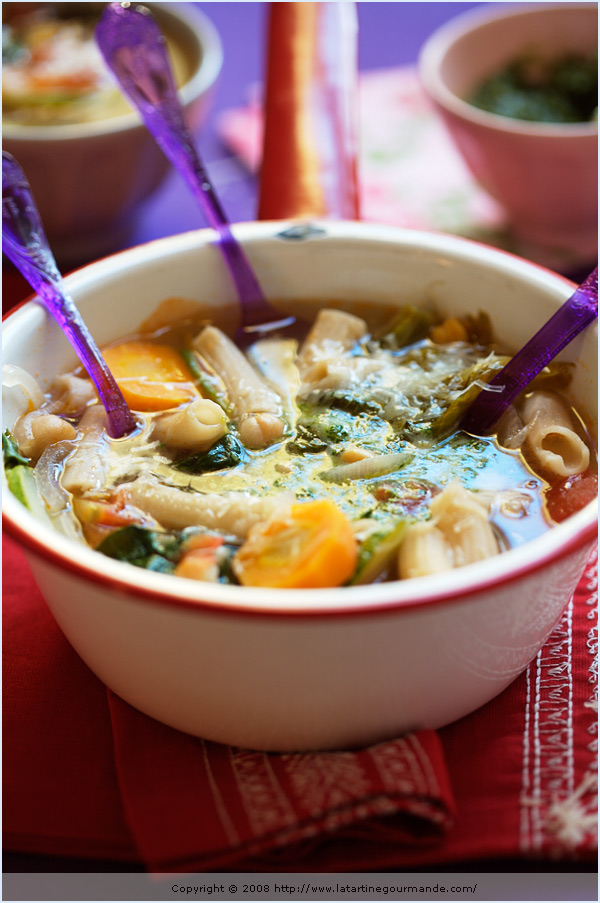 My belly is growing, it's a fact, and every day, bébé's kicks are more repeated — and present. While they started as gentle butterfly-like flutters, they've now turned into "coucou, I am here, see what I can do?" kind of thing. "Bébé est entrain de ranger sa chambre," (the baby is cleaning its room) I jokingly tell P. when a moment is more intense than another. They already follow the natural rhythm of the baby's sleep.
I am more and more fascinated with the changes I go through, and the fact that a baby is actually physically and emotionally growing in me. Truth being said, I never thought about it like this before; I was actually never even too curious about it. Until it happened inside my own belly. The experience made it real, giving me knowledge I lacked before — of what it's like to have a baby. An amazing life event, it is.
With it, of course, I get hungry more often during the day, perhaps at each time bébé seems to be fully awake, busy tidying or dancing — I grow hungry for soup, more particularly. Quite ideal at this time of year, isn't it?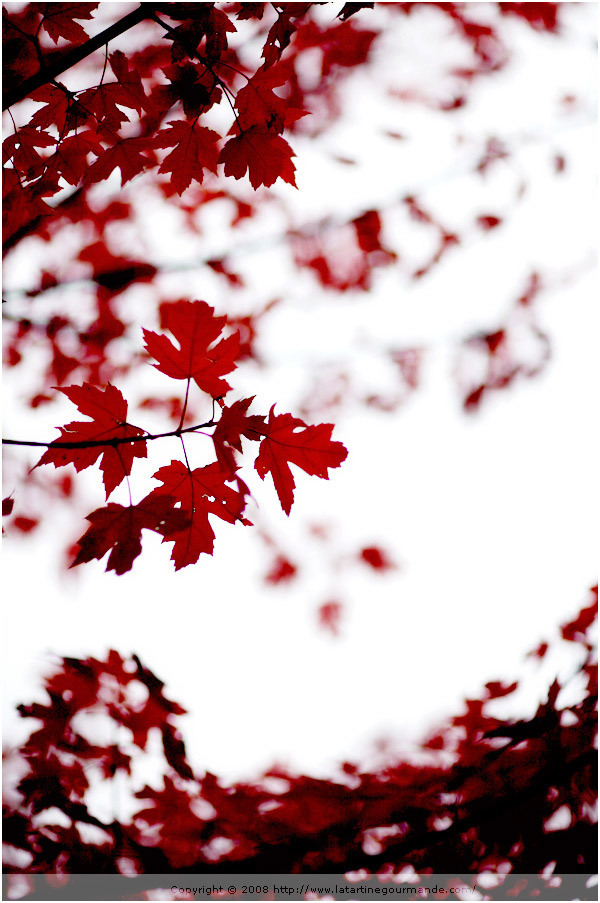 If you've visited my blog for a while now, you will have noticed that I like to make and eat soups. Often. I especially like to eat them with, on the side, a tartine with scrumptious toppings, and a salad. I like the soups nutritious, revealing the flavors of seasonal vegetables, making me feel good throughout the day. When I am short of time, I usually prepare them smooth in texture, making good use of my food processor or a hand mixer then to mix them. It really works like a charm on a busy day.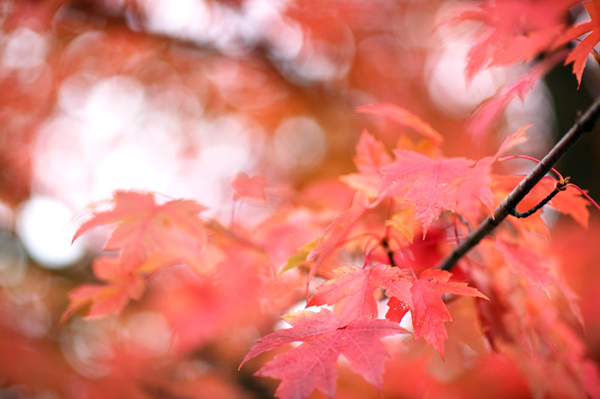 Lately though, the soups I have been craving have been different — more nutritious, if that can be.
I want my soups to give me a complete dish in one bowl. I want them rustic, with many various flavors and chunky pieces, just like a good minestrone.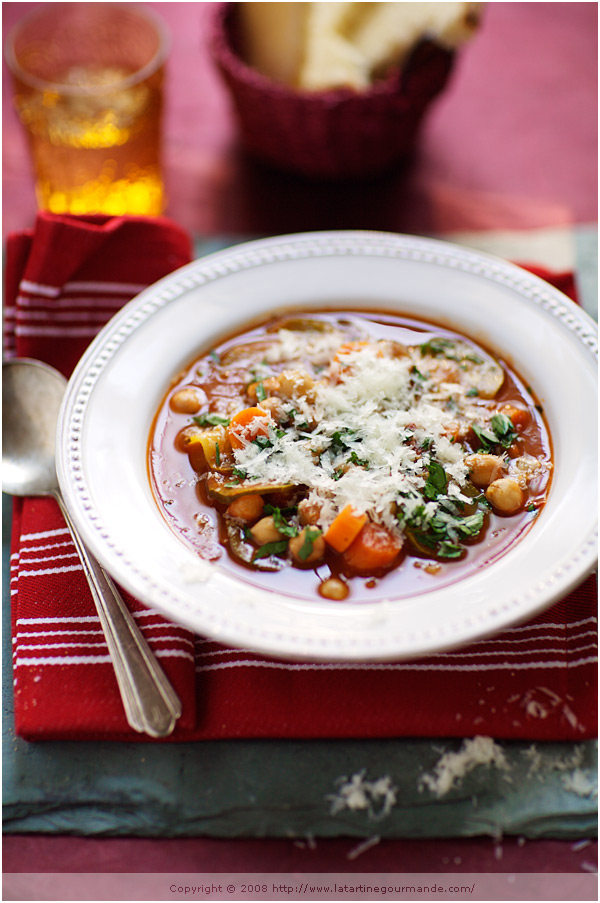 Tomato and Chickpea Soup
"C'est B. qui serait content," I told P. when I made a pot of tomato and chickpea soup for our Sunday lunch, two weeks ago. The soup was rich and tasty, full of nutrients; we enjoyed it with a rustic loaf of crusty bread, and grated cheese melting at the contact of the warm broth.
P. was holding a spoonful to his mouth when he heard me. He stopped his movement to look at me, surprised. Then he added: "Why?"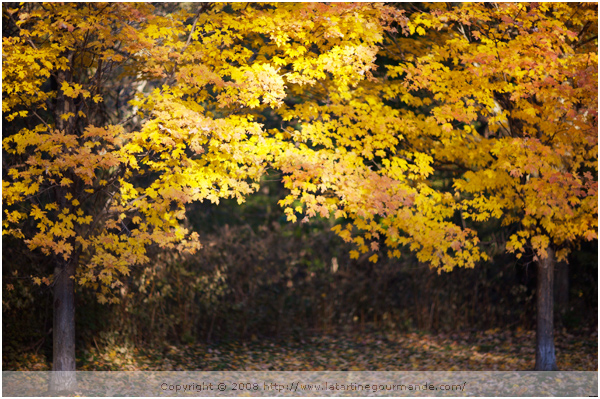 My brother B. does not like smooth soups. He is one of the only people I know who does not care for a creamy velouté or a Vichyssoise. Instead, he wants his soups to have "des morceaux dedans" (chunks inside), like a soupe moulinée, one that you mix with a food mill. His wife and I have never been able to understand the reason why since B. is one of these people that loves everything in food.
But not the smooth soups.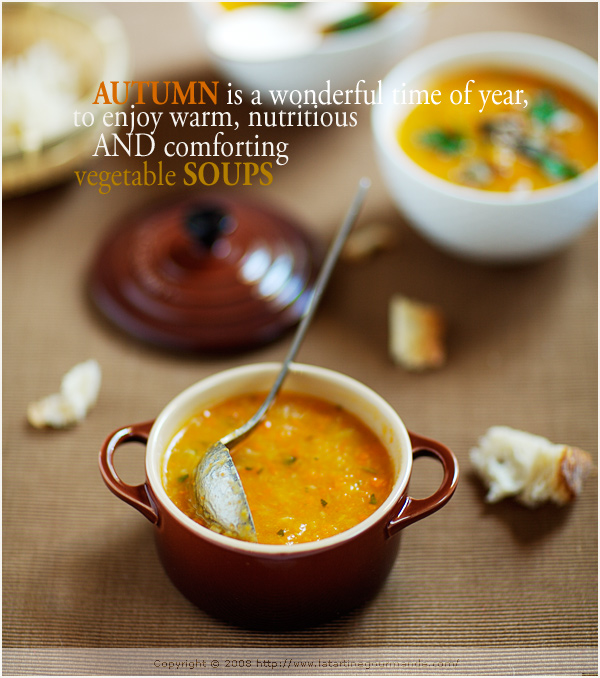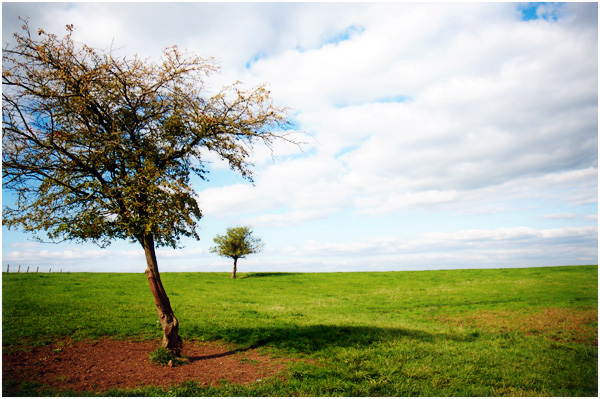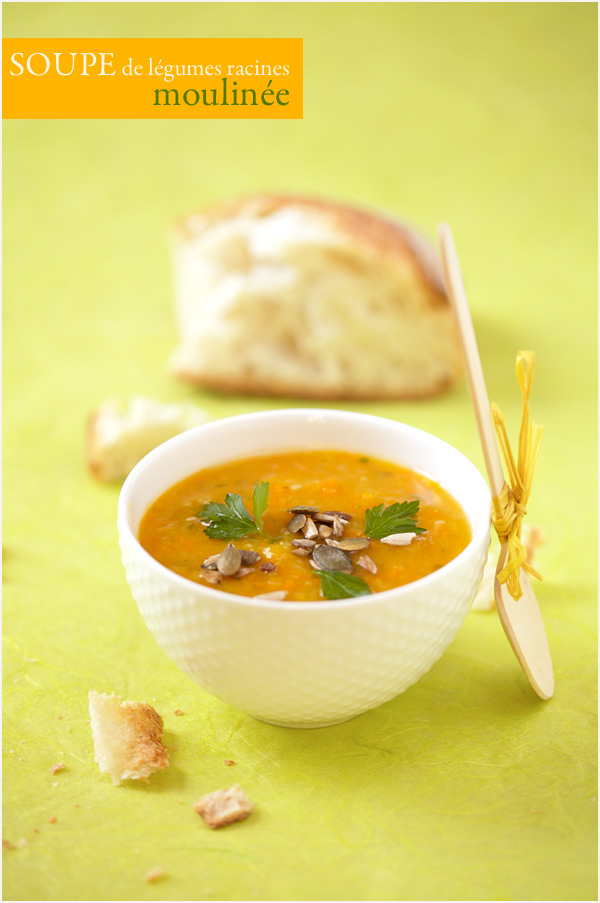 I thought about this again as I was about to make another pot of rustic soup for our lunch a few days ago, and it made me smile. B. would have liked this soup, I thought while imagining what I was going to add to the soup.
First, I started with the preparation of the broth — the backbone of the soup, really. It's really up to you to add the herbs you prefer, the very ones that will bring a specific flavor to your dish. Mine typically has fennel and coriander seeds, as well as fresh herbs like thyme, and a bay leaf. I like to add basic vegetables too, like carrot, leek, parsnip, celery branch, and fennel, some of which are classic components of a vegetable broth. Then, I simply sweat one onion with garlic for a few minutes before adding more vegetables and a can of chickpeas, and to add more structure to the soup, pasta like penne as well. The soup cooked on its own following those simple steps, and simmered for about forty five minutes in total before it was ready. It was simple and nutritious, as I had anticipated.
We enjoyed it with smoked salmon, walnut pesto and grated cheese, eating one large bowl each.
"Ready to go for a walk now?" P. asked laughing when he saw that I was still licking the last bit of broth left at the bottom of my bowl.
"J'en ai besoin!" (I need to) I replied, feeling content — repus, as we say in French. "But let's take a piece of chocolate cake with us!"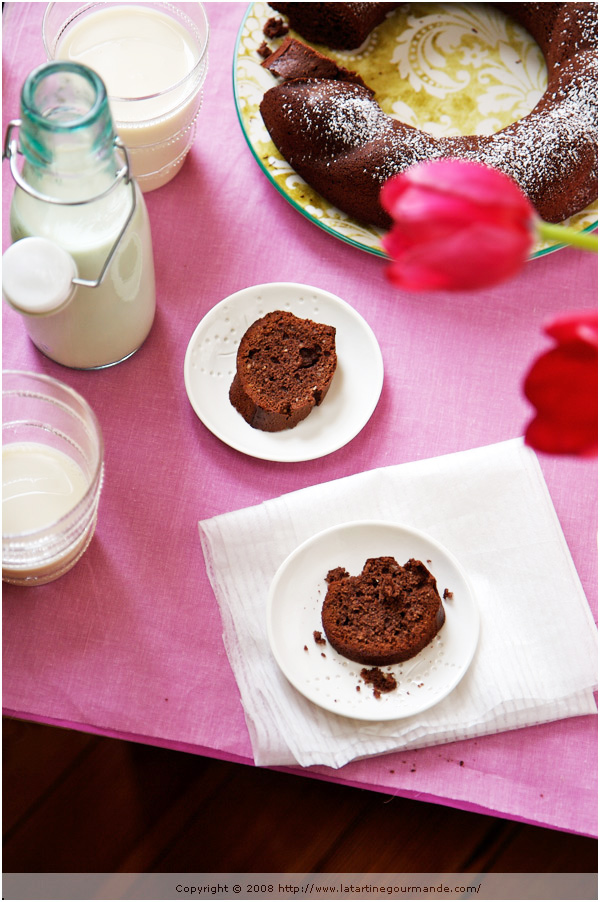 Chocolate and Almond Cake
We always do.
But this time, I blamed it on being pregnant.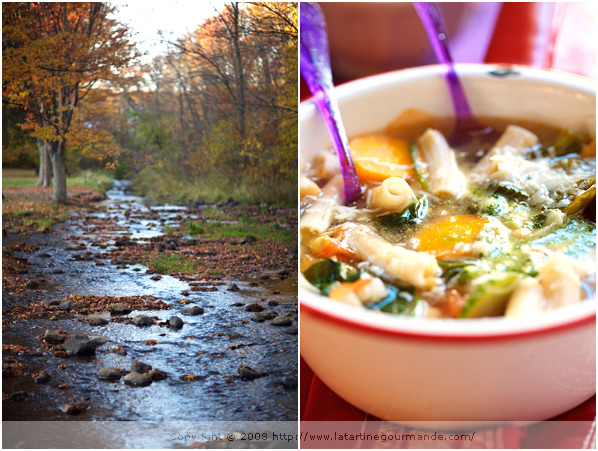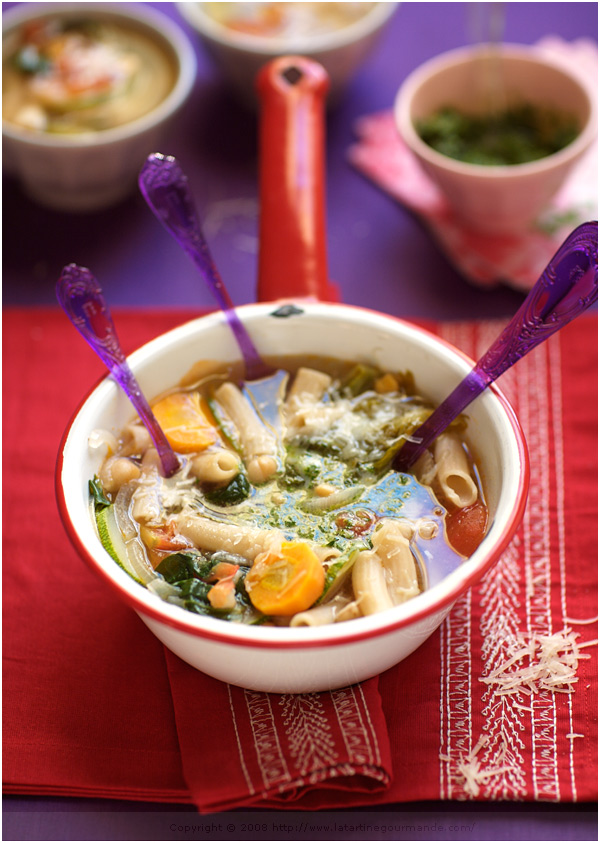 Don't get discouraged by the long list of required ingredients. They are common, and the soup is simple to make.
A Rustic Soup
(For 4 people)
You need:
For the soup broth:
2 tablespoons olive oil
2 garlic cloves
1 yellow onion, chopped
1 leek, chopped
2 celery branches, diced
3 carrots, peeled and diced
1 parsnip, peeled and diced
1 fennel bulb, cut in pieces
1 bay leaf
Bunch of fresh herbs (rosemary, thyme, parsley, according to taste)
1/4 tsp coriander seeds
1/4 tsp fennel seeds
1/8 tsp red peppercorns
8 cups cold water
Sea salt, to taste
For the soup:
2 tablespoons olive oil
1 garlic clove
1 red onion, sliced
1 carrot, peeled and sliced
1 cup dry pasta, like penne — use rice pasta for a gluten free meal
4 tomatoes, blanched, peeled, seeded and diced
1 can chickpeas (15 oz)
1/2 escarole, cleaned and sliced coarsely
1.5 cups spinach leaves
1 zucchini, sliced
2 eggs, lightly beaten
Grated cheese, parmesan or pecorino
Fresh parsley, to serve
*Walnut and parsley pesto, to serve
4 slices of smoked salmon, diced
Steps:
For the vegetable broth, look at this post following the same steps, but using the ingredients listed above.
To prepare the soup, take a cocotte and heat 2 tablespoons olive oil. Add the onion and cook for 3 minutes before adding the garlic. Cook for an extra minute.
Add the carrot and tomatoes. Cook for 2 to 3 minutes before adding the escarole. Cover with the broth, add the chickpeas and simmer for 20 minutes.
Add the penne and continue to cook until the pasta is al dente — time varies according to the pasta chosen.
Five minutes before the end, add the zucchini, spinach and the eggs — make sure to pour the eggs slowly, in a thin stream.
Season to taste. Divide the smoked salmon between the four plates, and pour the hot soup over. Serve with the walnut pesto, grated cheese and fresh parsley.

*Walnut and Parsley Pesto: in the bowl of a mixer, add 2 tablespoons of walnuts, 1 garlic clove, 1 lemon zest finely grated, 1 heaped cup of flat parsley, 1/3 cup of grated pecorino and 2 tablespoons of walnut oil; mix well. Season with salt and pepper.
Le coin français
Soupe rustique
(Pour 4 personnes)
Ingrédients :
Pour le bouillon :
2 càs d'huile d'olive
2 gousses daïl
1 oignon, haché
1 poireau, haché
2 branches de céleri, hachées
3 carottes, pelées et coupées en gros morceaux
1 panais, pelé et coupé en gros morceaux
1 bulbe de fenouil, coupée en gros morceaux
1 feuille de laurier
Une grosse poignée d'herbes fraiches (romarin, thym, persil, selon goût)
1/4 càc de graines de coriandre
1/4 càc de graines de fenouil
1/8 càc de baies roses
Un peu moins de 2 litres d'eau froide
Sel de mer
Pour la soupe :
2 càs d'huile d'olive
1 gousse d'aïl
1 oignon rouge, émincé
1 carotte, pelée et coupée en rondelles
100 g de pâtes non cuites, comme des penne — utilisez des pâtes faites à base de riz pour un repas sans gluten
4 tomates, blanchies, pelées, épépinées et coupées en morceaux
1 boîte de pois chiches (425 g)
1/2 scarole, nettoyée et coupée grossièrement
1 grosse poignée de feuilles d'épinards
1 courgette, coupée en rondelles
2 oeufs, battus légèrement
Fromage râpé, parmesan ou pecorino, pour servir
Persil frais haché, pour servir
*Pesto de noix et de persil, pour servir
4 tranches de saumon fumé, coupées en dés

Pesto de noix et de persil : dans le bol d'un mixeur, ajoutez 2 càs de noix, 1 gousse d'aïl, une grosse poignée de persil plat, le zeste d'un citron finement râpé, 30 g de pecorino râpé et 2 càs d'huile de noix; mixez le tout. Assaisonnez de sel et de poivre.
Etapes :
Pour le bouillon de légumes, consultez ce billet en suivant les mêmes étapes, mais en utilisant les ingrédients listés ci-dessus.
Pour préparer la soupe, prenez une cocotte et faites chauffer 2 càs d'huile d'olive. Faites suer l'oignon pendant 2 à 3 minutes, puis ajoutez l'aïl — poursuivez la cuisson pendant 1 minute.
A ce stade, ajoutez les carottes et les tomates. Cuisez pendant 3 minutes avant d'ajoutez la scarole et les pois chiches. Couvrez de bouillon de légumes et laissez mijoter à couvert pendant 20 minutes.
Ajoutez ensuite les pâtes et poursuivez la cuisson, le temps requis pour que les pâtes soient al dente.
Cinq minutes avant la fin, ajoutez les rondelles de courgette, les épinards et les oeufs — versez ces derniers doucement en filet.
Assaisonnez selon goût. Divisez le saumon fumé entre les quatres assiettes, et versez la soupe dessus. Servez avec le pesto de noix, du fromage râpé et du persil haché.