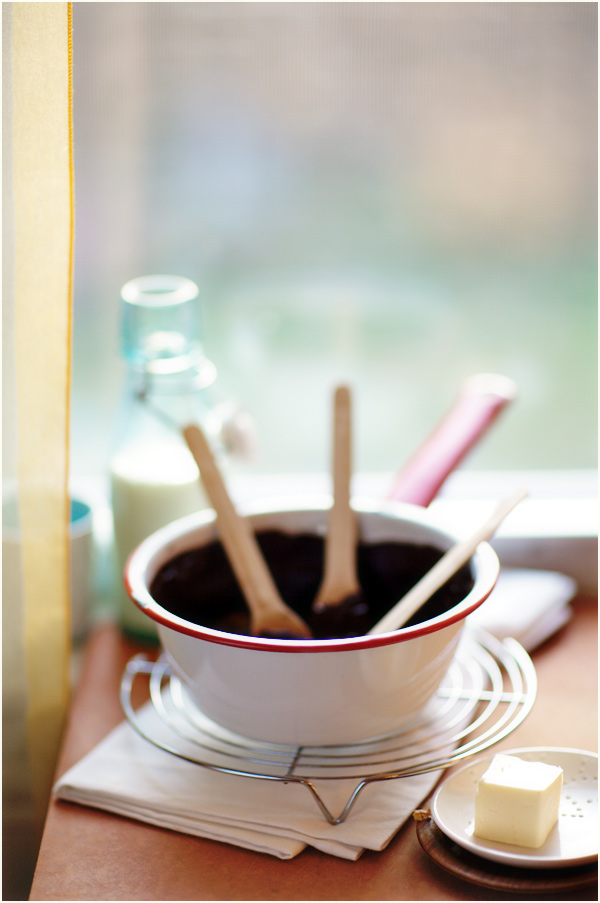 Baking with Dark Chocolate
"What's this nice smell?" P. asked as soon as he opened the front door, coming back from the grocery store. "You've been baking!"
I had indeed.
I had not planned to bake during the weekend though, but then I kept imagining the taste of chocolate in my mouth. For sure, with many other things, bébé will have to love chocolate, dark more precisely.
At least this is what I hope.
My friend K.'s lovely daughter does; she started to develop this strong liking when she was only a toddler. She used to call dark chocolate the adult chocolate.
I used to smile each time I heard her say that, with her mouth and fingers covered with melted chocolate. After all, it is all a question of taste, even if I am still going to praise dark chocolate versus the others.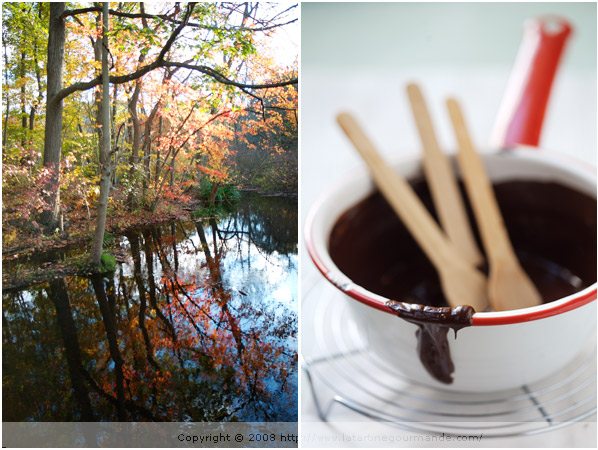 So I gave in to the craving and baked a chocolate cake. A very simple chocolate cake using some of the 1 kg piece of Valrhona chocolate Akiko and Pierre kindly gave us during their recent visit, homemade applesauce flavored with vanilla, and buckwheat and hazelnut flours. Out of curiosity, to see what taste I would end up having, and also because buckwheat* flour, like quinoa flour, is full of protein and rich in iron, amongst many other fantastic nutrients (like rutin and zinc). Then, since I also had recently ordered a bag of Valrhona's Grué de cacao (cocoa nibs), I added 2 tablespoons of those as well.
Note that unlike its name suggests, buckwheat is not related to wheat, and is a gluten free product, for people sensitive and intolerant to gluten.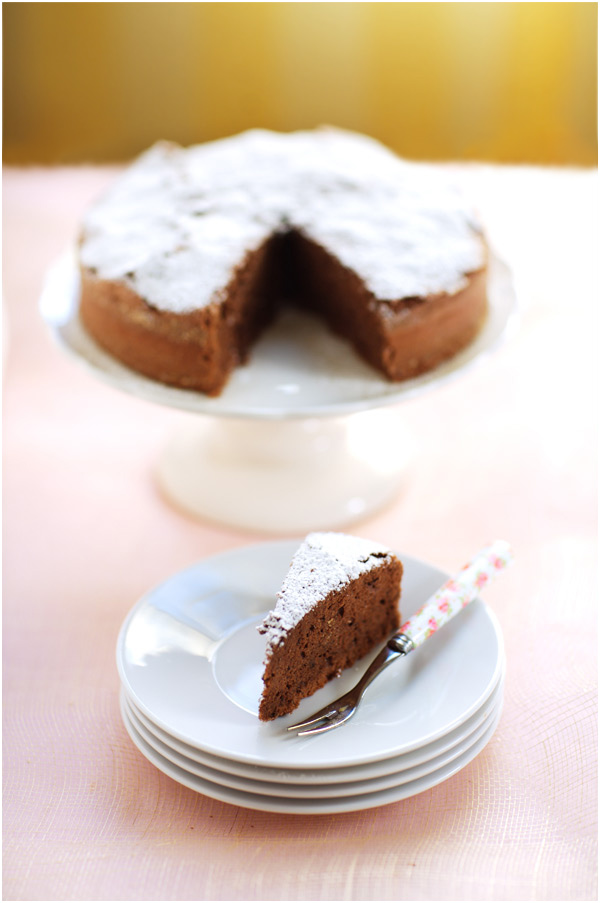 The cake did not disappoint. In fact, I loved everything about it. It was extremely moist in texture, with a strong taste of dark chocolate hued by the addition of apple compote, with also just the right amount of sugar to my liking — I tend to not like cakes too sweet. And to finish, a discreet nutty touch came through, complementing the dark chocolate perfectly.
In the end, I was quite glad I had decided to bake, even if the cake did not last for very long. Then, it was really hard to with P. and I always finding clever excuses to have another slice, a few times during the entire weekend.
Hopefully, you will enjoy it as much as we all did in our household.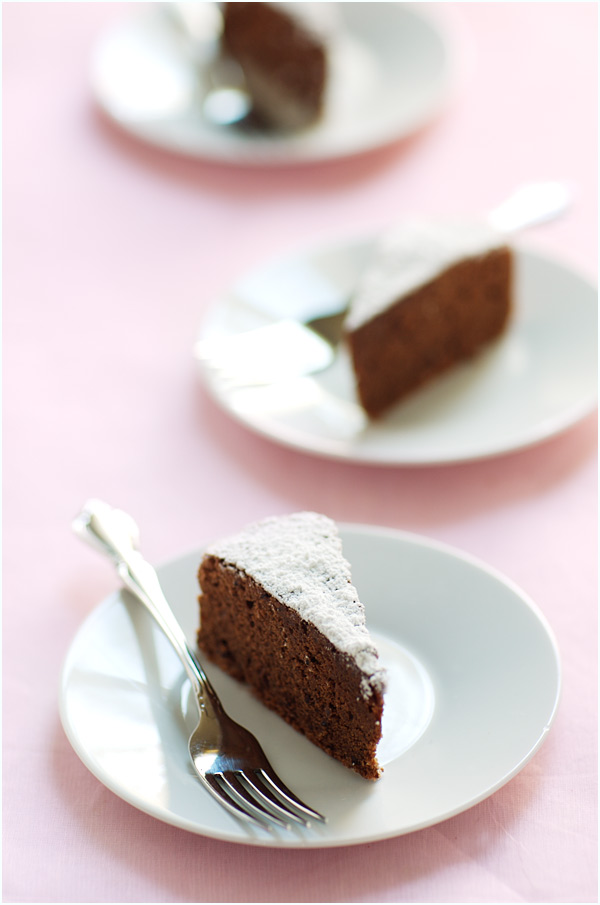 Dark Chocolate Cake with Buckwheat, Hazelnut and Applesauce
A Chocolate Cake with Buckwheat, Hazelnut and Applesauce
You need:
4.5 oz dark chocolate, 61 % cocoa, Valrhona noir
3.5 oz unsalted butter
4 eggs
1/3 cup blond cane sugar+ 1 tablespoon for the egg whites
3 leveled tablespoons light muscovado sugar
1/3 cup homemade applesauce
1/3 cup hazelnut flour
1/3 cup quinoa flour
1/3 cup buckwheat flour
2 tablespoons cocoa nibs (optional)
Pinch of salt
Confectioner's sugar, to serve (optional)
Steps:
Preheat your oven at 350 F. Grease an 8-inch mold. Place a piece of parchment at the bottom, and dust the sides with flour, and tap the excess out.
Beat the egg yolks with the two sugars until white in color.
Add the applesauce; set aside.
In the meantime, put the chocolate and butter in a bowl, and place the bowl over a pot of simmering water. Cook until melted. Let cool slightly.
Combine the chocolate/butter to the egg yolk/sugar mixture.
Add the flours and cocoa nibs if using and mix.
In a separate bowl, beat the egg whites firm with a pinch of salt. When they are almost done, add 1 tablespoon sugar and continue to beat for 45 seconds, until firmer.
Fold the egg whites into the chocolate preparation in 2 times, making sure not to deflate the batter.
Pour into the mold, and bake for about 30 minutes, or until the blade of a sharp knife inserted in the middle comes out almost entirely dry. Take the cake out of the oven and let it cool on a rack. Run a knife around the edges to release the cake, if necessary. Unmold and let cool. When serving, dust with confectioner's sugar.
Le coin français
Gâteau au chocolat au sarrasin, noisettes et compote de pommes
Ingrédients :
125 g de chocolat noir à 61% de cacao (Valrhona noir)
100 g de beurre non salé
4 oeufs
70 g de sucre de canne blond + 1 càs pour les blancs en neige
3 càs rases de sucre roux de canne Muscovado (couleur blonde)
125 g de compote de pommes maison (125 g)
30 g de farine de noisettes
40 g de farine de quinoa
40 g de farine de sarrasin
2 càs de grué de cacao (facultatif)
Pincée de sel
Sucre glace, pour saupoudrer (facultatif)
Etapes :
Préchauffez le four à 180 C. Beurrez un moule à manqué de 20 cm. Mettez un morceau de papier sulfurisé rond au fond et farinez les bords du moule; enlevez l'excédent de farine en tapotant sur le moule.
Dans un bol, ou en utilisant un mixeur, battez les jaunes d'oeuf avec les deux sucres jusqu'à blanchiment.
Ajoutez la compote de pommes, et mélangez.
Pendant ce temps, faites fondre le beurre avec le chocolat au bain-marie. Laissez un peu refroidir.
Ajoutez le mélange chocolat/beurre à la préparataion oeufs/sucre.
Ajoutez ensuite les farines, sans trop travailler la pâte et le grué de cacao, si vous en utilisez.
Dans un autre bol, montez les blancs en neige avec une pincée de sel. Une fois qu'ils sont presques fermes, ajoutez 1 càs de sucre pour les serrer davantage.
Ajoutez délicatement cette neige à la préparation au chocolat, en deux fois, en prêtant attention à ne pas faire tomber la masse.
Versez dans le moule et enfournez pendant environ 30 minutes, jusqu'à ce que la lame d'un couteau insérée au milieu en ressorte presque entièrement sèche. Sortez le gâteau du four et laissez-le refroidir sur grille avant de le démouler — si nécessaire, passez une lame de couteau autour des bords pour mieux le démouler. Au moment de servir, saupoudrez de sucre glace.