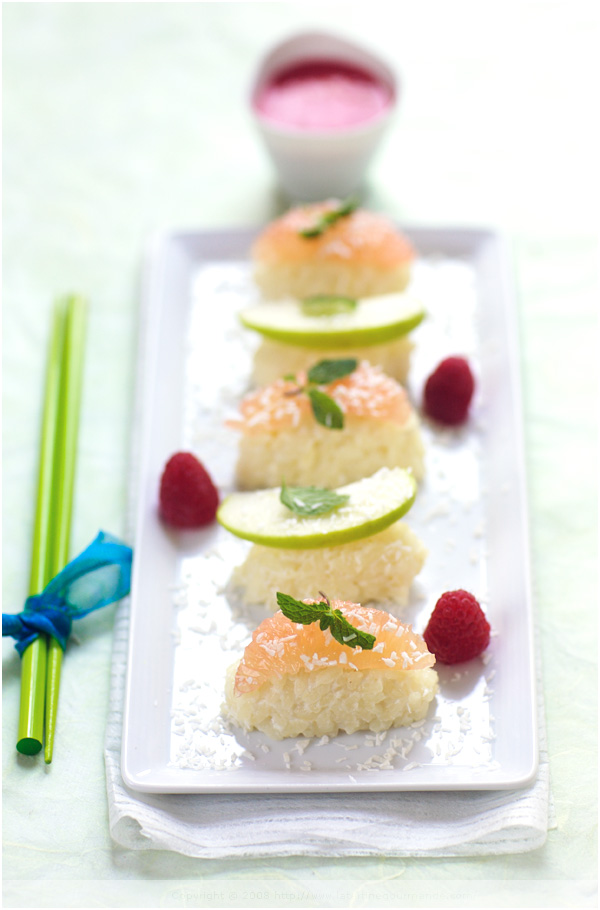 Fruit Sushi
I need to run after time so that I can finish the zillion of things before bébé arrives. And surely this new life stage is coming faster than we can imagine. I am sure that it might well be the case for you too, even if there isn't any bébé in the making and planning — but I know that there is for some of you who kindly left notes in this space before!
Then, there is Thanksgiving arriving so fast! You agree, don't you? This year, my friend R. asked that I were in charge of preparing dessert and the appetizer for the dinner he is hosting. I am excited: R. is a great cook and loves to entertain. Yesterday, we tested my dessert idea and I must say, we all really liked it. Perhaps not a traditional Thanksgiving dessert. Not at all in fact but then, I think I will be forgiven as the dessert has chocolate in it, and it feels tout tout léger (very light). Si, si, believe me! I will show you and you can tell me what you think.
But after this chocolate coma though, I thought that it could be nice to go for a change and enjoy something fruity.
You know that P. loves rice pudding, don't you? The whole Irish family does. Preferably eaten warm, as P.'s mum likes to add.
I do too.
So I started a rice pudding recipe. It used lemon zest and lemon extract. But in the end, I turned the dessert into fruit sushi: a simple, fresh, and pleasing way to finish our meal. We ate it lukewarm, because we prefer it this way.
"What are you doing?" my mother-in-law asked when I called her at noon to wish her a happy birthday.
"Rice pudding," I said.
"Oh, so tempting! she exclaimed enthusiastically. I knew that she was going to like the idea.
A few hours later, as I was driving P. and I back from a class, he decided to call her to wish her a happy birthday too. We stopped at the red light and I heard a pause in their conversation. Then, P. looked at me and smiled: "she is making rice pudding!"
This kind of dessert is always a winner in their family.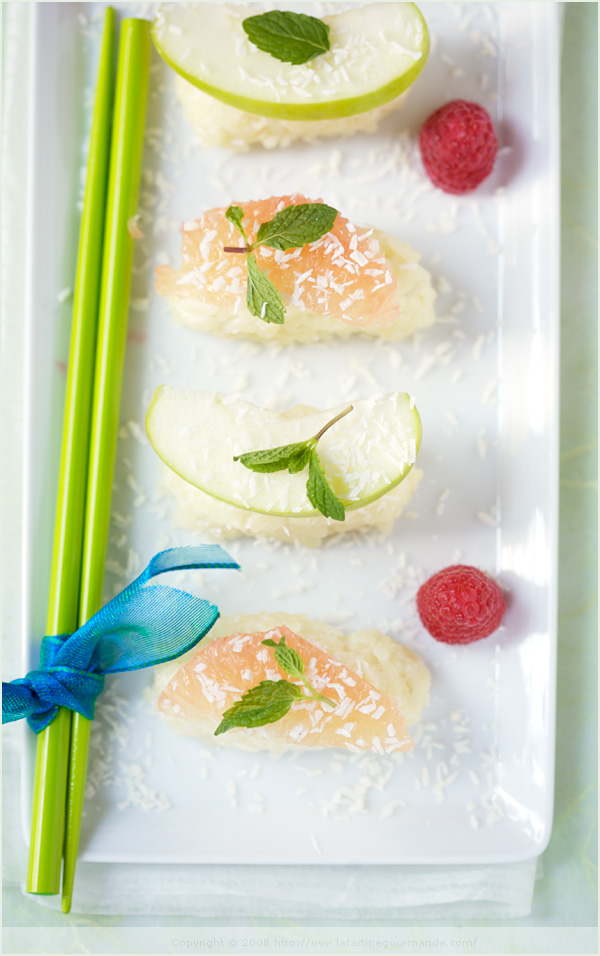 Fruit Sushi
(For about 10 sushi)
You need:
2 cups + 2 tablespoons whole milk*
8 tablespoons risotto rice
Zest of 1 organic lemon
1/2 teaspoon pure lemon extract
2 to 3 tablespoons blond cane sugar, or more, according to taste
1 organic green apple, cored and sliced (squeeze some lemon juice on top to prevent discoloration)
1 pink grapefruit, white membrane removed and sliced
Fresh mint leaves
Grated coconut
Steps:
Rinse the rice under cold water.
In a pot, heat the milk* with the lemon zest and extract.
When it reached boiling point, pour the rice in it and reduce the heat. Simmer, stirring once in a while, for about 20 minutes, or until most of the liquid is absorbed.
Add the sugar to taste and mix. Let cool, stirring occasionally.
With the palms of your hands (run them under water to make the task easier), shape small sushi. I prefer to eat them lukewarm, so if necessary, reheat them gently. Place a slice of fruit on each, apple or grapefruit, or mango if it is the season.
Sprinkle with grated coconut and add a leaf of mint. Serve with raspberry sauce. Light and fresh, for anyone loving rice pudding.

*You can also substitute milk with coconut milk, if you like.
Le coin francais
Sushi de fruits
(Pour environ 10 sushi)
Ingrédients :
500 ml de lait entier*
100 g de riz à risotto
1 zeste de citron bio
1/2 càc d'extrait de citron naturel
2 à 3 càs de sucre blond de canne, ou plus, selon goût
1 pomme verte bio, évidée et coupée en tranches fines (citronnez-les pour éviter leur discoloration)
1 pamplemousse rose, pelé à vif et découpé en tranches
Feuilles de menthe
Noix de coco râpée
Etapes :
Rinsez le riz sous de l'eau froide.
Faites chauffer le lait* dans une casserole avec le zeste de citron et l'extrait de citron.
Une fois qu'il bout, ajoutez le riz en pluie, réduisez le feu, remuez et faites cuire à feu doux, environ 20 minutes, jusqu'à ce que presque tout le liquide soit absorbé.
Ajoutez le sucre, mélangez et goûtez, puis laissez refroidir, en remuant de temps à autre.
Faconnez de petits sushis avec la paume de vos mains (passez-les sous de l'eau entre chaque sushi pour faciliter la tâche). A ce stade, je préfère que les sushis soient encore tièdes (au besoin les réchauffer doucement) — à vous de choisir. Couvrez chaque sushi avec une tranche de fruit, pomme ou pamplemousse, ou mangue quand c'est la saison.
Saupoudrez de noix de coco. Décorez chaque sushi avec une feuille de menthe, et servez avec un coulis de framboises maison. Tout frais, tout léger.

*Vous pouvez aussi remplacer le lait par du lait de coco, si vous le souhaitez.