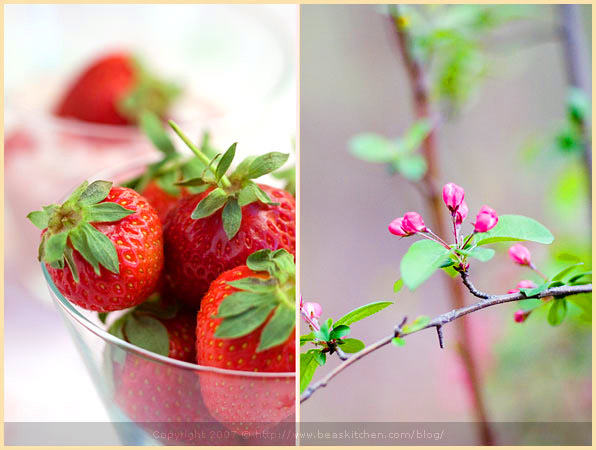 A few weeks ago, P. and I had an unusually quiet Sunday at home, of the kind that made us search for activities in the afternoon. Des trucs à faire ! Despite the fact that we had had a hearty breakfast — as we always do — followed quite soon by a more than satisfying lunch, by 4 pm or so, P. told me: "J'ai faim" (I am hungry).
"Ben mange un morceau de fromage avec du pain," I suggested, even if I knew that this was not going to do anything to him. I felt as if I was talking like my mother! Bread and cheese? Perhaps I was more thinking of what I would have eaten had I suffered from a similar craving. "What about an apple or a banana?" I went on, enthusiastically. By looking at him I knew that I had to think about something more clever. This was obviously not doing anything to him. Boring!
"Et, tu dis quoi de riz au lait avec des fraises ?" (What do you say about rice pudding with strawberries?)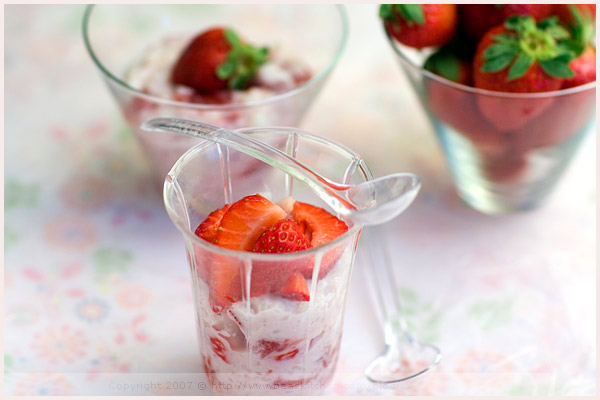 He looked back at me swiftly, his whole face suddenly lit by an enormous smile. In fact, I knew it before even saying it. I know him that well. But then, this does not require too much thinking because this is how much P. likes any types of puddings when they use rice and milk.
And why not after all!
Rice puddings are deliciously smooth and really easy to make, can be flavored as you like — with vanilla or cardamom, as examples. Served with cooked and fresh strawberries, this sweat treat is excellent, no matter what time of the day, à quatre heures or as a real dessert. Il n'y a pas d'heure pour en manger ! (there is no special time to eat rice pudding).
Try it, come on! You will be surprised! Strawberry season is still with us, profitons-en !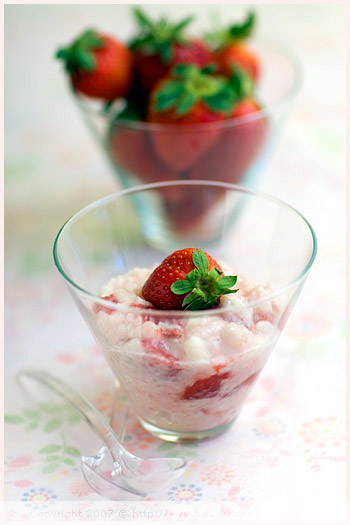 Strawberry Rice Pudding
Strawberry Rice Pudding
(For 4 people)
You need:
6 tablespoons risotto rice, Carnaroli or Arborio
2 full cups whole milk, (or half soy milk, half unsweetened coconut milk)
10 green cardamom pods
10.5 oz strawberries, hulled
1 tablespoon lime juice (optional)
1/2 cup blond cane sugar + 2 tablespoons
1/8 cup water
Grated coconut (optional)
Steps:
In a small pot, dissolve 1/2 cup sugar with the water and bring to a gentle boil.
Wash and dice half of the strawberries. Add them to the syrup with four cardamom pods and the lime juice. Simmer on low heat for about fifteen minutes. Let cool and remove the cardamom pods.
In the meantime, rinse the rice under cold water.
Bring the milk to a first boil with 6 cardamom pods and then slowly pour the rice in. Reduce the heat, cover and simmer for 30 minutes, or until the rice is cooked but stays al dente. Remove the cardamom pods and mix in the rest of the sugar. Let slightly cool in a bowl.
When the cooked strawberries are cooked, mix them with the rice (or serve the rice and top with the cooked strawberries.)
Add the remainder fresh strawberries, sliced. Serve with grated coconut if you like.
Le coin français
Riz au lait aux fraises
(Pour 4 personnes)
Ingrédients :
80 g (6 càs) de riz à risotto, Carnaroli ou Arborio
500 ml de lait entier (ou moitié lait de soja, moitié lait de coco non sucré)
10 capsules de cardamome verte
300 g de fraises
1 càs de jus de citron vert
100 g de sucre de canne blond + 2 càs
30 ml d'eau
Noix de coco râpée (facultatif)
Étapes :
Dans une casserole, faites dissoudre 100 g de sucre avec l'eau, et amenez à ébulition.
Lavez les fraises et coupez la moitié en dés. Ajoutez-les au sirop avec quatre capsules de cardamome, et le jus de citron vert. Cuisez sur feu doux pendant 15 minutes. Laissez refroidir puis retirez la cardamome.
Pendant ce temps, rinsez le riz sous de l'eau froide.
Amenez le lait à première ébullition et ajoutez le riz en pluie, avec le reste de cardamome. Réduisez la température et cuisez le riz sur feu doux, à couvert pendant 30 min. Retirez les capsules de cardamome et ajoutez le reste de sucre. Laissez refroidir dans un bol.
Une fois les fraises cuites refroidies, mélangez-les délicatemen au riz.
Ajoutez le reste de fraises coupées en tranches. Servez, avec de la noix de coco râpée si vous le souhaitez.