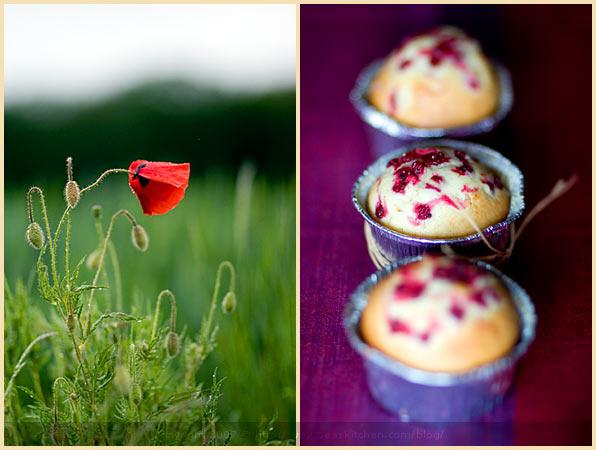 Red Currants Cakes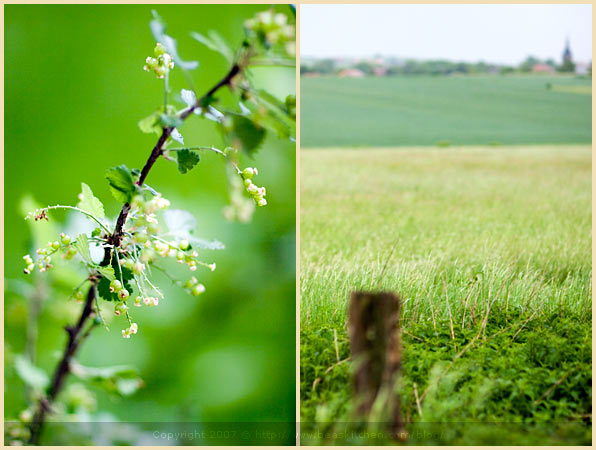 Red Currants in my Mum's Garden
It sounds easy for me to talk about of my parents' rituals, as if I was foreign to them. Because truth being said, you will guess that I am not better than anyone else. I also have my own, well-anchored as it turns out whenever I come back to my home village in Lorraine. Chez moi. My friends laugh when I tell them about my village. Ah, le village de Béa ! Not that they think it is either funny ahaha or funny weird. Simply funny because of its odds and predictability. They also have quickly understood that I am proud of mon village, all the more nowadays when I am able to visit only once in a while. No matter how long ago I left, I am remembered as if I had hardly left, referred to as la fille de Jean et de Véronique Peltre when meeting someone I do not know. The France where I grew up is a place of quiet rural villages surrounded by open fields, wild thick forests with many ponds nearby, winding hilly roads and small communities where people stay, from generation to generation, and where everyone knows almost everyone in the surrounding villages. Some people love this openness and some hate it. Me? I have to admit, I miss it, somehow. While living far away, I have witnessed my sense of belonging grow.
When I thought to come back this May, the decision had been made rather spontaneously. I am lucky to be able to travel this way — and could easily get addicted to it and who wouldn't? I was also convinced that one of the first things that I would do after a good night sleep was going to take a long walk by the village, so as to feel the space of the place once again. My ritual. And you know, it did not fail. I am predictable too.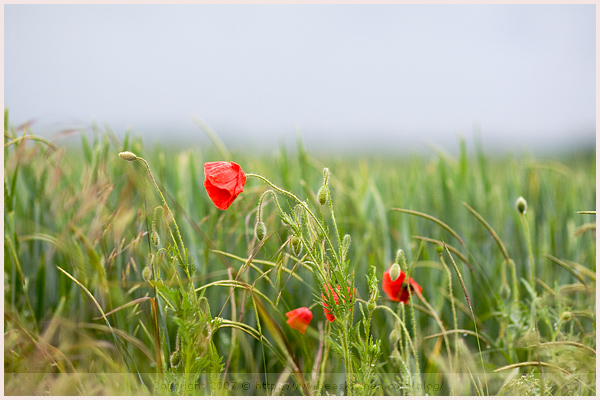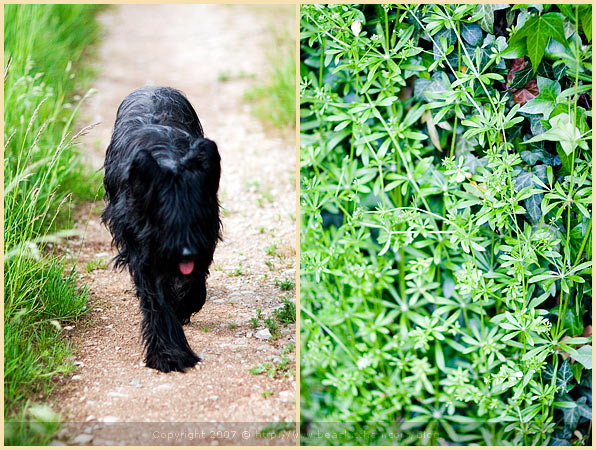 Kéa
"Je vais faire le petit tour," I told my mum after changing in more comfortable clothes. I did not need to say more. She knew that I meant the walk along the short five kilometer path running up the hill outside the village that leads to an even smaller village, Torcheville. Le grand tour would have taken me for five more kilometers, and we have naturally nicknamed both walks this way. "Mais tu as vu qu'il pleut ?" (Did you see it was raining?) she replied, quite surprised. I did not really care. I was eager to see whether anything had changed since my last visit, in October. I must have run on this road hundreds of times. Would Monsieur M.'s pigs still be there? What about the cows I am used to seeing in Monsieur Y.'s paddock, with which I always have a chat — and feel thankful that no one is around to overhear. I wanted to check how big canola, barley and wheat crops were, and whether I would find poppies. While walking along the path, I could notice that everything was there the way I had expected.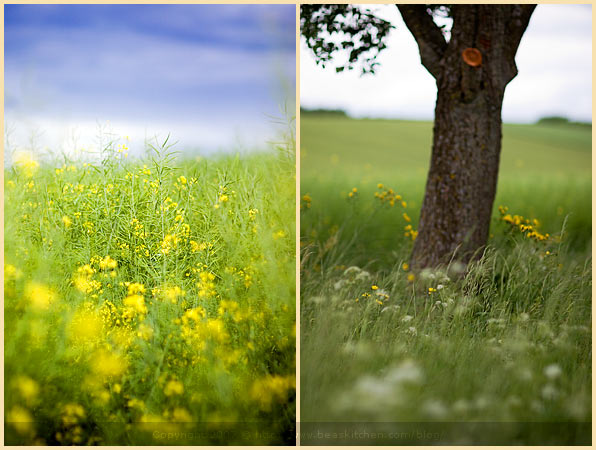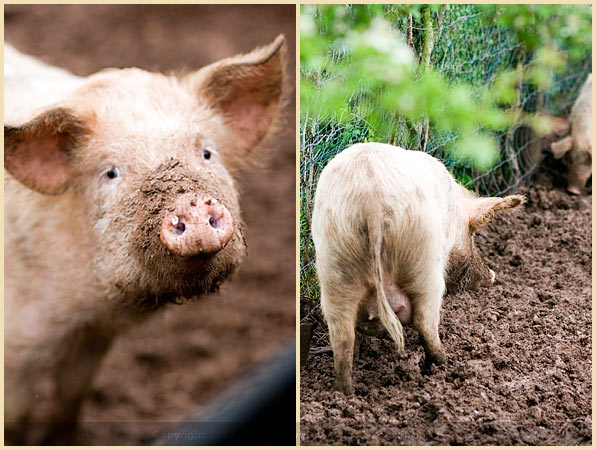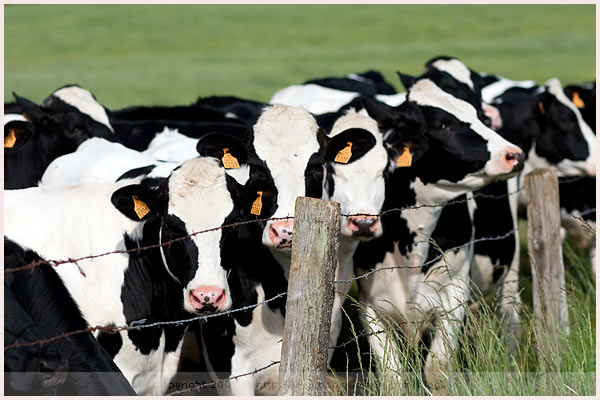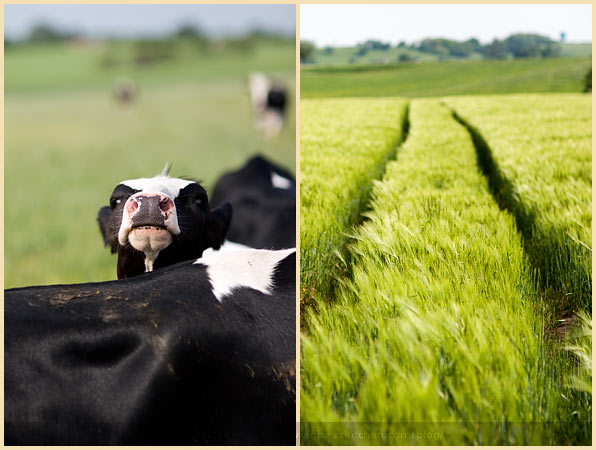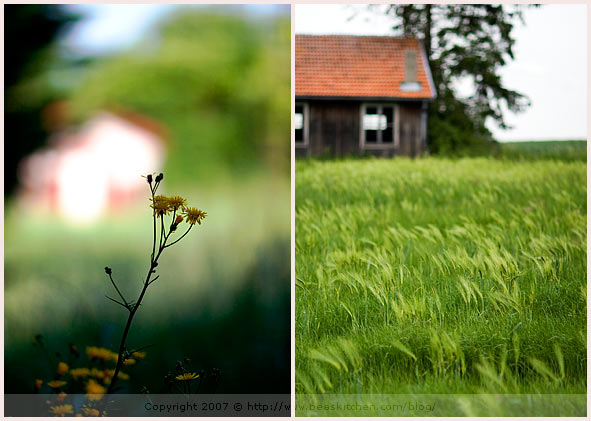 A visit to my brother and his wife G.'s funky-looking house in the village, their orchard and garden reminded me of the strong attachment they have for our terroir (soil). Even if I tried hard, I would be unable to identify the hundreds of flower varieties B. grows with a care that I am envious of. He constantly has new projects and I wonder sometimes why he has never become a professional gardener. Mind you, he is just as skilled as a carpenter, and this is also not his profession. With my camera in hand, I felt like spending hours there, walking between the numerous vegetable gardens he maintains in different places according to sun exposure, and observing the fragrant herbs and young vegetables already planted for the coming year. "Ce sont des tomates anciennes," he told me when I pointed at a small wooden sign my sister-in-law had secured in the soil, with Heirloom tomato names hand written by her on them, to remember the different varieties. "Quoi ? Ananas ?" (what? Pineapple?) I asked, puzzled. "These are tomatoes that have the shape of a pineapple," B. replied. Of course.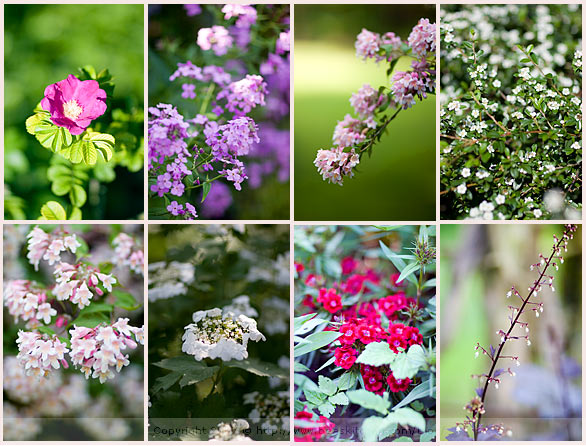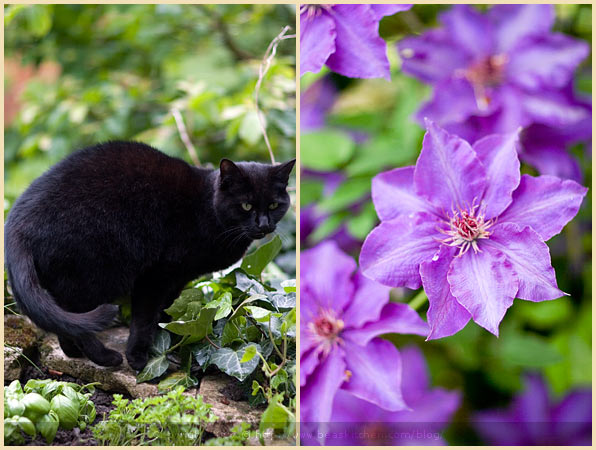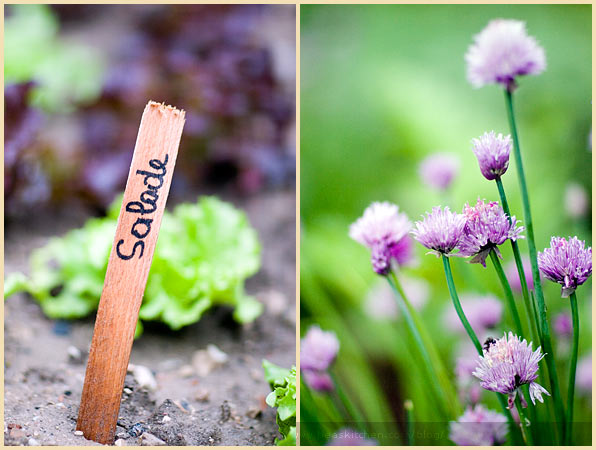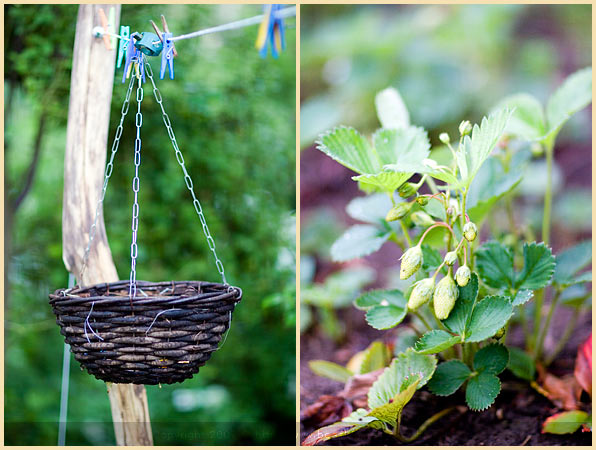 "Tu as du lait ?" (do you have milk?) I asked my mum after dinner, on the first night home.
"Oui."
"Et de la vanille ?" (And vanilla?), I continued.
My mum shook her head and looked at me funny. "Tu es folle," she replied. (You are crazy) "Tu vas faire cela à cette heure-là ?"
No matter how late, I was suddenly feeling an uncontrollable craving for oeufs à la neige (snow eggs). I could not get the thought of dipping my large spoon in a homemade vanilla-flavored crème anglaise out of my head. My luck! My mum had everything for me to make one, or two if I wanted more. It would be so fast and easy to make. And so satisfyingly good too, transporting me to past times when we used to eat them rather greedily. You do this too right, when you visit home?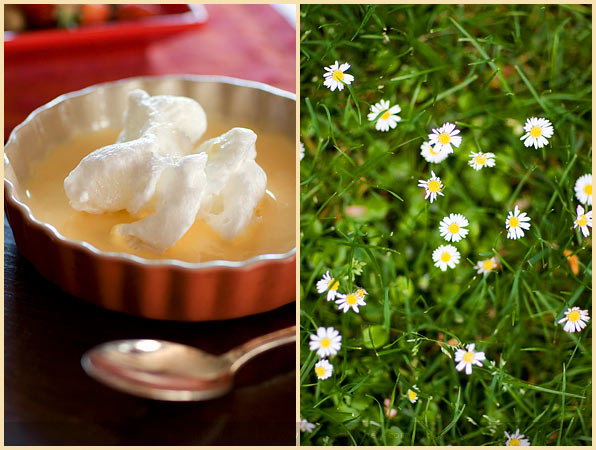 Snow Eggs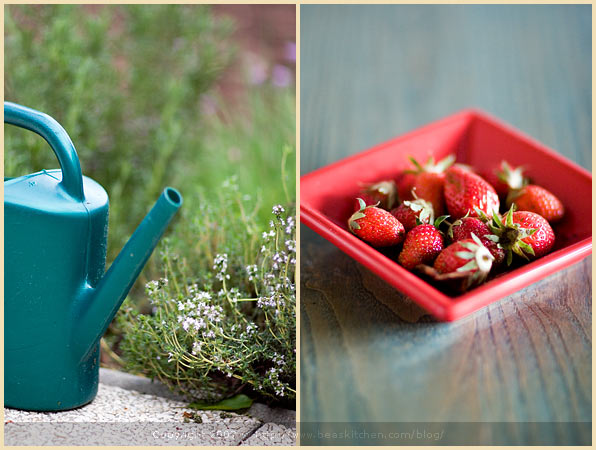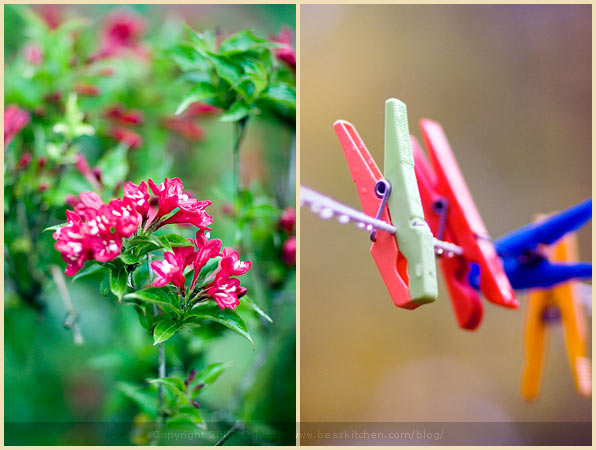 Another day, I drove to the next town to have a glimpse of the weekly Thursday vegetable market, keen to find local seasonal produces. The cherries were a bit pricey but I could not resist the first local ones. My parents' cherry trees are so full this year that I know I will be jealous of all the fruit they will preserve and, I am convinced, not know what to do with. The asperges blanches d'Alsace (white asparagus from Alsace region) were also inviting and my mum promised to buy some for the upcoming Sunday lunch. Rhubarb was present on every single display.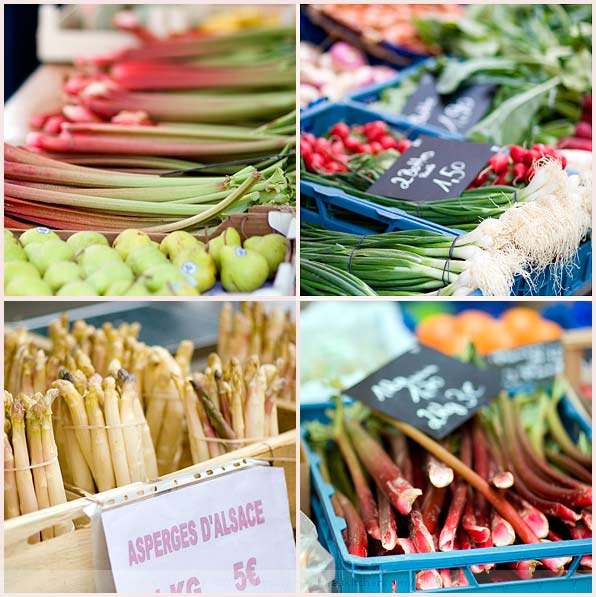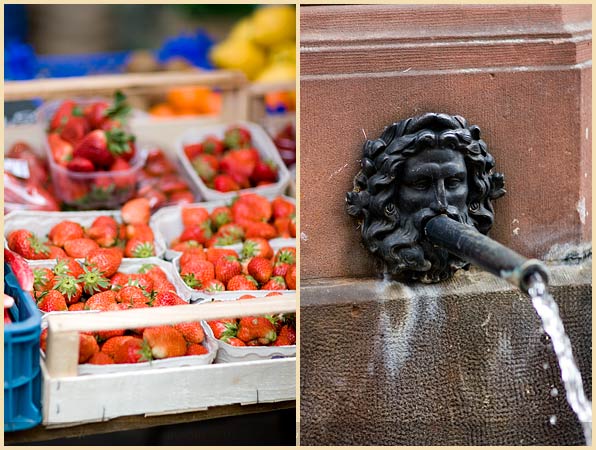 My sister-in-law and I also went out for a full day shopping in Metz, the city where I used to study for almost ten years. We walked everywhere, along streets that I knew by heart. On a first visit to the city, you would notice its German-looking architecture with neo-roman, neo-renaissance or neo-baroque influences, signs of the former tie to the Reich, young powerful German empire. I noticed that things had changed a bit, with new stores and some old ones gone, yet the feeling of this city felt the same. We had a tasty lunch au Saint-Martin, a kitsch-looking pizzeria where you would never feel like walking in if you did not know about their amazingly good risottos and beef carpaccio. Later in the afternoon, even if feeling knackered from too much shopping — oh this felt so good! — I insisted that we make a stop at Fresson Pâtisserie (Franck Fresson, Meilleur Ouvrier de France Pâtissier 2004 — Award Winner 2004 Best French Pastry Maker) for chocolate éclairs and chocolate specialities. When we left, there was so much chocolate in our bellies that we felt high as if completely drunk. I had not tasted such good chocolate for a while! Remember this place if you ever visit. A must.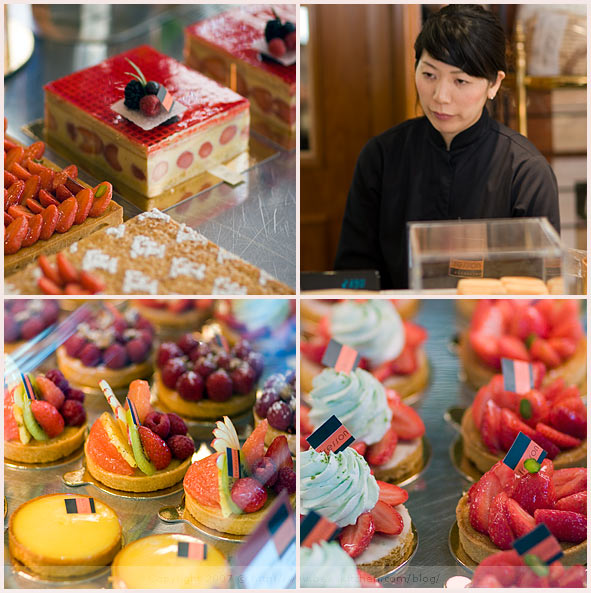 Fresson Pâtisserie, Metz
Le Saint Martin
40, rue Coëtlosquet
Metz
Fresson (Pâtisserie Chocolaterie Traiteur)
17, Rue Grand Cerf
Metz
03 87 36 28 17
On the only Sunday I spent with my family, my mum decided to host lunch for us all. A typical Sunday lunch, I soon realized. While she was busy preparing a full menu — she even asked that I stayed away from the kitchen — I was yet still in charge of making dessert, like in the old days. She presented various mises-en-bouches — pesto, tapenade, ricotta and tomato verrines followed by goat cheese stuffed cherry tomatoes — curried shrimps with artichoke hearts sautéed in sherry vinegar as an appetizer, a traditional rôti de boeuf (beef roast) served with steamed white asparagus and her usual tomates provençales, and we finished with a large plateau de fromage with our usual green salad. I was clearly no longer used to so much food for lunch. And this was all before my strawberry tart and its strawberry coulis.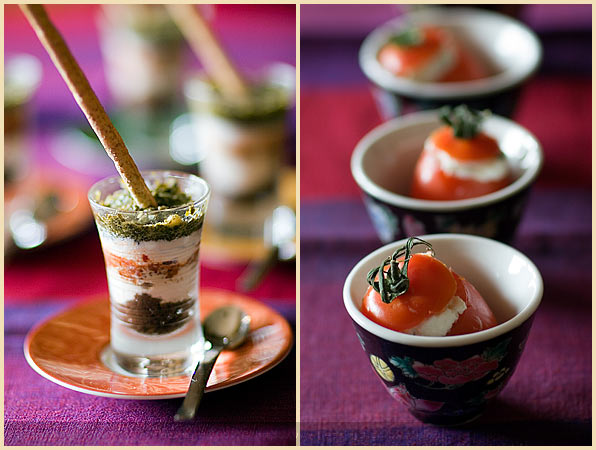 Mises-en-Bouche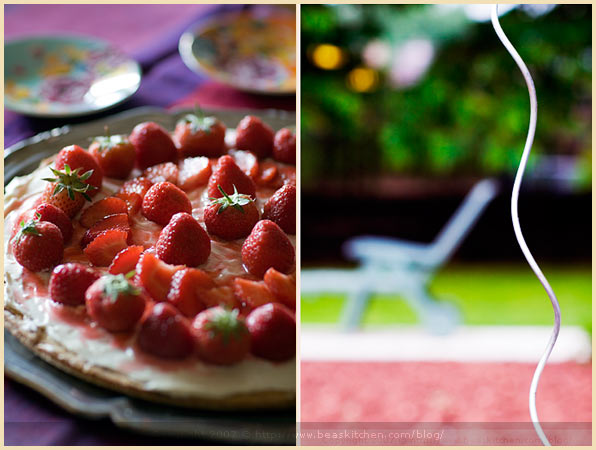 Strawberry Tart
"Tu as encore tout cela ?" (you still have all this?) I told my mum when I fumbled into her freezer, out of curiosity. There were boxes full of berries of all sorts, especially cherries, raspberries and red currants. De belles groseilles rouges ! Did she even realize how lucky she was? Red currants are always so hard for me to find, and when I manage to, they are so seasonally ephemeral. I had to do something with them.
"Tu as des petits gâteaux ?" I went on. (Do you have tea cakes?)
"Non."
Deal!
We had Red Currant Mini Cakes for tea. I had not planned to come and cook en vacances, but I did not resist. With fruit like this, how could I? A real ritual, another one!
——————————————————-
Next stop after the countryside?
Paris, la citadine, or another world.
——————————————————-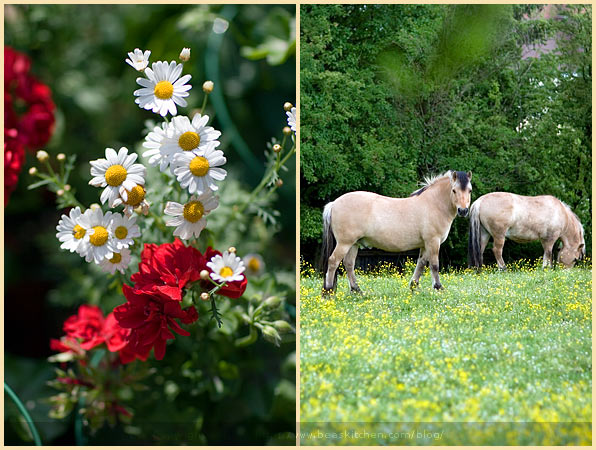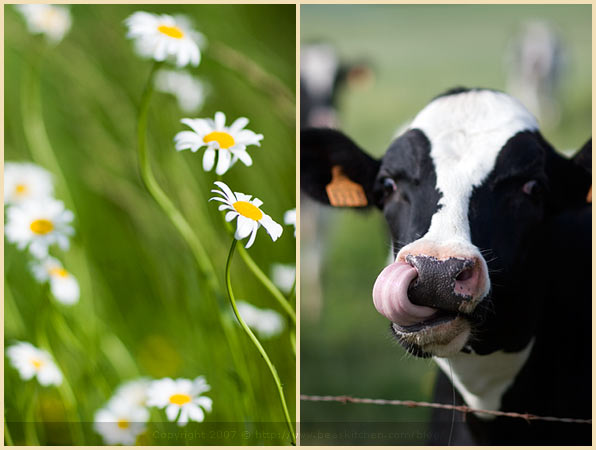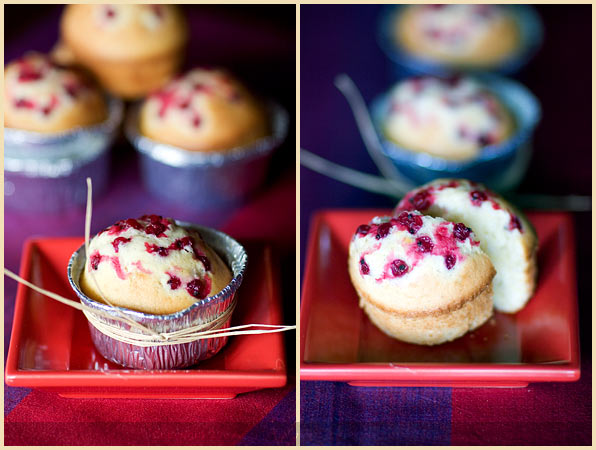 Red Currant Cakes
(For 6 cakes)
You need:
2 large eggs
9 oz pastry flour, sifted
1 tsp baking powder
5.5 oz fine blond cane sugar
1 vanilla bean, seeds removed
1/2 cup whole milk
3.5 oz butter (7 Tbsp), melted
3.5 oz red currants fresh or frozen
Steps:
Break the eggs in a large bowl. Add the sugar and with a hand mixer, beat until whiter in color (you can do this in a Kitchen Aid if you have one).
Melt the butter and once slightly cooled, add it, mixing until absorbed. Your batter should be smooth.
Remove the seeds from a vanilla pod and add them to the previous batter.
Sift the flour with the baking powder. Add them to your batter and mix until incorporated.
Pour the milk slowly while mixing.
Grease six small 1 cup ramekins (or use large muffin molds) and then add some flour to coat. Remove the excess of flour. Fill them 2/3 full with the batter. Add as many red currants as you like.
Cook in a preheated oven at 350 F for about 30 to 35 min. Check whether they are cooked by inserting the blade of a knife. If dry, then remove and let cool for 5 min before unmolding.
Le coin francais
Petits gâteaux aux groseilles rouges
(Pour 6 gâteaux)
Ingrédients :
2 gros oeufs
250 g de farine bise, tamisée
1 càc de levure chimique
160 g de sucre de cane blond
1 gousse de vanille, fendue et grattée
150 ml de lait
80 g de beurre, fondu
60 g de groseilles rouges
Étapes :
Cassez les oeufs dans un saladier. Ajoutez le sucre et mélangez au fouet électrique jusqu'à blanchiment.
Faites fondre le beurre et ajoutez-le à cette préparation. Melangez pour obtenir une pâte lisse.
Grattez une gousse de vanille fendue et ajoutez les graines.
Tamisez la farine et la levure. Ajoutez-les à la préparation et mélangez bien.
Ajoutez ensuite le lait en filet. La pâte doit être lisse.
Beurrez des petits ramequins et farinez-les. Enlevez l'excèdent. Remplissez les moules aux 2/3. Ajoutez quelques groseilles sur chacun.
Enfournez au four préchauffé à 180 C pendant 30 à 35 min environ. Sortez et laissez refroidir avant de démouler.