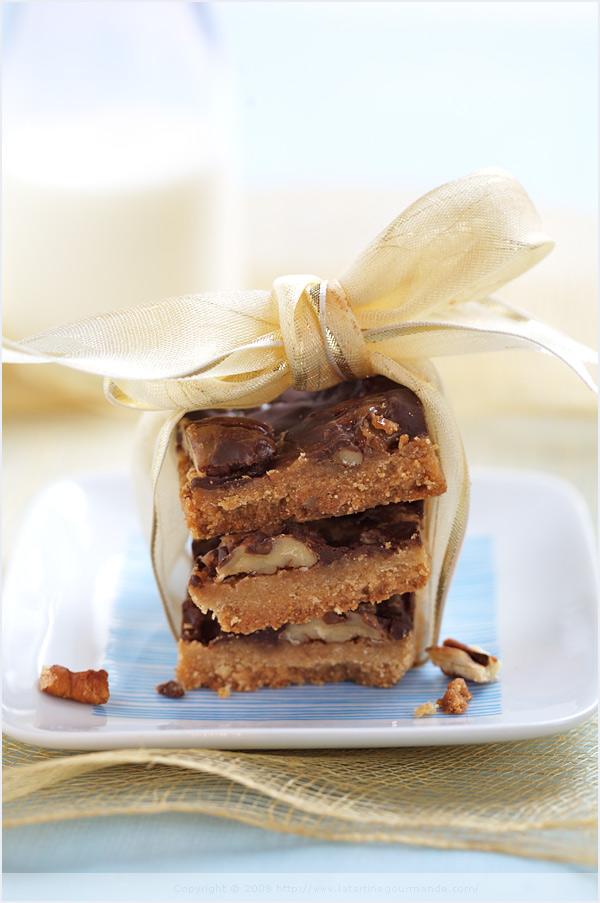 Turtle Bars
P. and I both love snacks combining dark chocolate and nuts. They are a favorite during the days we are lucky to spend at home, when we are hiking and traveling — perfect for any on-the-go occasion, really. Being pregnant has not changed this habit in me whatsoever — quite on the contrary, I should admit.
I remember that when I first moved to Boston, we used to buy a sweet treat called temptations bars. Whole Foods sold them. They were simple but deliciously good: a shortbread base, caramel, pecans and chocolate were combined to make an irresistible treat.
They were the first thing that caught my attention in my friend baker and food blogger Anita Chu's new cookbook, Field Guide to Cookies, which she kindly asked me to review, along with eight other avid and talented food blogger/bakers (which list is easily found by following this link).
[…] This book will help you identify many of the most popular cookies around the world, discover what makes each one special, and recreate them in your home kitchen […]
Field Guide to Cookies, or How to Identify and Bake Virtually Every Cookie Imaginable, is a small compact cookbook designed to cover the basics of many popular cookies, some of which I am sure you know, and some which you will be delighted to discover. The book itself is divided in four clear sections covering 100 illustrated recipes: Drop Cookies, Bar Cookies, Molded Cookies and to finish, Rolled Cookies — enough to bring you in a comfortable sugar coma. Each recipe is introduced with a general description followed by a short history, which is a nice way to become better educated about cookies. And, since the book holds easily in one hand too, it can conveniently be packed for a trip, should you feel the need to bake while you are away. A nice gift to make to anyone with a sweet tooth, really.
Who could not be tempted by a homemade cookie?
I asked Anita a few questions about the making of the book, to hear more about her recent experience.
Me: What is your expectation/goal in having written the book?

Anita:
In writing a Field Guide to Cookies, I was hoping to cover a range of cookies both familiar and unusual. I have a kind of scientific mind – I really enjoy categorizing desserts and trying to figure how they work and how different pastries are related to each other. So it was really fun to do a lot of research into cookies and find out about their history and how different cookies often evolved from the same base recipe. It was really fascinating. And, of course, since, it was a field guide, it was a challenge to figure out the "best", or at least a pretty good version of each of these cookies!!
In writing a book, it fulfilled one of my lifelong dreams, which was to be published! I have always loved reading and writing since I was young, and have kept various journals and done other creative writing as I was growing up. When I started my blog, it was as much to practice my baking as it was to practice writing; I felt the best way to improve my writing was to do a lot of it. I'm very gratified that it has improved to the point where someone thought I could be published. That is one of the biggest thrills for me!
Me: Why did you chose this topic?

Anita: The topic of cookies was decided by my publisher, Quirk Books. They were looking to expand their successful Field Guide line of books and came up with the idea of cookies. They approached me and asked it I would be interested. Since cookies are a big topic of interest for me, I said yes. I think they're so great and fun to write about – everyone love cookies, they are simple to make, and in writing this book I discovered there are more varieties than I ever dreamed of!
Me: What was the hardest/most challenging thing you encountered while writing the book?

Anita: The biggest challenge was time, definitely. I am sure you understand about wanting to keep tinkering and experimenting with recipes, and I kept wishing I had more time to perfect those cookies! But I had to balance time between research and baking and writing and editing. It was a big lesson in time and resource management – and getting good at writing really fast! It helped to have a plan – I had schedules everywhere – and to be organized with my notes!
Anita's Turtle Bar recipe is straightforward. It requires basic ingredients easily available for any baker. I did not have any issue with the recipe beside finding out along the way that the measurements of the pan used to make the base of the cookie were inaccurate. Unsure at first, I asked Anita, of course. She agreed that the measurements of the pan were indeed wrong. Nothing serious, and I was glad to have had the intuition.
The cookie has three layers: a shortbread base on top of which pecans, caramel and dark chocolate are combined. I first made the recipe as it was, then decided to adapt it, preparing a variant using gluten free flours (quinoa, white rice flours, along with quinoa flakes) and less caramel. Both were a great treat.
Lots of luck for the launch of Anita's new cookbook, and a big thank for including me in the bunch of happy testers!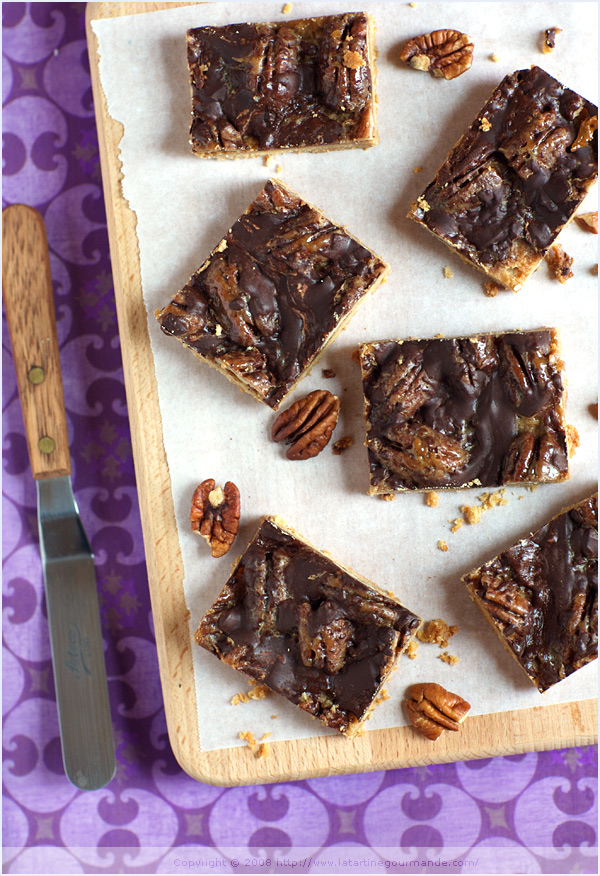 Turtle Bars
Recipe from Anita Chu's Field Guide to Cookies
You need:
For the base:
1 1/2 cups all-purpose flour
1/2 cup dark brown sugar
1/2 teaspoon salt
1/2 cup cold unsalted butter
For the topping:
1/3 cup heavy cream
3/4 cup unsalted butter
1/4 teaspoon salt
3/4 cup light brown sugar
1 1/2 cups pecans
1 cup chocolate chips — I used 64 % cocoa Valrhona dark chocolate, chopped coarsely instead
Steps:
Preheat the oven at 350 F. Line a 9 by 13 inch pan (I used a 8 x 8 inch pan) with aluminum foil, leaving enough to hang over the edge and act as handles to remove bars after baking. Grease foil with cooking spray.
Combine flour, sugar, and salt in a food processor and blend briefly to combine.
Cut butter in small pieces and sprinkle over flour mixture. Process until the mixture resembles coarse crumbs.
Press the mixture into the bottom of the pan. Bake for 18 to 20 minutes, until the crust is golden and firm and dry. Leave the oven on at the same temperature.
Combine the cream, butter, salt, and brown sugar in a saucepan and bring to a boil for about 1 minute.
Spread the pecans over the top of the crust. Pour the hot caramel filling evenly over the pecans. Bake for 15 to 20 minutes, until the caramel topping darkens.
Remove from the oven and sprinkle the chocolate chips over the hot topping. Let sit for a few moments and then use a knife or offset spatula to spread the melted chocolate evenly over the top.
Chill the bars in the refrigerator for about 30 minutes or until the bars have fully set before slicing them.
Using foil as handles, pull bars from pan and place on cutting board. Cut long side into 9 strips, then cut 4 strips across the short side, creating 36 bars. Wipe the knife clean between cuts.