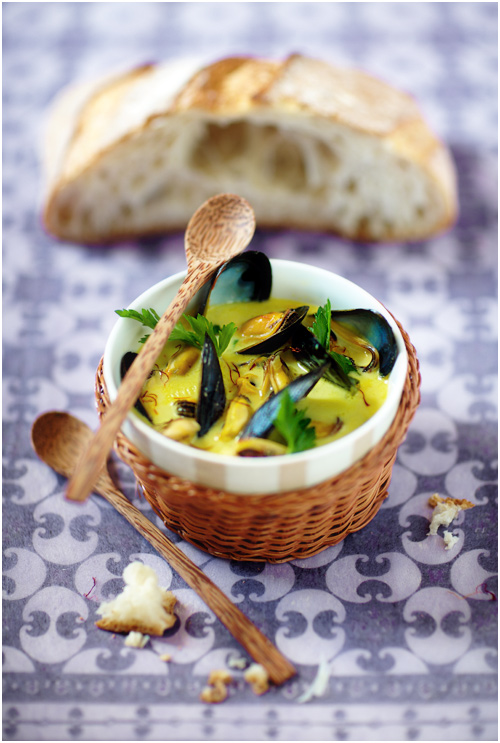 Coconut Milk Mussel Soup
Did you remember too? It's officially fall. And oh oh, how excited I am! I mean, I could feel sorry that we say good bye to the longest sunny days of the year; there will no longer be any seasonal strawberries or red currants; I will have to wait until next year to find my favorite round zucchinis to stuff and rhubarb to stew. But no.
I do not feel sorry because I love seasons, with the passage of one to another. I love the fall!
The fall and its wonderful fresh produce. There is something magical about it, don't you think?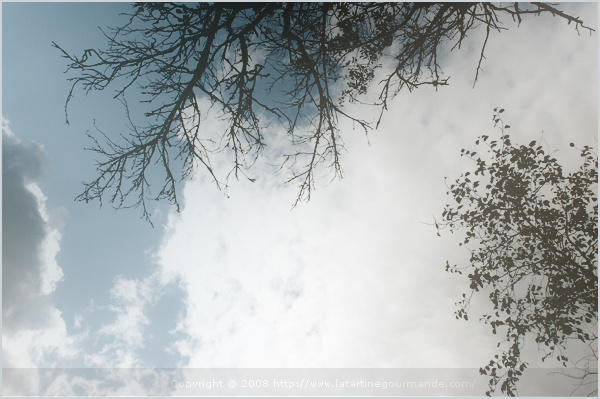 With the fall, I want to think about winter squash — like potimarron (Hokkaido squash), by far one of my favorites — root vegetables like céleri rave (celeriac) and beets, a walk in the forest to hear colorful fallen leaves rustle under my footsteps, starting the day with a veil of fog in the countryside or by the seaside, buying tasty mushrooms to boost my cooking creativity, baking when it feels somewhat a little chilly outside, sipping a cup of steaming hot chocolate by the fireplace, generous gratins to share with loved ones — and soups. Oh lovely comforting soups to warm us up. These are all things to love, really.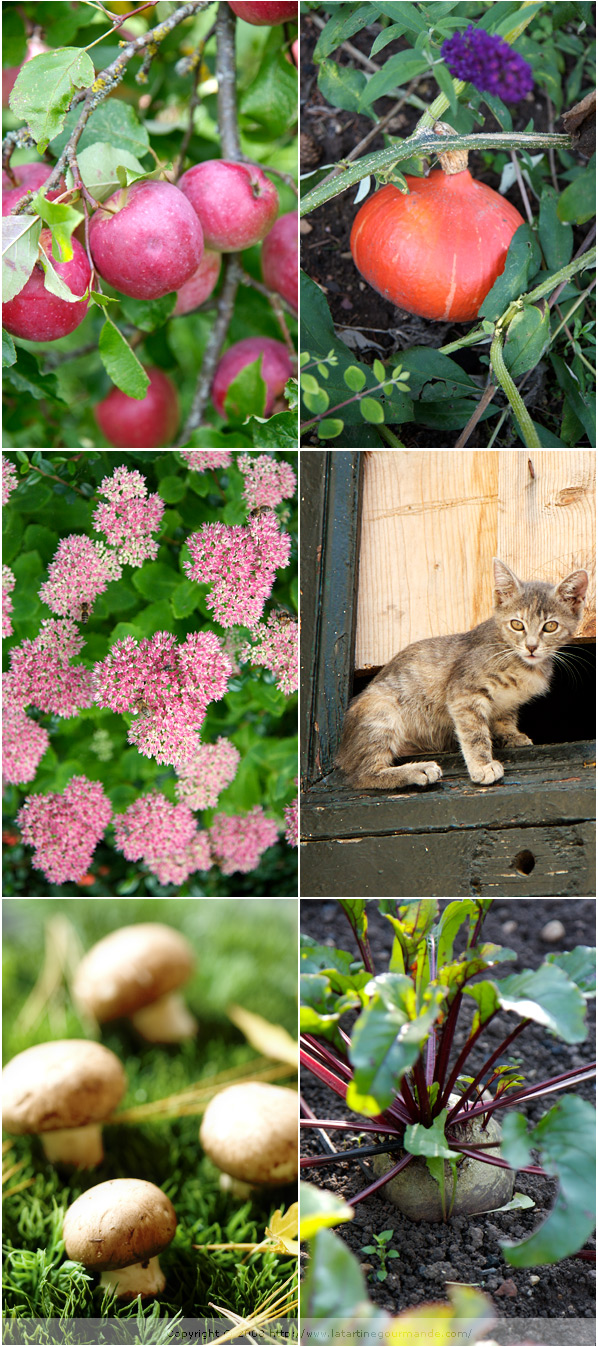 So I made a soup.
My mum is the one who taught me that shellfish (les fruits de la mer, literally the fruit of the sea), like mussels or oysters, should be eaten during les mois en "r" (the months in "r"). September, October, November, December would be the best months indeed. She reminded me of this when I saw her last week, and since I had a craving for mussels, I decided to make a soup that is a favorite amongst us for its simple generous taste.
This mussel soup uses white wine like in the preparation of moules marinières, coconut milk for smoothness, saffron and turmeric for taste and color. It's easy to prepare and flexible: if you are short of time, it can be made a few hours ahead, and reheated at the last minute. A nice thing to keep in mind. In fact, the only piece of work is perhaps cleaning the mussels, but that again is no rocket science either.
And the rest, of course, follows naturally. It does not require any recipe.
P. and I ate one large bowl each last night, with roasted potatoes and a lovely loaf of rustic bread.
We were pleased to be where we were, at this time of year. Because Indian summers in New England are quite special.
The best transition to the fall.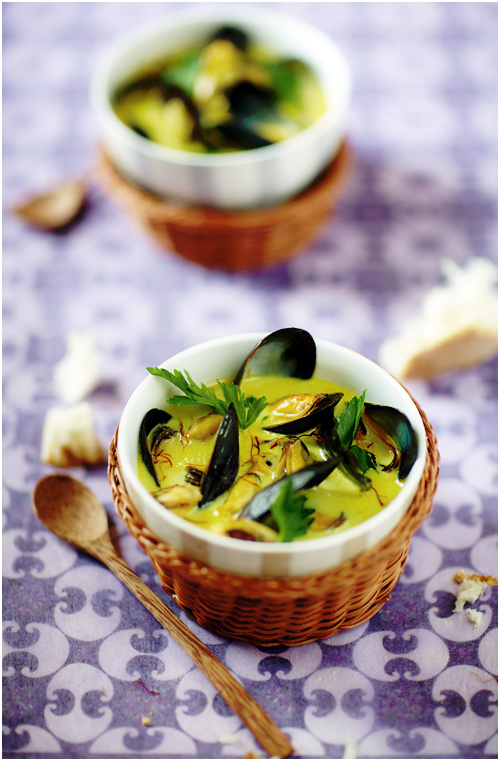 Coconut Milk Mussel Soup
For 2 large bowls, or 4 small ones (appetizer portions)
You need:
4.5 pounds fresh mussels, brushed and cleaned from all the sand, (opened ones discarded)
1 Tbsp butter
1 shallot, chopped finely
1 celery branch, diced
1 garlic clove, peeled and grated finely
1 bay leaf
1 thyme twig
1/2 cup white wine
Fresh parsley
1 cup unsweetened coconut milk
1/4 tsp ground turmeric
1 dose saffron (0.0008 oz)
Salt and pepper
Steps:
In a large stockpot, heat 1 Tbsp butter on medium heat.
Cook the shallot and celery without browning for 1 to 2 minutes, then add the garlic with thyme and bay leaf, and continue to cook for 1 minute.
Add the mussels and white wine, with a bunch of parsley. Season with salt and pepper and cook on high heat, covered until all the mussels are open (about 4 to 5 minutes). Toss from time time. Discard all mussels that are not open.
Remove the mussels from the pot and set aside. Filter the juice.
Shell the mussels (keep 1/3 with the shells). In the stockpot, pour the juice again and add the coconut milk, saffron and turmeric and heat to reach a simmer — try to avoid boiling.
Add the mussels and keep warm. Serve with fresh parsley in bowls, and accompany with a tasty loaf of rustic bread — for the sauce, of course.
Le coin français
Soupe de moules au lait de coco
Pour 2 grands bols, ou 4 petits (portion entrée)
Ingrédients :
2 kgs de moules fraiches, brossées et débarrassées de traces de sable (jetez celles qui sont déjà ouvertes)
15 g de beurre
1 échalote, hachée finement
1 branche de céleri, coupée en dés
1 gousse d'aïl, pelée et râpée finement
1 feuille de laurier
1 brin de thym
120 ml de vin blanc sec
Bouquet de persil
250 ml de lait de coco non sucré
1/4 càc de curcuma en poudre
1 dose de safran (0.25 g)
Sel et poivre
Etapes :
Dans un grand faitout, faites fondre 15 g de beurre sur feu moyen.
Faites suer l'échalote et le céleri sans brunir pendant 1 à 2 minutes, puis ajouter l'aïl, le thym et la feuille de laurier pendant 1 minute supplémentaire.
Ajoutez les moules et le vin blanc avec un beau bouquet de persil. Assaisonnez de sel et de poivre, couvrez et faites cuire sur feu fort jusqu'à ce que les moules soient toutes ouvertes (environ 4 à 5 minutes). Mélangez de temps à autre. Jetez celles qui ne sont pas ouvertes.
Retirez les moules du faitout et réservez. Filtrez le jus.
Décoquillez les moules (gardez 1/3 avec leurs coquilles). Versez à nouveau le jus dans le faitout, et ajoutez la lait de coco, le safran, le curcuma et amenez au premier point d'ébullition sans faire bouillir.
Ajoutez les moules et gardez au chaud. Servez dans de grands bols avec du persil ciselé et un bon pain (pour saucer) en accompagnement.