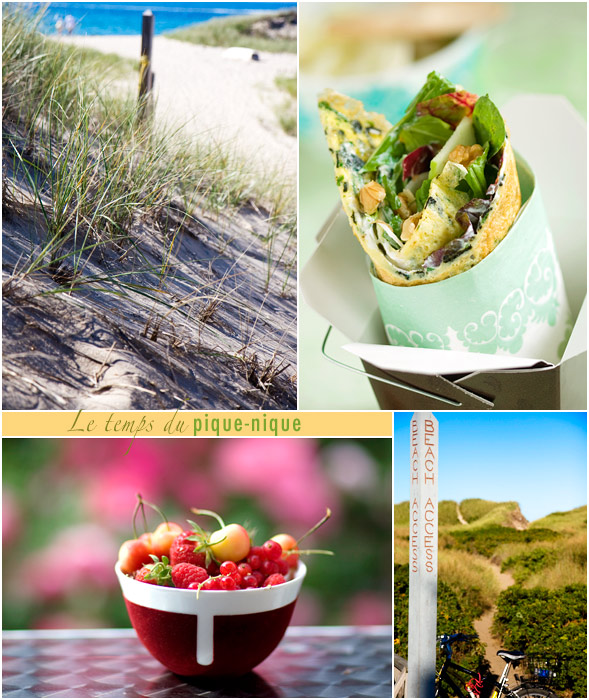 "Let's go there later in the day," P. told me when I mentioned I wanted to have a picnic at the beach on Sunday. "It's going to be hot before then, I can tell."
"Yeah, I guess you are right," I responded, feeling somewhat a tad disappointed since my plan had been to leave early in the morning. "It will be better, we will avoid the crowd and the heat. But eh, what about having dinner at the beach then?"
"Deal!"
This idea was already making me feel better. And completely excited. We never think often enough to have dinner at the beach. Yet, how nice to look at the sun set on the ocean while eating with our feet dug into the sand. Franchement pas mal !
We checked the weather forecast to make sure that there weren't any thunderstorms in the making that we were not aware of. On ne sait jamais (you never know) with New England weather. Chance was on our side. Thus our plan was made and the rest followed naturally.
The last few days had been really hot and humid. We'd had weather to make you sweat at even a lift of an eyebrow, or each breath of air inhaled. Even my almost daily visits to the nearby pool — quite conveniently located, I must say — were not enough to ease it up.
The thought of the beach and a dinner picnic?
Frankly, it was the perspective of a great time.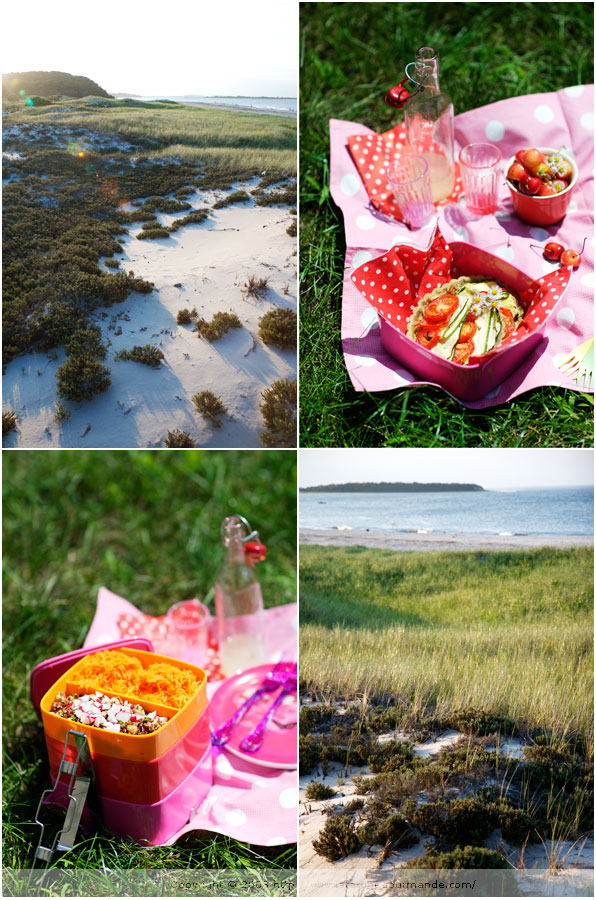 I love picnics. I love to pack picnic baskets too.
Perhaps because I like picnics so much — I am honestly as fond of picnic utensils, baskets and dinnerware as of picnic foods — ideas kept coming to my head, with too many choices and options from which to choose from. Would I bake something? Make sandwiches? Or rather prepare a few salads?
"Tu préfères des sandwichs ou des tartetettes aux légumes ?" (do you prefer sandwiches or vegetable tartlets?) I said quite busy writing down a short shopping list to prepare for the picnic.
I don't know why I even bothered to ask.
"Des tartelettes !" P. exclaimed. No hesitation involved.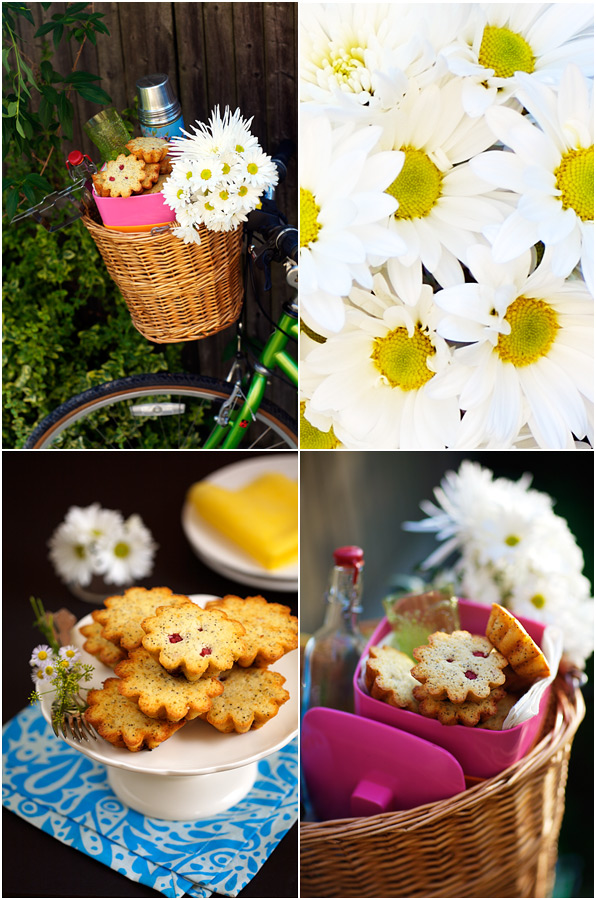 Lime Poppyseed Cakes (recipe found again!)
I spent Sunday morning preparing all sorts of easy-to-pack foods. I did not choose one option, I wanted them all. Leftovers of the lunch we'd enjoyed the day before came in handy: cooked red quinoa and chickpeas were combined into a salad, with fresh herbs, diced scallions and pink radishes, and I also decided to complete this piece of our meal with our salade de carottes rituelle — française oblige ! Then I started working on the tartlets.
It is really my mum's delicious tarte au thon, the very one she used to prepare every now and then when she was looking for a quick dinner idea, that inspired my recipe. When she prepared hers, my mum would brush la pâte (the pie crust) with moutarde forte de Dijon (strong Dijon mustard) and top it with chunks of tuna marinated in olive oil, fresh slices of tomatoes and grated cheese. For dinner, we always enjoyed the tart eaten warm, accompanied by a large green salad seasoned with a vinaigrette she was the only one to have the secret of, and if there was any leftovers, we would snack on them at odd times of the day.
My recipe used her basis but I also customized it. Starting with the crust, I knew I wanted to use olive oil instead of butter and like my mum, I used tuna for the topping. My mum is the one in our family who taught me how to recycle leftovers. I remember that we used to tease her about it, even finding her a nickname when we jokingly called her Madame Tupperware. Years later, I was far from imagining that, while I was still living with parents, my dad would also find me a nickname: la Miss des petits pots au frigo.
It surely comes handy today.
For the crust, I used three types of flours: brown rice, quinoa and millet — all wonderful in flavor. I also added poppyseeds for a nice color touch and crunchiness. As to the topping, in addition to tuna and tomatoes, I also marinated zucchini slices in olive oil and thyme, and added slices of red onions and crumbled fresh goat cheese.
"What time are we leaving again?" I asked P. as I was busy taking the tartlets out of the oven. They only needed twenty-five minutes to bake.
"Three," he said. "Mmm, ca a l'air super bon ça,"
"Don't touch! It is our dinner!" P. always likes to steal bits and pieces of food when I cook.
"I am going to make something sweet too," I added.
I knew well that this would please him.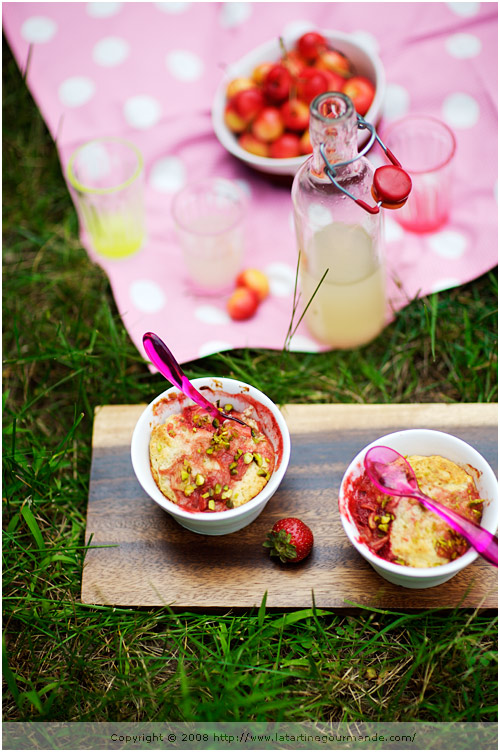 Quinoa Cakes with Rhubarb, Strawberry and Pistachios
Refreshing slices of melon, watermelon, or ripe peaches are always a nice touch to a picnic basket but this time, I preferred to bring a bowl of deliciously crunchy Rainier cherries picked at the market. My spontaneous purchase of red rhubarb and local strawberries, for which I had had no baking plan beside making sure to enjoy them while they are in season, inspired me to improvise a few light fruit cakes baked in small ramekins. They also used quinoa flour, and my favorite Sicilian green pistachios.
The cakes turned out so delicious that despite trying not to, we ate the first two before leaving. But since my recipe called for four, I packed the other two for our dinner picnic. I sensed that eaten by the spoon, they would really finish our meal nicely.
When we arrived at the beach, the heat had almost completely vanished. Most people had already left too, to our delight. We walked for a while to reach a completely secluded place and then, we sat down. The blanket I spread on the sand was large enough for four people to lie on it. Quite comfortable for the two of us, and our picnic.
It was quite windy. After a short dip in the water, still cold at this time of year despite the outside temperature, we took a long nap. Then, when we started to feel hungry, we arranged the food on our improvised outdoors table: we had plastic plates, forks, napkins, homemade limeade and glasses. We passed the food between the two of us without feeling any need to talk. Instead, we simply enjoying the quietness. The scenery.
A couple walked by us as they were leaving the beach. They looked beaten by the wind and hot afternoon sun.
"Mmmm, this looks good," the tall skinny tanned man said with a large friendly smile.
"Thanks!" I said, returning his smile.
We dug our feet into the sand which felt cold and cooling as it covered our skin.
The sun was starting to set too, casting a warm light all around us. We smiled, feeling content as we listened to the noise made by the waves breaking on the sand.
"Shall we do it again next week?" P. said.
I smiled.
He didn't need to ask me twice.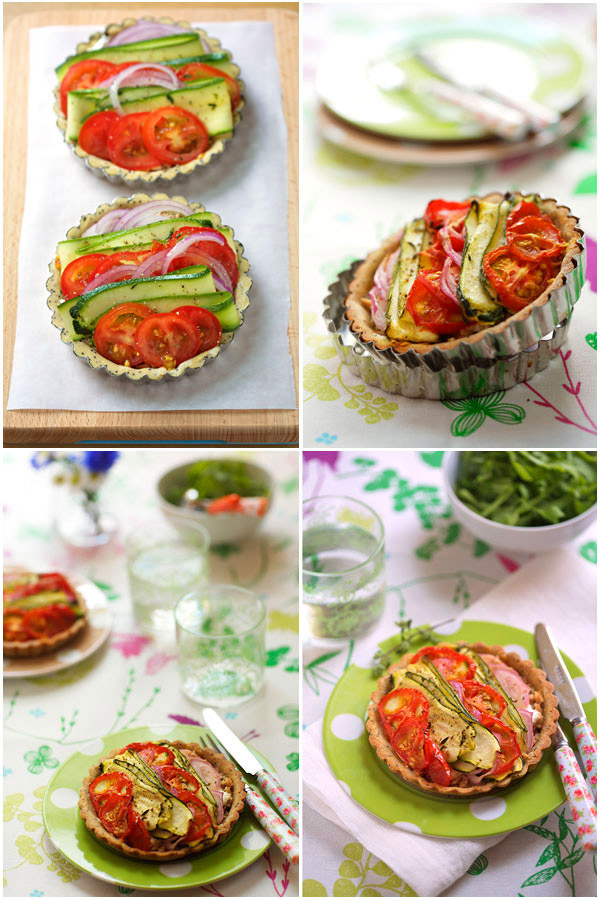 Mustard-Flavored Tuna and Vegetable Tartlets
Mustard-Flavored Tuna and Vegetable Tartlets
(For 4 tartlets)
For the olive oil crust:
3/4 cup brown rice flour*
1/2 cup quinoa flour*
1/2 cup millet flour*
Pinch of salt
1 egg
4 Tbsp olive oil
4 Tbsp cold water
1 Tbsp poppyseeds
Note: * you can always substitute with all-purpose flour
Steps:
In a bowl (or the bowl of the mixer), place the different flours, salt and poppyseeds . Add the egg and mix in. Then incorporate the oil slowly before finishing with the water, adding 1 Tbsp at a time. Add more water if need be.
Shape the dough into a ball, and wrap it in plastic wrap. Note that if you do the gluten free version, the crust will be crumblier, harder to work with. You can always add 1 tsp of xantham gum to help the texture, I prefer not to.
Let the dough rest for one hour in the fridge.
For the topping:
1 to 2 small zucchinis, according to size
4 oz fresh goat cheese (Petit Billy)
Dijon mustard
4 to 6 Tbsp tuna in a can, marinated in olive oil
1 tsp chopped fresh thyme
1 red onion, sliced thinly
Olive oil
About 8 cherry tomatoes, sliced
Steps:
Using a sharp knife, or a mandoline, slice the zucchinis lengthwise.
Place them in a bowl and add the thyme and about 1 to 2 Tbsp olive oil. Season with salt and pepper and mix well. Place in the fridge for 30 minutes.
In the meantime, roll the dough and place it in your four tartlet molds. Make little holes with a fork and brush the bottom with mustard.
Add 1 Tbsp (or a little more) of tuna on top, and then add the cheese.
Alternate the slices of zucchinis , red onions and tomatoes. Add a splash of olive oil, season with salt and pepper and bake (oven preheated at 400 F) for about 25 minutes. These tartlets are delicious hot or eaten at room temperature. Perfect for your beach picnic.
Tartelettes à la moutarde, au thon et aux légumes
(Pour 4 tartelettes)
Pour la pâte brisée à l'huile d'olive :
100 g de farine de riz complet*
50 g de farine de quinoa*
70 g de farine de millet*
Pincée de sel
1 oeuf
4 càs (60 ml) d'huile d'olive
4 càs (60 ml) d'eau froide
1 càs de graines de pavot
Étapes :
Mettez les ingrédients secs — farines, sel et graines de pavot — dans le bol de votre mixeur (ou dans un saladier). Cassez l'oeuf au milieu et incoporez-le doucement. Ajoutez l'huile d'olive et faites un sablage.
Ajoutez l'eau froide, 1 càs après l'autre, jusqu'à ce que la pâte forme une boule (plus si nécessaire). Veuillez noter que la version sans gluten est plus difficile à travailler, vous pouvez toujours décider d'ajouter 1 càc de gomme de xanthan.
Laissez-la reposer emballée dans un film alimentaire au frais pendant une heure au minimum.
Remarque : * vous pouvez remplacer par de la farine de blé type T45
Pour la garniture :
1 à 2 petites courgettes, selon la taille
120 g de chèvre frais (Petit Billy)
4 à 6 càs de thon en boîte mariné à l'huile d'olive
Moutarde forte de Dijon
1 oignon rouge, émincé
1 càc de thym frais haché
Huile d'olive
8 grosses tomates cerises, coupées en tranches
Etapes :
A l'aide d'un bon couteau ou d'une mandoline, coupez les courgettes en longues lanières fines.
Placez-les dans une jatte avec le thym; mélangez. Salez, poivrez et arrosez d'un filet d'huile d'olive. Laissez mariner de côté pendant 30 minutes minimum.
En attendant, étalez votre pâte. Piquez le fond avec une fourchette et foncez les moules à tartelette. Badigeonnez de moutarde forte.
Ajoutez les miettes de thon, puis celles de fromage frais.
Alternez ensuite les lanières de courgettes, les rondelles d'oignons rouges et de tomates. Arrosez d'un filet d'huile d'olive, salez et enfournez au four préchauffé à 200 C pendant environ 25 minutes. Ces tartelettes sont délicieuses consommées chaudes, ou à temperature ambiante, pour votre pique-nique.