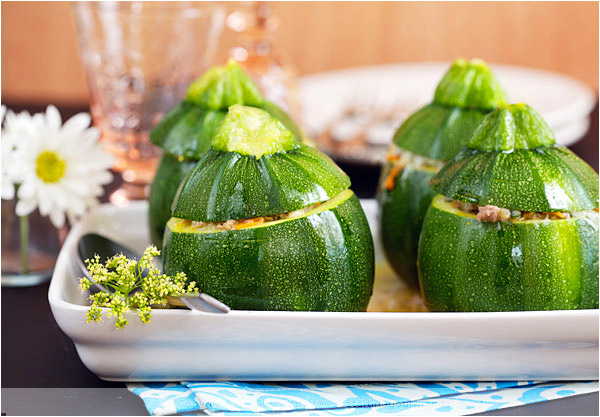 Petits Farcis, courgettes rondes farcies au veau
When I arrived at my local farmer's market last week, I was on a really important mission: finding round zucchini, my favorites by far. They are simply too lovely to resist, always looking pretty on your dinner table.
Delight! I was successful. One farmer tucked in a corner had some.
Upon my return home, I set myself to work immediately and prepared des petits farcis, a favorite summer dish in my kitchen.
I wrote this summer Squash recipe for this week's Seasons column of the Boston Globe's Food section, and prepared the dish a few times. The first time I tested the recipe, I used regular long yellow summer squashes and green zucchini, the second time I used my newly purchased round zucchini beauties from the market.
So perhaps if you are as hooked as I am, you will go back to the market every week to buy a batch of round zucchini — making sure to arrive there first to put all chances on your side — and you will indulge in these delicious vegetables as long as their season lasts! Frankly, I am always sad to see the end of it.
But until this happens, I will make a point of preparing petits farcis (small stuffed vegetables) as often as I can, sometimes as a vegetarian dish with all types of rice or quinoa, and at other times prepared with ground meat.
And in all cases, simply too cute and too good to resist.
Other stuffed summer squash recipes can be found here: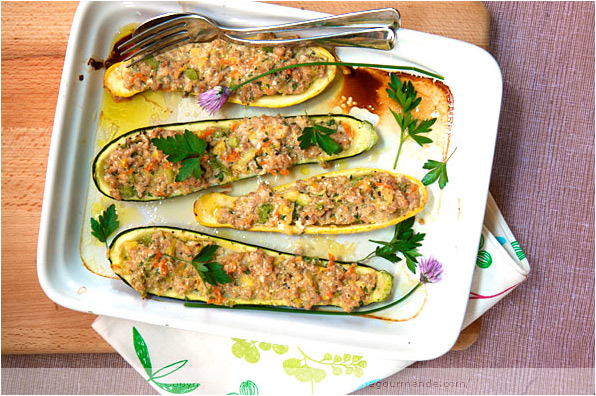 Stuffed Summer Squashes